Welcome to the 2nd Day of Christmas Tablescapes!  I am so thrilled to be part of this fun series put together by the amazing Jen Woodhouse!  To be in the same series as these talented DIY'ers is such an honor.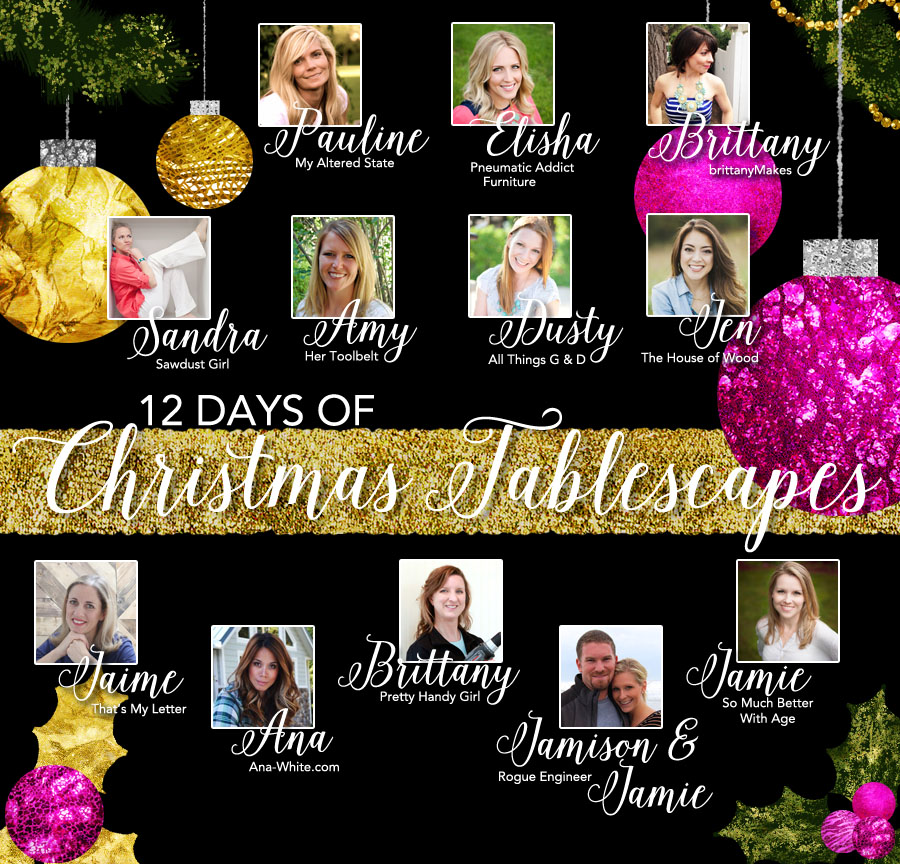 Christmas Tablescape Tour Schedule
Christmas is such a magical time filled with excitement, giving, and family traditions.  Christmas just wouldn't be Christmas for me, without 'going home'.  Join me for a trip 'back home', where I grew up, to see some of our Christmas traditions.  (Plus my Mom is way more equipped for fancy table settings than I am 🙂 )
During Christmas in central Utah, it usually looks like a beautiful winter wonderland.  I love the freshly fallen snow covering the houses, trees and mountains.  As a kid, we always did the 12 Days of Christmas for a few families in the neighborhood.  My favorite nights to deliver treats were when it was snowing.  The falling snow muffles the country sounds, and the night becomes so peaceful.  I decided to theme my Christmas tablescape around a country winter wonderland.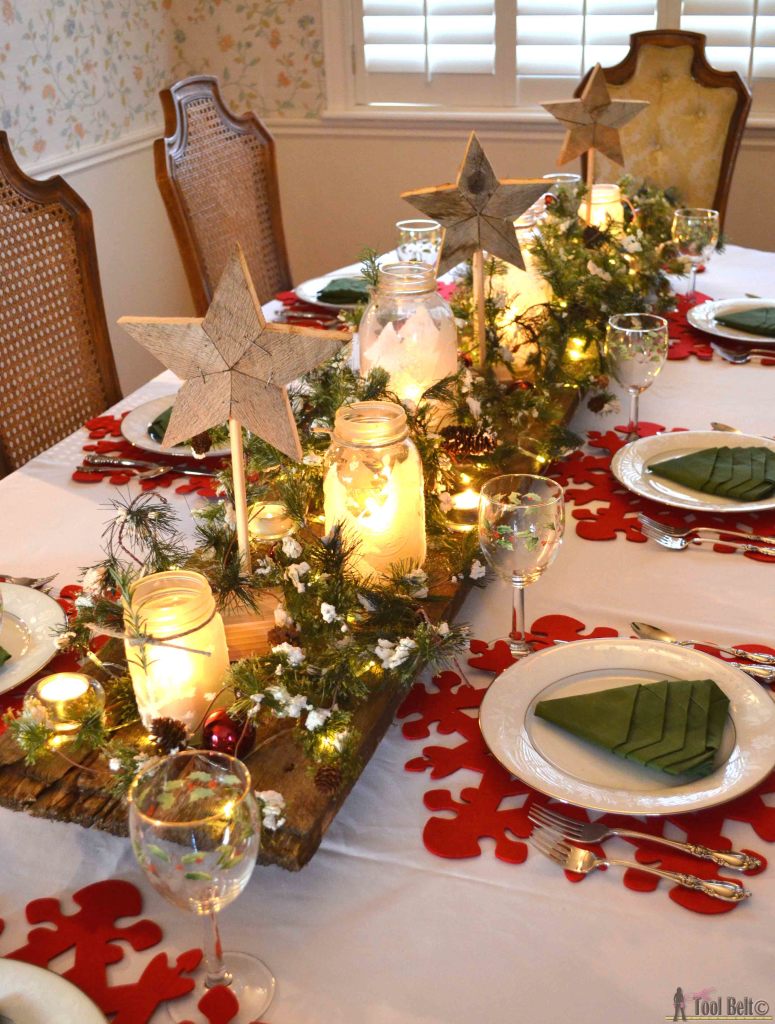 As you know, I love to build with barn wood.  I love the unique character of weathered wood.  The table centerpiece begins with a 6′ long barn wood platform, saying 'look at me' (my 2 year old's favorite phrase)!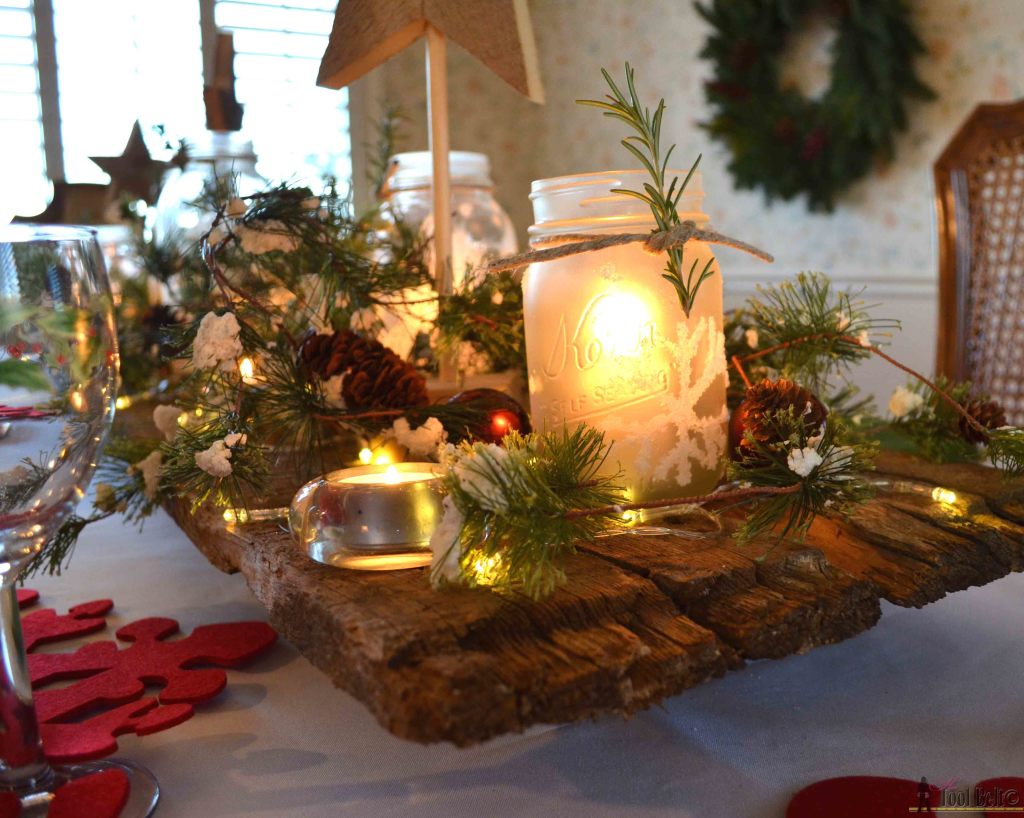 I made 6 very simple luminaries out of various sized mason jars (pint, quart and 2 quart).  On the small jars, I covered the glass with frosted glass spray paint then used glue and Epsom salt to make snowy snowflakes.  The large jars are a simple winter scene, with some frosted glass pine trees and some flocked trees with Epsom salt and glue.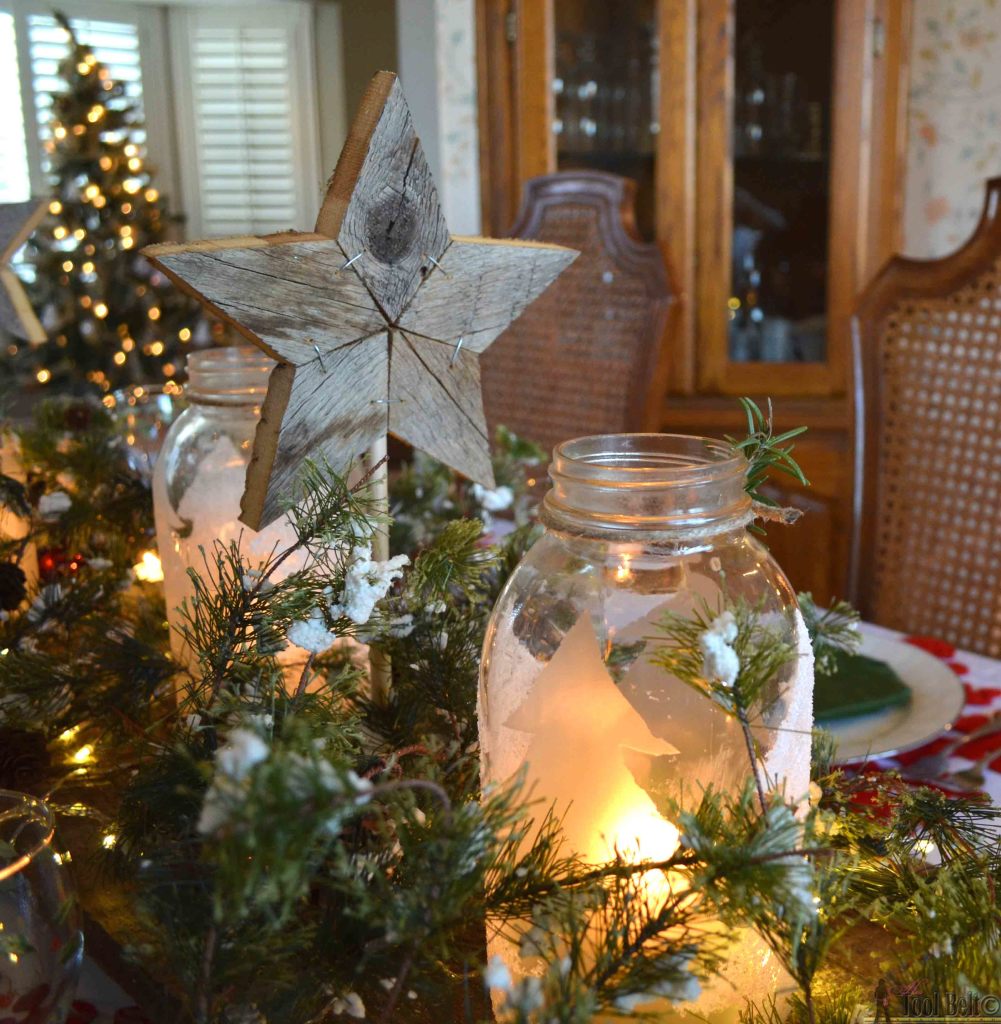 The Epsom salt I used was scented with peppermint, the smell is amazing.  A piece of jute and rosemary finish off the mason jar luminaries.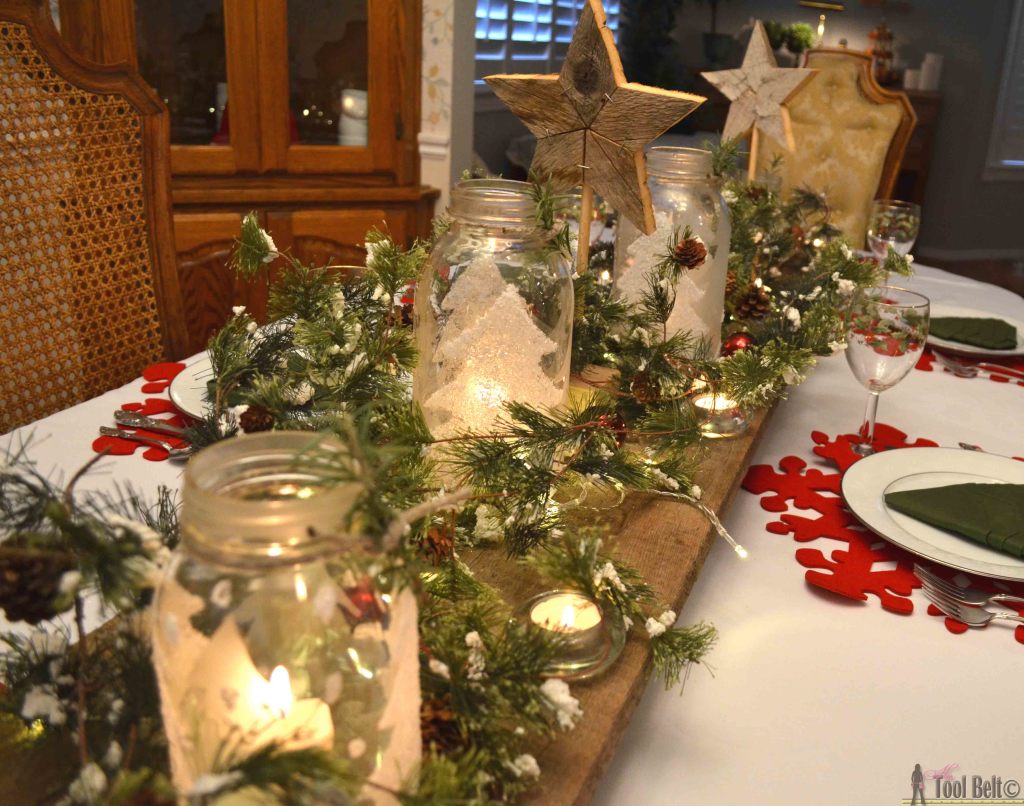 The rustic stars (free pattern) were inspired by ornaments that I saw in the PB kids magazine, and are so simple to make.  To make the stars self standing, I drilled a hole in the bottom of the star and added a 12″ long 3/8″ diameter dowel and base.  Fairy lights, flocked garland and tea lights make up the rest of the country centerpiece.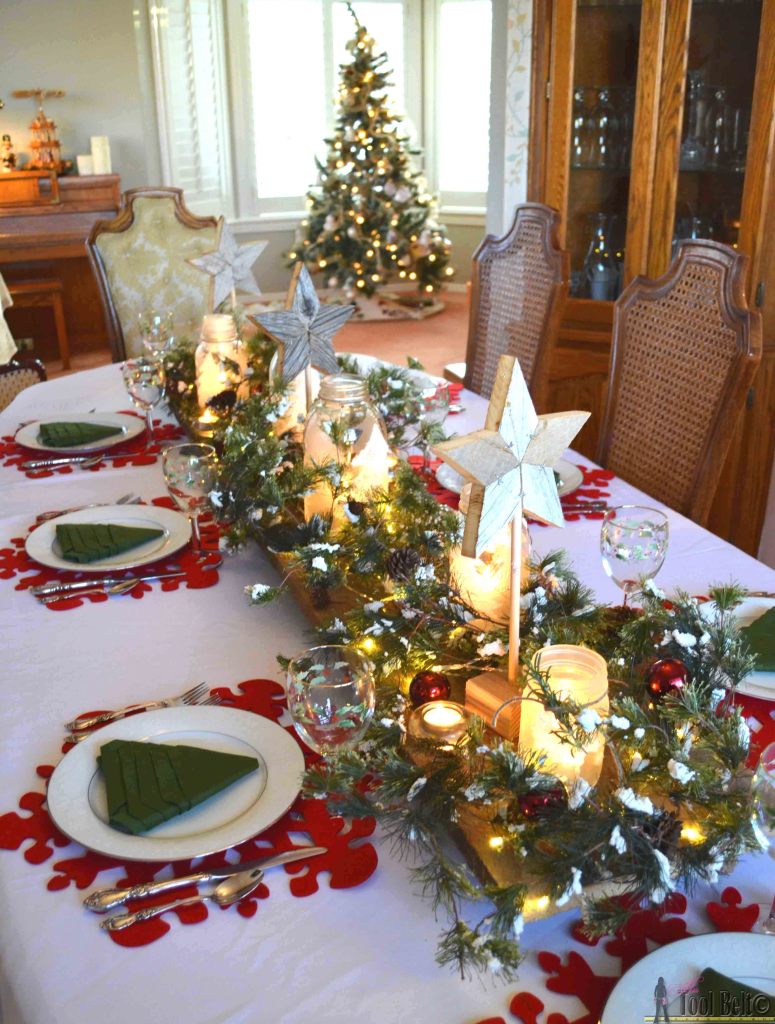 On Christmas morning, we weren't allowed to get up until 8 am…I know torture.  To make it worse, we had to have Christmas breakfast before any presents…double torture 🙂  Christmas breakfast is always the same delicious menu:  breakfast casserole, cinnamon rolls, oranges, and my favorite orange julius – probably the most important recipe I learned in 4-H!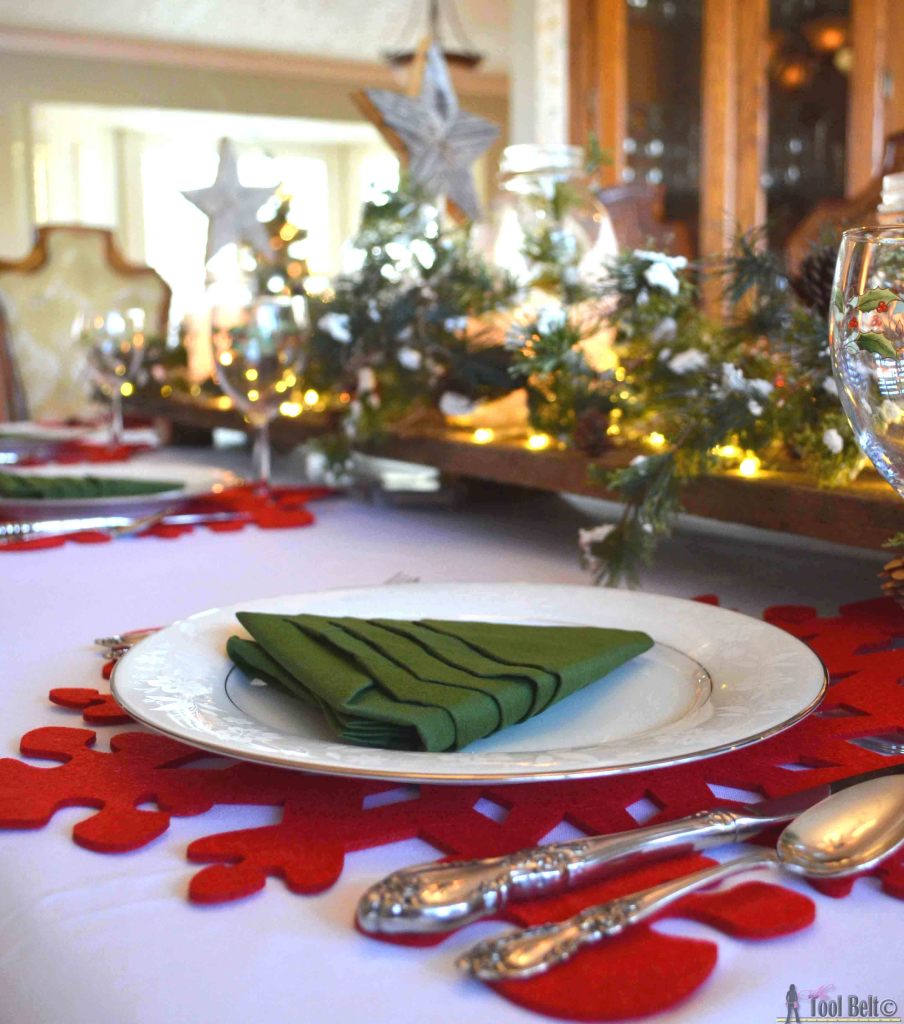 We always had our Christmas breakfast on the fancy plates, a rare treat!  I found these fun felt snowflake place mats at Tai Pan Trading.  I learned how to fold the Christmas tree napkin from this great tutorial, although I probably didn't do it right.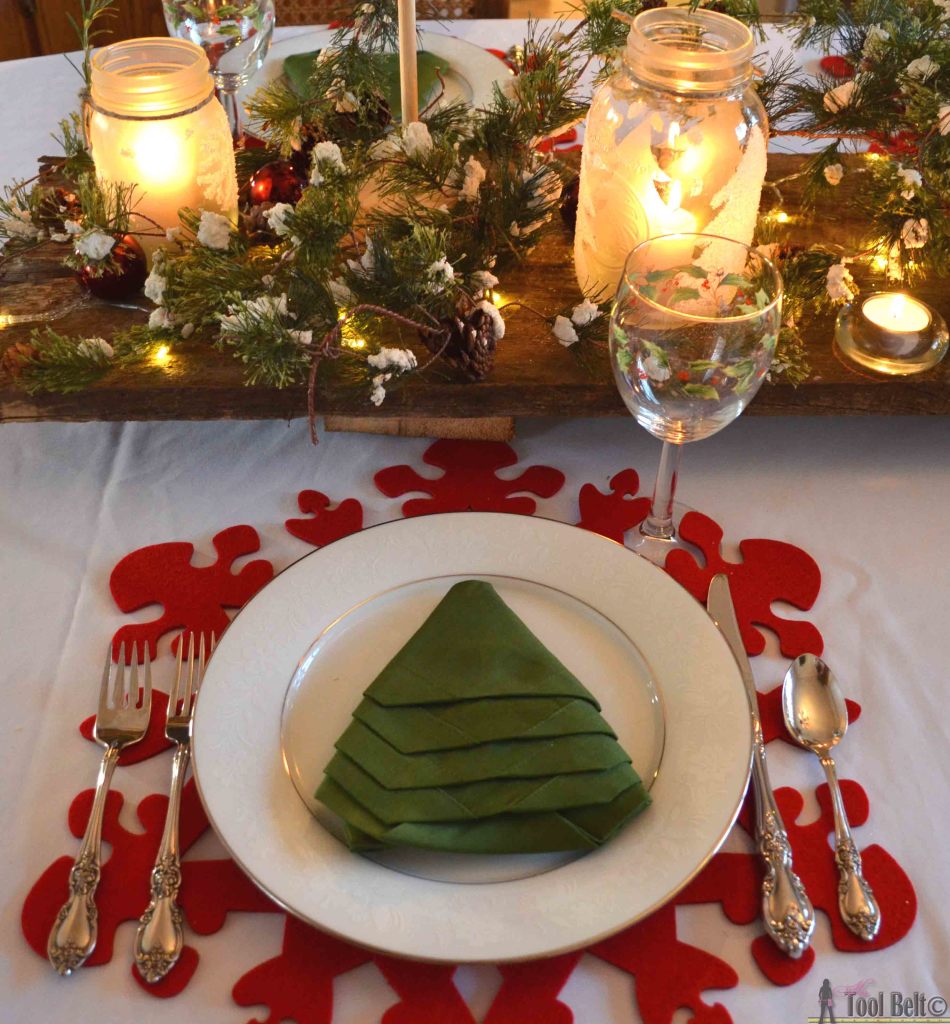 The pinnacle of our family traditions is meeting with all of the cousins at Grandpa's house on Christmas Eve.  After a delicious dinner, the kids gather in the back room to dress up in our nativity costumes.  The shepherds wear old bath robes, wise men wear tunics and crowns, angels wear white slips and tinsel.  All of the girls hope to play Mary, and the youngest baby cousin plays baby Jesus.  When everyone is ready, Grandpa sits in the main chair in the front room and reads the Christmas story, Luke 2.  The nativity characters move to the front room as prompted, and the parents sing the Christmas hymns on queue.  Our acting skills can use some work, but we enjoy the performance each year.
What are your favorite Christmas traditions?  Thanks again for stopping by, be sure to check out the 1st Day of Christmas Tablescapes by Jamison and Jamie – Rogue Engineer, and tomorrow stop by another talented Jamie – So Much Better With Age.
Linked to My favorite link parties, savvysouthernstyle, remodelaholic