Father's Day is just around the corner.  I'm always struggling to think of something great to give my Dad and my husband.  Nothing says 'You're the world's Best Dad' like Tools!  Have you ever been guilty of giving someone a present that you really wanted or was for you to use?  Or even received a present that your significant other wanted 🙂  Or are my parents the only ones guilty of that?  One Christmas my Dad gave my Mom a model RC airplane…so funny, he didn't even try to disguise that one!
I have compiled a list of 10 Tools for Dad that he'll think are really for him, but secretly they can be for your DIY projects too.
(This list contains some Amazon affiliate links for convenience and price points.)
1.  Drill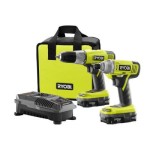 A cordless drill is a must in any DIY'er Dads tool box.  I seem to always be going for the drill, shoot some people even cook with it 🙂
Home Depot has the Ryobi Drill + Impact Driver combo on sale for $99.  If you buy online, make sure to use Mr. Rebates —-> to get a little $ back, and the drill combo qualifies for Free Shipping!  That is a great price for a fantastic set of tools.  You can watch my long winded expression of love of the Impact Driver.
2. Miter Saw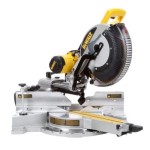 The miter saw is a very useful tool.  Make straight cuts and angled cuts for any project quick and easy.  If crown molding has been on your Honey do list, a miter saw will make those complicated angled cuts seem like a breeze.  I've had a portable battery miter for years and love it, so easy to tote around.  Sometimes I dream of getting a little more heavy duty one too.
3. Kreg Pocket Hole Jig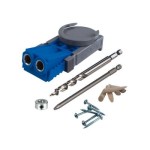 The pocket hole has changed the face of traditional woodworking.  Using the Kreg pocket hole jig makes what used to be complicated joints, drawers, doors, etc easy.  There's even a community of Kreg owners sharing project ideas and helping each other with projects.  The Kreg pocket hole jig is another must for the DIY'er Dads (& Moms).  Also available on Amazon Kreg R3 Jr. Pocket Hole Jig System
 for $39.95.
 4.  Reciprocating Saw (Sawzall)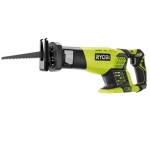 Any Dad would love getting this manly man tool.  The reciprocating saw is a tool of mass destruction.  It is a great tool to get into hard to cut areas.  Easily change the blade for cutting wood, to cutting metal.  Plus, if you've been wanting to disassemble pallets for crafts and other projects, this makes the job quick and simple.
5.  Universal Pliers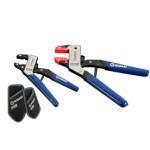 These Magnum Grip Pliers are handy to have around.  Squeeze the handles to ratchet the pliers to the size of the bolt head, instead of guessing 5 times what size of wrench to get.  They fit better on a bolt head/nut than vice grips.  Adjust training wheels, bike seats, XXXX all with one tool, so handy.
6. Laser Level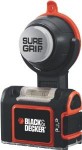 A laser level is a lifesaver when putting up pictures, installing cabinets, wainscoting, shelving, etc.  Plus if you've ever wanted to try a striped wall, use a laser level to get your painters tape perfectly straight. Black & Decker BDL100AV All-In-One SureGrip Laser Level
7. Jig Saw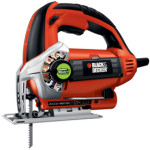 A jig saw is a handy tool for home improvement projects, especially for cuts in small areas or curves.  However the jig saw is a wonderful tool for the crafter.  If you're looking to cut shapes and curves for your wood crafts, then you need this tool.  The jig saw is easy to use and not very 'scary' if you're uncomfortable with power tools.  Also available at Amazon for similar pricing Black & Decker JS660 Jig Saw with Smart Select Dial
 8.  Multi-purpose Tool Kit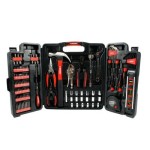 In my opinion, a multi-purpose tool kit is a must for any home owner.  A tool kit like this has a nice variety of tools, from wrenches to a hammer and screwdrivers.  There always seems to be something to tweak or fix in a house no matter how new or old the home is.
9.  Finish Nailer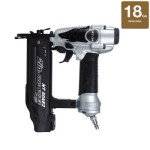 A finish nailer is a great tool for a Dad that likes to build stuff and do home projects.  Use it to put up molding, build furniture, shelving, etc.  Finish nailers are commonly pneumatic, so you need a compressor to run it.  If you are completing projects that require nails less than 1 1/2″ long, you can pick up a great brad nailer at Harbor Freight for less than $20.  Ryobi has a new brad nailer out that uses Airstrike technology, it doesn't need an air compressor or cartridges, only lithium Ion batteries…and that's awesome!
10.  Leatherman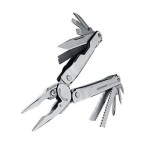 The Leatherman is my Dad's all-time favorite tool.  He uses it almost every day, his favorite model is the wave. Leatherman 830039 New Wave Multitool with Leather/Nylon Combination Sheath
It is nice to be able to tote around one tool that functions as many tools.
Also available at Amazon Leatherman 831102 Super Tool-300 Multitool with a Sheath
Hopefully this list of tools gives you some ideas for the special Dad's in your life!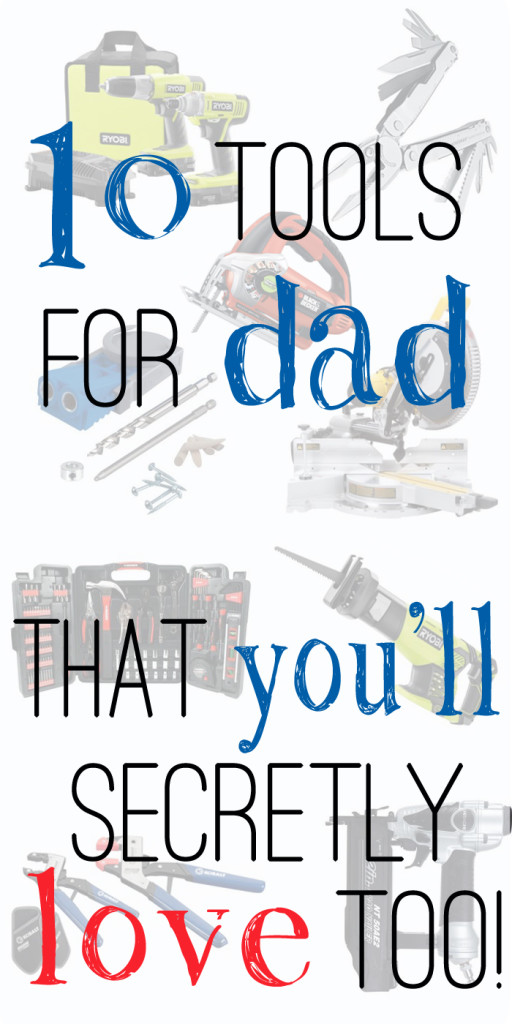 linked to remodelaholic