Growing up, my Mom always decorated the house to make us feel special on our birthdays!  Some of my siblings relished in the birthday festivities, others down played their birthdays.  Nevertheless the birthday party table cloth, blow up birthday cake, happy birthday balloons and reusable contact paper stickies adorn the house on birthday morning!  What fun things do your families do to celebrate birthdays?
My sister has had this super cute balloon wreath that she puts up for birthdays at her house.  I've wanted one ever since I saw hers.  During our sisters' craft day (cousin play date) we made them, I thought I'd share with you how easy it is to make one!
Materials needed:
straw wreath form
tulle
floral pins
balloons (we used multi-color)
pipe cleaners
All these materials are available at Hobby Lobby, and should be at your favorite craft store.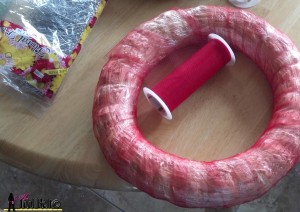 First wrap the straw wreath with a few layers of color coordinating tulle. (showing 1st layer of tulle)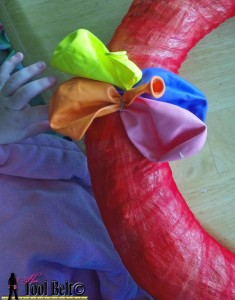 Next, put 2 balloons in opposite directions and use a floral pin and stick it into the center of the wreath.  I don't recommend poking the pin through the balloon.  Repeat with another set of balloons, but rotate the pin so it doesn't line up with the previous pin direction.  Continue around the center of the wreath face with pairs of balloons and alternating the pin direction.  This will help make the balloons lay in different directions, hiding the pins.
(Great activity for kids, since precision doesn't matter.)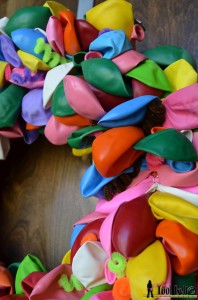 Once you've made it around the wreath with the first row of balloons, adjust the balloons to cover showing pins.  Decide on the top of your wreath, add a second row on the top half of your wreath.  Add another row to the lower half of the wreath in the inner part of the wreath.  The goal is to hide straw and tulle from showing while you're looking head on at the wreath.  Add as many balloons as you like!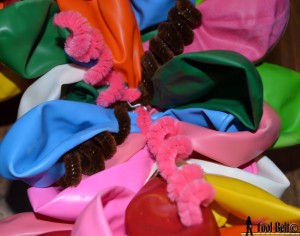 Adding curly cues or pig tails adds a fun party dimension to the wreath.  Wrap pipe cleaners around a pencil to create the spiral shape.  Take 2 spirals and make an X and pin them in place between balloons.  Add as many curly cues as you like!
Adjust the curly cues and balloons to cover showing pins.  That's it, can you believe it's that easy for this cute wreath?
For the over-achiever:  You can add a little pendant banner with the birthday person's name in the center of the wreath.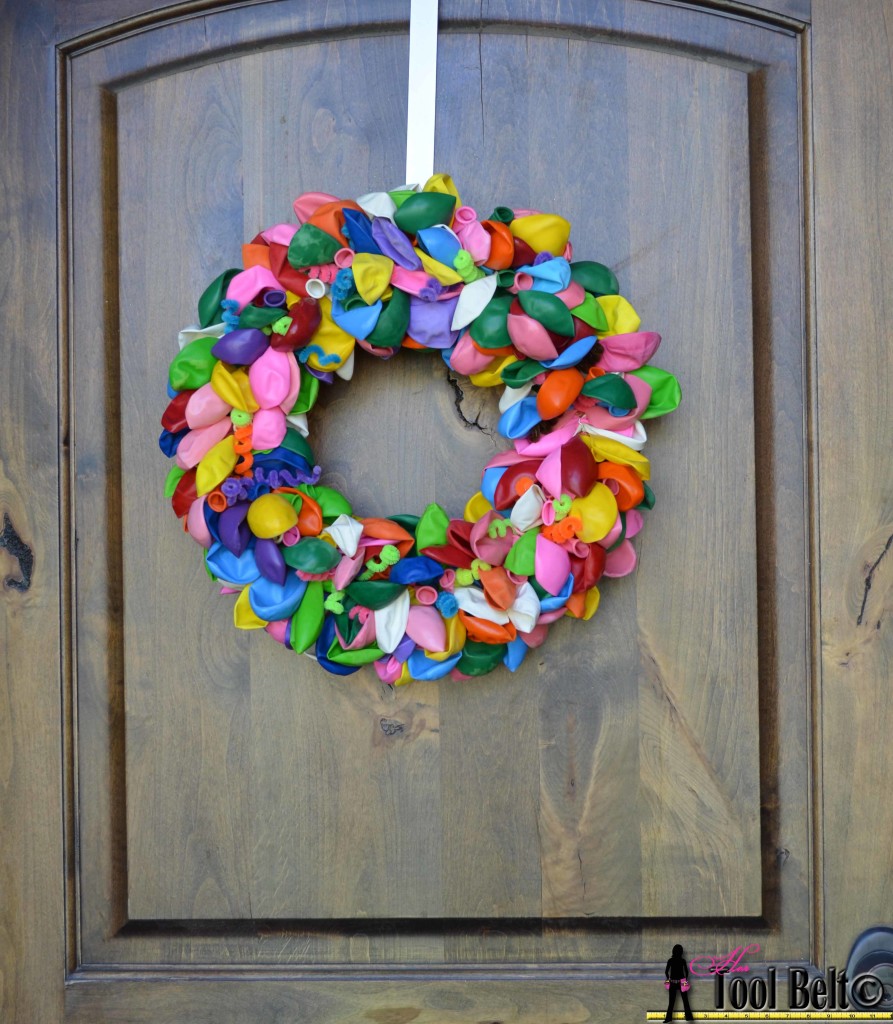 Options for this balloon wreath:
Use your team colors to create school spirit!
Use holiday colors to make a holiday specific wreath
Special occasion birthdays (over the hill)
Baby showers
and more!
Don't miss a post, subscribe…over on the right!
Pin it for later.