A couple of weeks ago, I was asked if I could help out some local Cub Scouts in the Webelos program to earn their Webelos Engineer requirement.  I love to do little engineering projects so I knew this would be so fun.  These are the requirements for earning the Webelos Engineer requirement: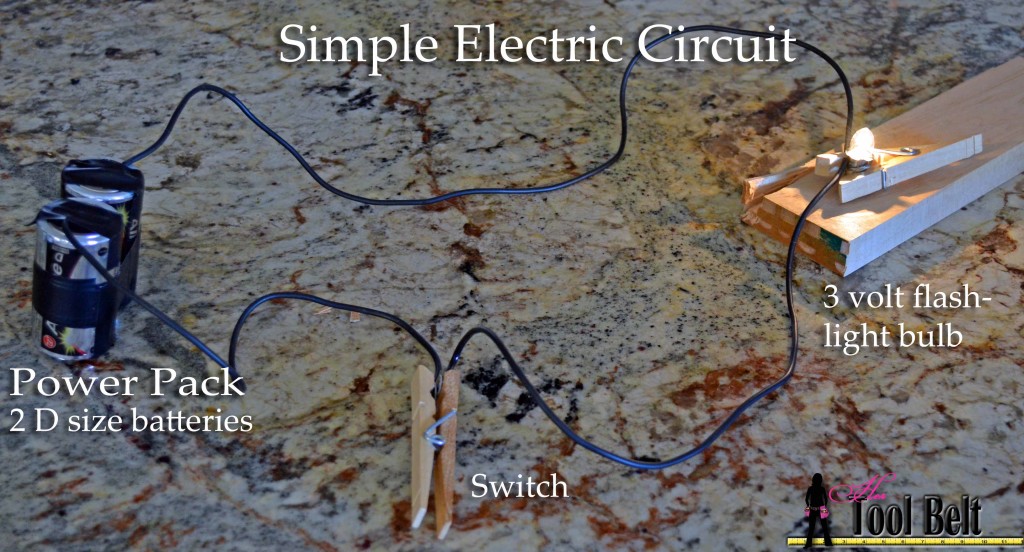 Engineer requirements

Do both of these:

Talk to an engineer, surveyor, or architect in your area about the different occupations in engineering. Create a list that tells what they do.
Draw a floor plan of your house. Include doors, windows, and stairways.

And do four of these:

Visit a construction job. Look at a set of plans used to build the facility or product. Tell your Webelos den leader about these. (Get permission before you visit.)
Visit a civil engineer or surveyor to learn how to measure the length of a property line. Explain how property lines are determined.
Tell about how electricity is generated and then gets to your home.
Construct a simple working electrical circuit using a flashlight battery, a switch, and a light.
Make drawings of three kinds of bridges and explain their differences. Construct a model bridge of your choice.
Make a simple crane using a block and tackle and explain how the block and tackle is used in everyday life.
Build a catapult and show how it works.
While you are a Webelos Scout, and if you have not earned it for another activity badge, earn the Cub Scout Academics belt loop for Mathematics
Since I'm an engineer, talking to me helped them pass off #1.  #2 is a simple task, but takes a bit of time.  Grab some graph paper, pencils, and webelos engineer requirement 2 floor plan is a handout to help them draw their floor plans.  For more detailed info on floor plans, this website has great information.
For the Webelos Engineer Requirement #5, there are a lot of great videos on YouTube about energy like Energy 101.
Now for the fun part #6, building a simple electrical circuit.  I wanted to use items that were readily available from around the house.  Energizer has a lot of good info on their site, but I really wish they had some pictures.
Here are the items that you'll need to build the simple electric circuit:
2 – D size batteries
2 – clothes pins
3 – thumb tacks (if the tacks are painted, scrape the paint off)
1 – 3 volt lightbulb (borrow it out of a flash light)
1 – paper clip
1 – nail or screw
insulated wire or an old cord that you no longer need
tape
wire strippers or a sharp knife
scrap piece of wood
Lets start by assembling the power pack.  D batteries are 1.5 volts each, we need to connect them in 'series' so they power can add together to make 3 volts to power the flashlight bulb.  We do that by having one battery with the + side up (bump), and one with the – side up (no bump).  Place the paper clip on across both batteries and tape it in place.  Turn the batteries over and tape and secure them together.
Next cut 2 pieces of wire (mine was probably 16 or 18 gauge) with clippers or snippers that are about 1 foot long.  Strip the ends (remove the rubber insulation) about 1/2″ to expose the wire.  It is easiest to use wire strippers, but if you don't have any, you can score around the rubber insulation with a sharp blade and pull it off with your finger nails.  Tape one wire end to the + end (bump) and the other wire to the – end (no bump).  Strip the free ends of your 2 wires.  Now your power pack is finished.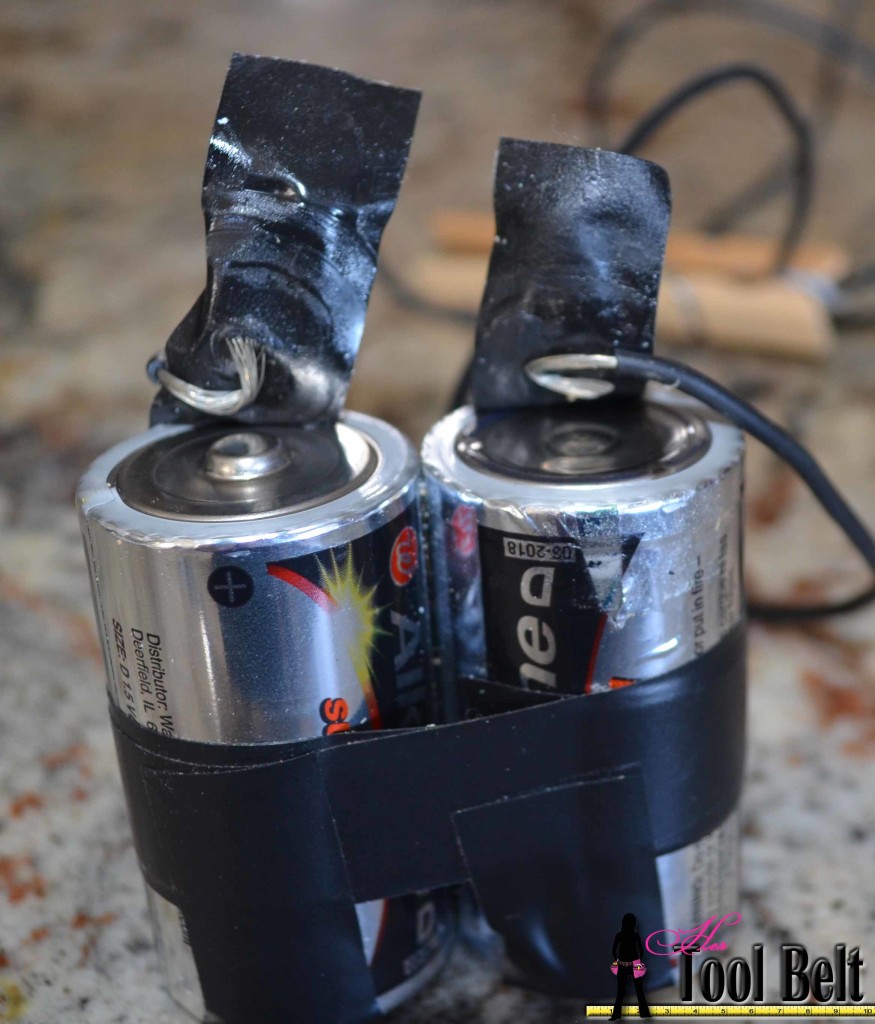 Take the wire lead from the + end of your power pack, wrap the exposed wires around the nail part of a thumb tack and tap the tack down on a piece of scrap wood.  Cut another piece of wire about 1 foot long and strip one end about 1/2″ back and the other about 2″ back.  Wrap the end with 2″ exposed wire around the body of the light bulb and use a clothes pin to hold the wire in place.
Place the light bulb tip on the thumb tack and use a nail or screw through the clothes pin hinge to hold it in place.  This is your light bulb holder.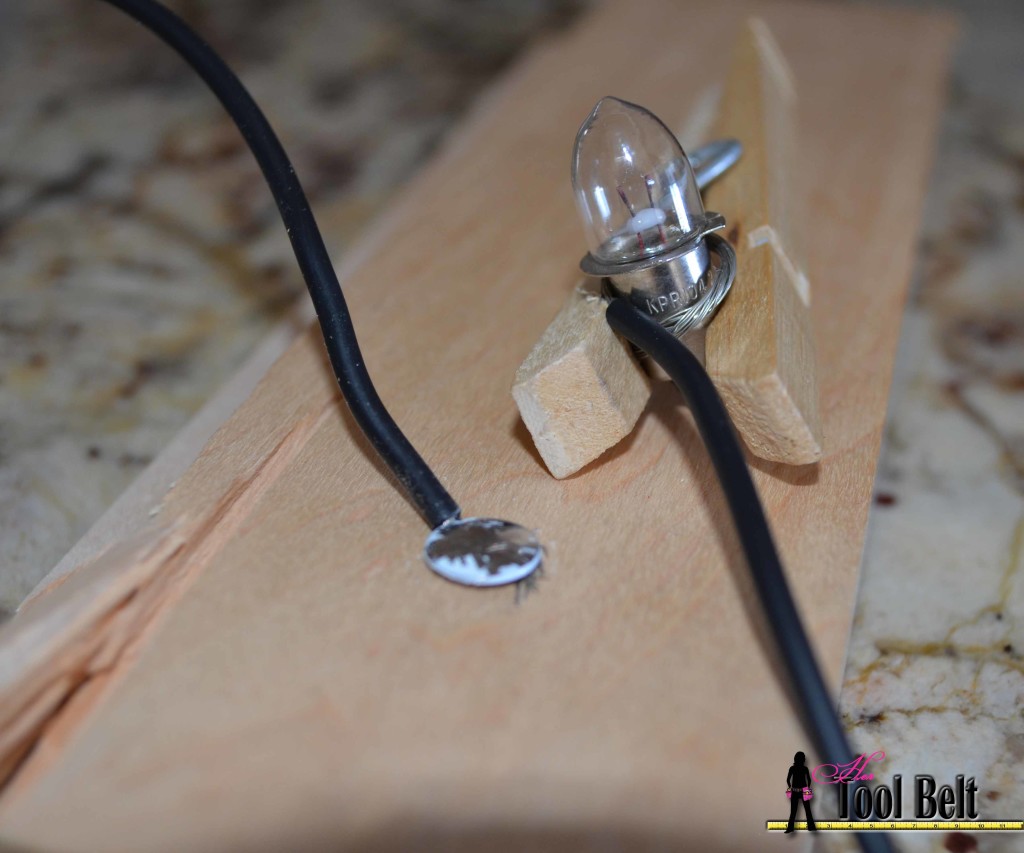 There are many ways to make a switch, but this is what I came up with.  Place a thumb tack in both sides of the clothes pin, such that when you let go of the clothes pin the thumb tack will be in contact with each other.  Now we need to wrap around the power pack – end lead around one thumb tack nail, and the light bulb lead around the other thumb tack nail.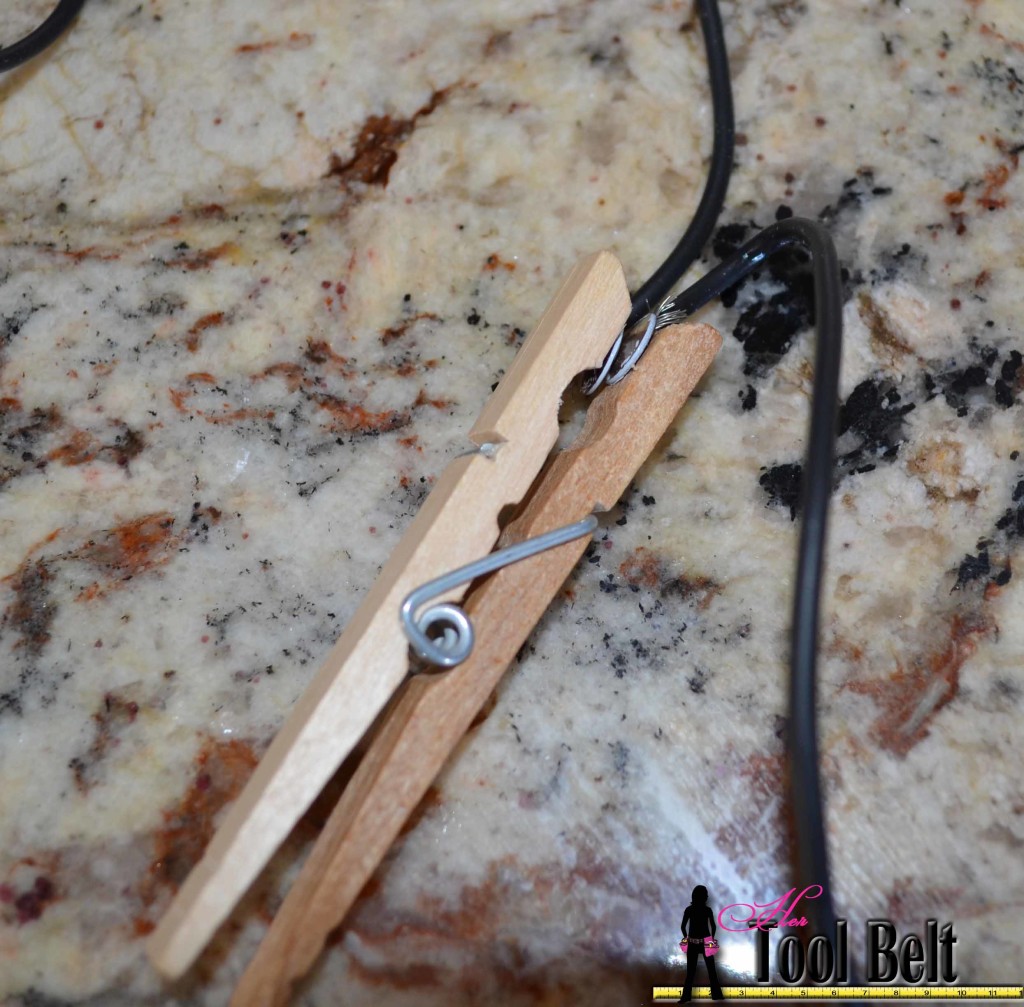 When you pinch the clothes pin, that will break the electricity flow and turn the bulb off.