Good Morning, your challenge should you choose to accept it is to build something awesome from a 1 x 8 board.
ONE BOARD CHALLENGE:
Oh man, have we got an exciting contest for you, and one grand prize winner will receive $1,000 of RYOBI tools to outfit their workshop!!!  Wahoo
A few months ago, a group of builders were challenged by Jen at The House of Wood to build a project using a 1″ x 8″ x 8′ board.  The challenge was really fun and I made a Kid's Step Stool.   The best part of this challenge was seeing your versions of our projects, I love to see what you're building.
For this contest the sky's the limit on your creativity, but you have to make your project out of one 1″ x 8″ x 8′ board (actual 3/4″ x 7 1/4″ x 8′) any species of wood that you want.  There isn't a limit on fasteners/glue/finish and such, just the amount of wood.
The contest goes from September 15 – October 15, 2015.  Snap a photo and post it to Facebook, Instagram, or Twitter.  Use the hashtag #ONEBOARDCHALLENGE
Note: We may not see your entry picture if your social media settings are on private.  Make sure your account is public or email me your photo and I will post on your behalf.  (hertoolbelt at gmail dot com)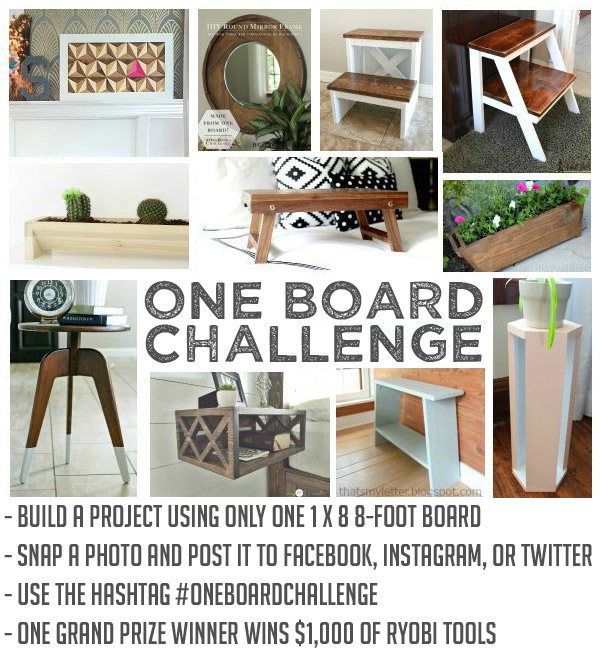 I can't wait to see what your come up with.
Happy Building!
To help get your creative juices flowing.  Here are some project ideas that only use one board!