Update:  So I'm a little embarrassed that I posted about my FAIL before I figured out what I did wrong.  Thanks to Stacy at NotJustahousewife.net, I've corrected my ways.  The tutorial updates are in RED.

I am way outside of my norm with this project.  I rarely venture into the textiles arena.  I'm not much of a sewer, but I do like hand embroidery, go figure!  So if I can do this project, ANYONE can do this project.
I am updating my mudroom and wanted to add pillows on the bench.  Pillows can be so expensive.  I've seen painted curtains and pillows on Pinterest and thought I would try it out.
First off was the matter of pillow forms.  I bought a couple really cheap ones at JoAnn's at 50% off.  I also had an old pillow that wasn't worthy of sleeping on any more.  I tried to separate the filling, then I cut the pillow in half and sewed the opening before too much filling could escape.  This worked out really well for 2 DIY pillow forms.
For the pillow material, I had some white canvas material sitting around and I found a blue polyester curtain panel at IKEA clearance for $3.  This way if this painted pillow experiment was a flop, I wouldn't be out much money.  I prewashed the fabric.  I followed this tutorial for 18″ envelope pillows, I adjusted the numbers for 16″ too.
Then I got busy with Frog Tape making patterns.  On the blue polyester, I was attempting grain sack stripes.  Make sure the back panel lines will line up with the front.
I wanted to try a gold polka dot pillow.  I put strips of Frog Tape on the canvas, then took a 1 1/4″ lid and lightly traced around it with an X-acto knife.  Then removed the inner tape circle.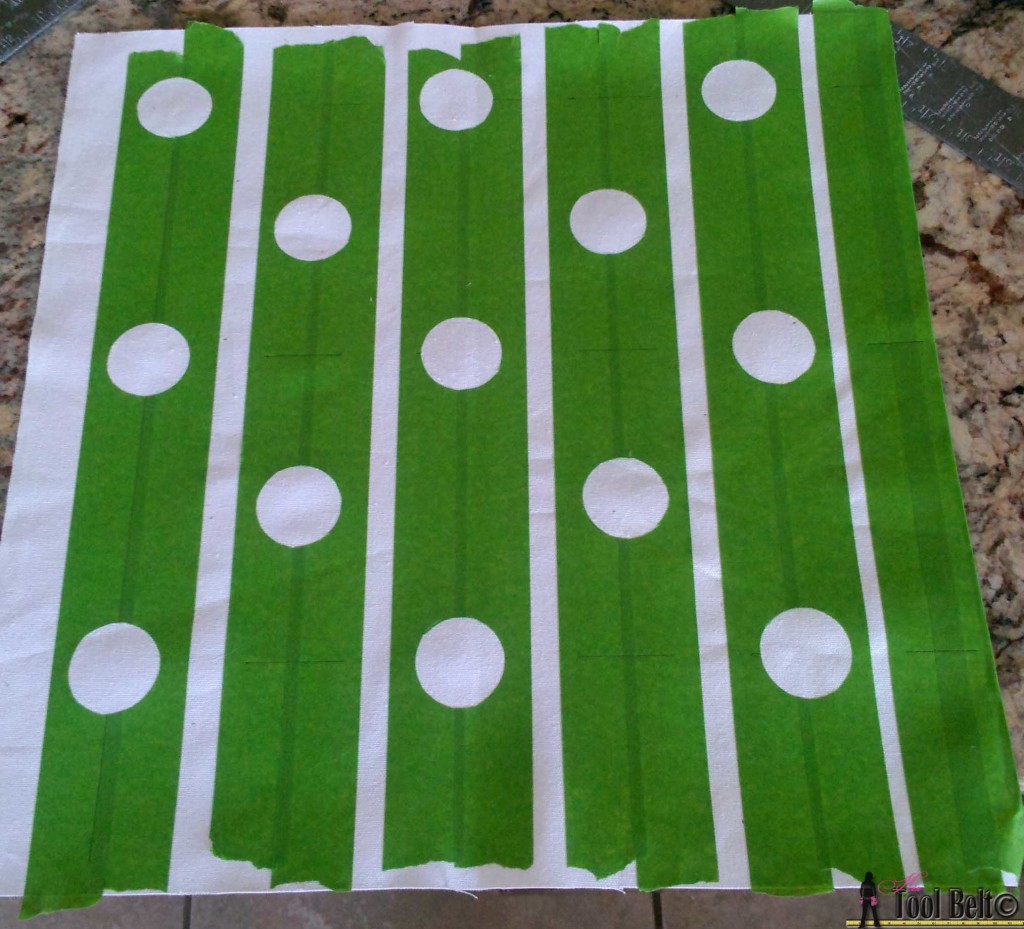 Before you paint, press down firmly on all of your taped areas.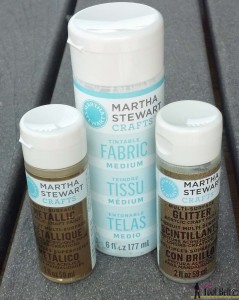 To paint the pillows you need to add Fabric Medium to the paint.  This keeps the paint pliable when dry, and prevents the paint from flaking.  You can grab some at JoAnn's, but I ended up buying it off of Amazon, it was cheaper.  The acrylic paints were cheap on amazon too about $1.75, I was surprised.
I used acrylic metallic gold paint for the gold pillows and used coral latex paint for the coral pillow.  Both seemed to work great.
Mix 2 parts of paint with 1 part of fabric medium.
Now the painting fun, put something under your material like newspaper.  Paint the material with a light coat, don't puddle the paint.  That's a recipe for leaks.  Allow the paint to dry, mine was dry within 30 minutes.  Touch up any spots that you need too.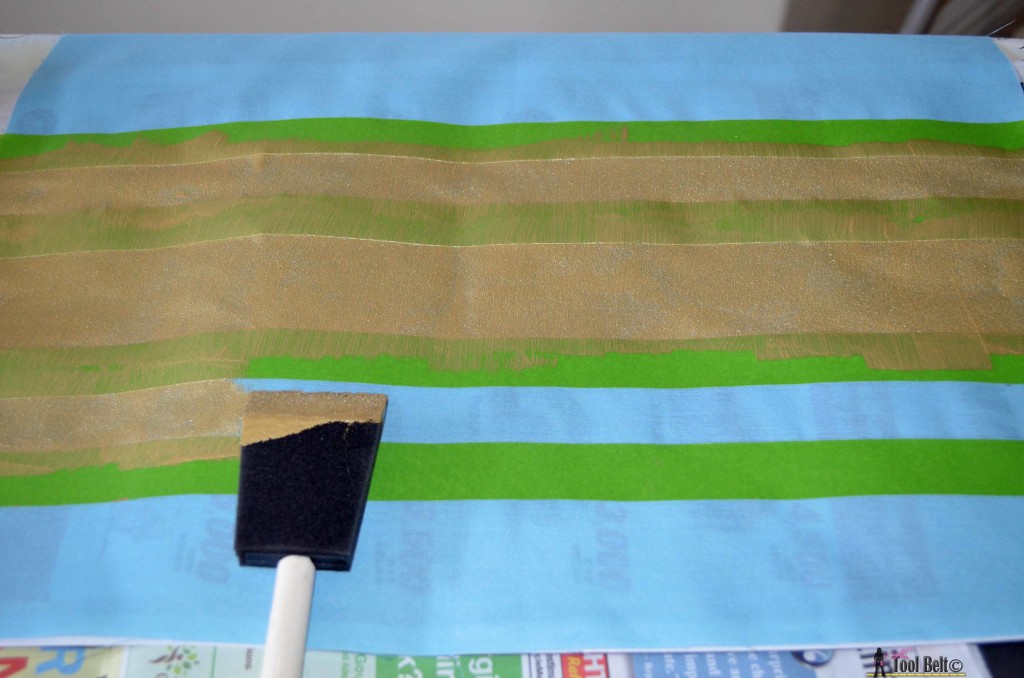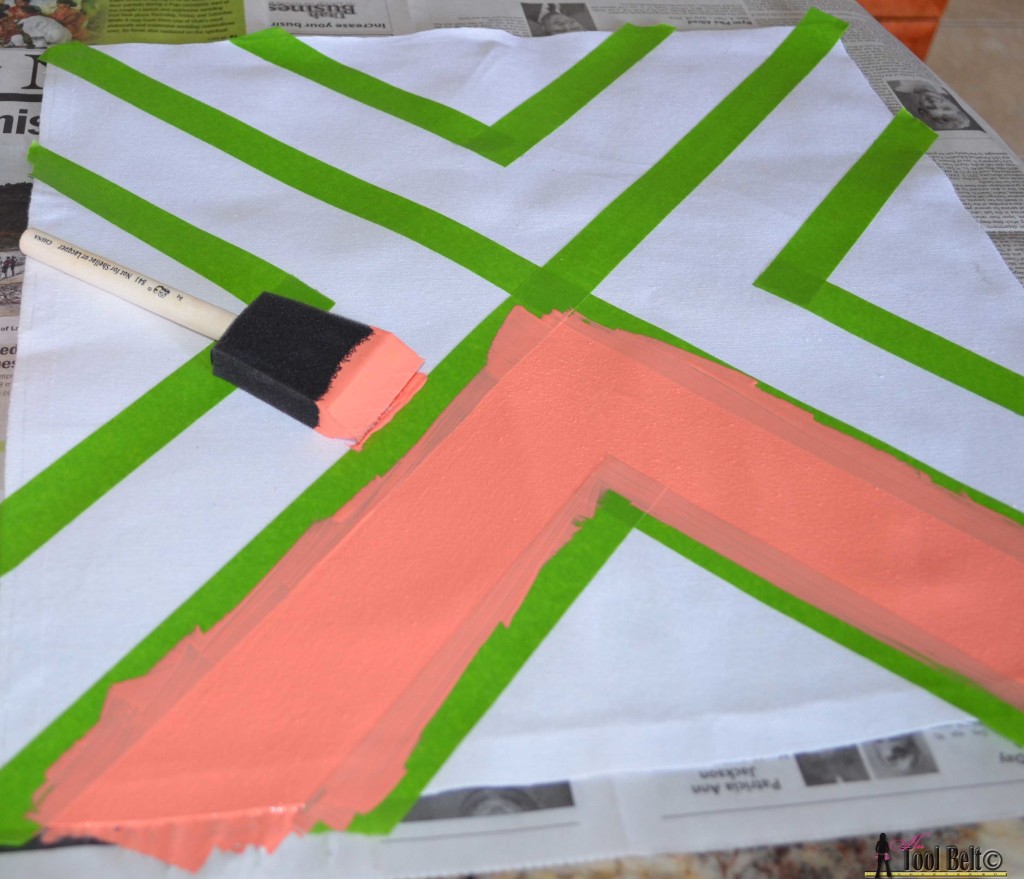 On the gold polka dot pillow, I wanted to add a little extra bling.  I added a final coat of the gold glitter paint mixed with fabric medium.
Now pull off the tape and allow your material to fully dry.  I was super impressed, I did not have 1 leak.  (I can't say that about my walls. )  The painters tape worked perfectly.  Even on the thin polyester material, there was no paint leak.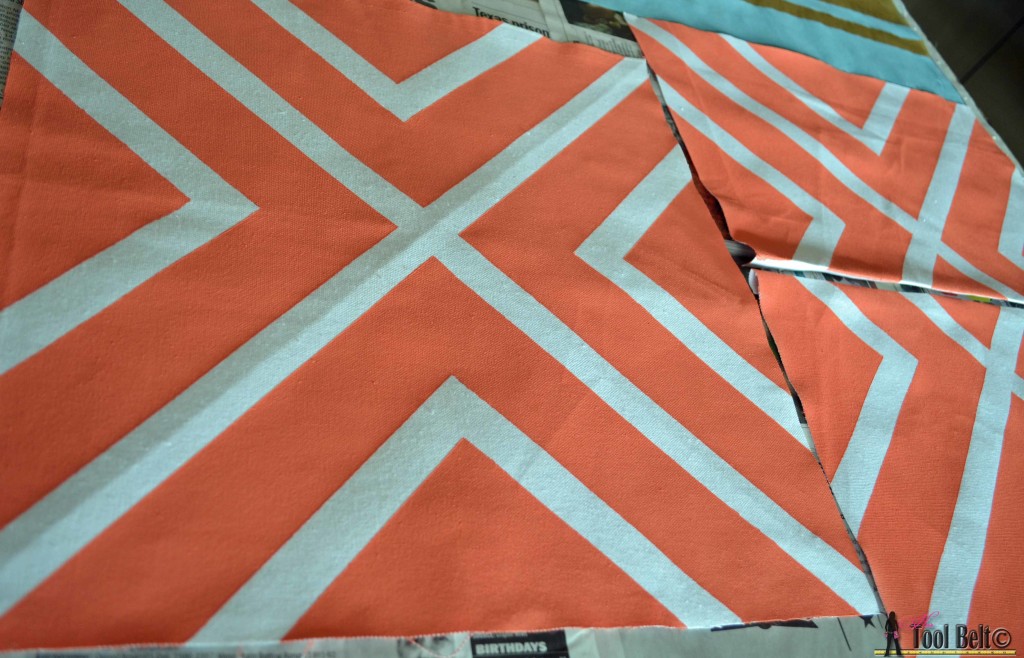 Once everything was dry, I talked my friend into sewing these pillows for me.  It took her all of 10 minutes to sew.  Then I stuffed the pillow forms into the envelope.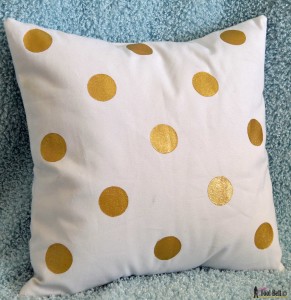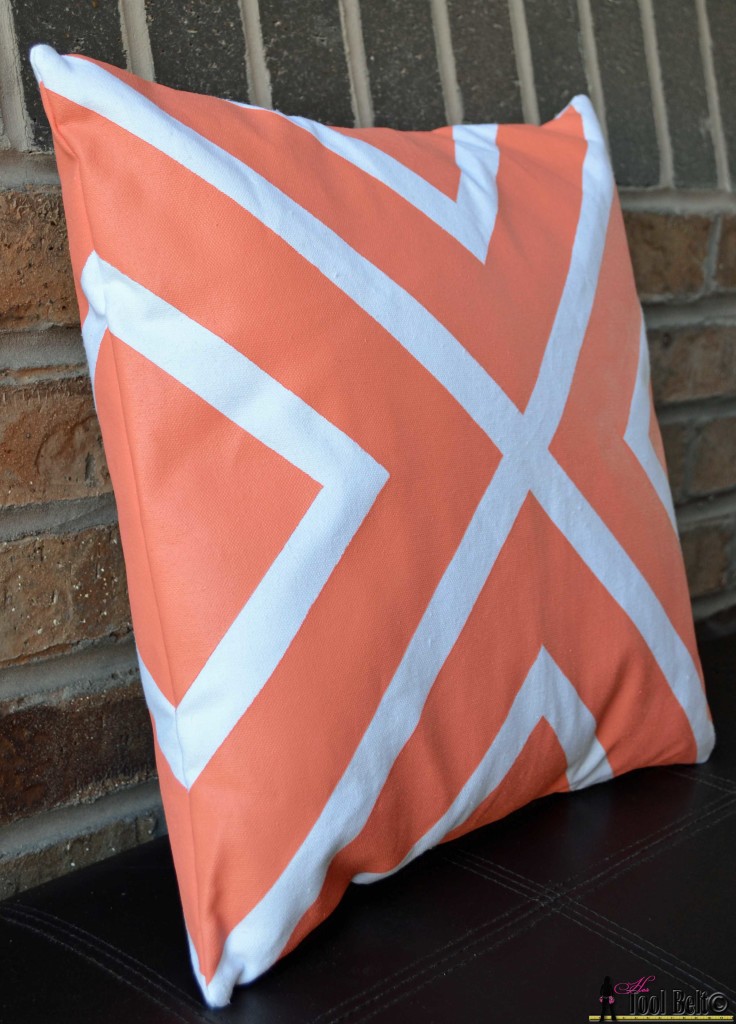 I absolutely love how the painted pillows turned out, I would do it again in a heart beat.  The nice thing is that you can use any water based paint, so you can easily customize your color scheme by painting pillows and/or curtains.  The finished texture reminds me of outdoor fabric.
Now here comes the big FAIL.  The fabric medium bottle says "Care: wash inside out with cool water."  The polka dot pillow had a few pencil marks on it, so I decided to wash it.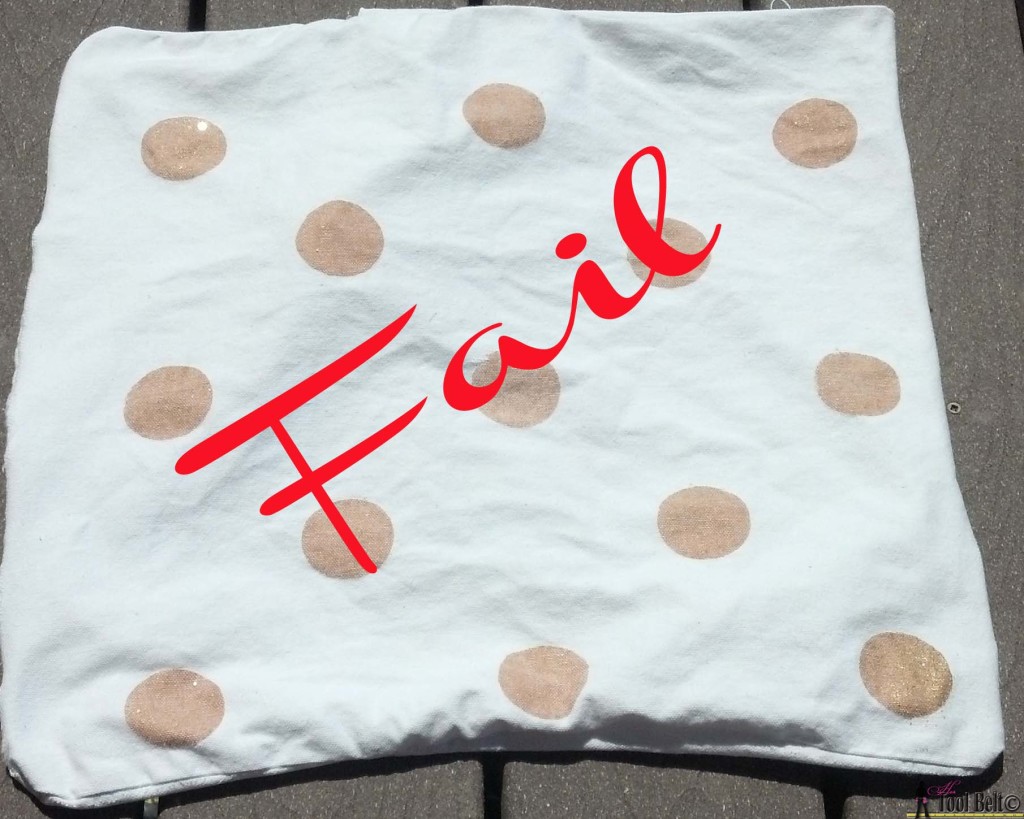 Well that was disappointing.  Update:  So apparently I did something wrong, because Stacy at NotJUSTahousewife has washed hers numerous times and they still look great.  
I missed a crucial step, I didn't heat set the painted pillow after the paint was dry, whoops.  To heat set the paint, turn the fabric to the back side.  Use an iron set on medium high with no steam and slowly iron the painted fabric.  I successfully washed the blue polyester pillow and the paint still looks great – Thanks Stacy!  
Now that I know how well painting fabric works, I am going to try and recreate this fabulous gold polka dot pillow, so fun.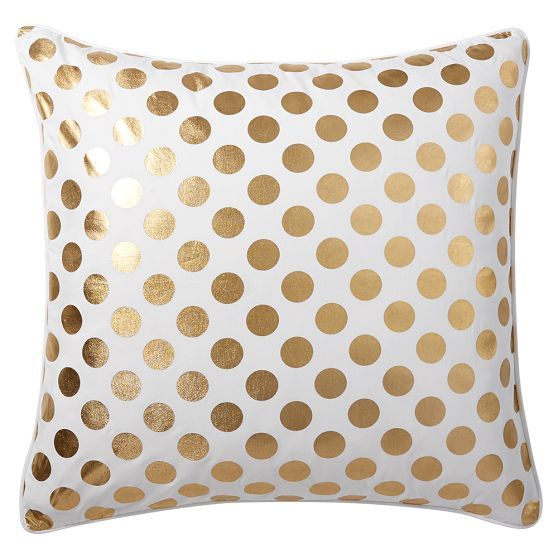 Have fun creating.
Pin for later