Do we have any tennis fans out there?  Tennis has been my favorite sport to play since I was young.  We had the best coach in town, Coach Braithwaite.  He was an avid supporter of the game of tennis and coached at the High School until he was nearly 80.  A couple of years ago, I went to the US Open with my friend, a fellow tennis lover, and a past tennis teammate.  For her birthday I made a tennis ball pallet sign, inspired by the US Open.  A tennis ball pallet sign is a fun decor addition for any tennis lover.
Pallet signs are pretty easy to make.  This tennis ball is 30″ diameter, so fairly large.  Start by cutting boards to 30″, you need enough boards to line up to make 30″ tall.  Cut 2 additional boards that are 30″ long, these will be the supports on the back.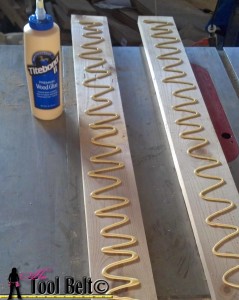 Apply glue to the 2 support boards.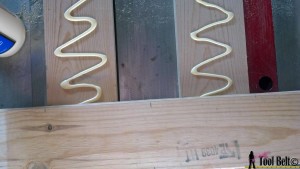 Stack the boards onto the supports.  And nail into place with a brad nailer.  Allow the glue to dry for a few hours.
To make the large circle, put a nail in the center of the pallet sign.  Tie a string to the nail and tie a loop on the other end of the string 15″ from the nail.  Use a pencil in the loop and mark the circle, this will make a 30″ diameter.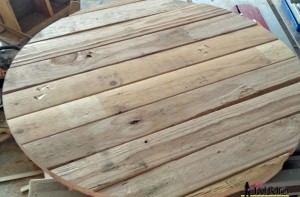 Cut out the circle using a jig saw, band saw or scroll saw.  Lightly sand the edges.
For the logo, I used the motto to the US Open, 'It must be love'.  I made a stencil with left over vinyl pieces.  I printed out the lettering and used a razor blade and cut out the saying in vinyl.  Painters tape will also work as a stencil.
To achieve the layered colors, I applied the 'IT MUST BE' and fire tennis ball to the bare wood.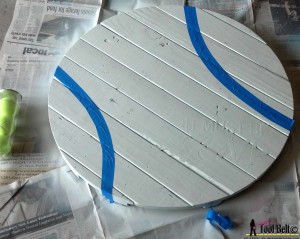 Then painted the surrounding areas blue.  I used Valspar Exotic Sea for the blue coloring.  Once the blue dried, I applied 'LOVE' and painted the entire pallet white.  After the white paint was fully dry, I made the tennis ball lines with painters tape.  (I wish I would've adjusted the tennis ball lines to make the words look like the tennis ball logo.)  The final coat of paint is Rustoleum Key Lime.  It makes the perfect tennis ball color.  You can either pull off the stencil and tape now, or pull it off when the paint dries.  Depends on how impatient you are 🙂
Once the paint is really dry, at least over night.  Use sand paper and rough up your sign.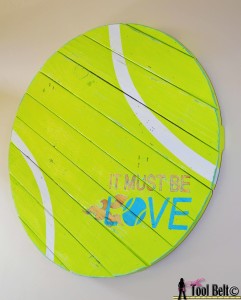 Add a hanger to the back and that's it.
Now my friend needs to add some other super cool tennis decor to go with her fun pallet sign.  Maybe a gigantic racket? 🙂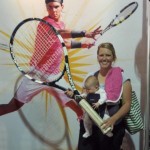 or Maybe a court couch???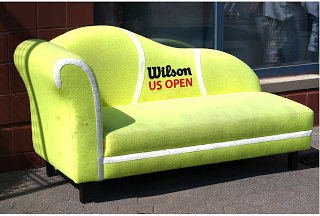 Save for later, Pin it.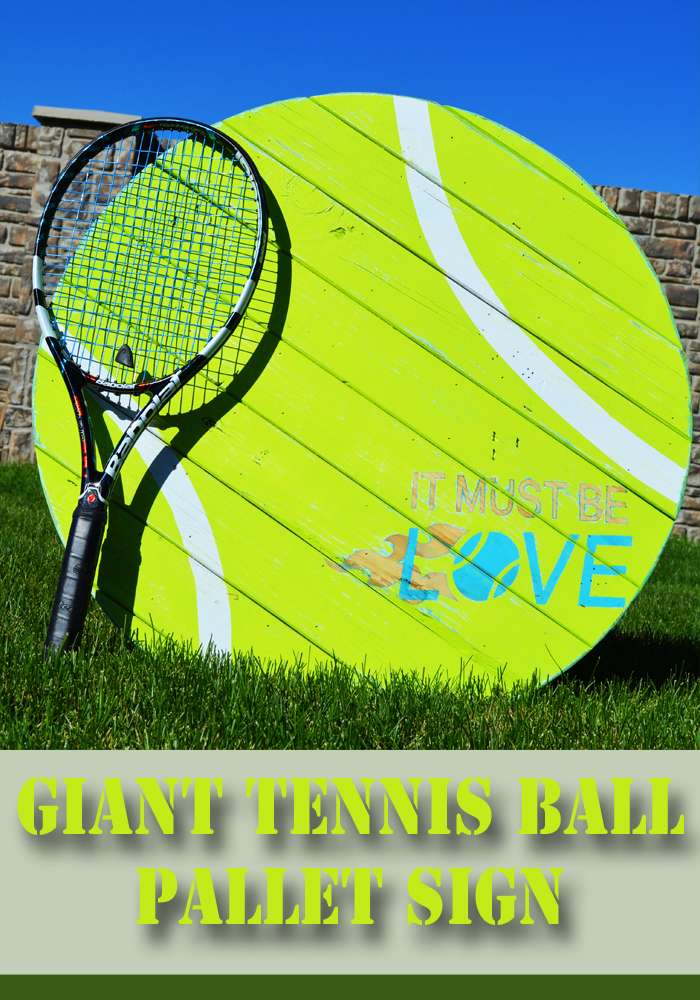 Linked to Savvy Southern Style, Remodelaholic,