The Window Shadow Box Shelf and Diablo saw blade Tool Review is sponsored by The Home Depot. I have been compensated for my time and provided with product (tools). All ideas and opinions are my own. This post contains some affiliate links for your convenience. Click here to read my full disclosure policy. 
A few weeks ago I made my toddler a 'big girl' bed…but not too big! Her bed is a cute little house frame toddler bed that uses her crib mattress. It turned out super cute.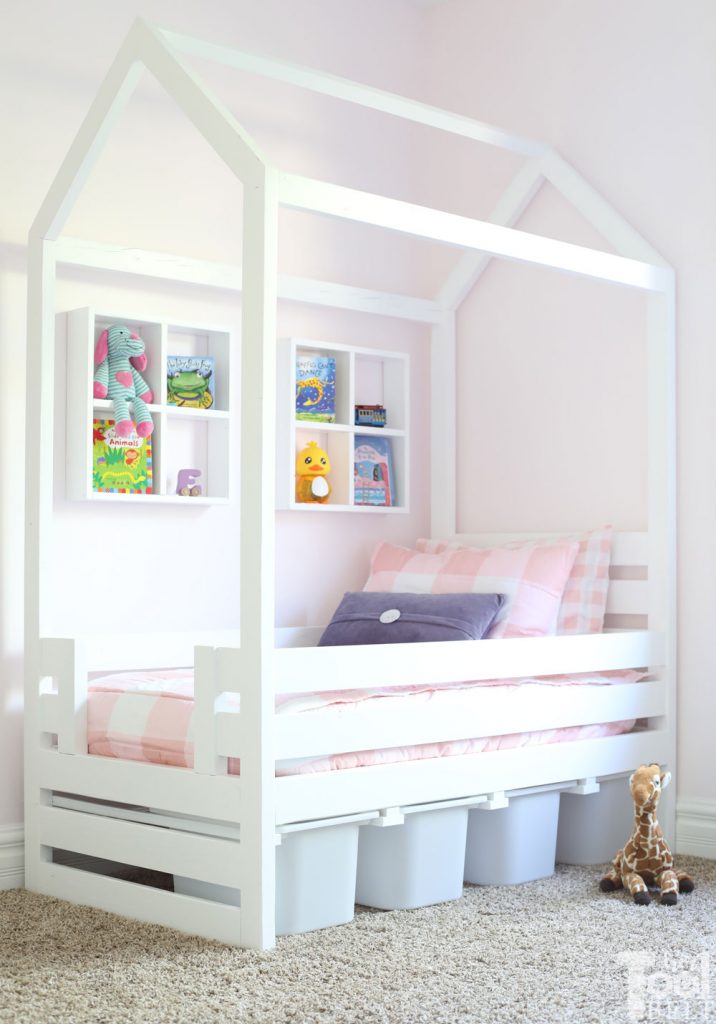 While brainstorming ideas for wall decor, I thought, of course a house needs windows. These window shadow box shelves add the look of windows, but double as a place to put her little books and knick-knacks.
The 'window' shadow box shelves can be made for as little as $2 each in lumber, depending on the size of 'window' you need. Even better, they are a great way to use up scrap 1×4 pieces!
How to Build a Window Shadow Box Shelf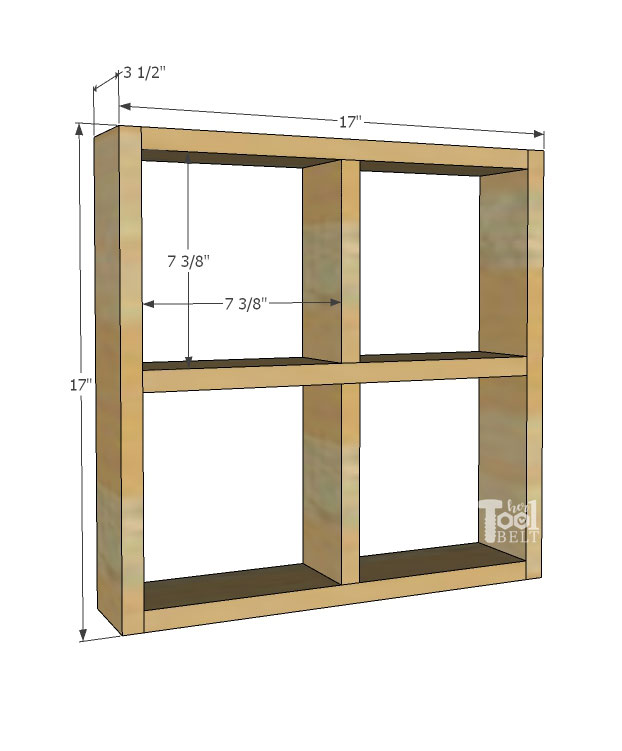 Materials (links to products used)
1 – 1×4 x 8′ board (this is the common name, actual size is 3/4″ x 3 1/2″) – 1 board = 1 window shelf
2 – sawtooth picture hangers – I ran out of these and substituted 2 soda can tabs instead 🙂
paint or stain
top coat

The lumber cost for a 17″ x 17″ window shelf is $2!
Tools Used
Cut List
2 – 3/4″ x 3 1/2″ x 17″ (1×4)
3 – 3/4″ x 3 1/2″ x 15 1/2″ (1×4)
2 – 3/4″ x 3 1/2″ x 7 3/8″ (1×4)
Note: You can make this shelf whatever size you need:
2 pieces at shelf height"
3 pieces at shelf height" – 1 1/2″
2 pieces at (shelf height" – 2 1/4″)/2
Cut Diagram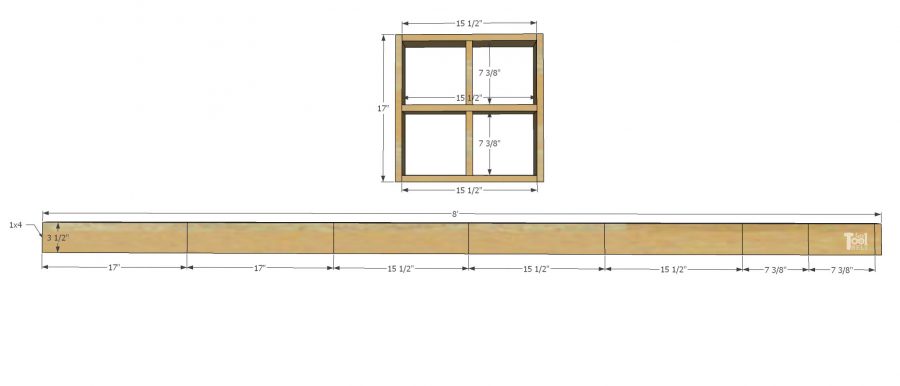 Step 1 – Make the cuts
Measure and cut the 1×4 into the sizes listed in the cut list. I used a miter saw to make the cuts.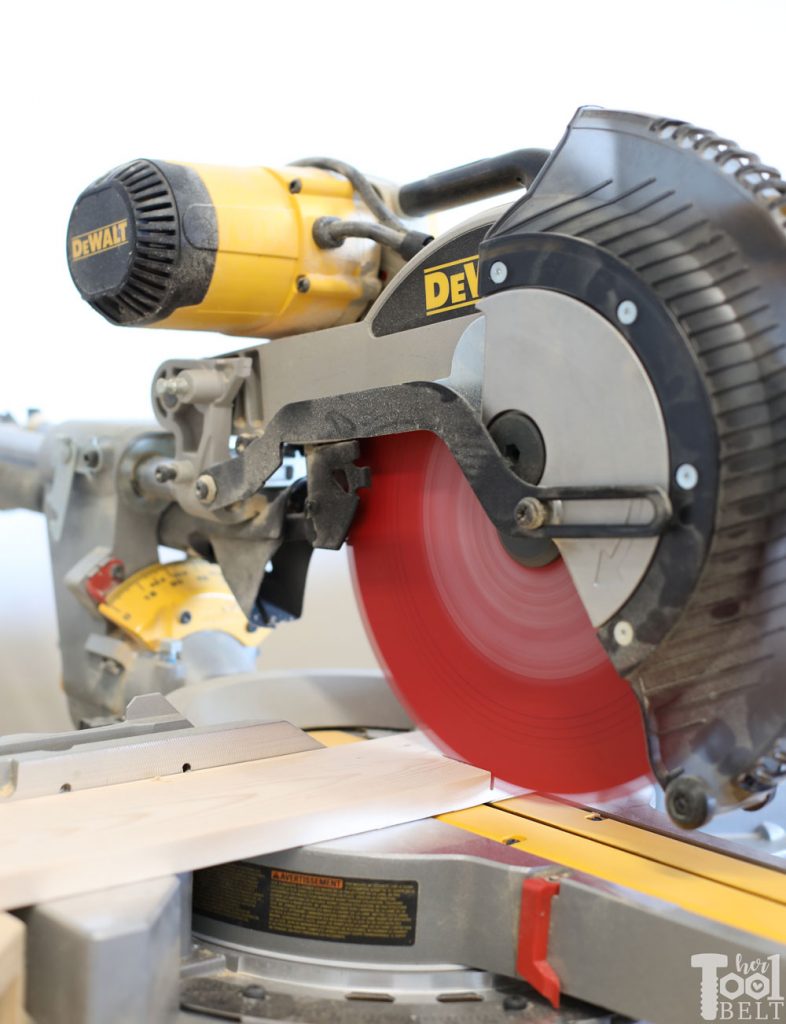 Let's chat about blades for a minute.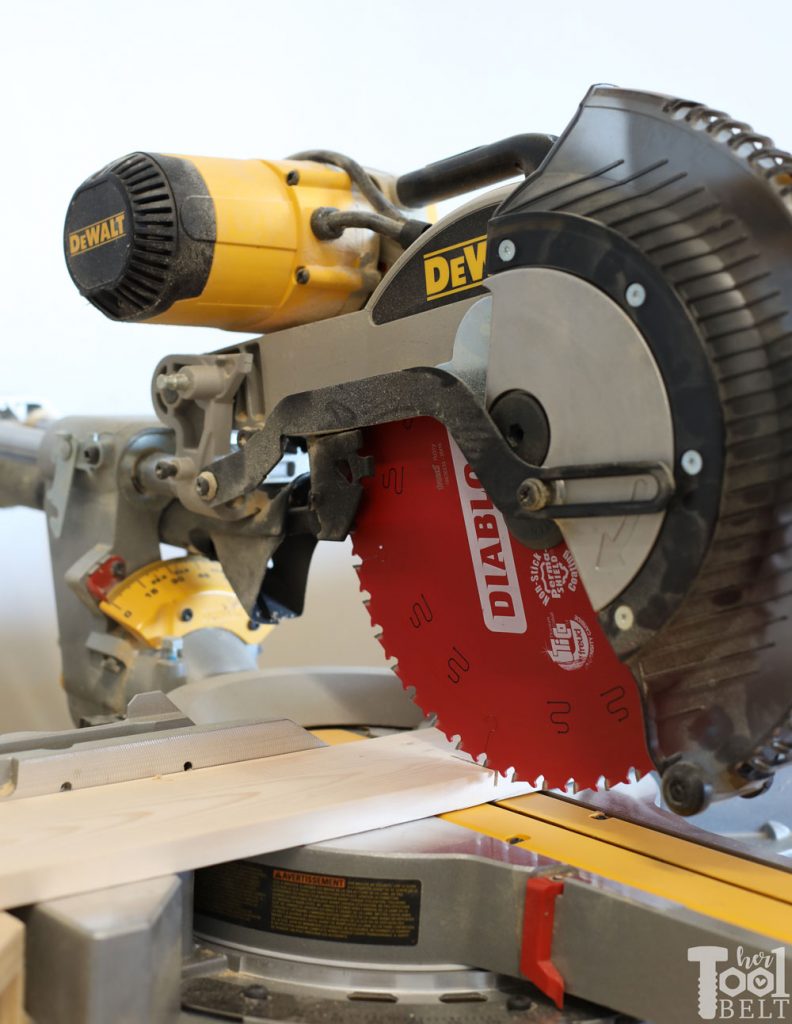 I'm sporting a new Diablo 12″ 44T general purpose saw blade. Nothing perks up your saw like a new blade and Diablo is my go to!
Those squiggly lines in the blade body are laser-cut stabilizer vents that absorb noise and vibration, and prevent sideways movement for precise, clean cuts.

The blade has a s

uper-thin kerf (cut width) design for fast and effortless cuts, and saves material when you're trying to get as much out of board as possible. 🙂

This blade comes in a 2-blade value pack…my favorite. 

The 44 tooth blade is a general purpose for hardwoods, softwoods, decking and pressure treated lumber. If you want a little finer cut they have a 60T option. If you do a lot of fine finish work, like trim work, you'd want to consider upping the teeth count to a 80T.
I especially like how long the blades stay sharp and give me crisp cuts.
Step 2 – Sanding
While I have all of the boards separate, I like to sand them smooth. It's easier now then trying to sand assembled. If I'm going to paint the boards, I'll usually only sand to 120 grit. However if I'm staining, I'll usually go up to 220 grit sandpaper.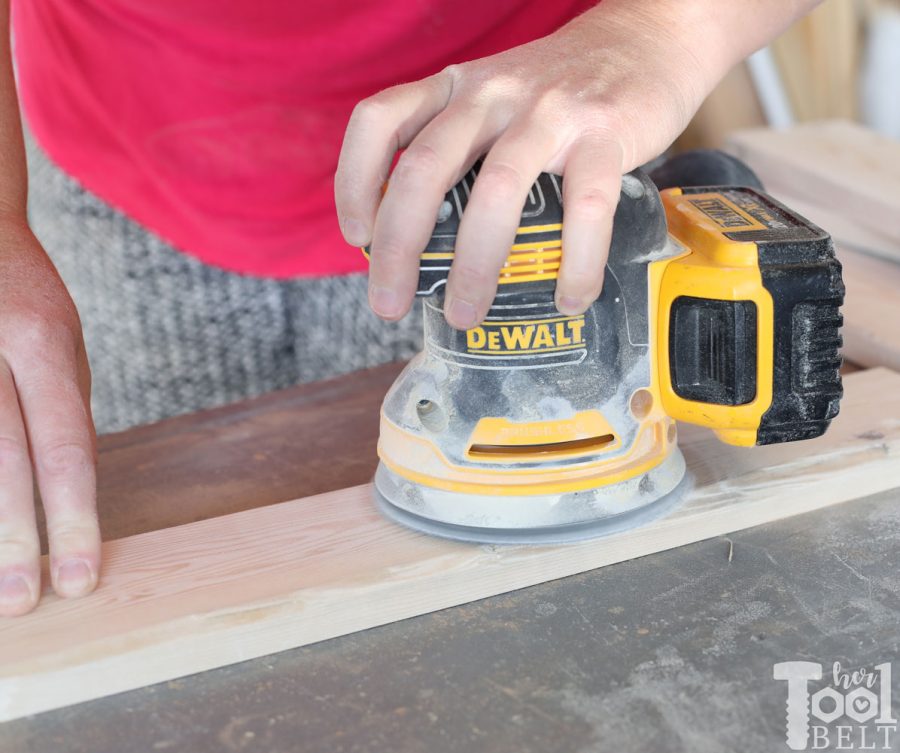 Step 3 – Window Shadow Box Shelf Assembly
In preparation to assemble the shelf, mark the centers of all the 17″ and 15 1/2″ boards.
Use wood glue and 1 1/4″ brad nails to attach 3 – 15 1/2″ boards to a 17″ board, one flush with each end, and one lined up with board center.
Then use wood glue and 1 1/4″ brad nails to attach a 7 3/8″ board to the center of two 15 1/2″ boards.                                                                                                                                                   
Use wood glue to attach the other 7 3/8″ board to the center of the 15 1/2″ boards, and use brad nails to secure the outside end.
Finally use wood glue and 1 1/4″ brad nails to attach the 17″ board to the 15 1/2″ boards, one flush with each end, and one lined up with board center.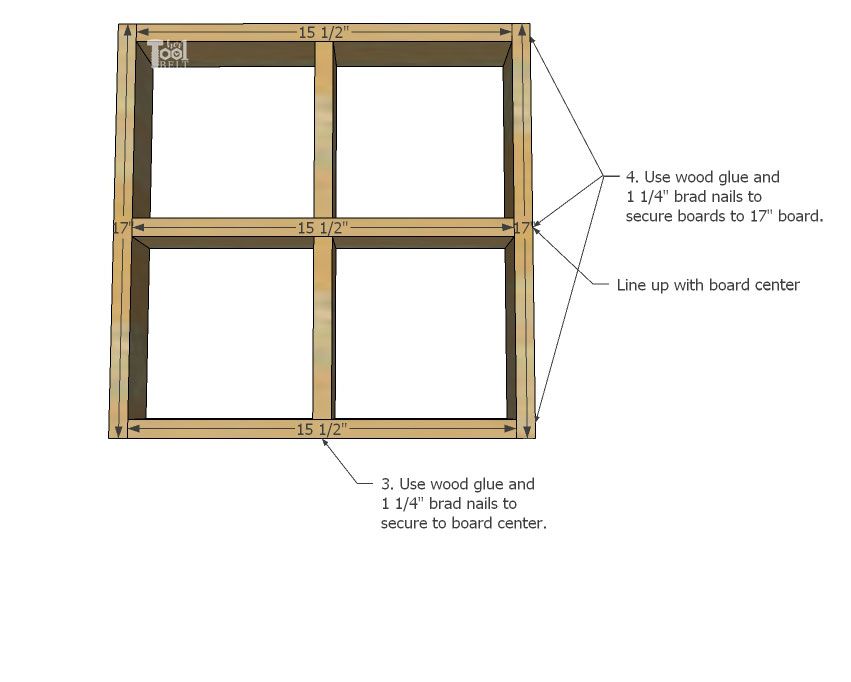 I'm using my good trusty Ryobi airstrike brad nailer to secure the boards together.  Note: it may be helpful to use clamps to hold the shelf together during assembly.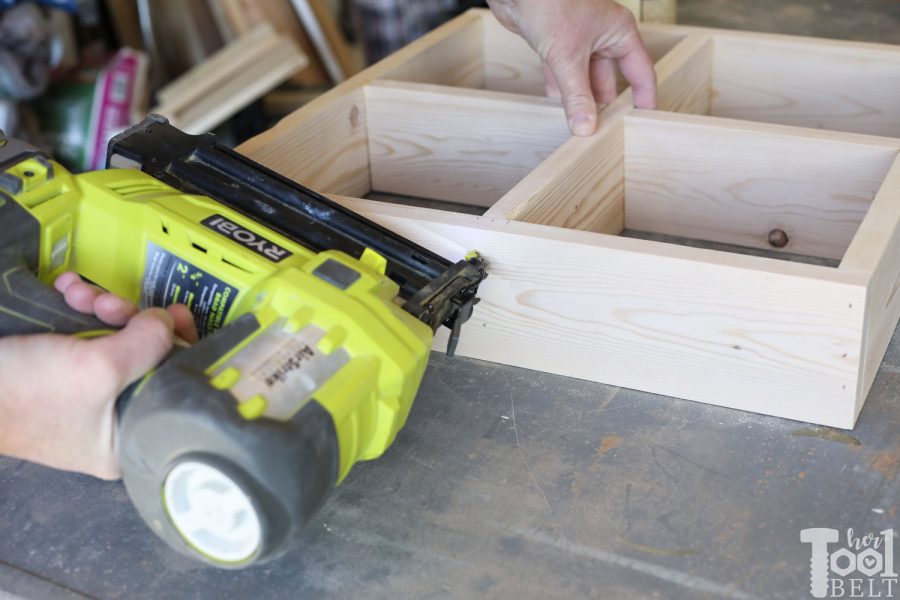 Step 4 – Finish
Once the glue has dried, remove any excess glue and sand the shelf smooth. Use paint or stain to finish the shelf. I primed the shelves, then applied Behr Ultra Pure White in satin.
Add picture hangers to the back. I ran out of saw-tooth hangers and didn't want to run to the store. So I grabbed a couple soda/pop can tabs and secured them to the back with small screws. Worked great, although I should probably paint them white!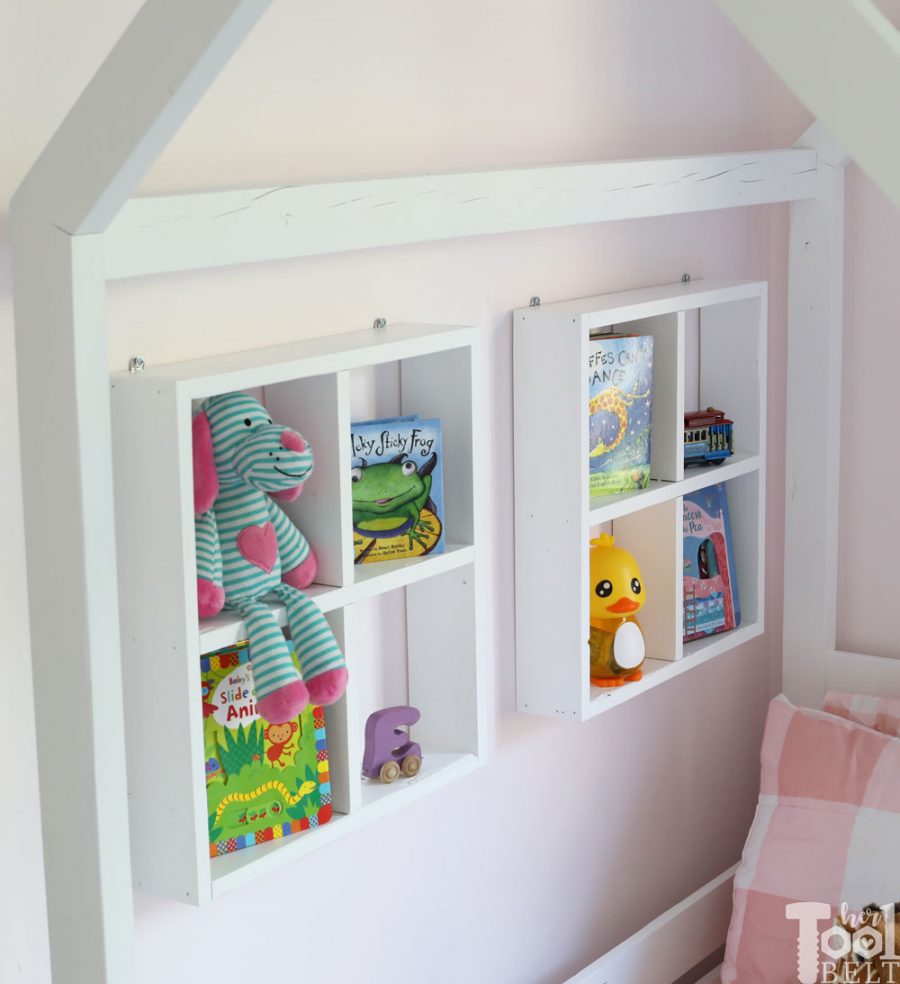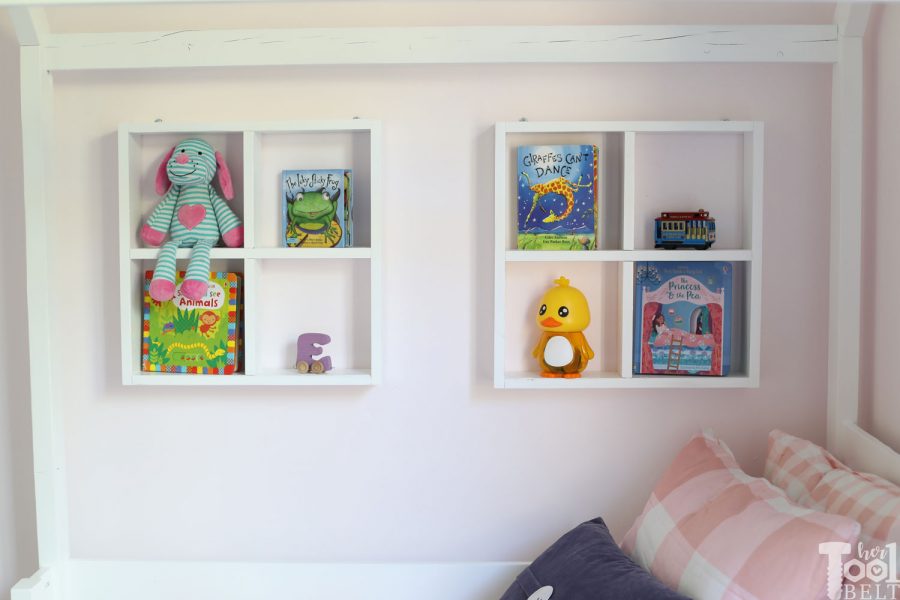 Thanks for pinning!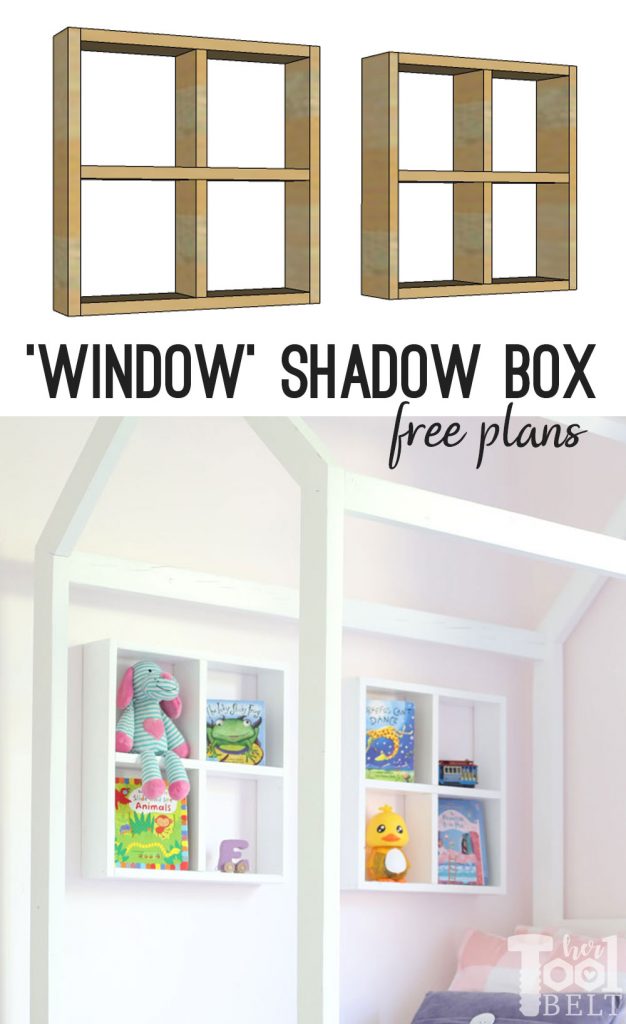 "I acknowledge that The Home Depot is partnering with me to participate in the Tool Review Program. As a part of the Program, I am receiving compensation in the form of products and services, for the purpose of promoting The Home Depot. All expressed opinions and experiences are my own words. My post complies with the Word Of Mouth Marketing Association (WOMMA) Ethics Code and applicable Federal Trade Commission guidelines."