Hi and welcome to the Home Depot DIY Workshop (Do it yourself) Virtual Party!  The Christmas holiday is quickly sneaking up on us.  The Home Depot's DIY Workshop this month is to learn how to make this really cute Holiday Stocking Post.  Today I'm participating in a virtual party with 25 bloggers to show how we customized the Holiday Stocking Post for our homes.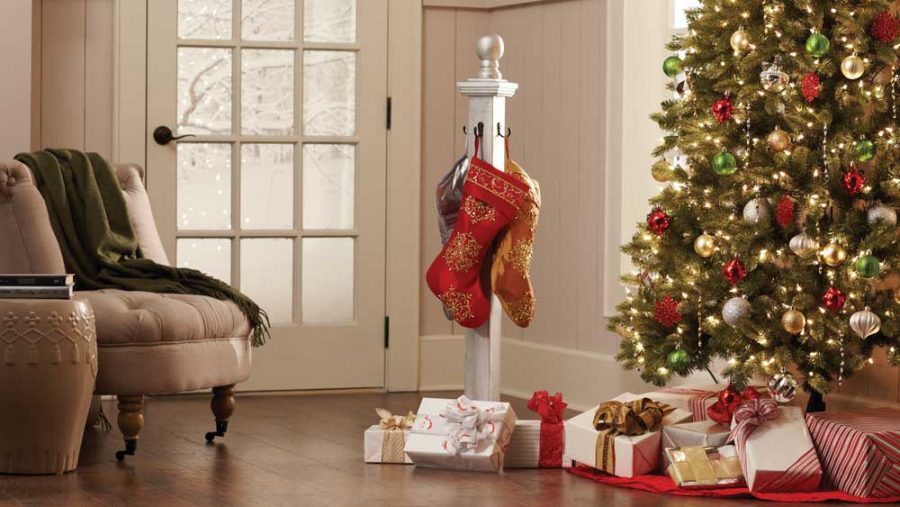 Here is what you'll learn at the free demonstrative workshop: Learn to build a Christmas stocking holder. Join our workshop and learn to use a saw, drill, and other carpenter tools to cut and craft a decorative and sturdy holder for all your family's Christmas stockings. Then, give your project some personality with paint or wood stain and celebrate the holidays with a cute way to organize those stocking stuffers.
Attending a DIY workshop is a great way to become more comfortable with power tools and learn how to make a cool project. The Home Depot offers Workshops at all of their locations for do-it-yourselfer's of all ages and experience levels.
The Home Depot offers Workshops at all of their locations for do-it-yourselfers of all ages and experience levels.
There are three types of Workshops offered – Do-It Yourself (DIY), Do-It-Herself (DIH) and Kids.
Customers can learn how to build décor projects, how to make easy home repairs and how to operate tools through demonstrations and step-by-step instructions.
Visit http://workshops.homedepot.com to learn more.
Make sure to get registered to attend the free workshop at your local Home Depot on Saturday, Nov 19 at 10 am!  ——> Register Here
Share your project creations with hashtag #DIYWorkshop
I thought it would be fun to customize my Holiday Stocking Post to look like a candy cane.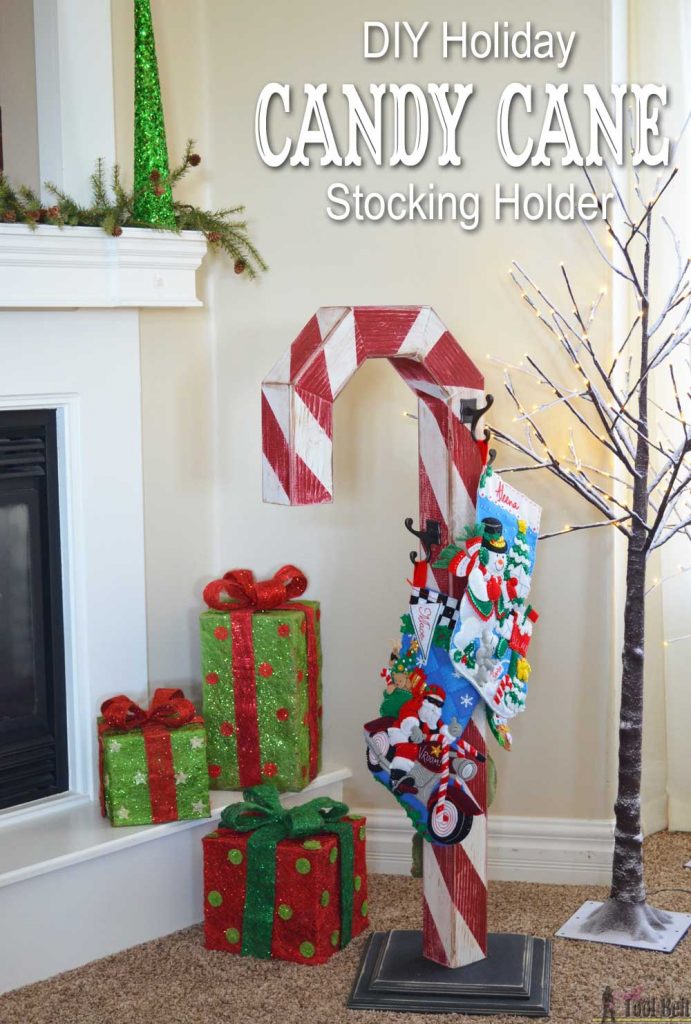 This post contains some affiliate links for your convenience. Click here to read my full disclosure policy.
How to Make a DIY Holiday Candy Cane Stocking Holder

Overall dimensions
Materials
Cut List
1 – 3 1/2″ x 3 1/2″ x 43″ post (22 1/2 deg miter on one end)
3 – 3 1/2″ x 3 1/2″ x 7″ post (22 1/2 deg miter on both ends)
1 – 3 1/2″ x 3 1/2″ x 8″ post (22 1/2 deg miter on one end)
2 – 3/4″ x 7 1/4″ x 14 1/2″ board
1 – 3/4″ x 7 1/4″ x 11 1/2″ board
1 – 3/4″ x 4 1/4″ x 11 1/2″ board

Candy cane wood piece placement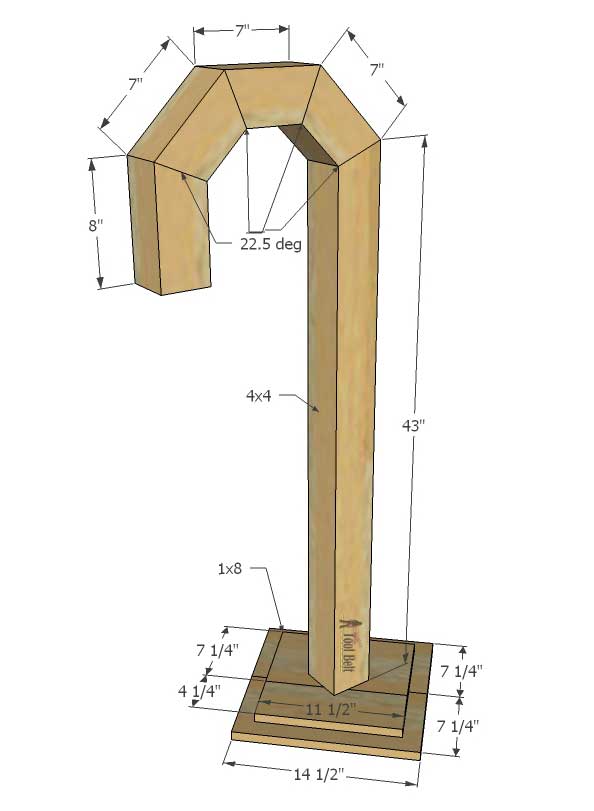 Make the cuts to the 4×4 post and 1×8 board according to the cut list.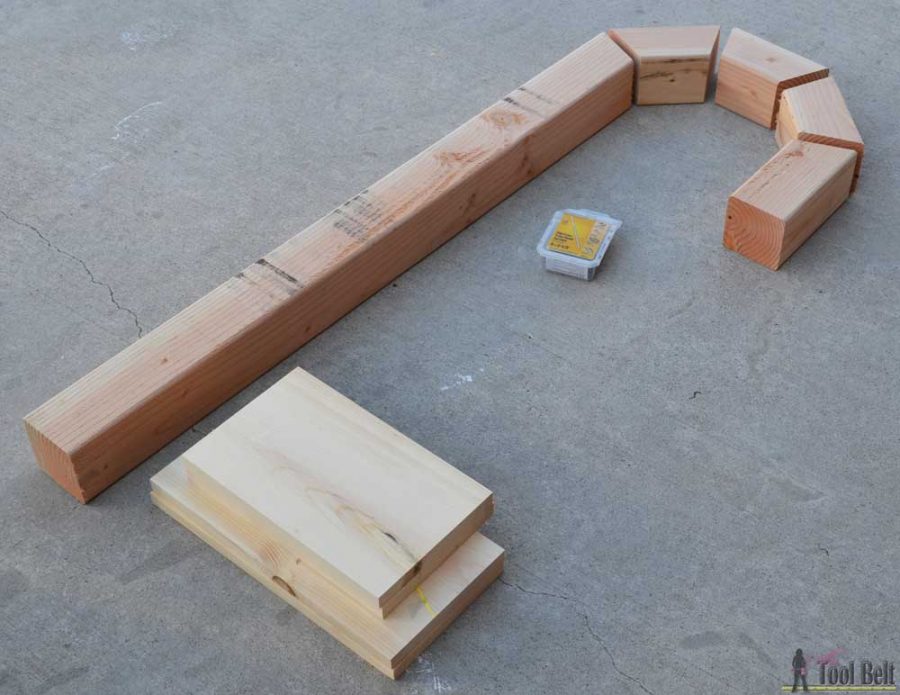 Step 1 – Assemble candy cane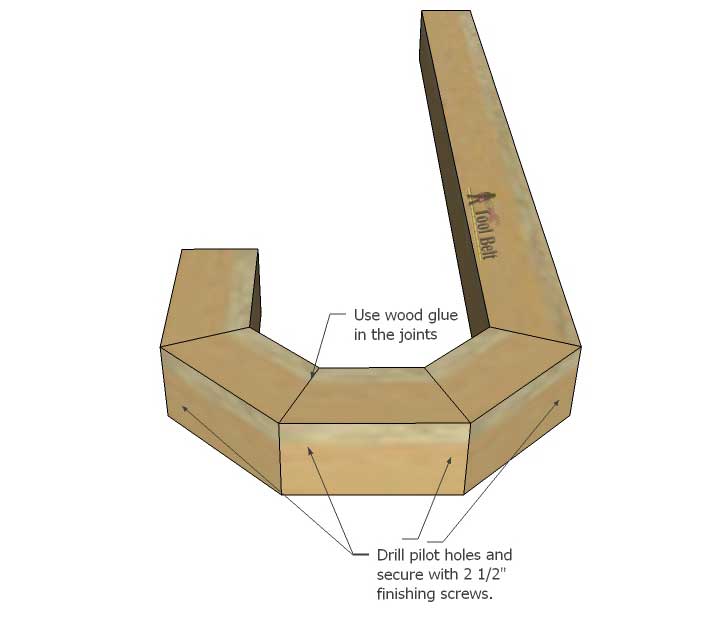 The candy cane pieces are glued together and I added 2 1/2″ finishing screws to give it some strength.  The finishing screws have a smaller head (normal wood screws can be used instead but will leave a bigger hole).
On each of the angled pieces, drill pilot holes for the 2 1/2″ screws.  The drill bit for the pilot hole should be about the size of the screw shank (solid part).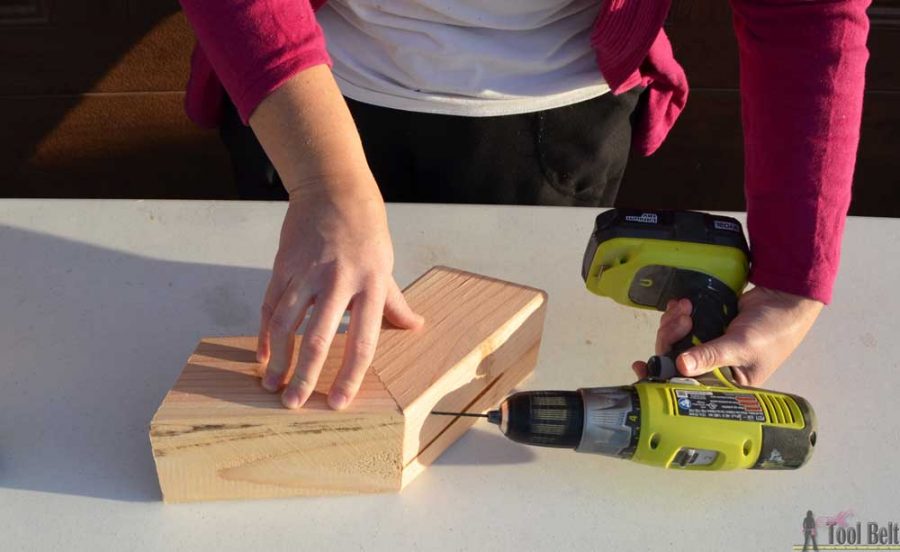 Add plenty of wood glue to the joint.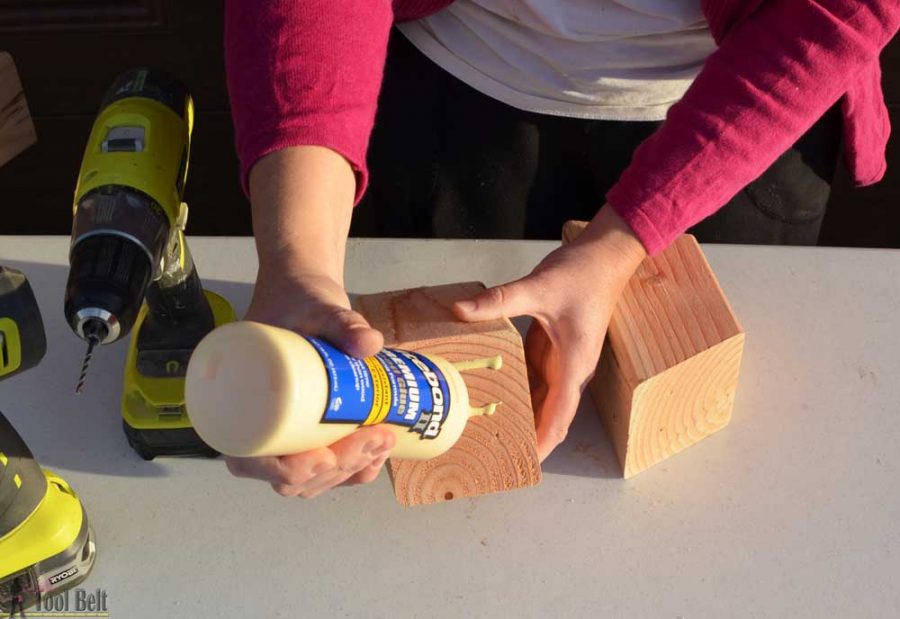 Use clamps to assist assembly as needed.  Secure candy cane pieces together with 2 1/2″ screws.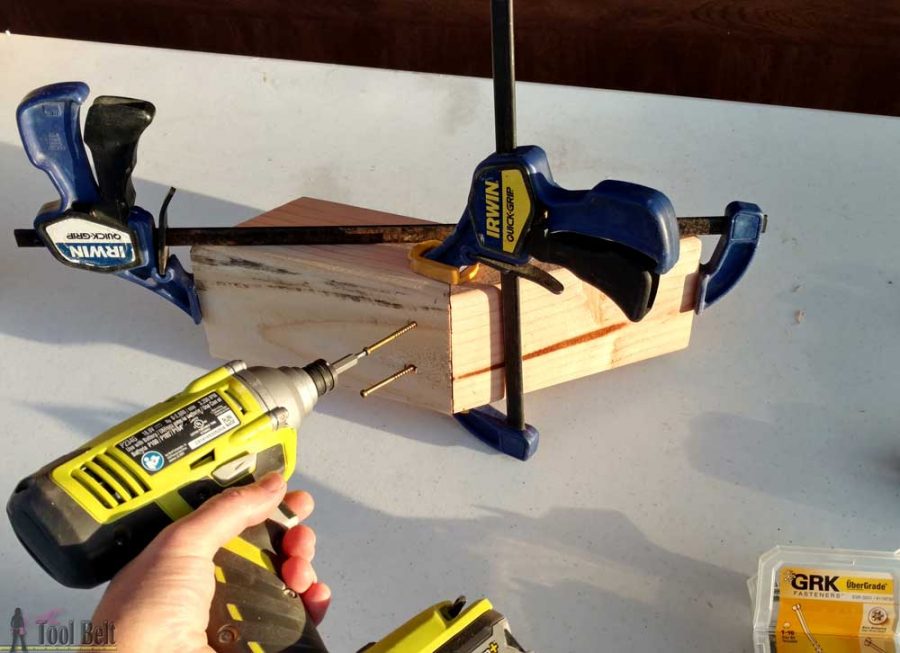 Repeat for each joint until candy cane is assembled.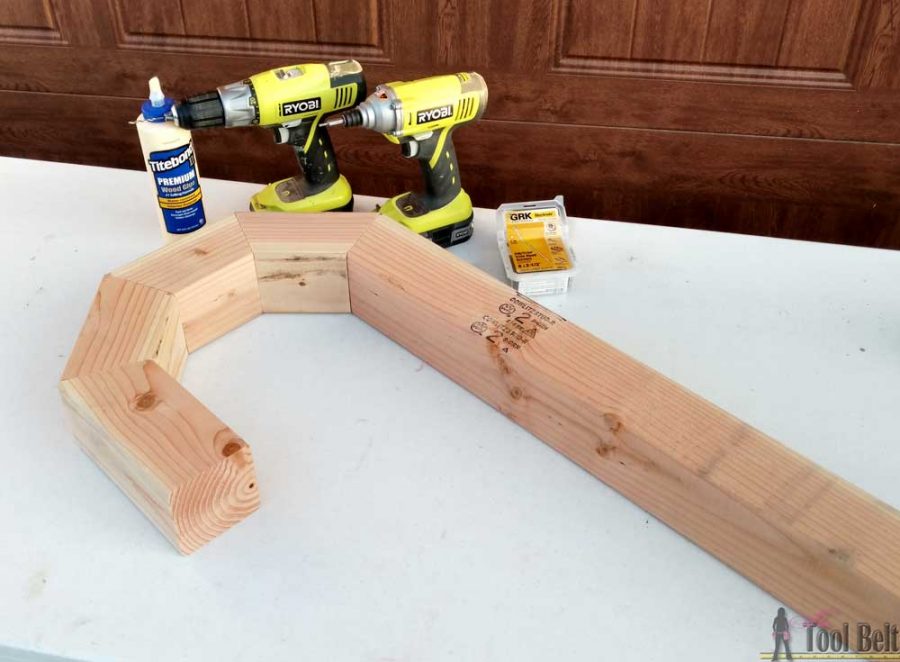 Step 2 – Assemble bases
I wanted to route a nice edge around the base pieces, so I chose to use pine boards. Alternatively you can use plywood if you want.
Drill about 4 pocket holes for 3/4″ material in one of the 7 1/4″ x 14 1/2″ base pieces and about 3 pocket holes in the 4 1/4″ x 11 1/2″ base piece. Use wood glue and 1 1/4″ pocket hole screws to join the large base and small base pieces.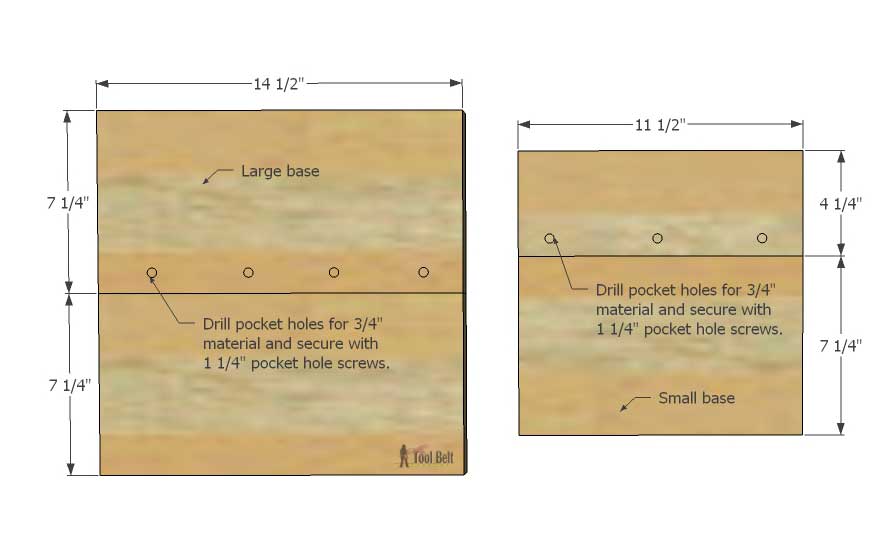 Remove any excess glue and sand smooth.  If you want, route an edge around the outside edges of the bases.  I painted the base pieces with DecoArt Carbon chalky finish paint.
Step 3 – Paint candy cane
I painted the whole candy cane with white paint primer (primer has a dull finish which I wanted) and let the paint primer fully dry.  I wrapped the candy cane with painters tape to make stripes.  The straight part is pretty easy to get taped up even, the hook portion is a little tricky I just tried to make it look evenish.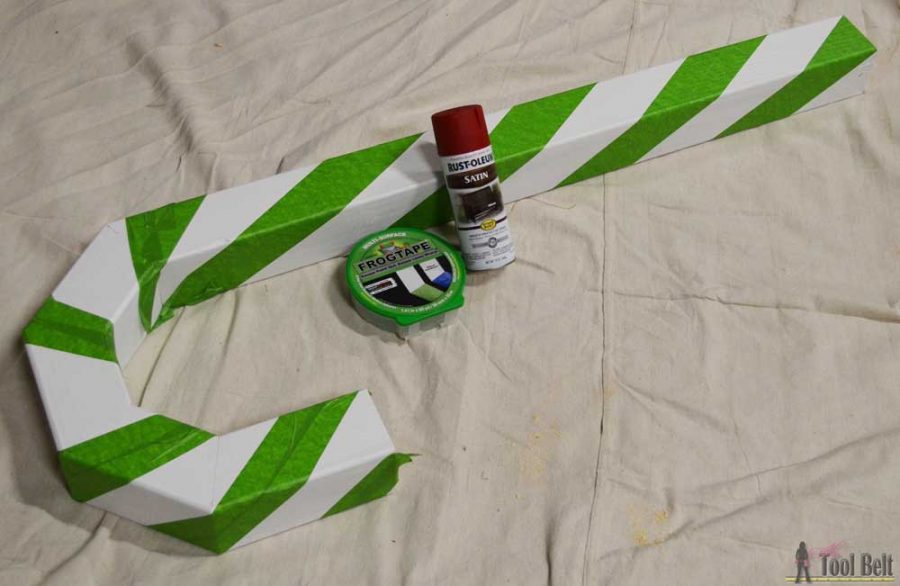 I sprayed the taped up candy cane with Rustoleum heritage red in satin finish and let it fully dry.  When I pulled off the painters tape it looked pretty good.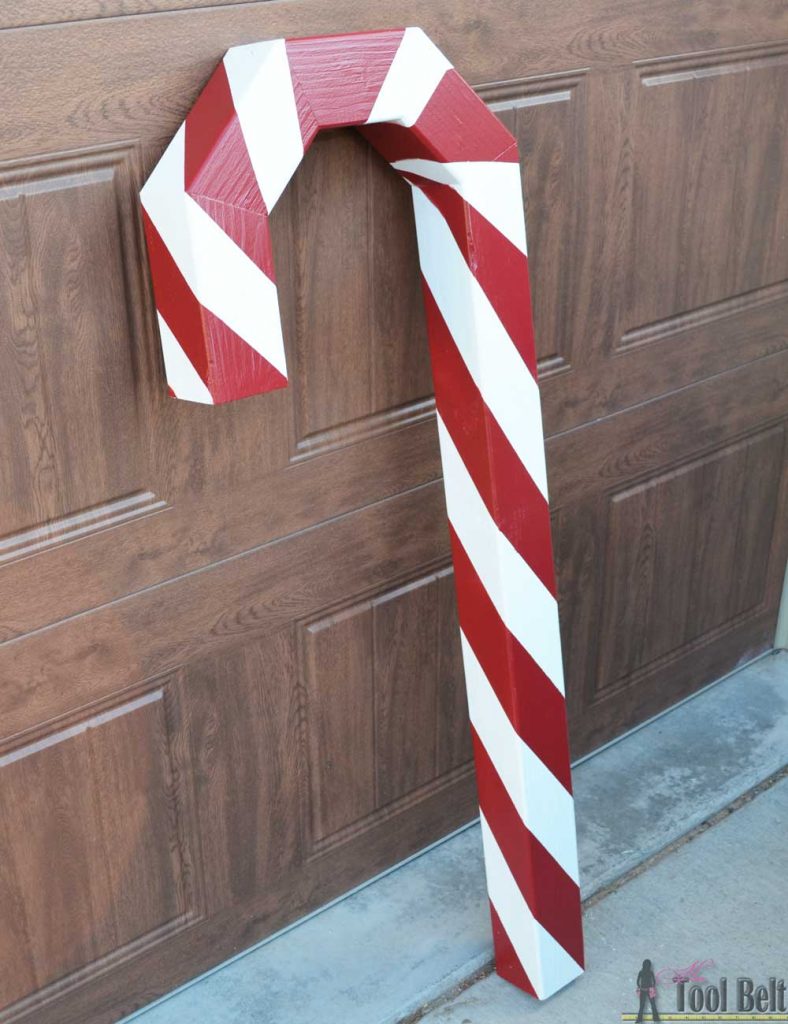 I decided to distress the candy cane, this is easy to do with a sander.  Make sure your paint is dry otherwise it'll make a mess.  You can add a little stain to the edges if you want to accent the distressing.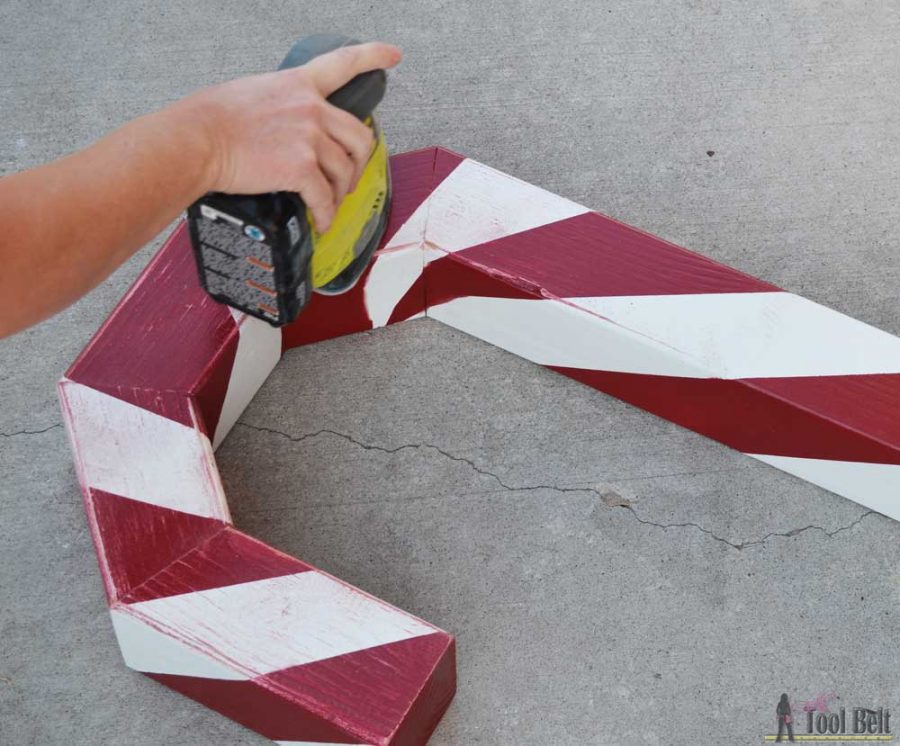 Step 4 – Attach base to candy cane
Find the centers on the candy cane bottom and base bottoms (draw diagonals from each corner).  Drill a countersink hole in the center of the small base.  Use a 2 1/2″ screw through the small base center into the candy cane end center.  Drill a couple more countersink holes through the small base into the candy cane and secure with 2 1/2″ screws.
Center the large base on the small base and secure with screws.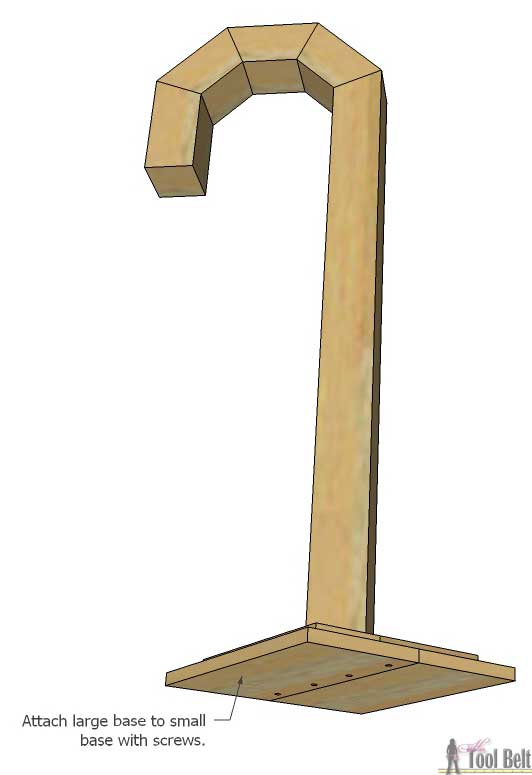 Add hooks to the candy cane stocking holder.  I varied the height of my hooks.  I splurged on these hooks, they were too cute to pass up. 🙂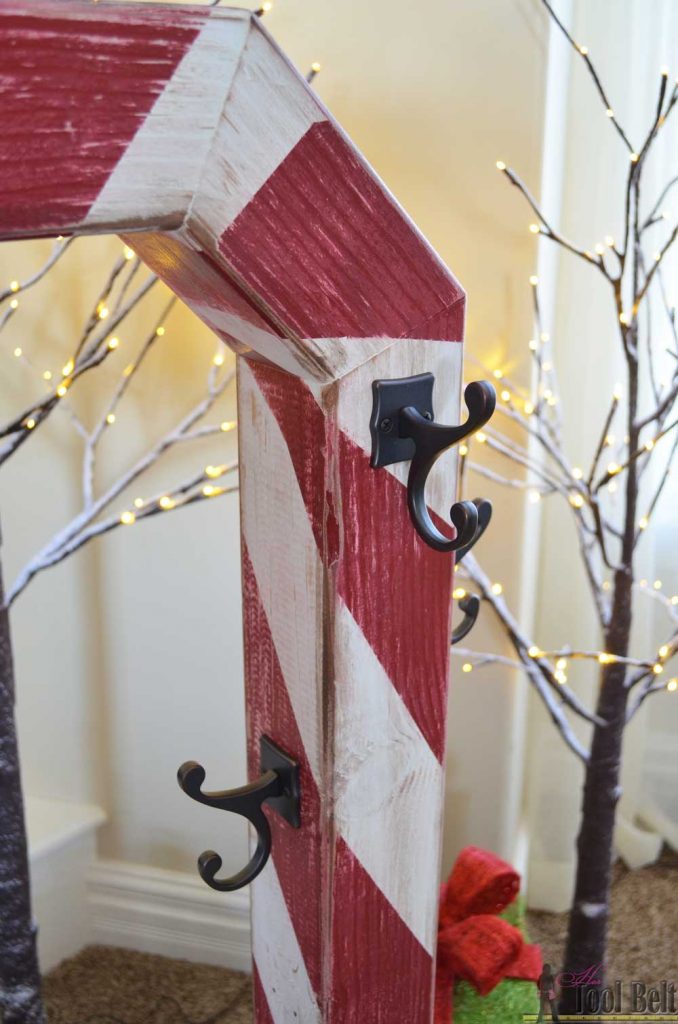 The candy cane is now ready hang stockings with care!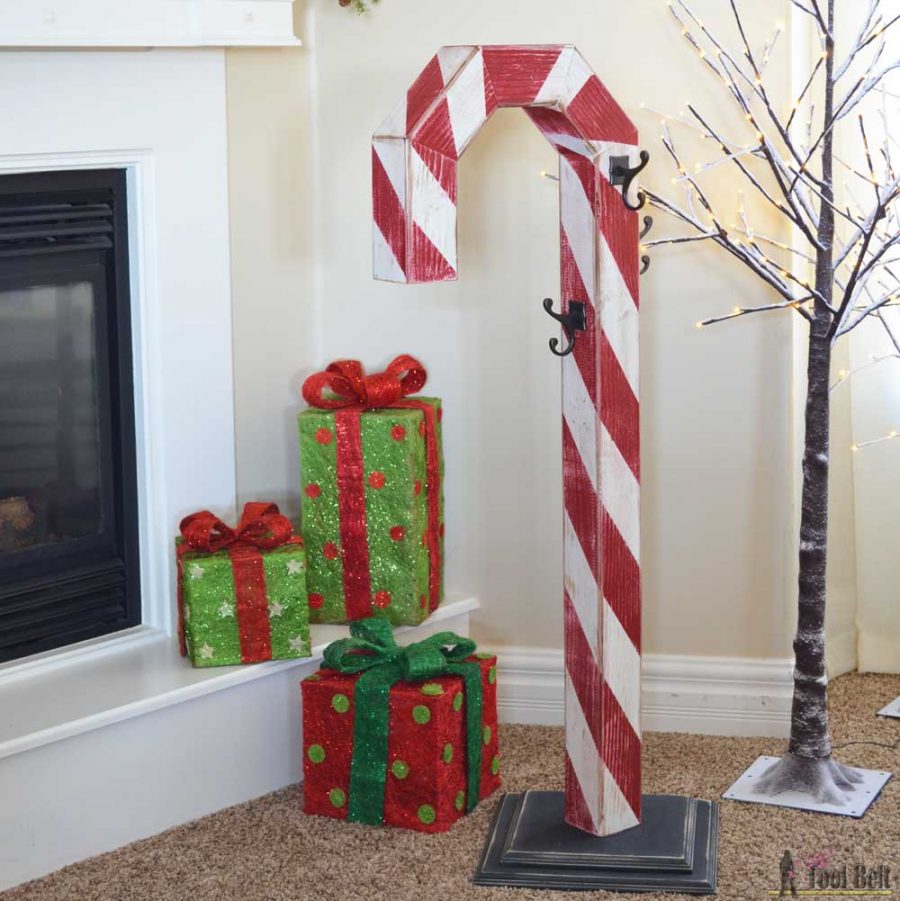 Click to download the Free Plans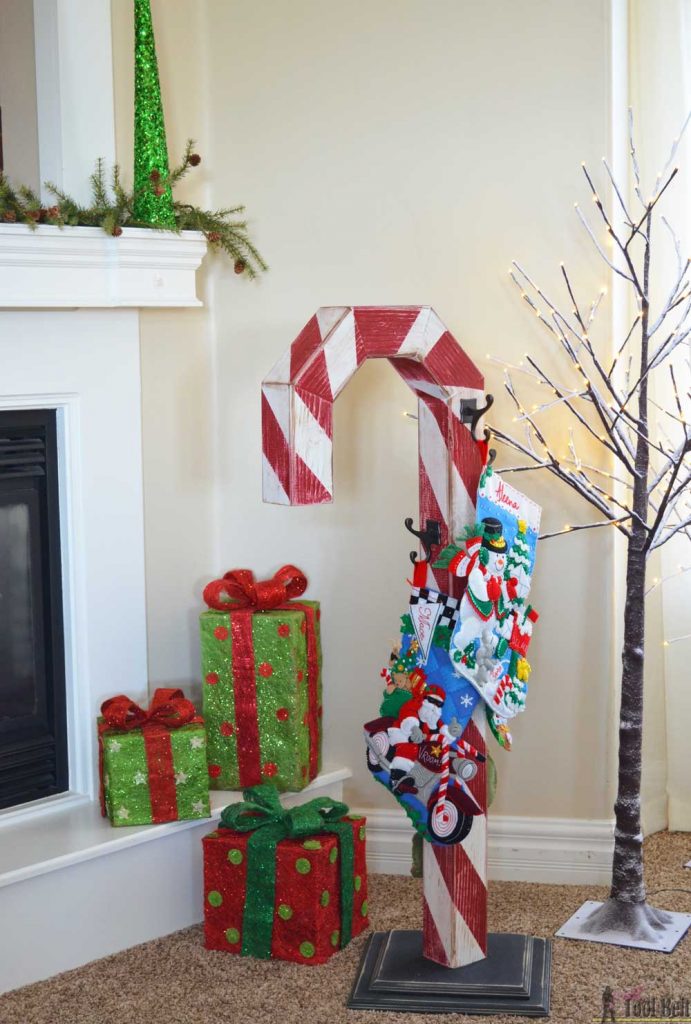 How would you customize your Holiday Stocking Post?  Check out more custom Holiday Stocking Posts!
*This post is brought to you by the Home Depot, all opinions are my own.
Linked to link parties, savvy southern style, remodelaholic