I am always on the look out for brilliant ways to organize the tools in my shop (I mean garage).  Some day I hope to have a dedicated space for woodworking, but for now I need to make the most of the limited space that I have.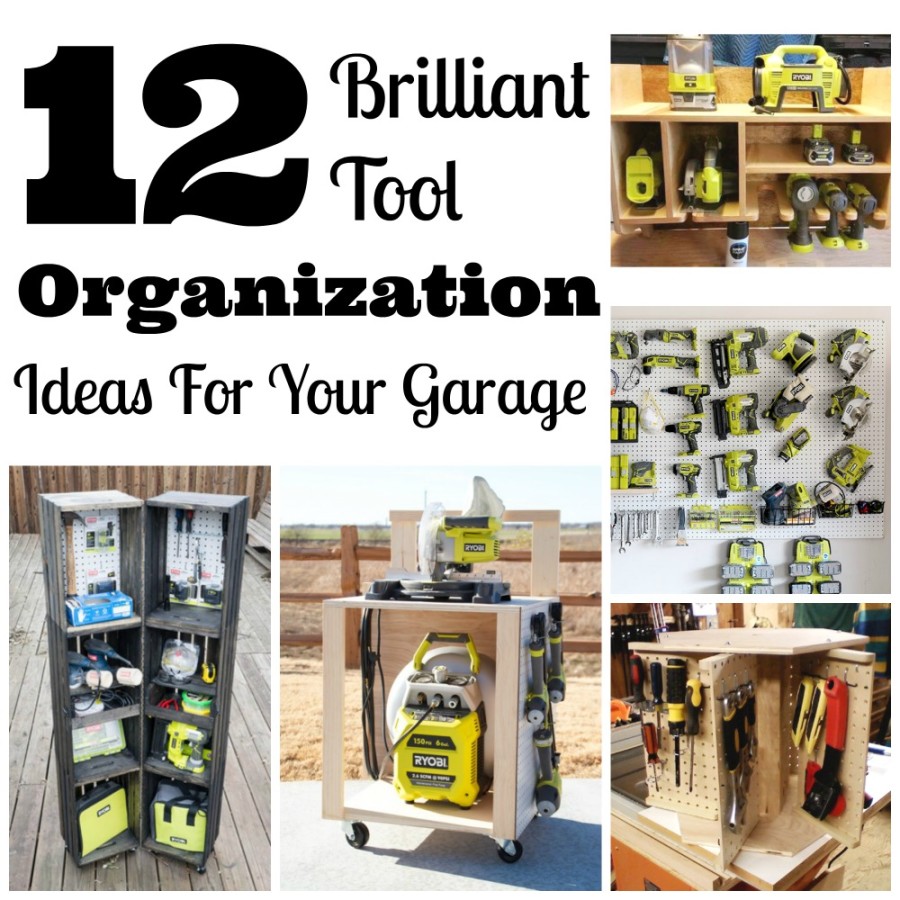 I've scouted around the internet and found 12 really cool ideas for tool organization in the garage.
Store your drills and keep those batteries charged with this convenient and compact docking station.  Place a power strip on the top, to provide plenty of outlets for your chargers.  Add an optional drawer to store all of your drill bits and accessories. Idea by Hertoolbelt (Free plans)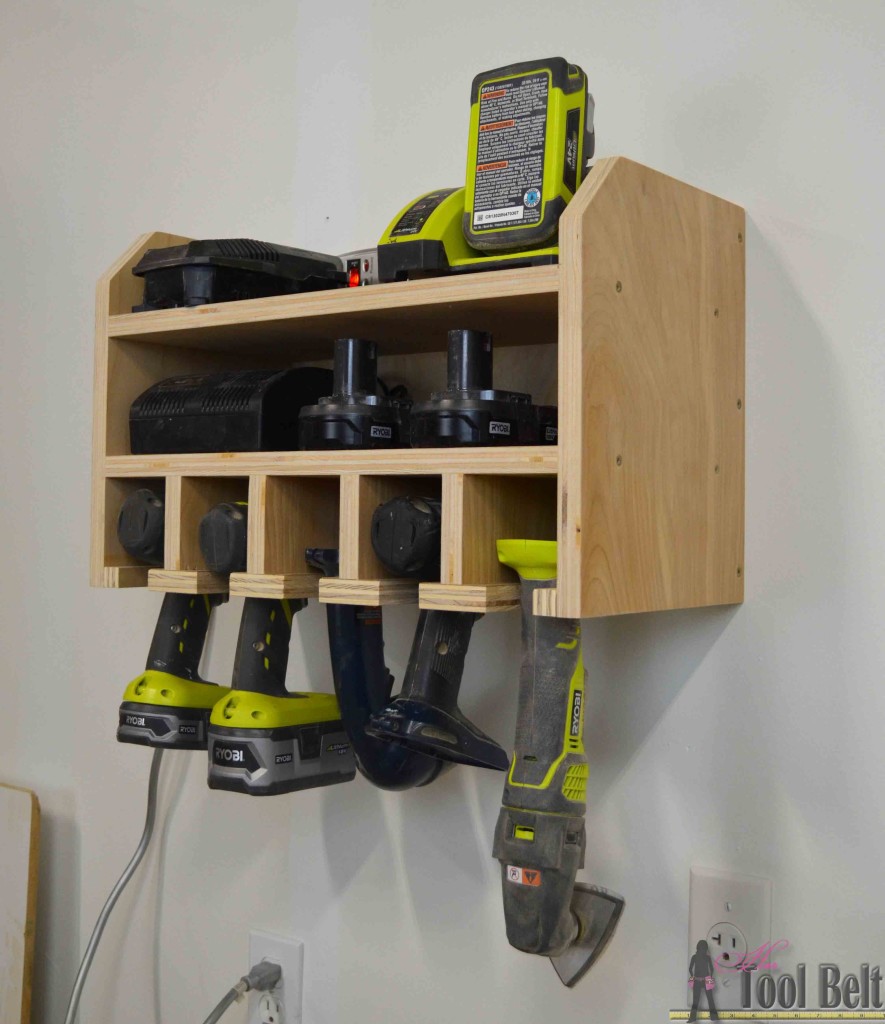 This rolling cart is a great idea to house a compressor and organize the associated pneumatic tools.  Not only will it be easy to store in your garage, you can easily roll it out to your vehicles to fill up the air in your tires.  Idea by Shanty 2 Chic (free plans).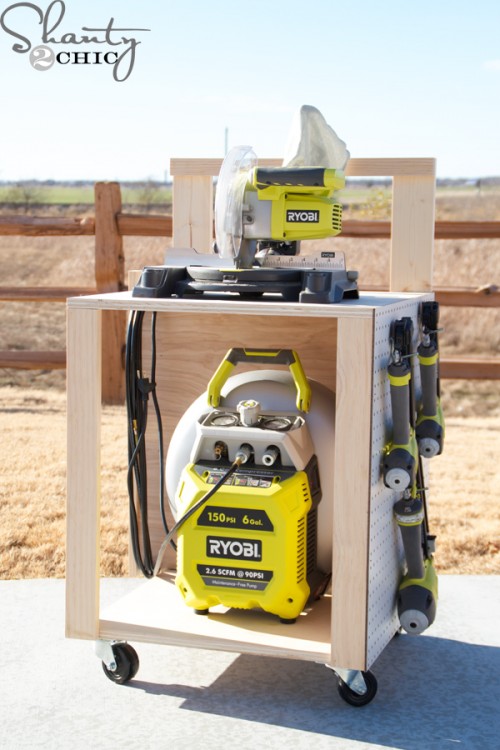 Great idea to add pegboard inside a cabinet to keep your tools hanging and easily accessible (instead of in a pile).  Idea submitted by RGB044 on Ryobi Nation.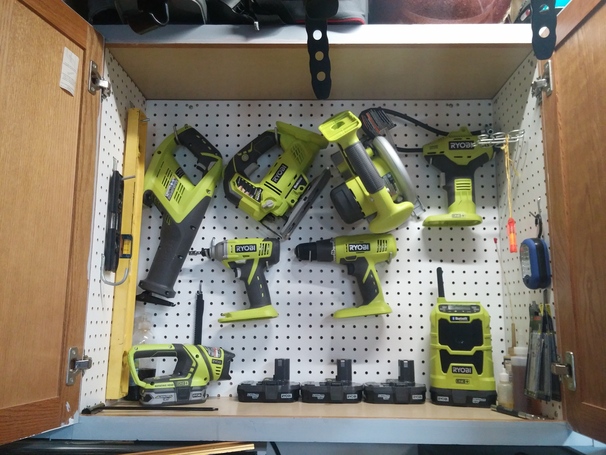 This brilliant organizing idea uses inexpensive wood crates to create custom cubbies to store all of your smaller power tools and hand tools.  The casters on the bottom make this locker super accessible and convenient to store.  Idea submitted to Ryobi Nation by Designed Decor.  (Tutorial on Ryobi Nation)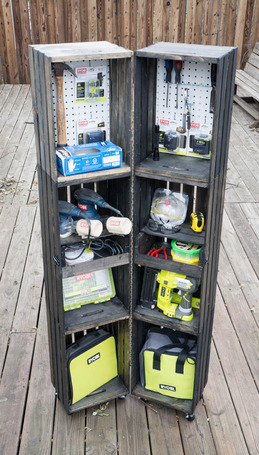 Hang one sheet of peg board and look at all that can be stored and organized in plain sight, plus it looks great.  Idea by Jen Woodhouse (tutorial).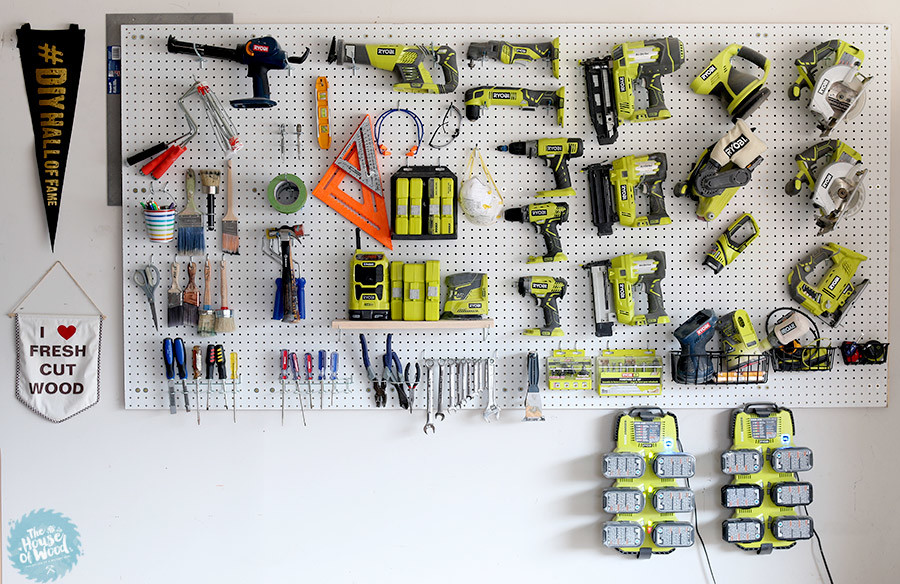 The perfect solution to store your larger power tools that are heavy and hard to get out, lug around, and put away.  When you are done with one tool, flip the top over and use the other, brilliant.  Idea by Fix This Build That (free plans).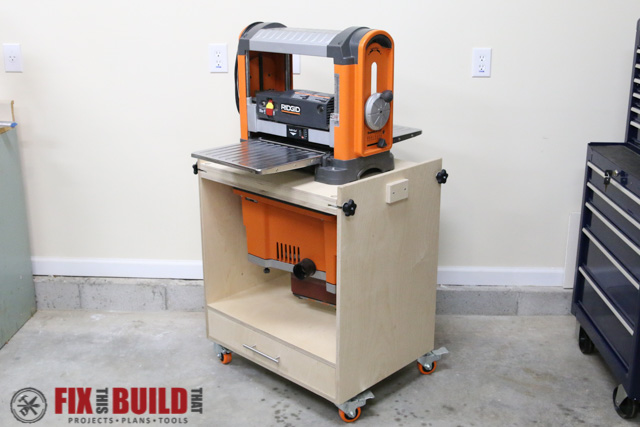 This brilliant idea utilizes a portable pegboard to bring your organized tools to you.  That pull out rack for clamps makes this tool organizer over the top cool and convenient.  Idea submitted by MaineTait to Ryobi Nation.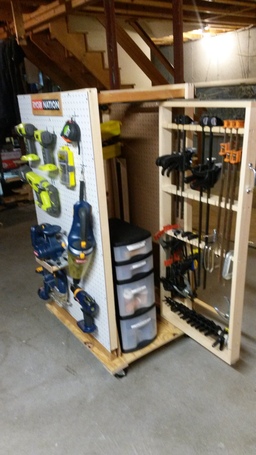 Jay at Jay's Custom Creations has an awesome french cleat system to organize his tools and shop supplies.  Not only is this saw blade storage great for blades and accessories, it would be great for sandpaper and could be easily customized for tool organization cubbies.  (free plans)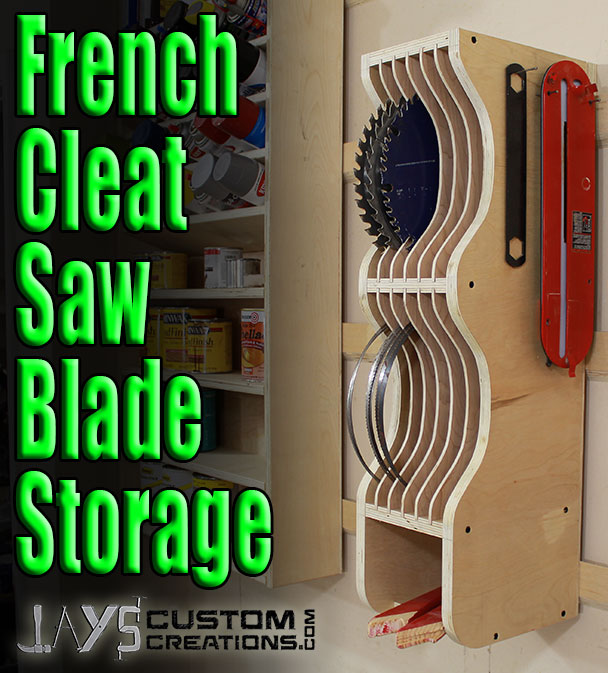 Hand Tool Carousel
I love this compact idea to organize hand tools.  Each panel flips and the whole carousel rotates.  Idea submitted on Ryobi Nation by RichardF.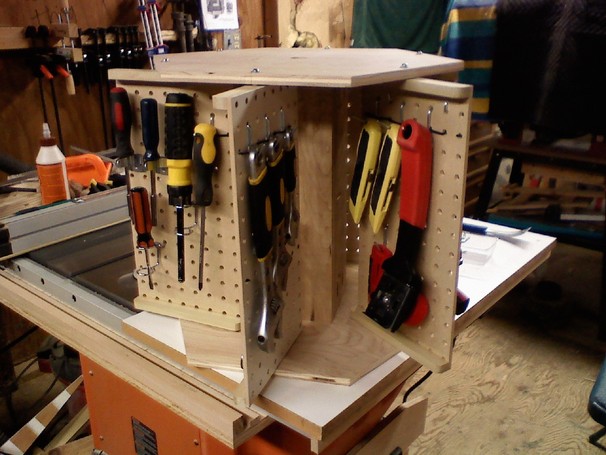 Organizing tools does not have to be complicated.  Check out this idea of simple nails and holes in studs mounted on the wall to organize hand tools.  Idea submitted to Ryobi Nation by BJWatford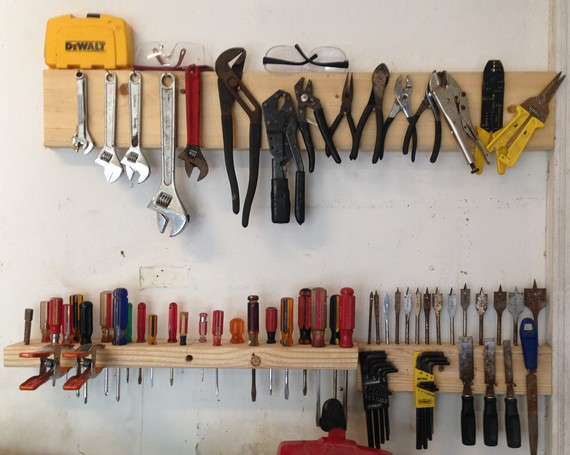 This tool caddy is perfectly designed to fit around this builders tools.  This custom caddy will look great mounted on the garage wall while keeping the power tools organized and handy.  Idea submitted by TYLERHOUCK_107007 on Ryobi Nation.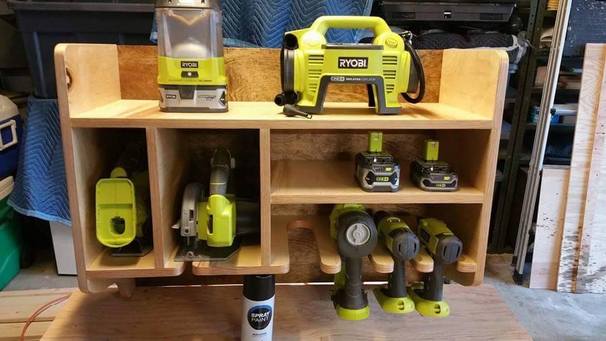 Last, but definitely not least a gorgeous DIY rolling tool chest.  Geekwoodworker has really outdone himself in this totally custom tool organizer.  Idea submitted by Geekwoodworker on lumberjocks (additional photos).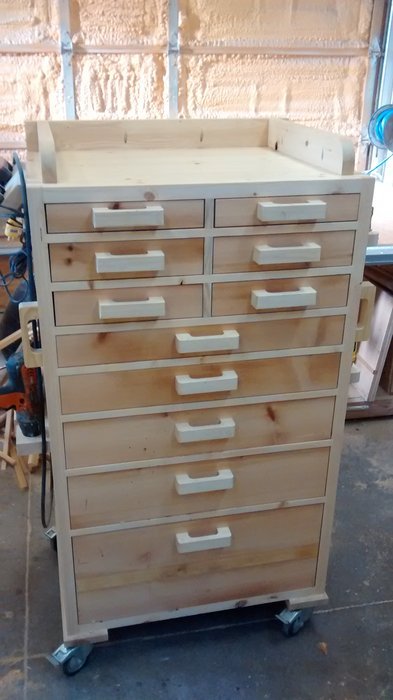 Hopefully some of these brilliant projects have inspired you, I know I have some ideas brewing to organize my tools in the garage.
This post was sponsored by Ryobi Nation, all ideas and opinions are my own.  See my disclosure policy here.