I'm excited to team up with some woodworking blog friends for a fun 13 day Christmas Woodworking Countdown!
13 Days of a Woodworker Christmas!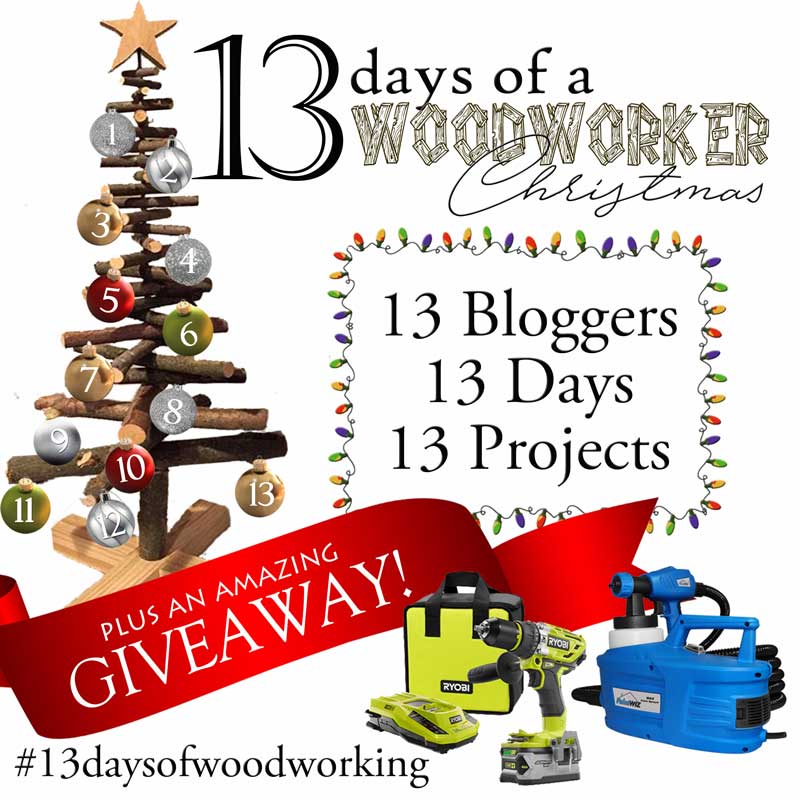 We have teamed up to bring you 13 days of awesome original build plans that you can make in time for Christmas. Sure, we could do 12 days of Christmas, but we are woodworkers! Not only do you get an extra project, but we are giving you a chance to get your own Christmas present as well through our giveaway!
When Does This Holiday Start?
Here's the deal: For thirteen days, starting December 1st and ending December 13th, thirteen talented bloggers are going to share their woodcraft Christmas ideas with you. There will be a little something for everyone, with projects at different skill levels.
So mark your calendars for December 1st when the fun kicks off. Come back each day and unwrap the link to each blogger's post.
Who Are These Talented Bloggers?
But What About My Present?
We did say giveaway didn't we?  Have you been naughty or nice this year?  We've teamed up with @RyobiPowerTools and @PaintWIZ_ Paint Sprayers to bring you a prize pack valued at over $300!  Have you seen Ryobi's new One+ 18v Brushless Hammer Drill/Driver Kit in stores yet?  I bet you haven't because these haven't even hit shelves yet.  How about Fuji Spray's DIY turbine paint sprayer called the PaintWIZ?  We've got that too!  US and Canada residents only please*
But how do I enter?
To enter to win the giveaway, starting December 1st repost the 13 Days of Woodworker Christmas Image to your Instagram feed with the tag #13DaysofWoodworking.  Want additional entries?  Each day a different blogger "unwraps" their project they'll post a teaser image on their Instagram feed.  Follow their account (and check out their project!) and repost their teaser image to your Instagram feed with the same tag #13DaysofWoodworking along with the unique tag that's will be given out along with each project.  What?  We are giving you 14 different chances to win this awesome gift pack?  Darn right, it's the season of giving isn't it?  You have until 10:00pm PST on December 14th to enter.  All entries will be tallied and a winner will be announced Friday, December 16th.
Let the fun begin!