Hi!  I'd love for you to follow me on Pinterest Her Tool Belt  and if you love instagram, you can keep up with me there too!
Welcome to Day 8 of the 13 Days of a Woodworker Christmas!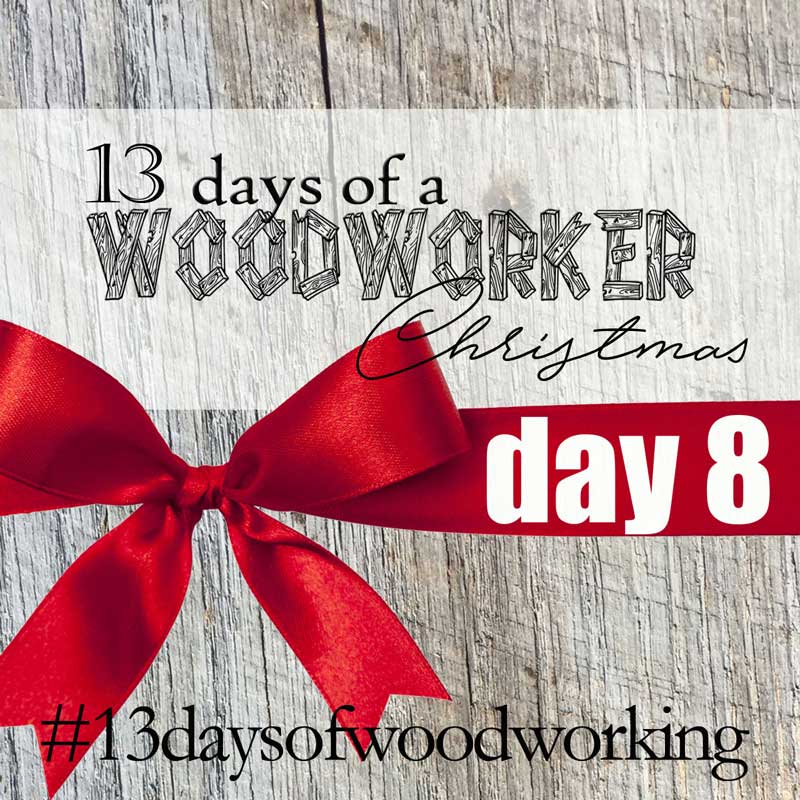 This year I built a fun DIY Wood Santa Sleigh for my front porch, but what is a sleigh without a reindeer to pull it??? I really like the shape of this wood deer (that is no longer available).  My DIY wood reindeer follows that same basic shape with some changes.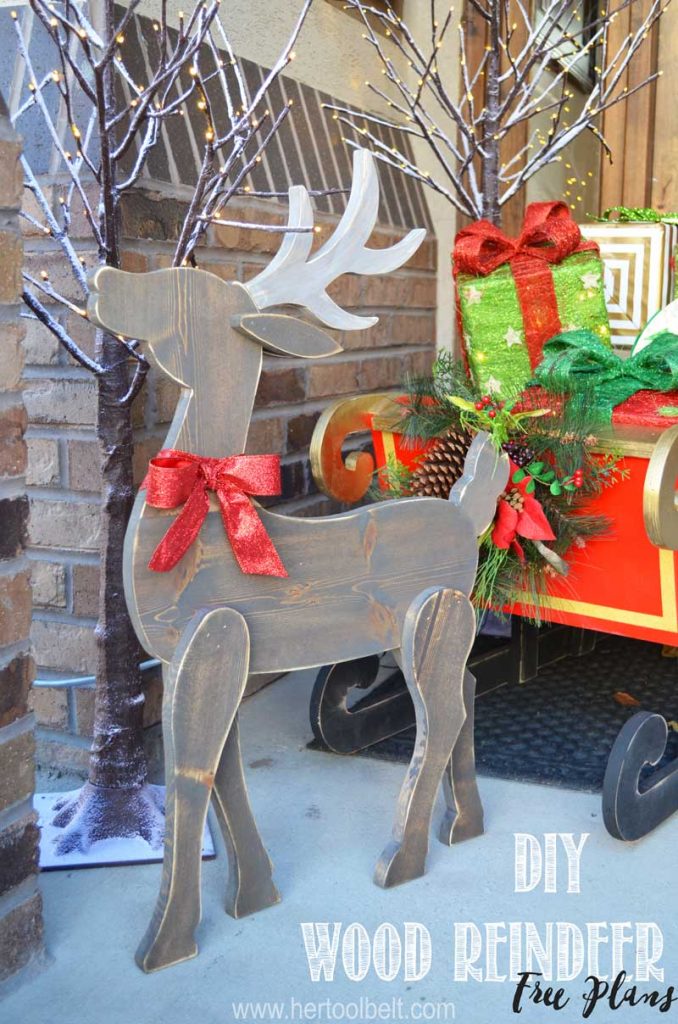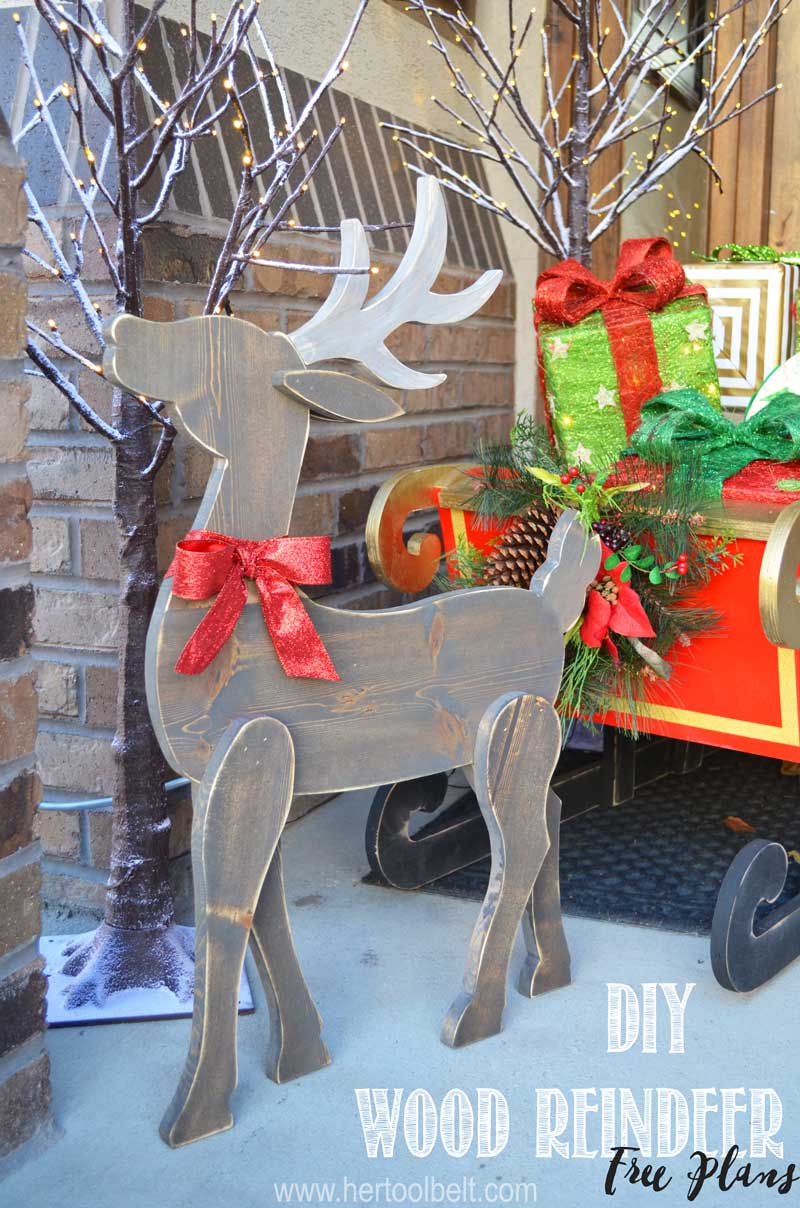 See how it's made:
Please Subscribe
This post contains some affiliate links for your convenience. Click here to read my full disclosure policy.
How to Make a DIY Wood Reindeer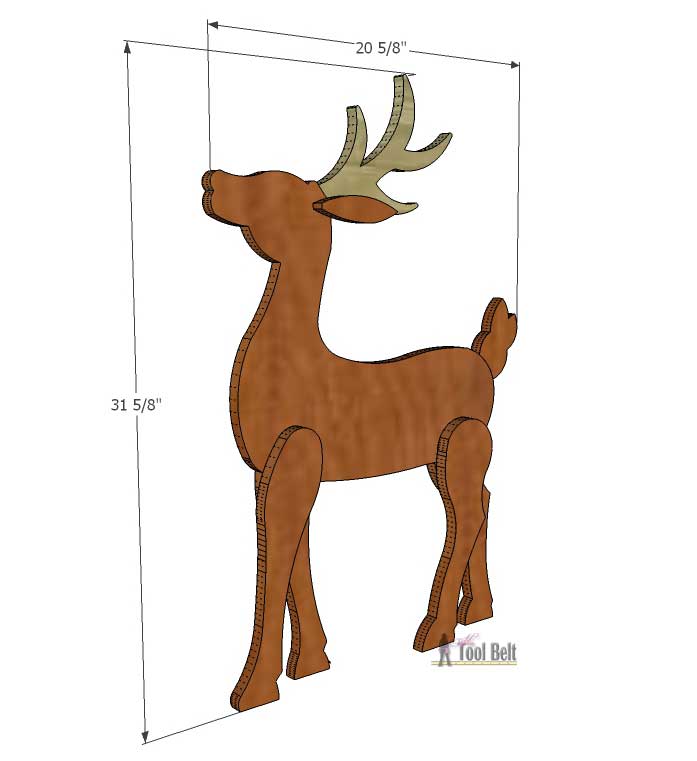 Materials
Download and print the DIY Wood Reindeer Pattern with reference.  When printing make sure your printer settings are on 100%, not 'fit to page'.  Line up the patterns and tape together.  Cut out the pattern pieces and trace them onto the 1″x8″ board (trace 2 ears).

Use a band saw, scroll saw or jigsaw to cut out the reindeer pieces from the board.  I used a band saw, but use whatever you're most comfortable with.  Sand the pieces as needed.
To attach the head, antler and tail, I decided to use my pocket hole jig. (There are other ways, but this is quick and easy.) I drilled 2 holes for 3/4″ material in the head and tail pieces and 1 hole in the antler.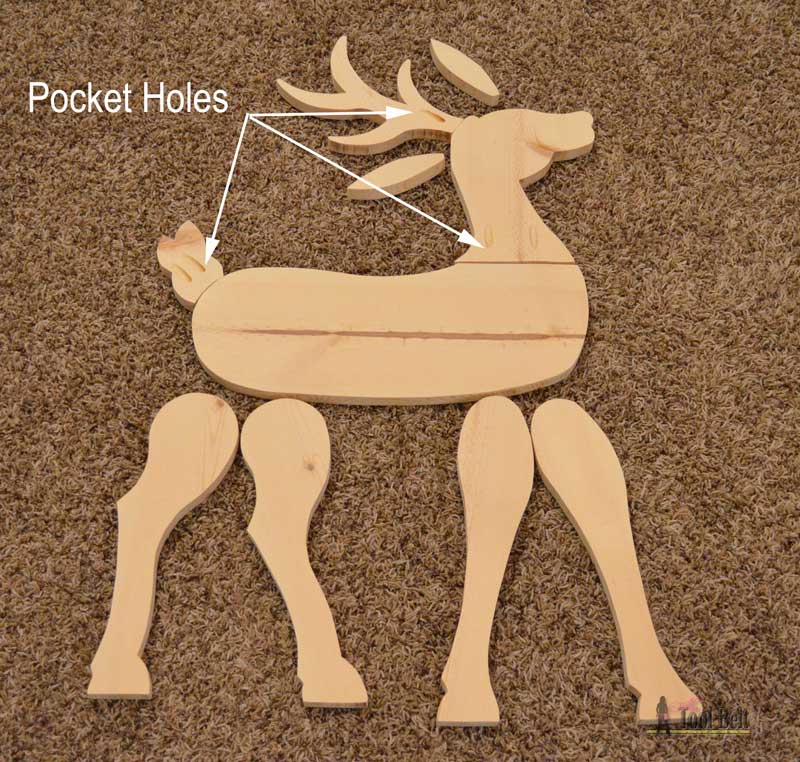 I stained the reindeer pieces before assembling it together.  The antler was stained with antique white and after the white soaked in, I lightly brushed it with my stain soaked rag from the deer body.  The rest of the deer is stained with classic gray, followed by jacobean.  I would say let it dry, but it was so cold in my garage that the stain is really just kind of frozen onto the wood 🙂 Hopefully it dries by the time the reindeer is put away after the holidays.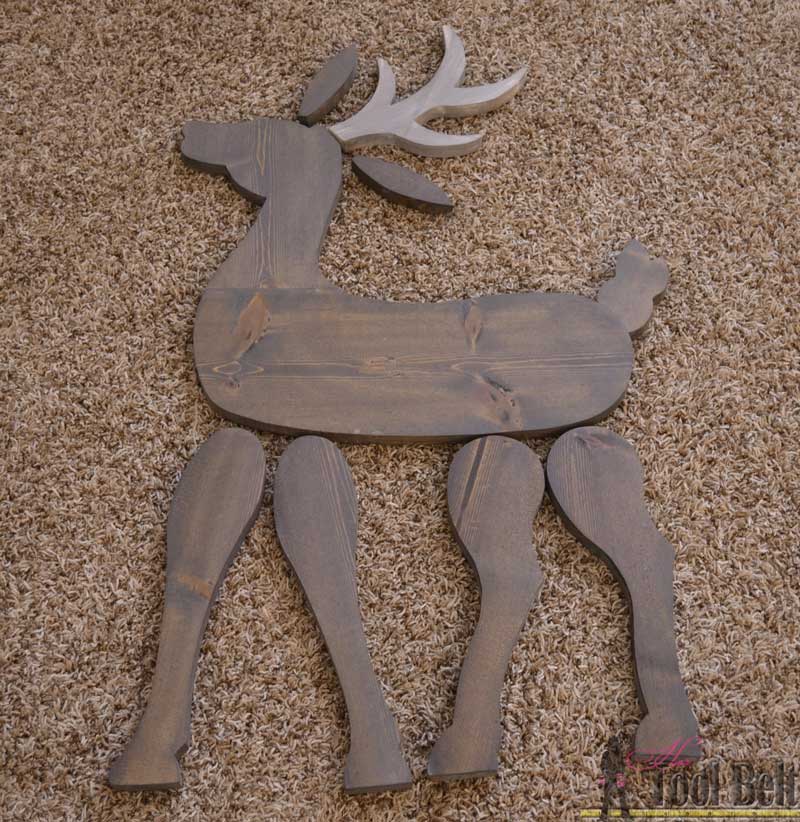 After the stain 'dried' I roughed up the edges with sandpaper.
Attach the head, antler and tail to the body with wood glue and 1 1/4″ pocket hole screws.
Now the trick to this reindeer is that you want to have all of the feet flat so it will stand nicely.  To do this, I put the legs about where they should go and put 1 brad nail in each leg near the top.  Stand the reindeer up and adjust the legs so each foot is level, then add a couple more nails to each leg.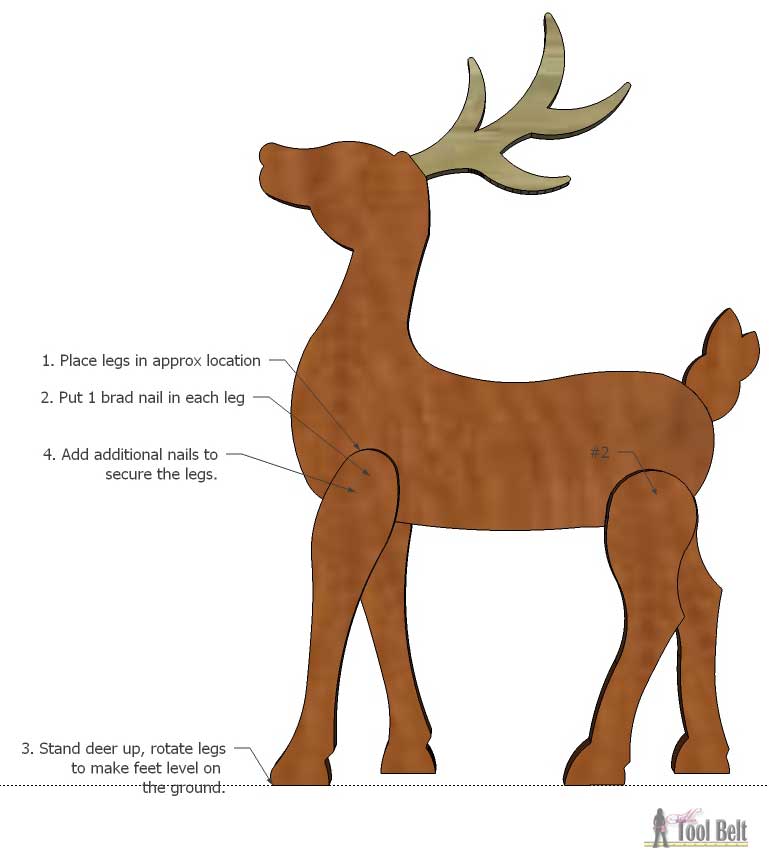 Attach the 2 ears to the head.  Now the DIY wood reindeer is ready to go! He looks pretty good out by the Santa Sleigh,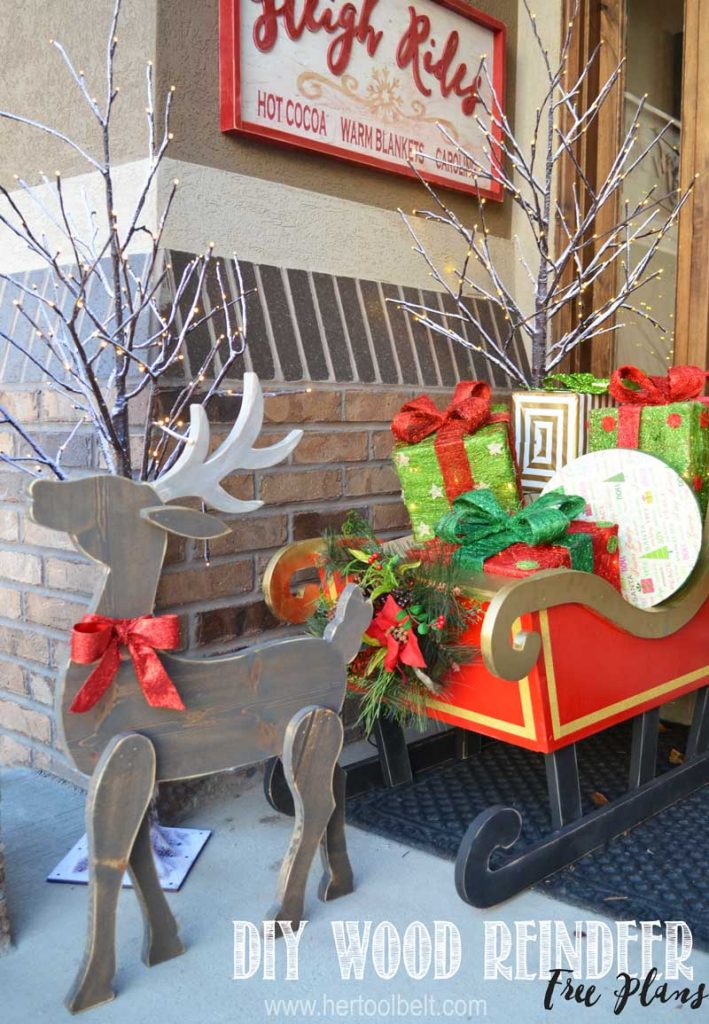 or cozy by the fire.  Maybe I'll have to make a second one for the fireplace.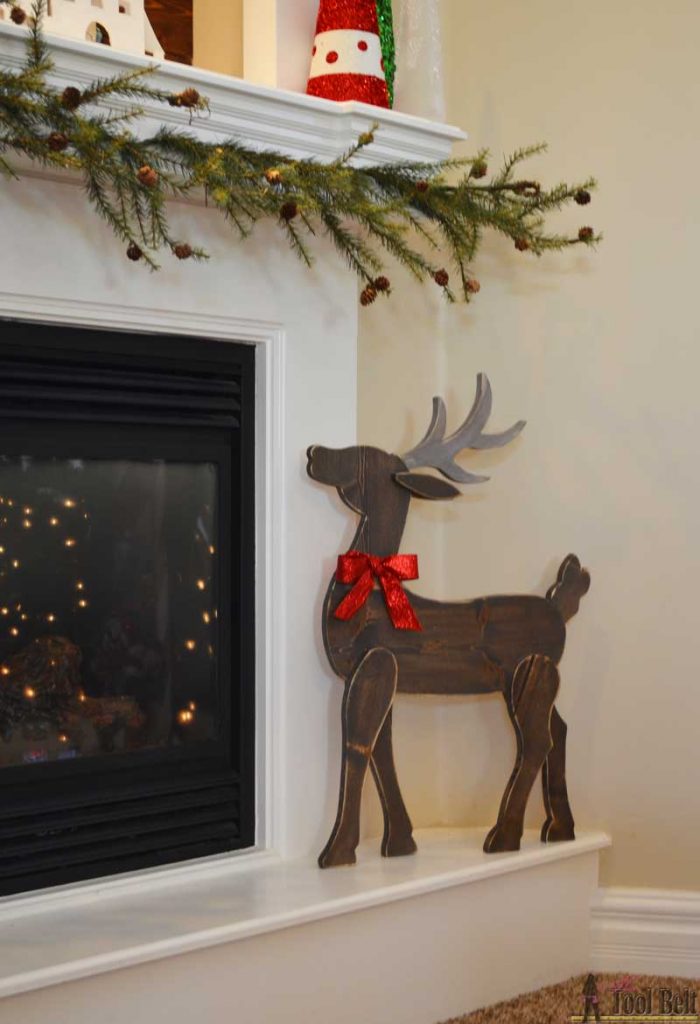 Be sure to check out the other awesome projects in the 13 Days of a Woodworkers Christmas