This Ryobi Inverter Tool Review is sponsored by The Home Depot. I have been compensated for my time and provided with product (tools). All ideas and opinions are my own. This post contains some affiliate links for your convenience. Click here to read my full disclosure policy. 
This spring I was able to go to a tool event where Home Depot tool vendors show the new upcoming tools coming out this year (or recently released). One tool that caught my eye for 2019, was this new Ryobi Inverter that converts 18v battery power to a 120 v outlet or 2 USB charging ports. I picked the Ryobi Inverter up as part of the BOGO Ryobi Days event at Home Depot, and I'm excited to test it out. In a couple of weeks I'll be headed out to a youth camping trip and I'll definitely be toting this inverter around.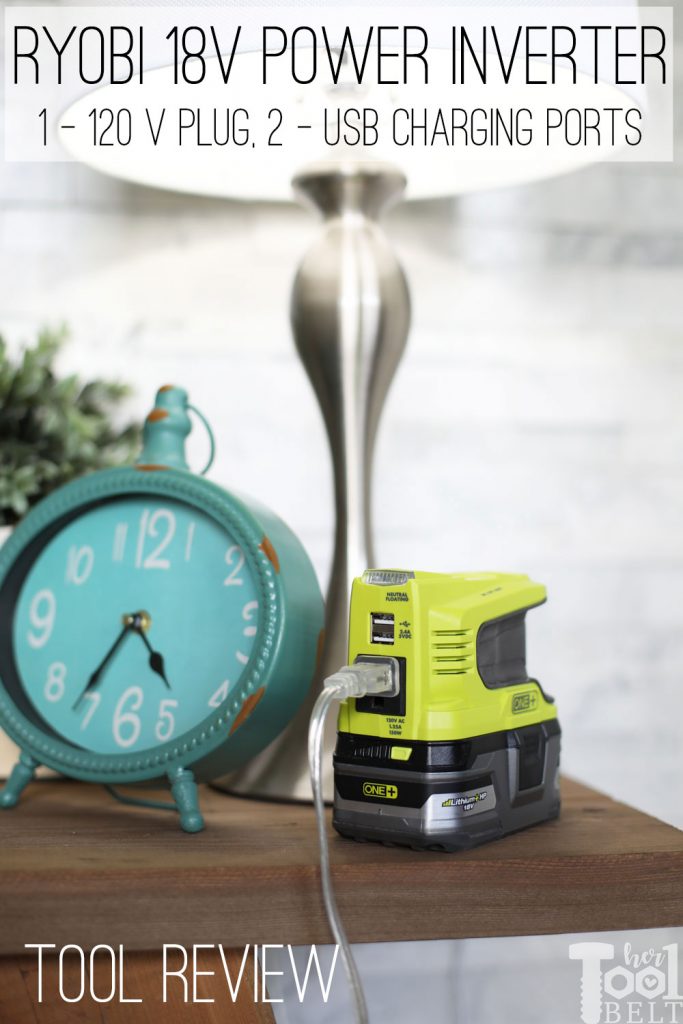 The Ryobi inverter is simple to use, pop it on top of a charged battery and you have power. The inverter is compact, just a bit larger than a 3 or 4 ah Ryobi 18v battery.
Press the power button on.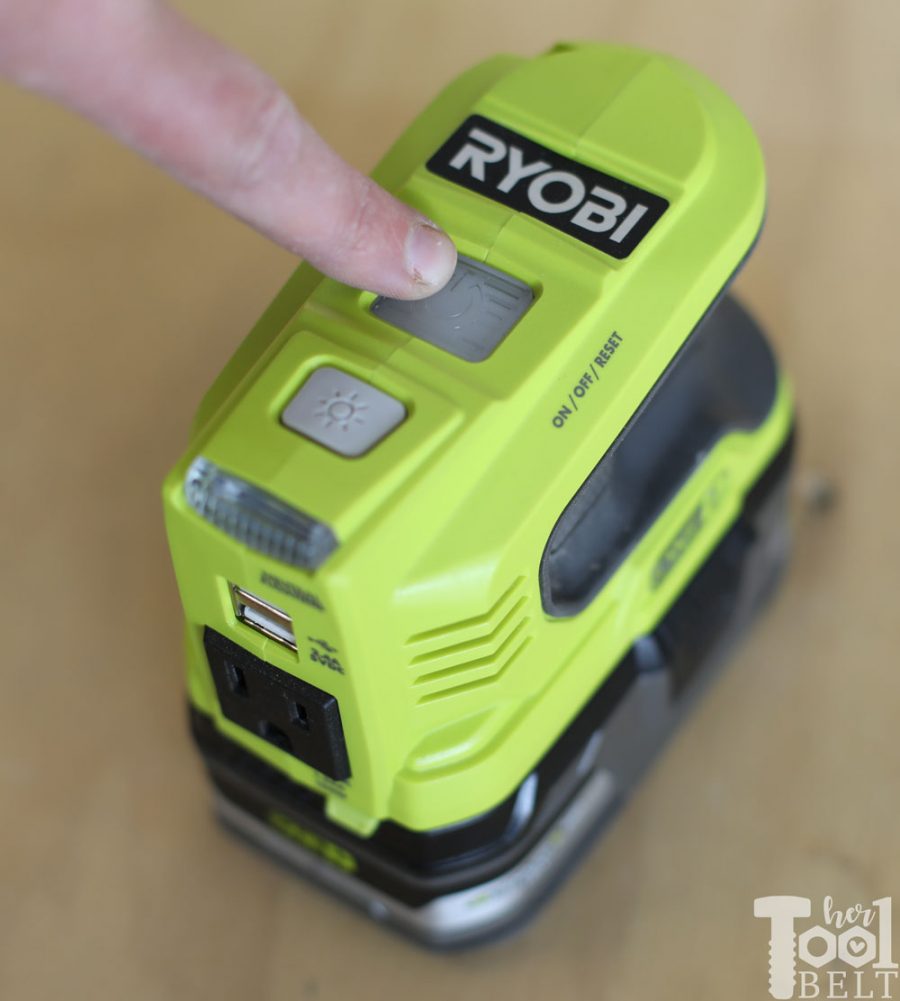 The button turns red until ready.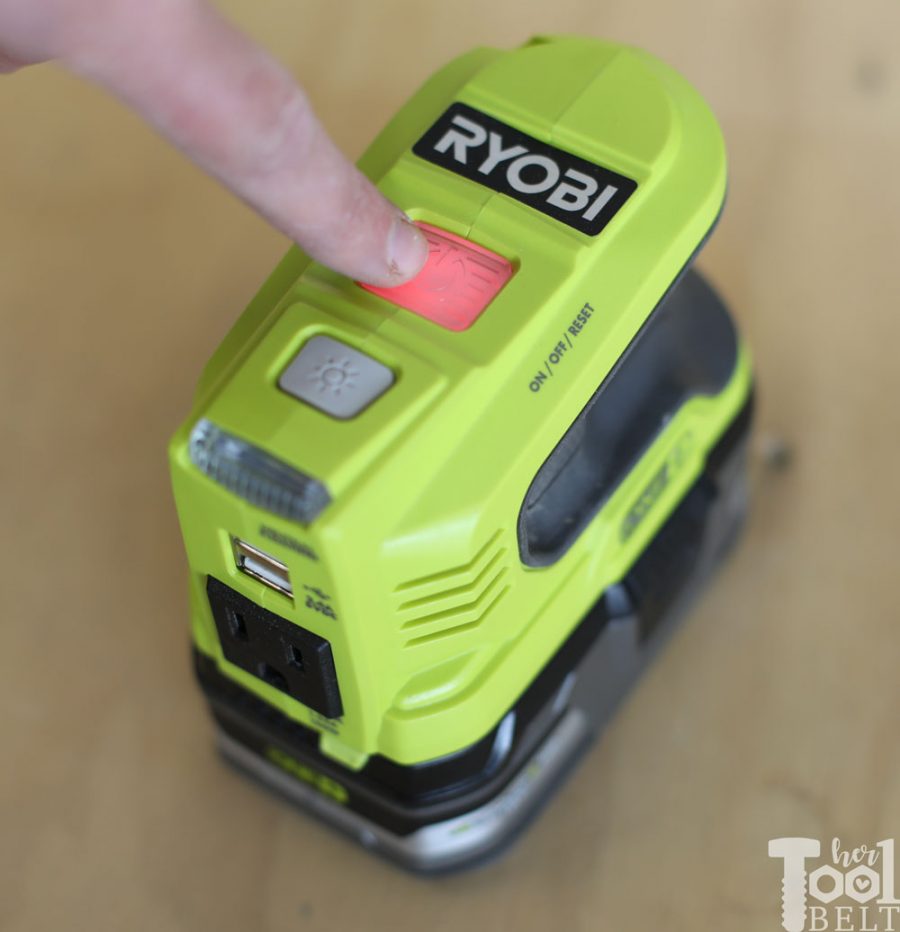 Then it turns to green, and will stay green as long as the battery has juice.  Pressing the flashlight button.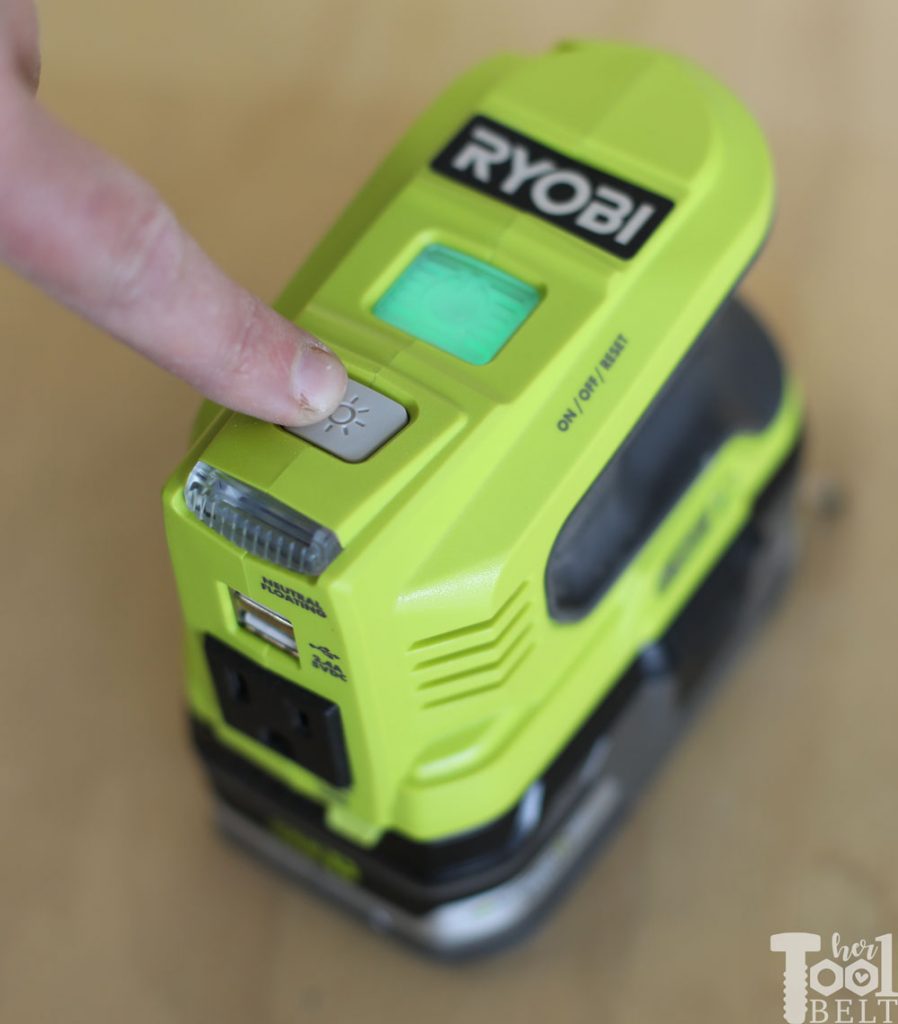 There is a bright little LED flashlight on the front of the inverter.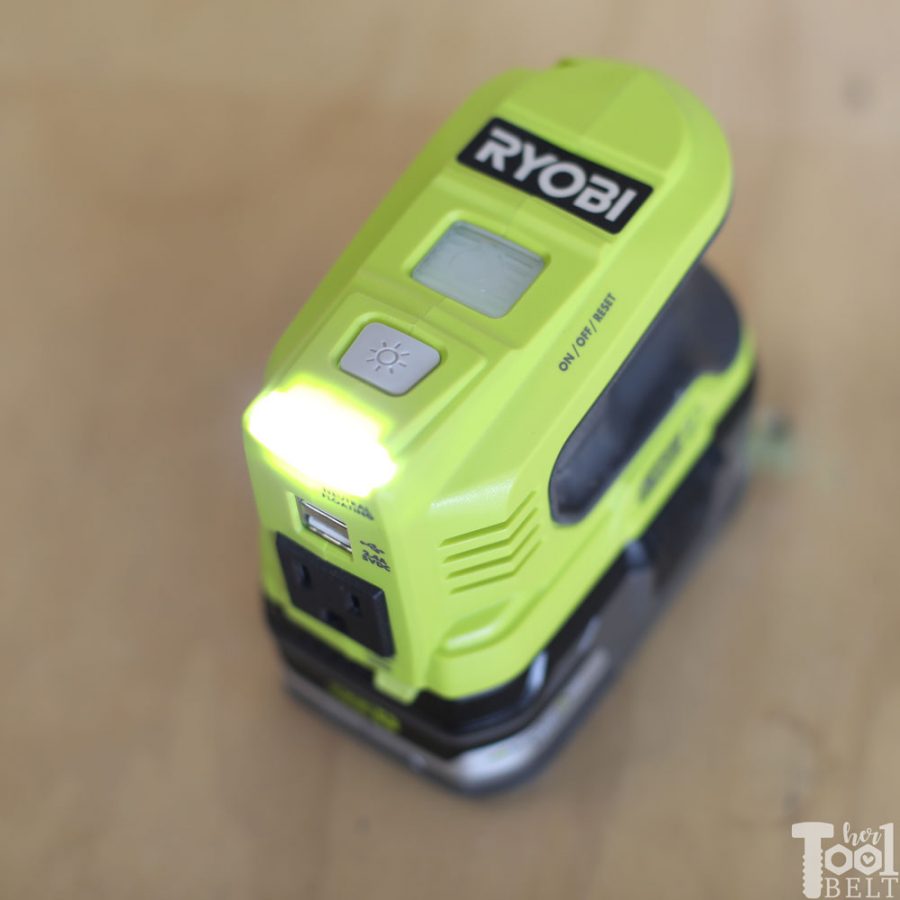 The green power light will start flashing when the battery power is getting low.
Testing out the Ryobi Inverters capabilities –
The Ryobi inverter can power items with 120 v and up to 150 watts.
It is perfect for charging phones, laptops and tablets. The charge wasn't slow either, nice and quick.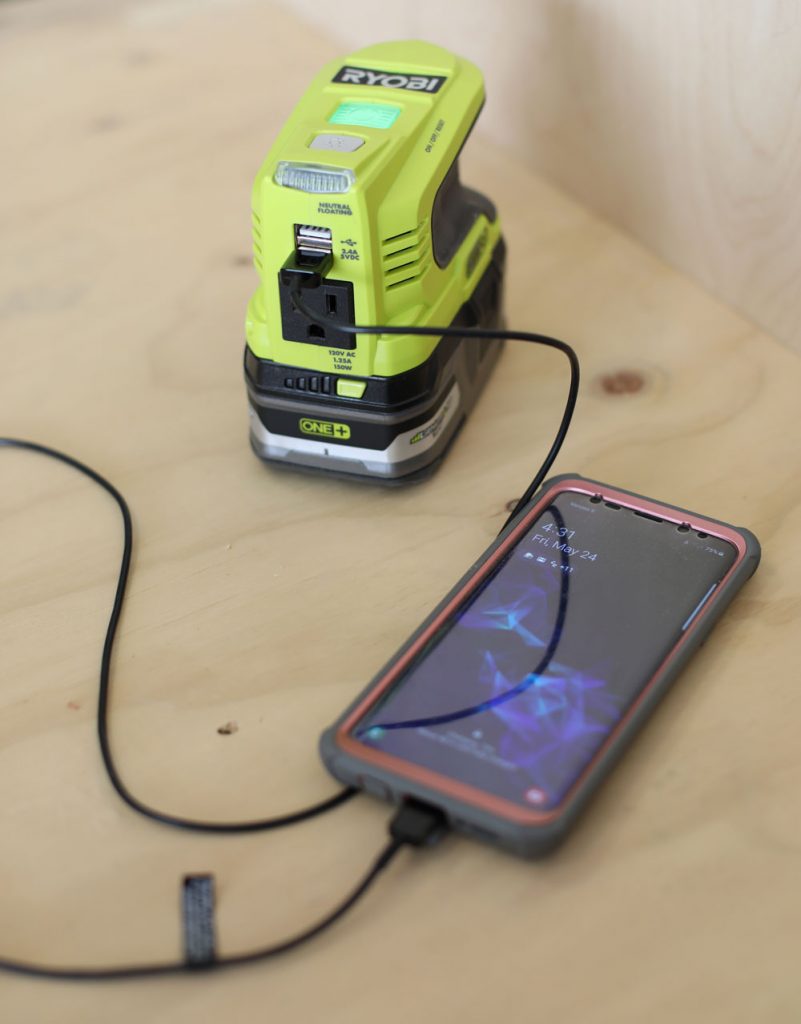 It can easily handle powering a lamp, this will be great for when the power goes out.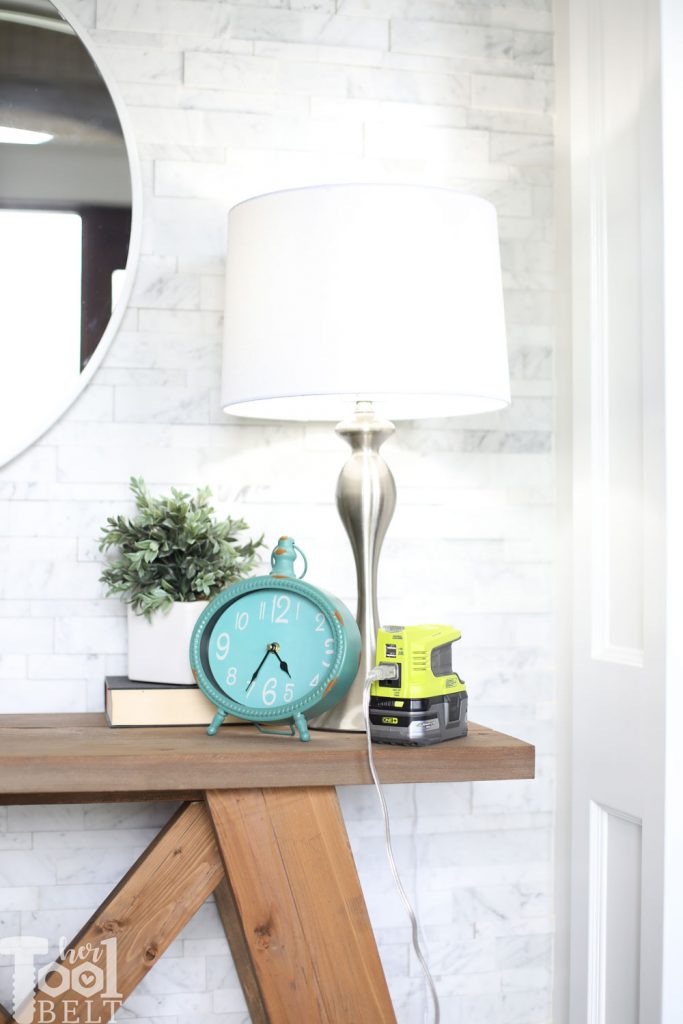 The 150 watts capability is not huge, but it can do small appliances. A fully charged 3 ah battery ran this box fan for exactly 30 minutes on full blast! I can also run my small 2.5 QT Crock Pot with this inverter, but it's not quite powerful enough for my 8 QT Crock Pot. I tried my vacuum, shop vac and grinder even though they are above the 150 W limit. It didn't work, but good to try anyway :-).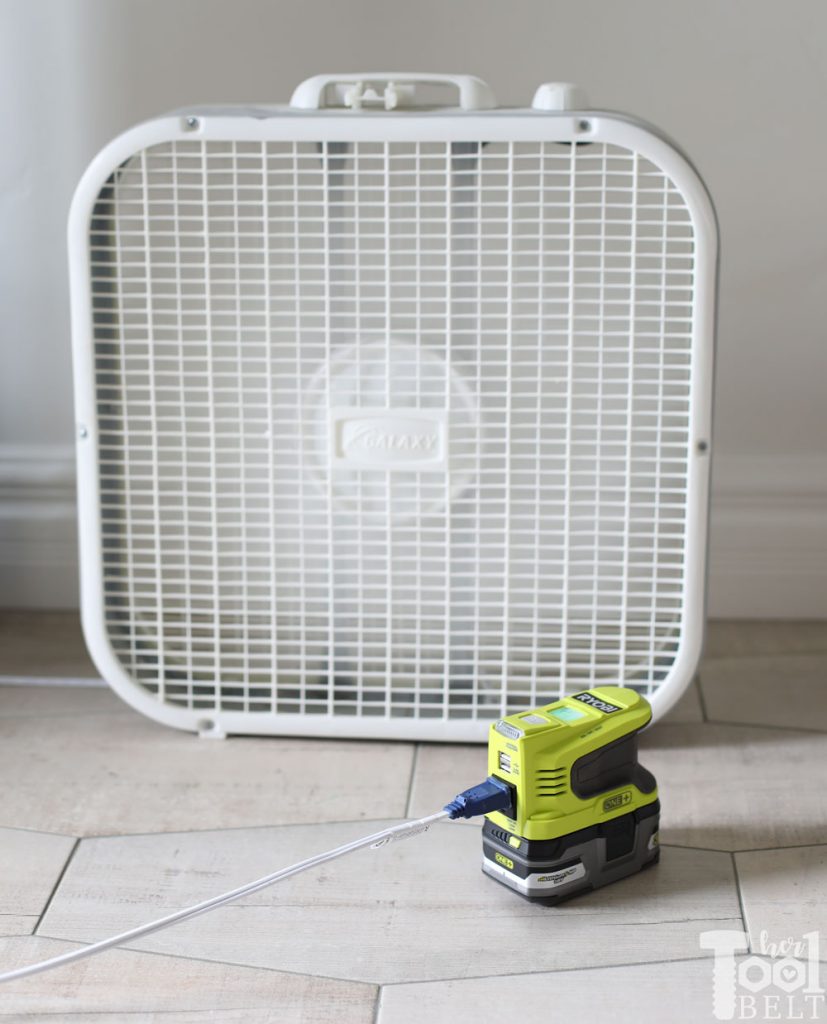 Really I bought this for camping and when the power goes out. Growing up I lived in an area with 'dirty' power and the power would go out often, although it felt like it only went out while getting ready for school. Being a teenage girl nothing felt worse then going to school without your bangs and hair curled, oh the humanity! We actually had butane curling irons for just the occasion. I can only imagine how awesome it would have been to have this little inverter back then.
The run time and charging capability solely rely on the battery size. Ryobi provides an estimated charge capability:

Overall I'm pretty happy with the little battery powered inverter. Obviously I wish it could power bigger appliances like a frig, but that's asking way to much out of a little 18v battery. I will definitely get some use out of this tool and I'll add to the list when I discover more uses for it. What would you/do you use a small inverter for? Leave me a comment…
Want a Free Ryobi Inverter??? (with the purchase of a battery pack thru 6/19)
When you are looking to purchase your wishlist Ryobi Tool items, there are typically 2 times per year they go on sale, Ryobi Days and Black Friday. Ryobi Days is typically end of May until about Father's Day-ish.
This year one of the big deals is to purchase a battery starter pack and receive a free tool (from the list here).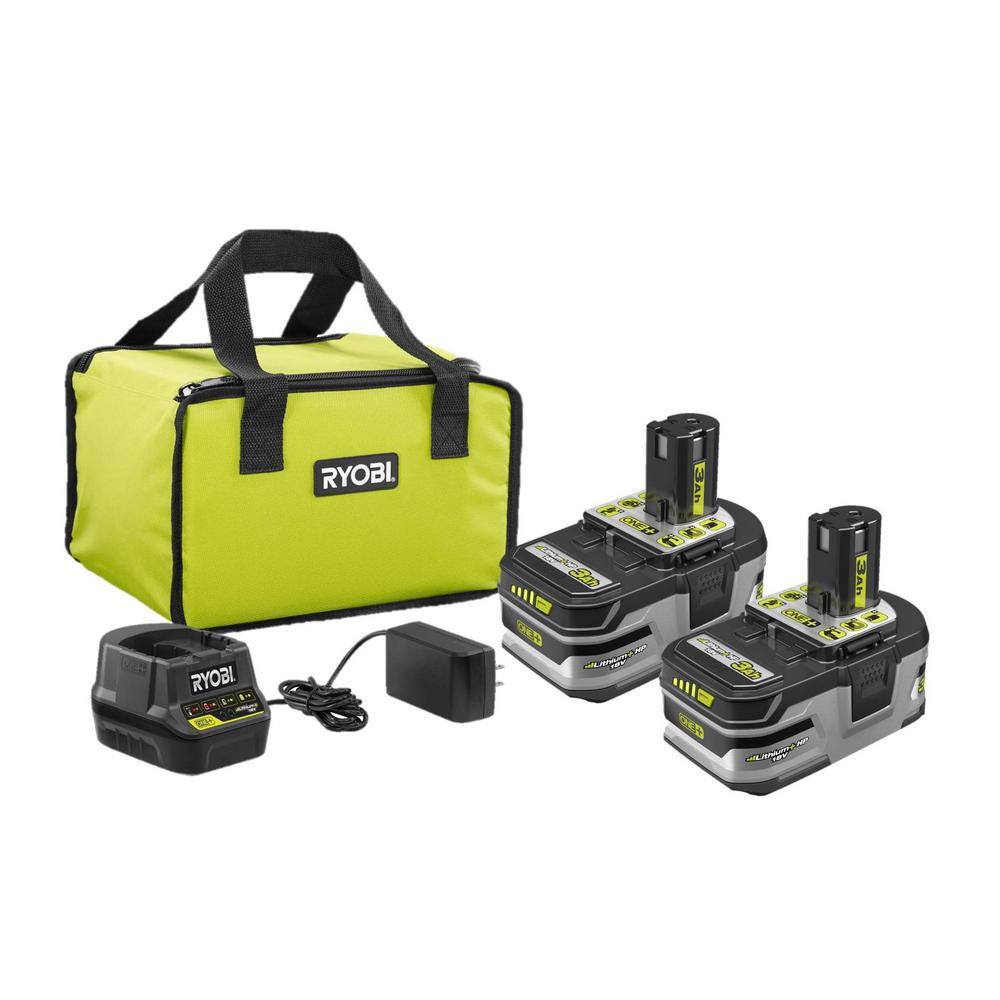 The batteries in this starter pack are the new Lithium+ HP, that pair well with all of the new brushless tools.
Includes: (2) P191 3.0 Ah LITHIUM+ HP High Capacity Batteries, (1) P118B Charger, (1) tool bag, and operator's manuals
The charger is a fast charger and can charge the 3Ah batteries in about 60 minutes.
The charger is also quite a bit smaller than a standard charger.
I like that these 3 Ah batteries have the remaining power indicator on them.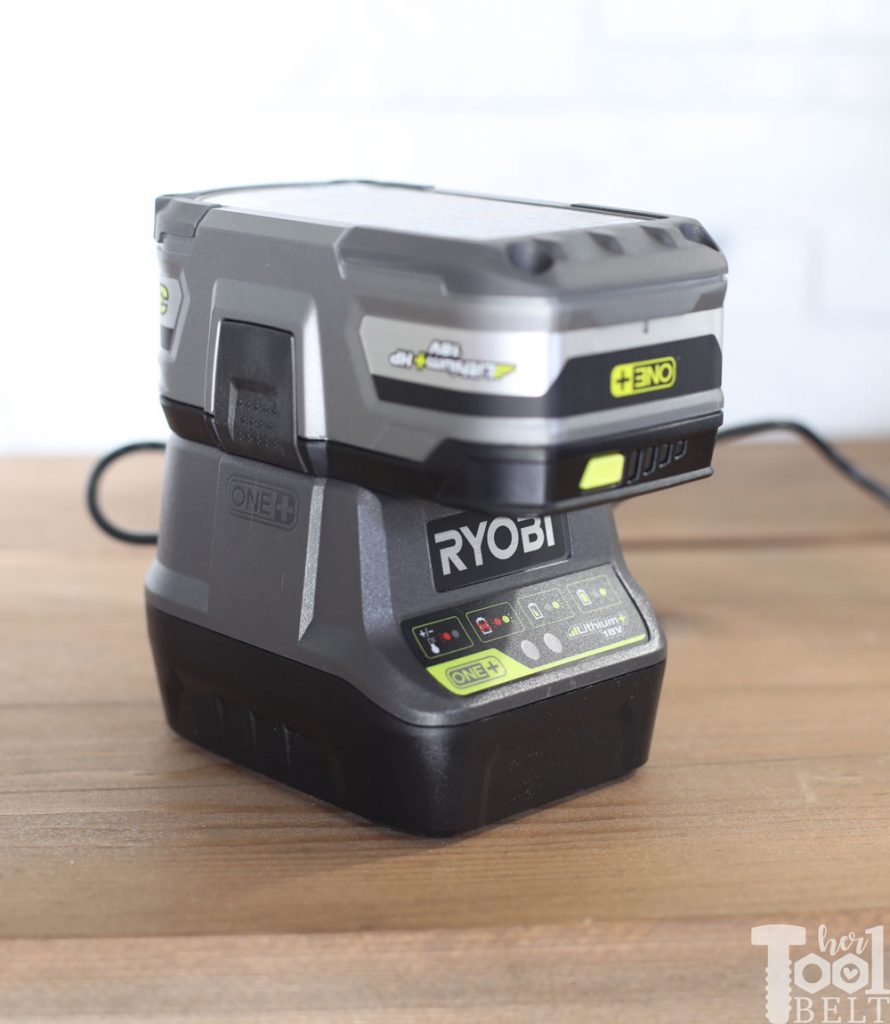 Most of my tools seem to be cordless these days, so I like to keep extra batteries around. Batteries can be expensive, but this is a pretty good deal with the 2 batteries and charger for $99 + the free tool promo!
Well wish me luck with the youth campout, I'll need it! 🙂
"I acknowledge that The Home Depot is partnering with me to participate in the Tool Review Program. As a part of the Program, I am receiving compensation in the form of products and services, for the purpose of promoting The Home Depot. All expressed opinions and experiences are my own words. My post complies with the Word Of Mouth Marketing Association (WOMMA) Ethics Code and applicable Federal Trade Commission guidelines."