Hi!  I'd love for you to follow me on Pinterest Her Tool Belt  and if you love instagram, you can keep up with me there too!
I hope you are having a wonderful Holiday season.  I'm excited to be part of a big group of DIY bloggers showing how they deck the halls, hosted by the ever so talented Jen Woodhouse.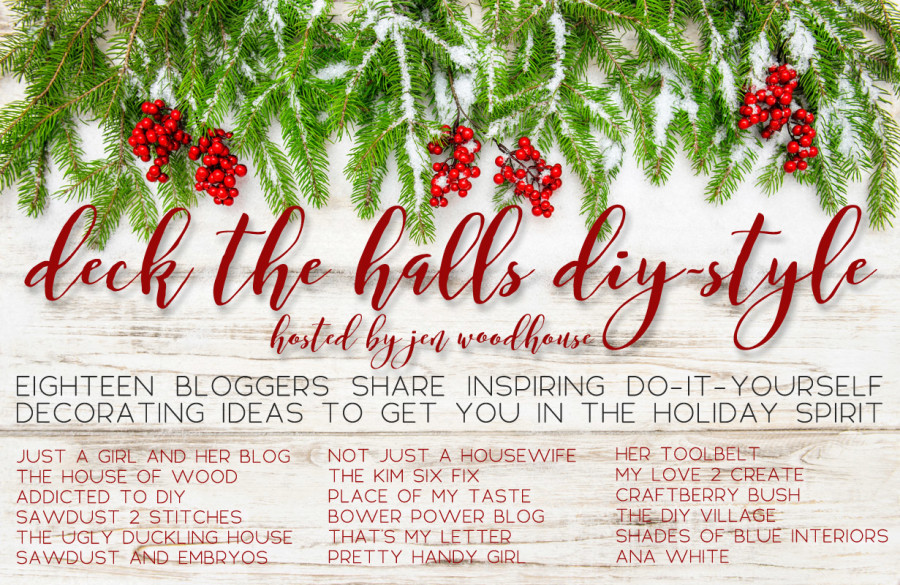 You definitely want to check out each blogger's 'mantel', they are so beautiful.
Christmas Village Mantel
This mantel is full of easy DIY projects.
I think poinsettias are a beautiful addition to Christmas decor.  You can even grab a $1 off any poinsettia right now through Ibotta.  My neighbor plants her poinsettias outside in the spring, they make a beautiful bush, with very pretty dark green foliage.  I ditched the gold wrapper and built a super simple cedar planter box.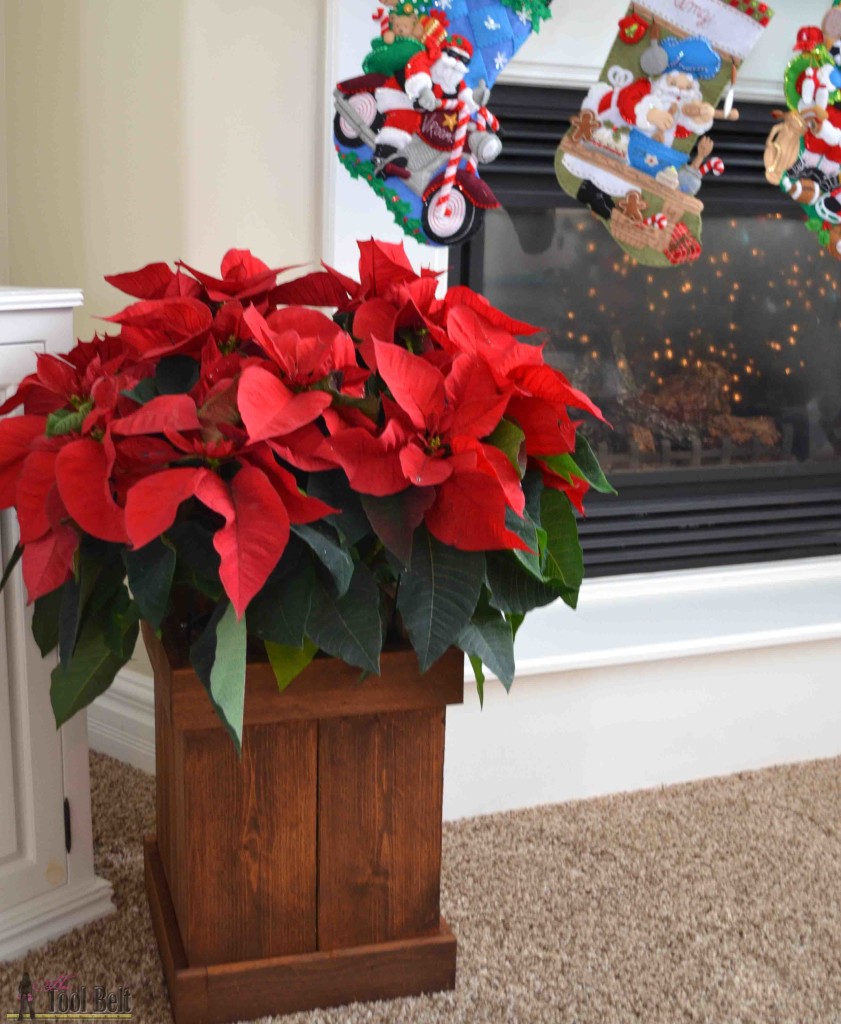 The candy cane posts are cheap landscape timbers and are easy to make.  (Tutorials for the poinsettia box and candy canes coming soon 🙂 ).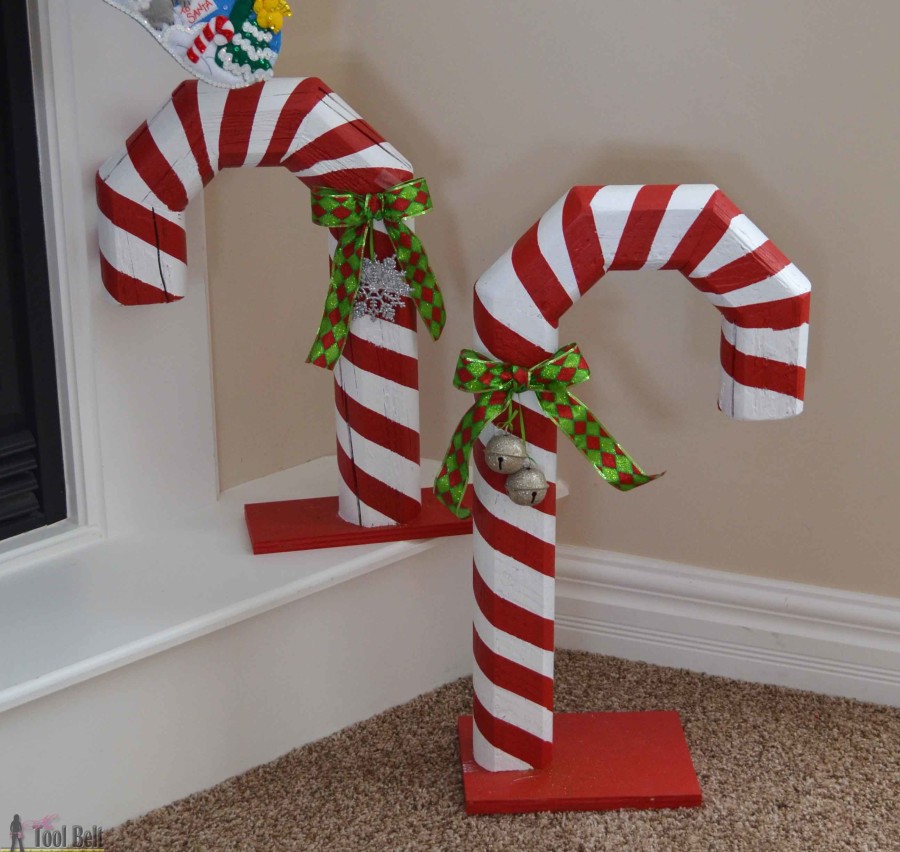 The mantel is topped off with a bit of fresh pine boughs, they smell wonderful.  Followed by a reindeer pulling Santa's sleigh, leaving the Christmas village.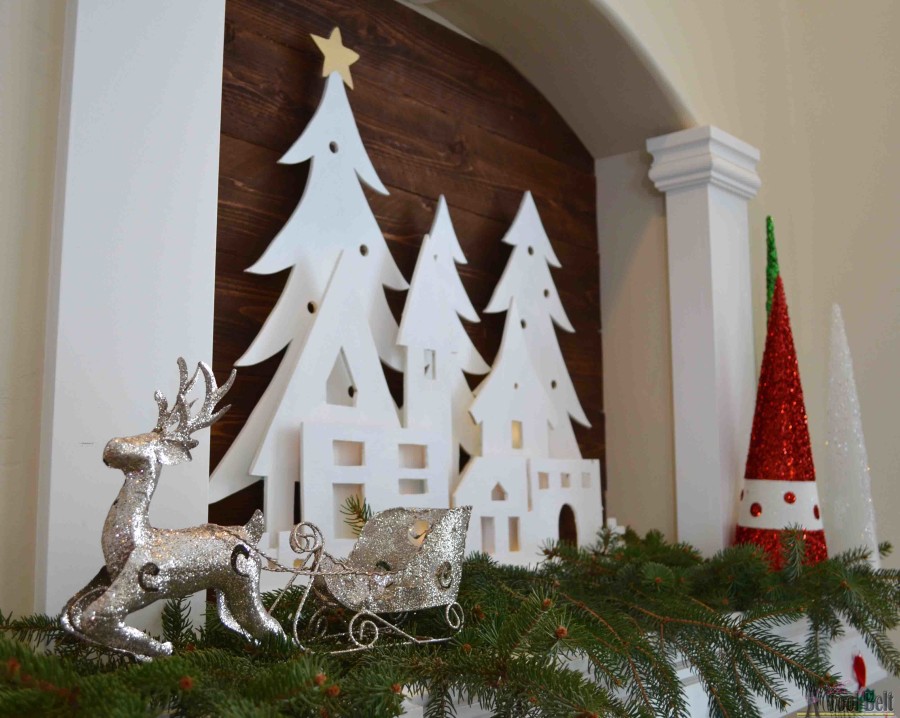 When planning out my mantel, I originally wanted to create a silhouette nativity scene to go in the cove of the mantel.  Then I realized my cute stockings* (that I spent hours and hours sewing by hand years ago) are all Santa themed and wouldn't mesh???  I came across this cute Tree Scape Mantle Decor at Pottery Barn Kids, and that is exactly what I was looking for!  Only one problem, it wouldn't arrive in time…  It's a new item and wasn't available to ship right away.  I decided to recreate it, and make it bigger to fit the cove.
How to Make a Pottery Barn Inspired Christmas Village Silhouette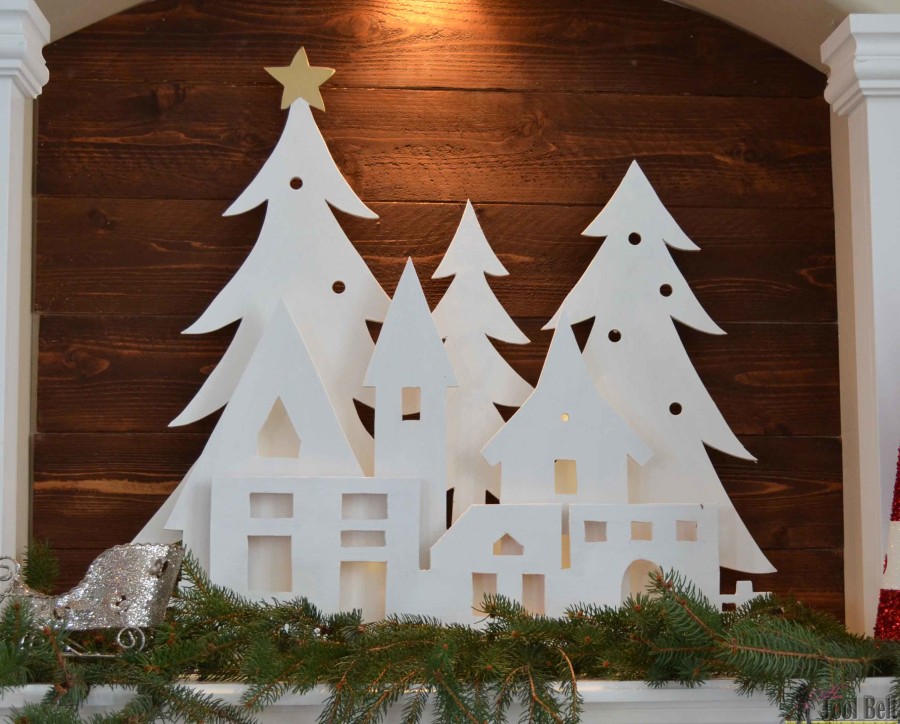 Materials
1/4″ mdf or plywood (1/2 sheet)
2″ x 4″ board (30″ long)
paint/primer
white lights, I used these
Krylon Glitter Blast, diamond dust*
I sized the back tree layer 30″ wide by 28″ tall, the middle layer is 22″ wide by 18″ tall, the front layer is 31″ wide by 8″ tall.
I roughly drew a similar design as Pottery Barn's onto the pieces of mdf.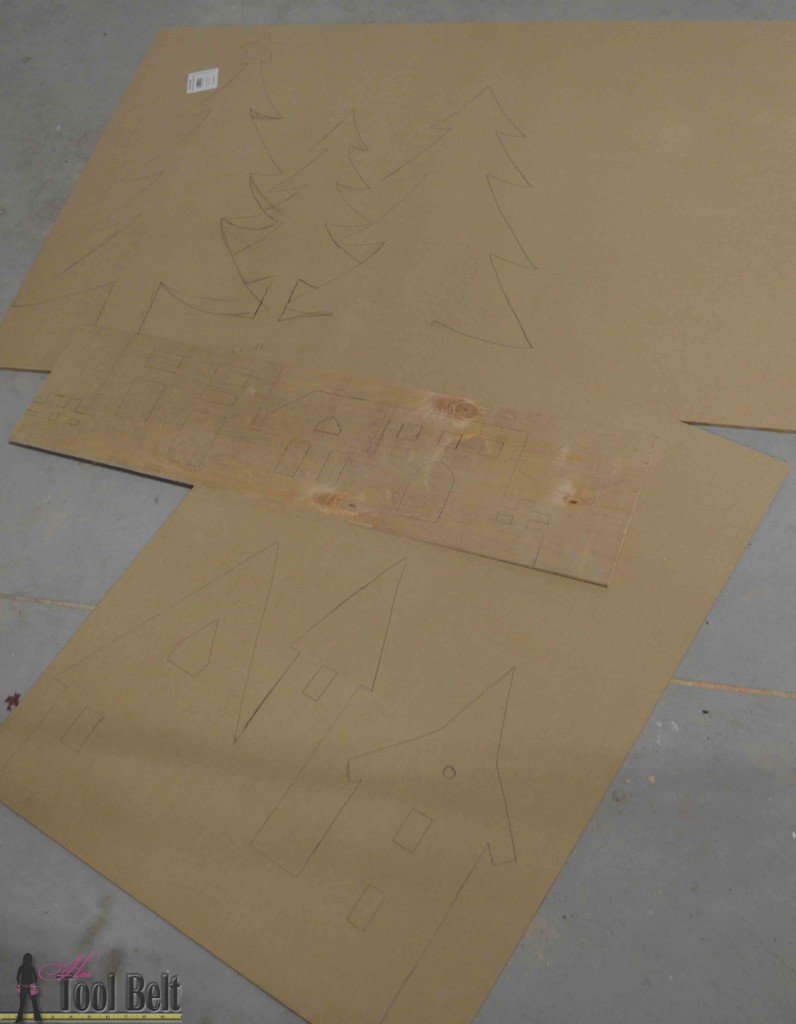 I used a jig saw to cut out the Christmas village pattern.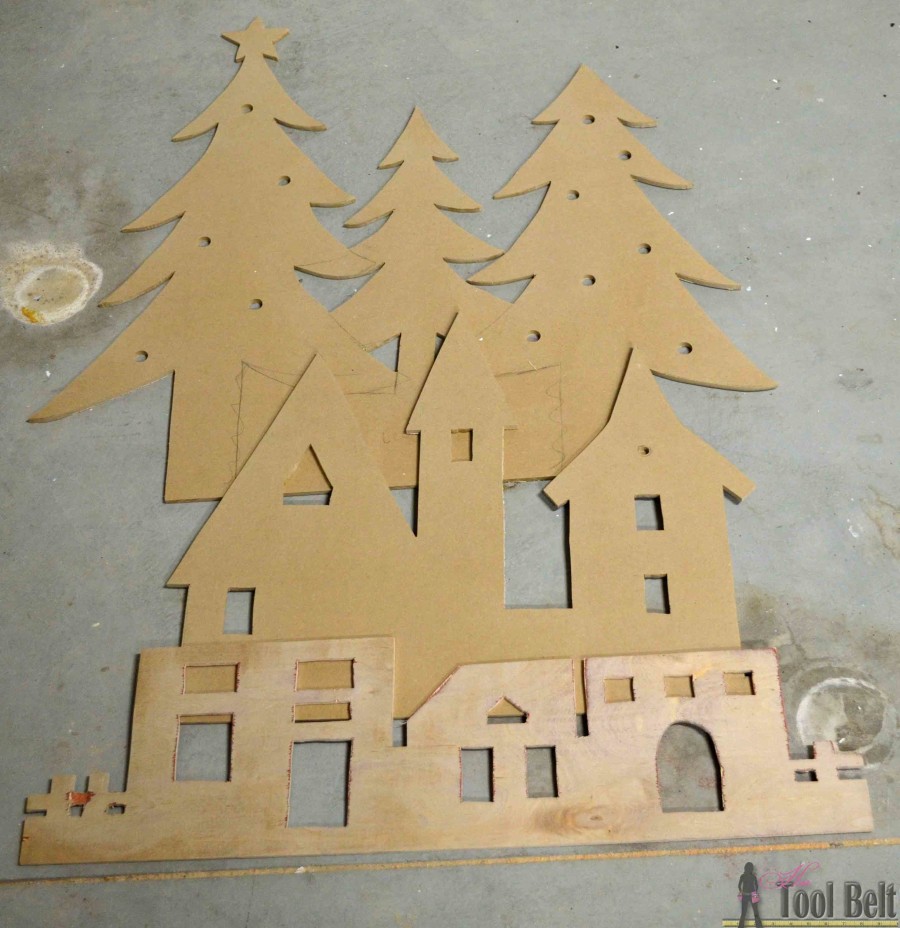 I primed the mdf/plywood with Zinsser paint primer and painted it white with Behr pure white latex paint.  Painted the star gold.  Once the paint dried I sprayed the layers with glitter blast*.  You really can't tell in the pictures that it has glitter on it, it's very subtle in person too.  If you want a look more like the one on PB kids, I would try using glue and glitter.
To make the base, cut a 2×4 to about 30″ long.  Cut grooves for the layers to sit in that are the same thickness as your mdf/plywood.  I used the table saw and made multiple passes to get the right groove thickness.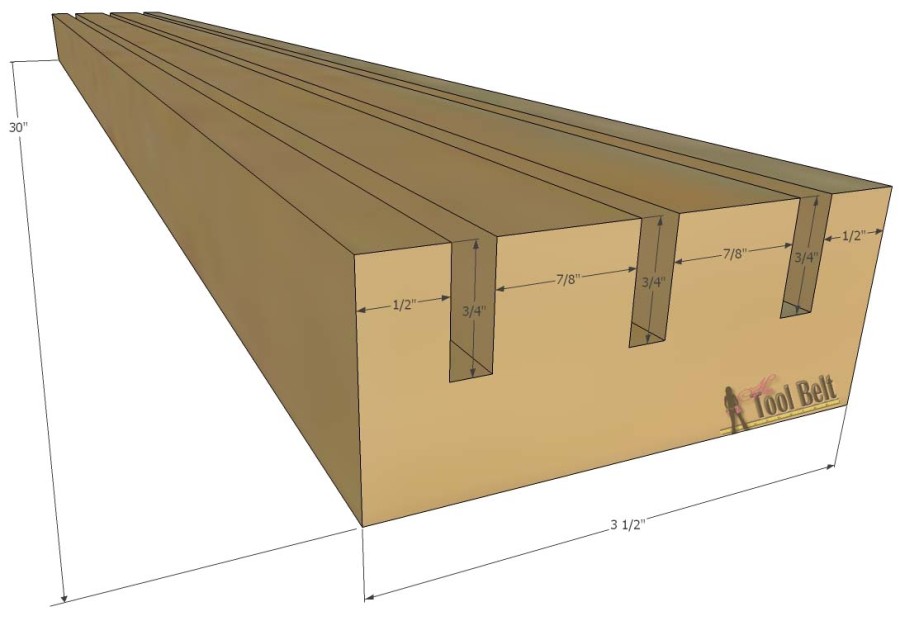 The final step is to add lights to the back of the layers, duct tape works great.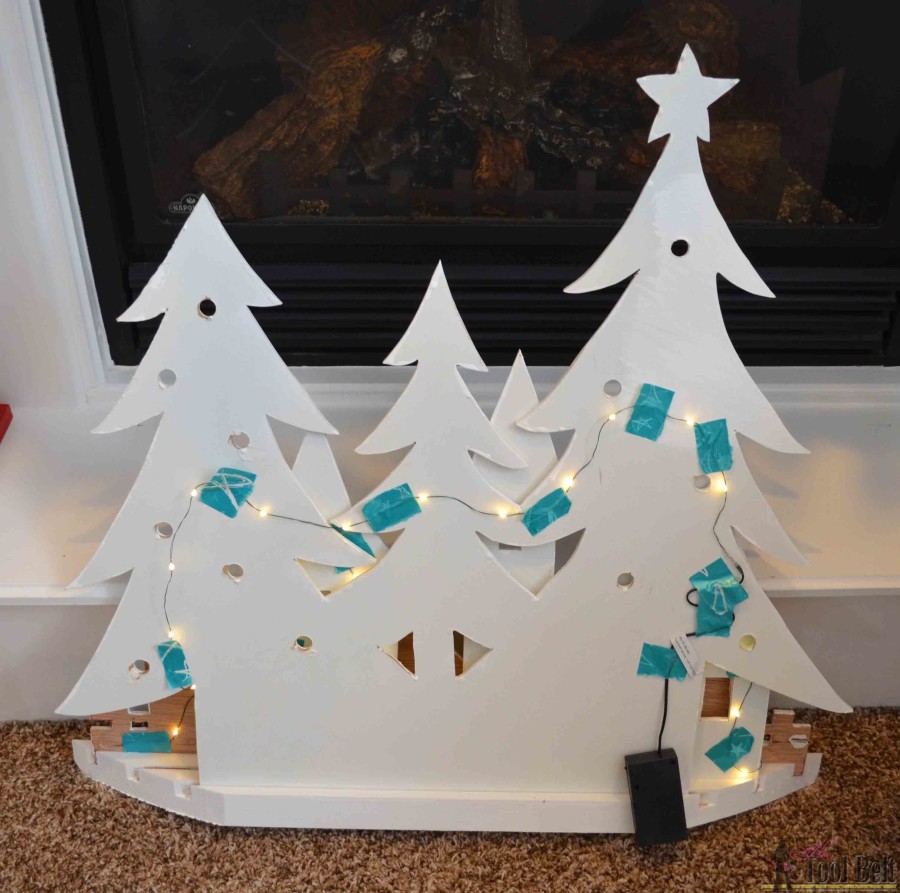 Now the Christmas village is ready to go.  Thanks for pinning!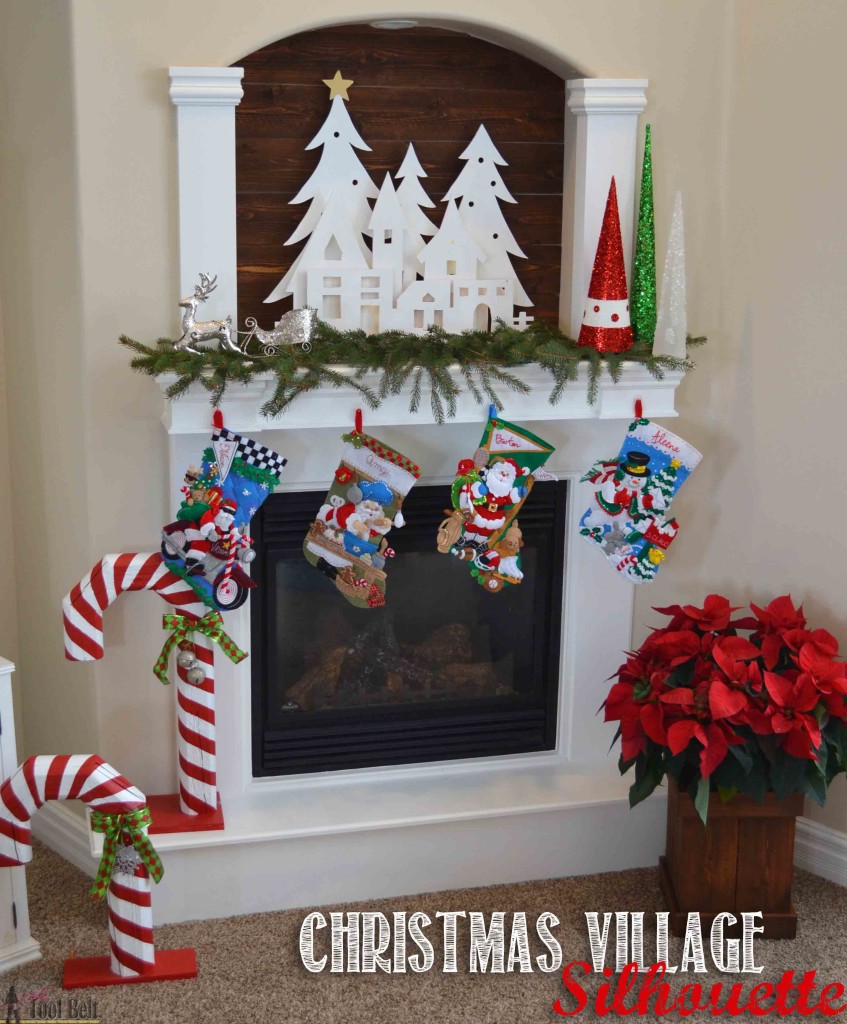 Linked to Link Parties, savvy southern style, remodelaholic