I thought it would be fun this year to do a Thankful Tree.   Hopefully helping my young kids and us parents continually think of our blessings all month.  Every day in November, each family member will write something that they are thankful for and hang it on the tree!  Theme:  Count Your Many Blessings.  Last year, I made a West Elm Knock-off Wooden Wall Tree.  This year, I put a twist on it, made it out of rulers and yardsticks to stick with the count-ing theme.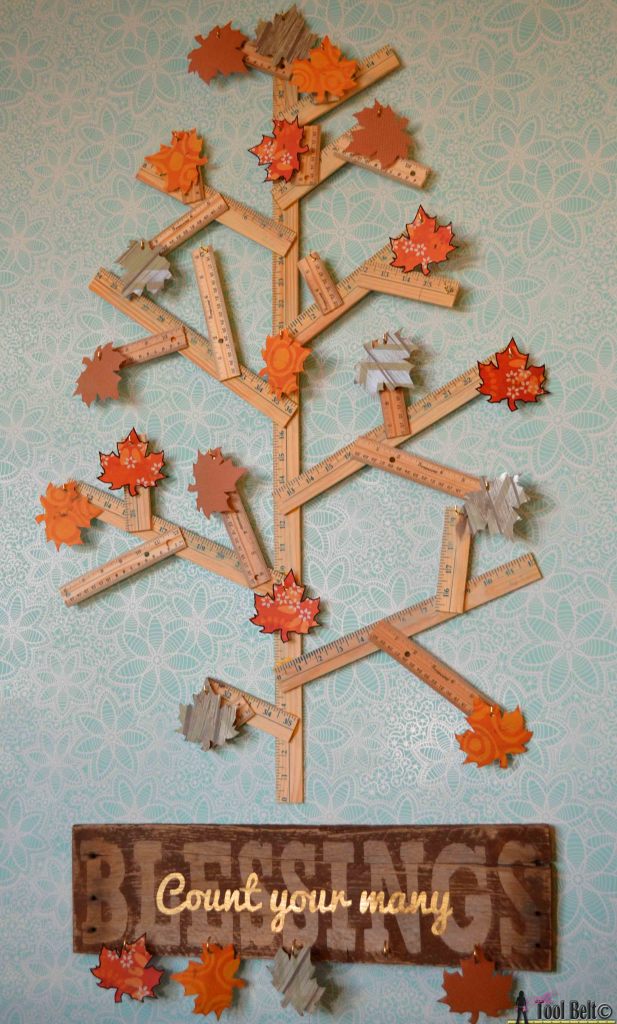 Thankful Tree
I bought the yardsticks and wood rulers at Walmart, they were cheap.  I believe the YS were .68 cents and the rulers were .46 cents.  Look for rulers without the metal edge, these had a small plastic edge so I could cut them with my saw.  The yardsticks did have some words on it about paint and walmart, but it will sand off quickly.
Materials
Cut List
| Branch Type | Length | Quantity |
| --- | --- | --- |
| Yard Stick | 36" | 1 |
| Yard Stick | 12 1/8" | 4 |
| Yard Stick | 8 3/4" | 2 |
| Yard Stick | 6 1/4" | 2 |
| Yard Stick | 4 1/2" | 1 |
| 12" Ruler | 6 3/8" | 5 |
| 12" Ruler | 4 3/8" | 8 |
| 12" Ruler | 2 3/4" | 5 |
Cut all of the yardstick and ruler pieces, I used a miter saw.  If you happen to run out of rulers, you can sub with the extra yardstick.
Assemble the tree similar to the following diagram.  Glue the branch pieces together with wood glue and allow them to dry, approx an hour.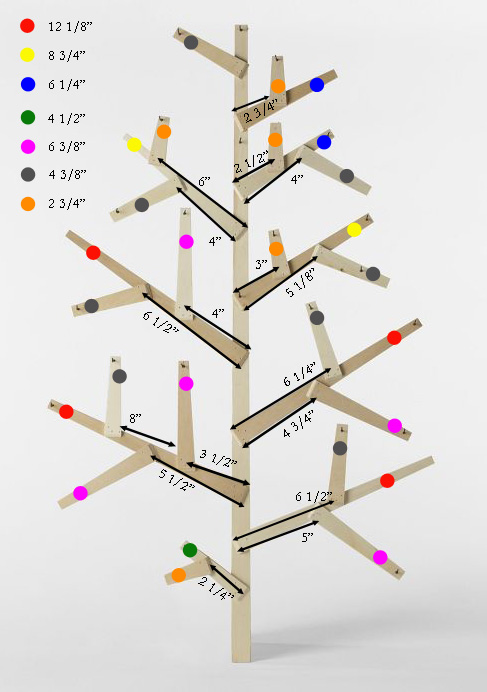 Use wood glue to glue the branches to the tree trunk.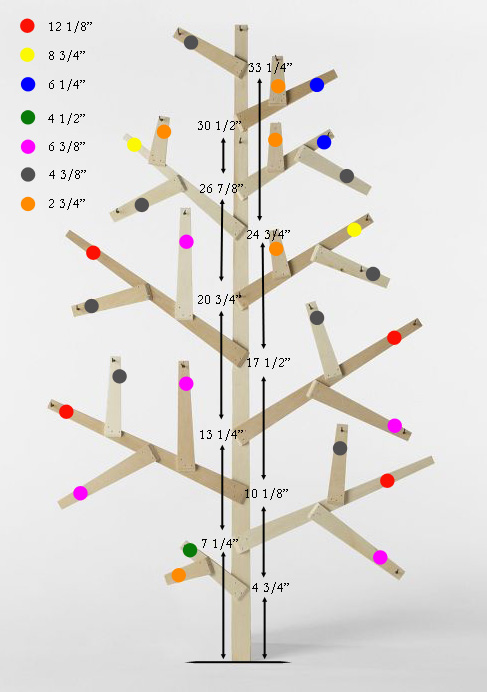 You may need to use clamps to hold it in place while the glue dries.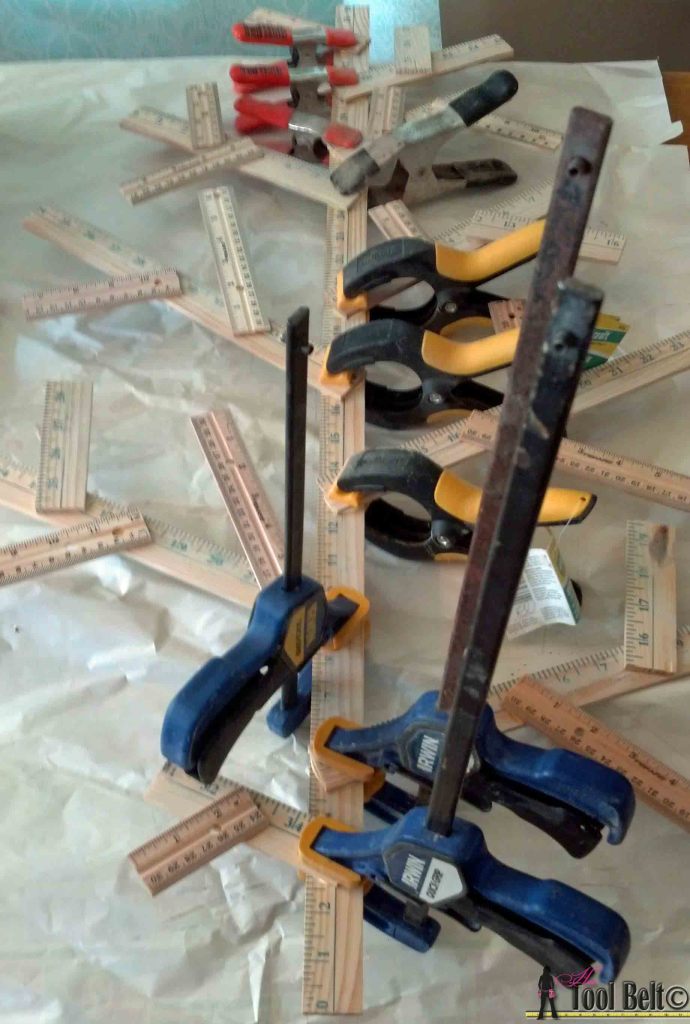 Drill little pilot holes for the hooks where ever you want them, and screw the hooks into place.  Drill a hole near the top and your cool tree is ready to go.  I imagine this could be a fun decoration in a classroom too.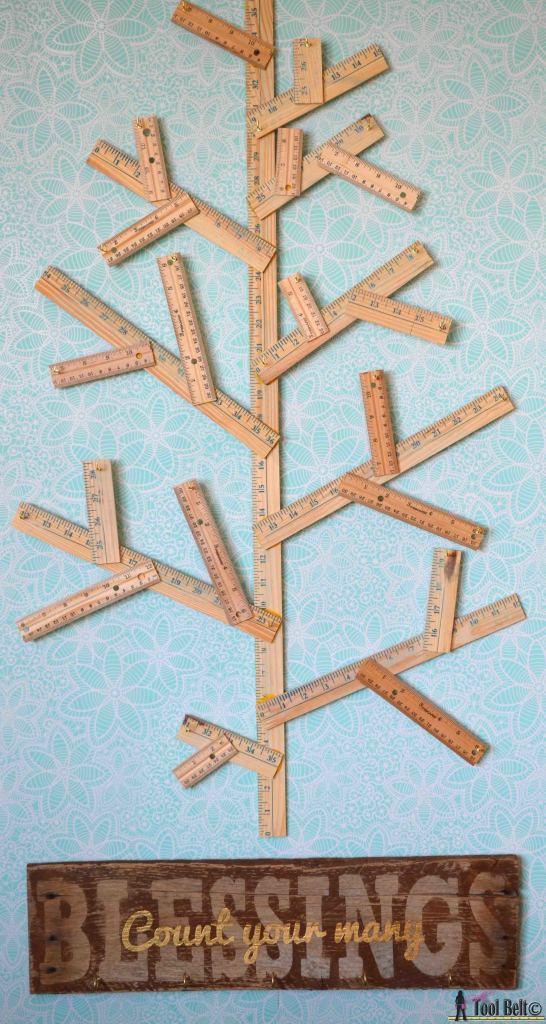 Count Your Many Blessings Sign
For the sign, I used a pallet slat that is 21″ wide x 5 1/2″ tall.  I washed off the dirt and stuff with a brush and soapy water and let dry. 
Then I taped the face of the wood with painters tape.

In photoshop elements, I sized Blessings to fit the wood and printed it off.  If you have a similar wood size, you can use mine or make your own.  bless –, -sings . Using a sharp X-acto trace around the outside of Blessings.
 Remove all of the outer tape, leaving the words.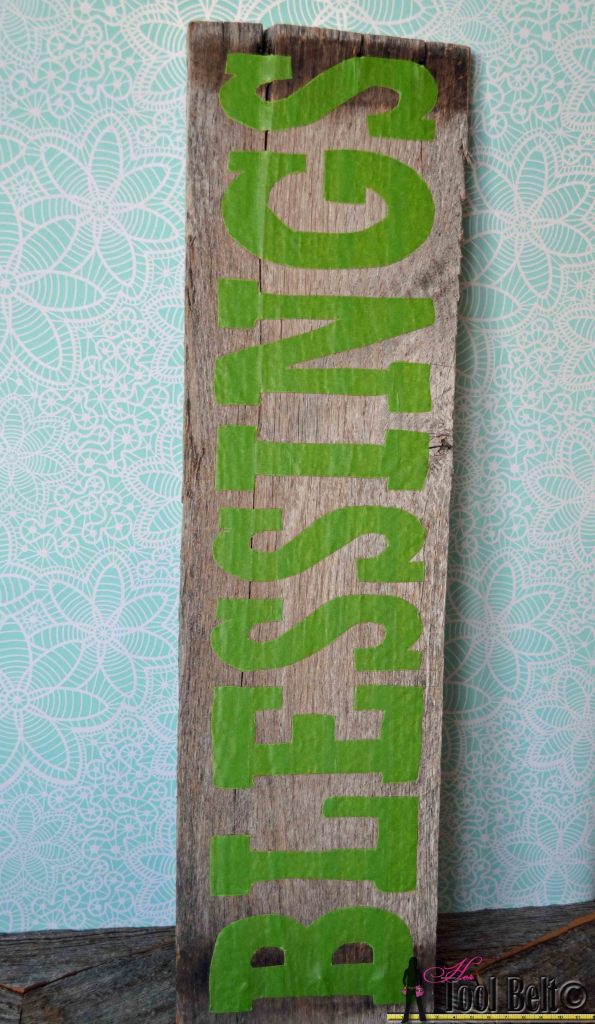 I originally planned on painting the outside white, like my old 'Things' sign, but decided to try something different.  I have some of these Minwax stain cloths and stained the outside Chestnut brown.  It's super easy, just dab it on and the old wood will suck it up quick.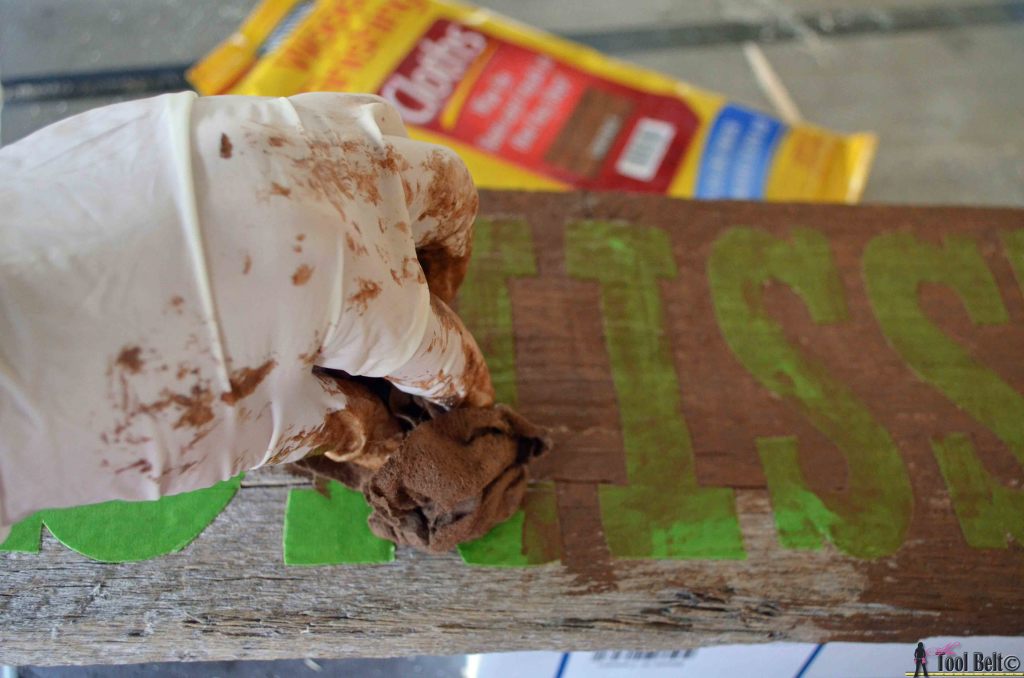 Once the stain totally dried, I lightly sanded the board to make is rustic.

Then I taped the board face again.  Trace cut the words 'Count Your Many', but this time removed only the words.  I should have painted 'count your many' a bright color, but thought I'd try gold.  It looks cool when it's sunny and bright, but hard to see later at night.  Remove the tape.  I drilled some holes at the bottom and used 1″  cup hooks to hold the leafs.
Thankful Leafs
Now all of you that have an electric cutting machine can laugh at me.  I cut out a bunch of maple leafs from some fun fallish scrapbook paper, enough for a leaf for each family member/day.
My kids are super excited about our Thankful Tree, so far they've loved writing or coloring what they are thankful for and hanging it on the tree!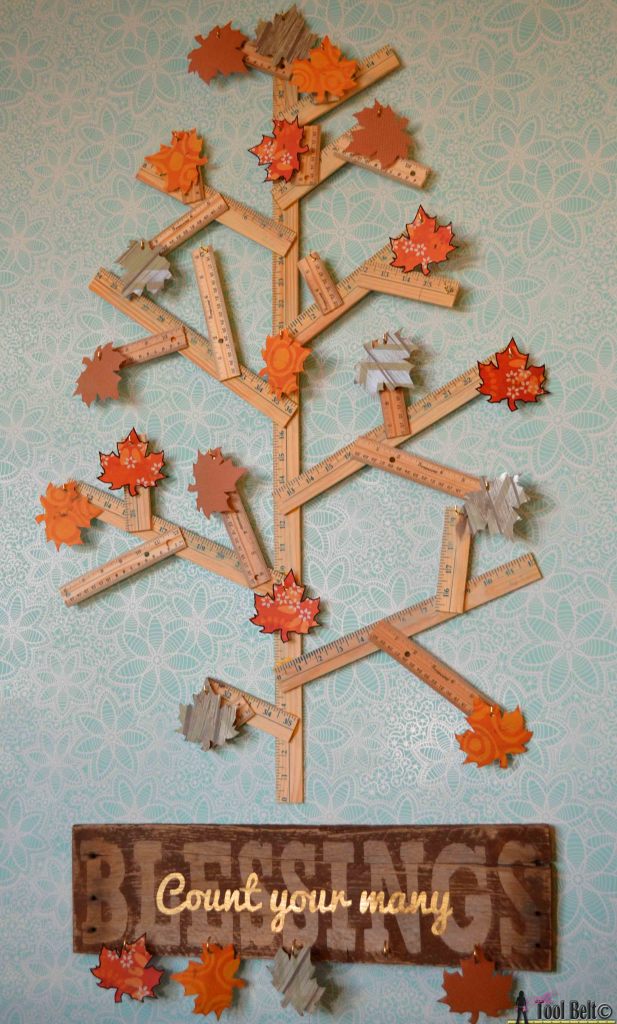 Linked to My Favorite Link Parties, Remodelaholic, SavvySouthernStyle