The 20V DEWALT Lawn Mower Tool Review is sponsored by The Home Depot. I have been compensated for my time and provided with product (tools). All ideas and opinions are my own. This post contains some affiliate links for your convenience. Click here to read my full disclosure policy. 
No gas, No Pull-Strings, No Carburetors, No Problem! We have almost fully converted to all battery operated yard equipment (tiller is our last one standing). I can't believe how amazing the battery operated yard tools perform with the new battery and motor technology these days, it's hard to tell the difference between gas powered and battery powered tools. DEWALT has a battery operated lawn mower that runs off of 20 volt batteries! Say What?!?!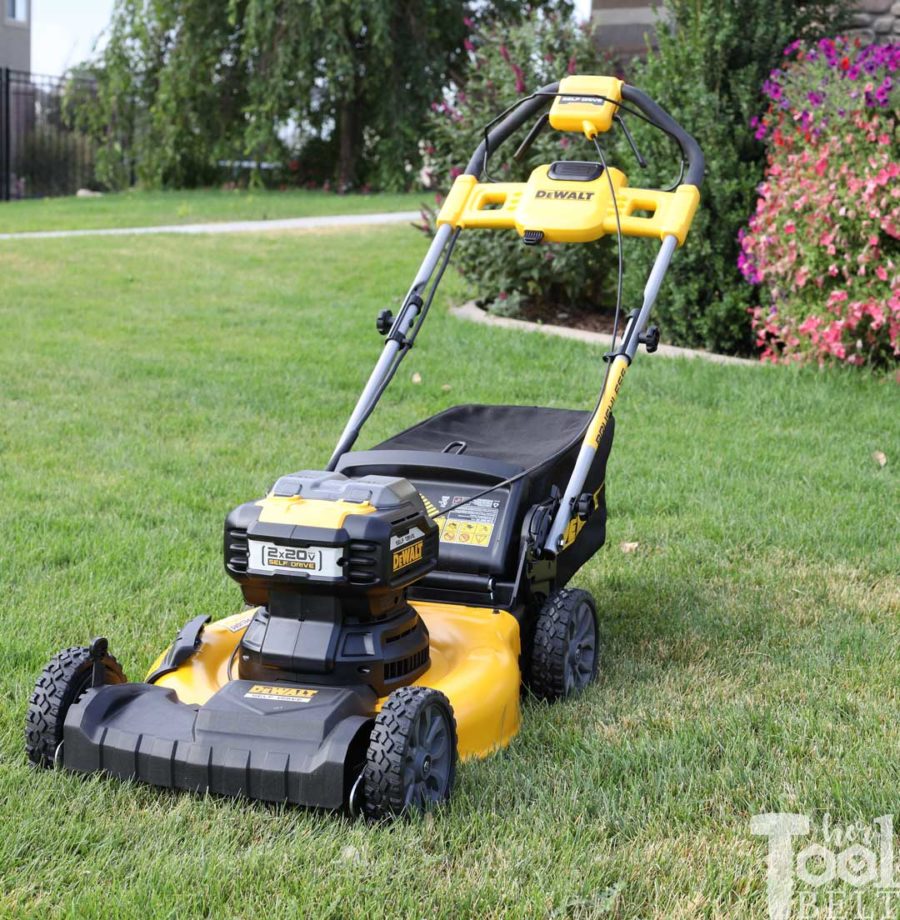 Today, I am reviewing the DEWALT model# DCMWSP244U2 20-Volt + 20-Volt max lithium-Ion 21 1/2″ self propelled walk behind Lawn Mower. I've been excited to see how a lawn mower running off of 20 volt batteries would perform. 20 volt, seriously, that is the same voltage as much of the DEWALT platform. You can use the 20 V battery to power your drill, saw and lawn mower.
Let's check out some of the features of this DEWALT model:
What comes in the package –
DEWALT 21 1/2″ Lawn Mower
2 – 10 Ah 20 volt Max batteries
2 – 20 volt battery charger
Clippings Bag
Mulch Plug
Safety Key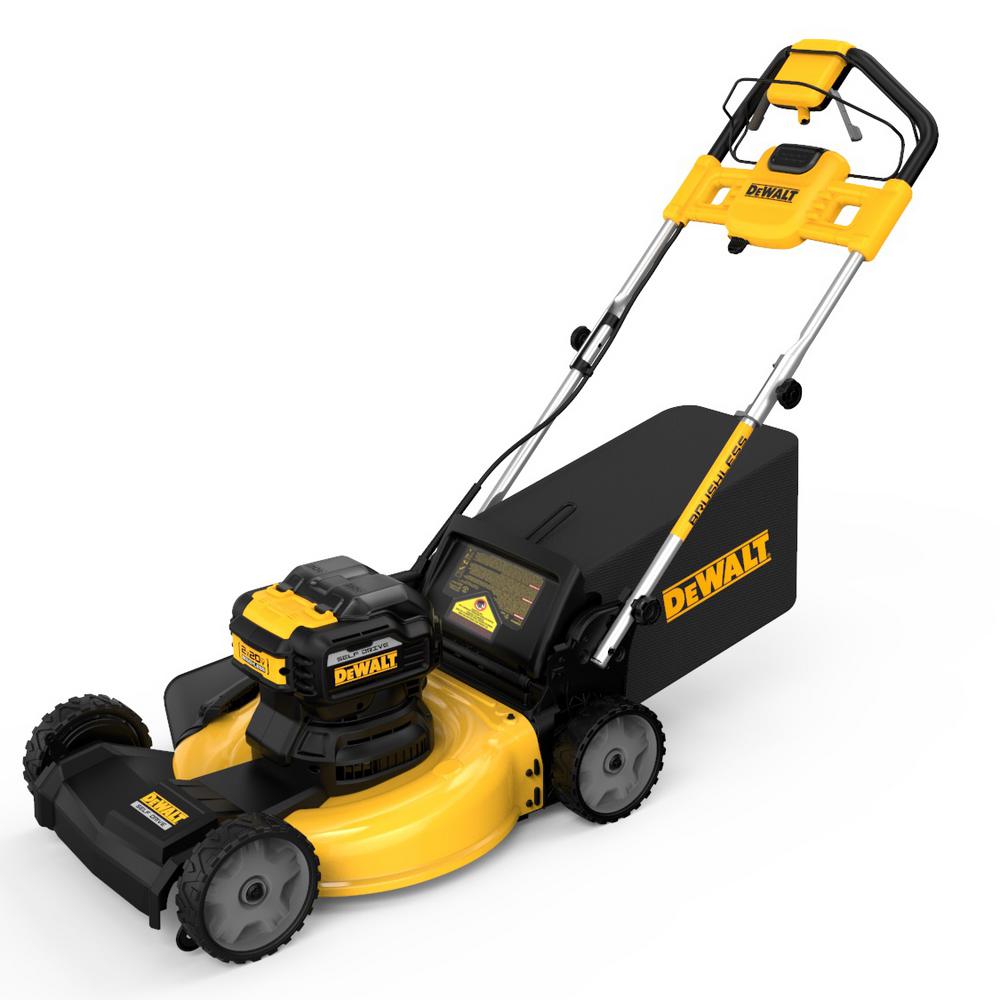 Features
It is powered by 2 – 20V DEWALT Batteries, so technically it's a 40V mower that runs off of 20V batteries and the 10Ah batteries provide 400 watt-hours.
This lawn mower has a 21 1/2″ deck.
It has Auto Sensing technology which increases or decreases the torque depending on what you are cutting.
The lawn mower's 3-in-1 capability allows for mulching, bagging or side clipping discharge.
6 cutting heights that range from 1 1/2″ to 4 1/2″, depending on your preferred lawn height.
The Self Propelled feature is adjustable depending on how far back you engage the handles, allowing you to choose your walking pace.
There are 2 height options for the handle, great for us shorter folks!
Compact upright storage option.
How It Works
One of my absolute favorite features about this DEWALT Lawn Mower, is its compact storage design.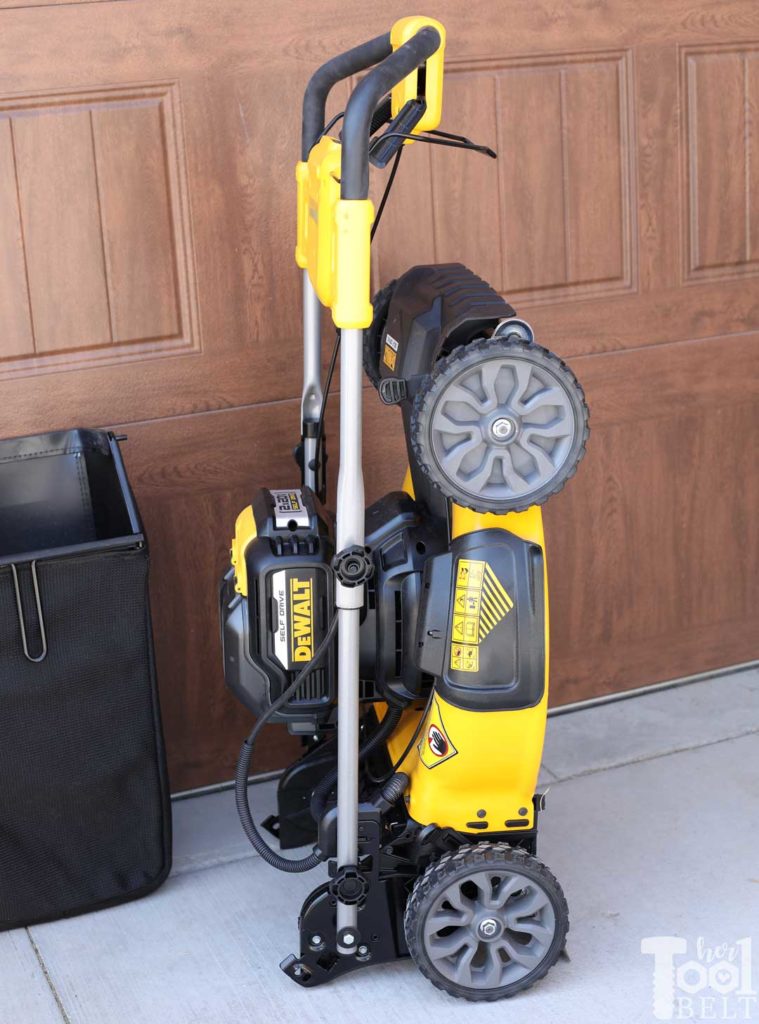 Place the mower on it's wheels, then rotate the two side knobs to rotate the handle.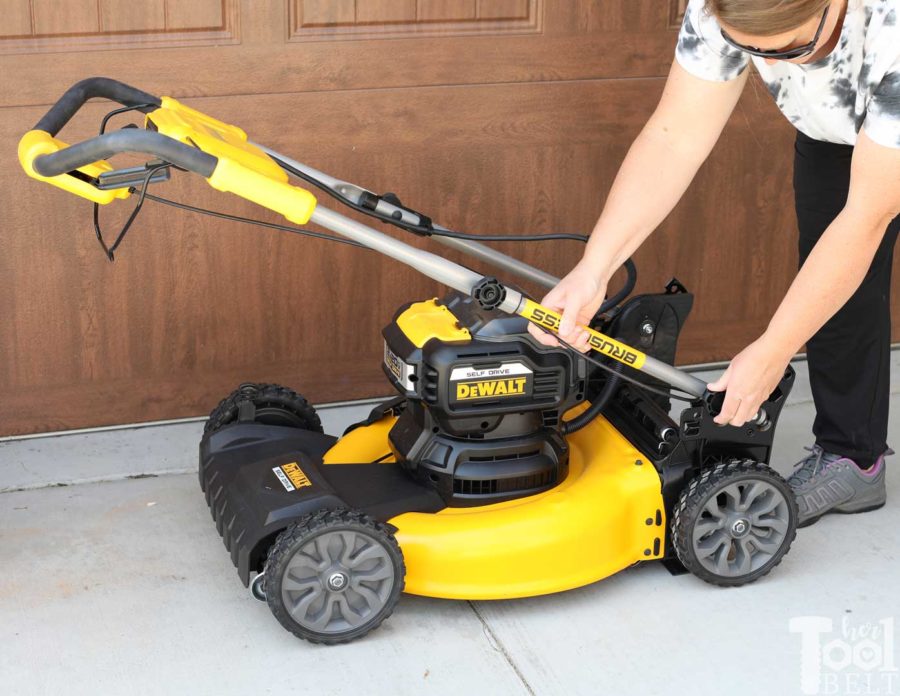 Put the handle in the high or low position, and rotate the knobs to engage the pins securing the handle location.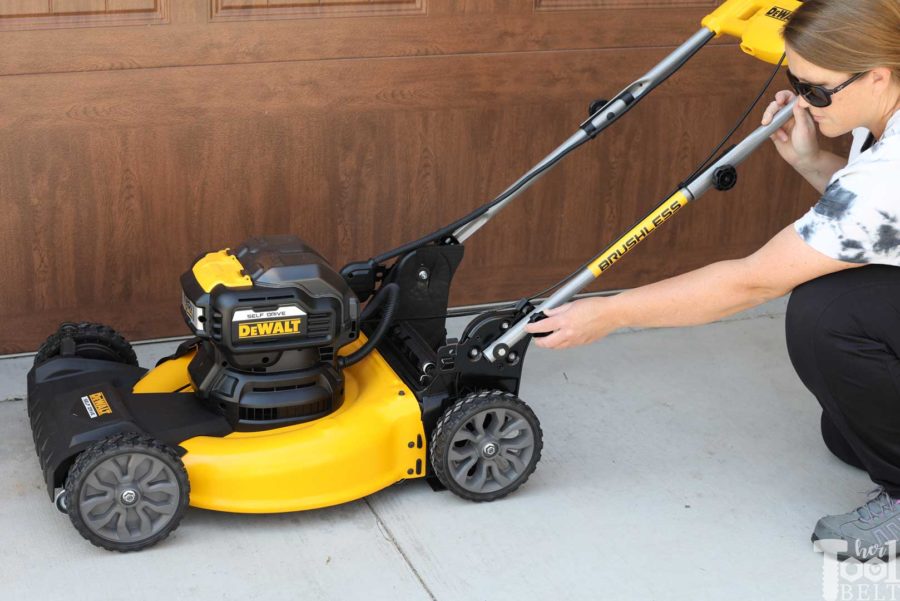 Open the lid and insert 2 charged 20V batteries.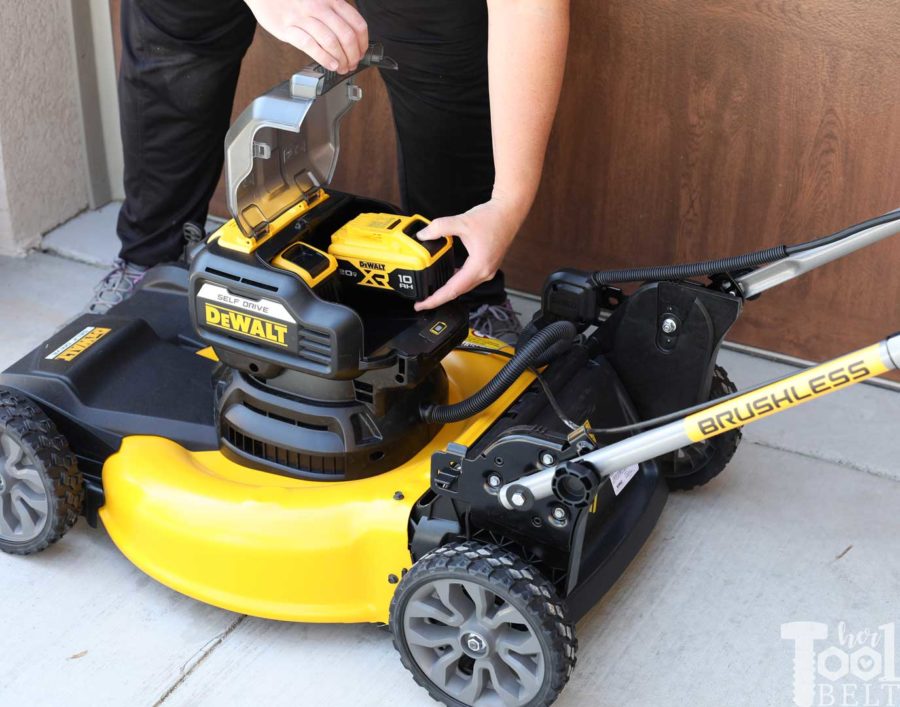 Then if bagging the clips, pull up the back flap and place the clipping bag into the slots.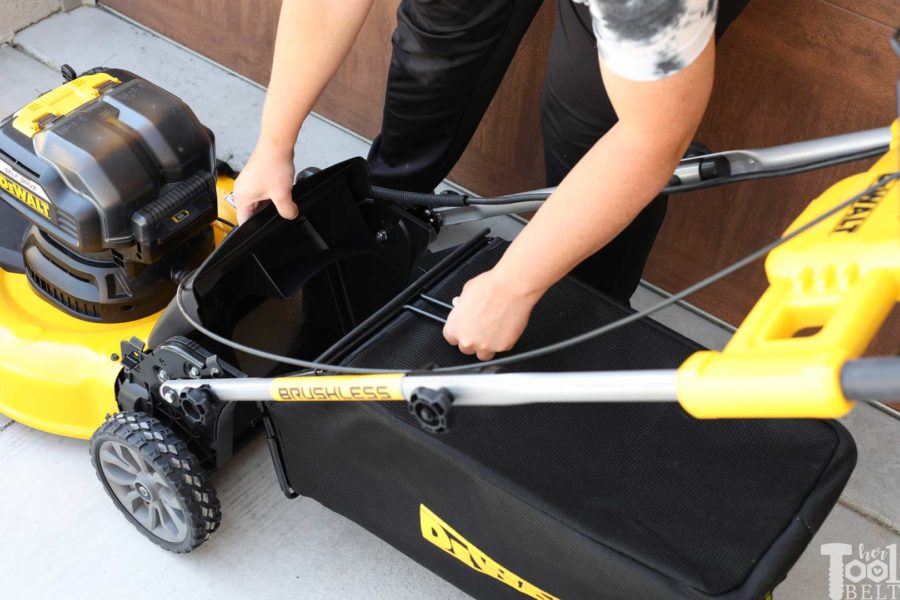 Insert the safety key into the console.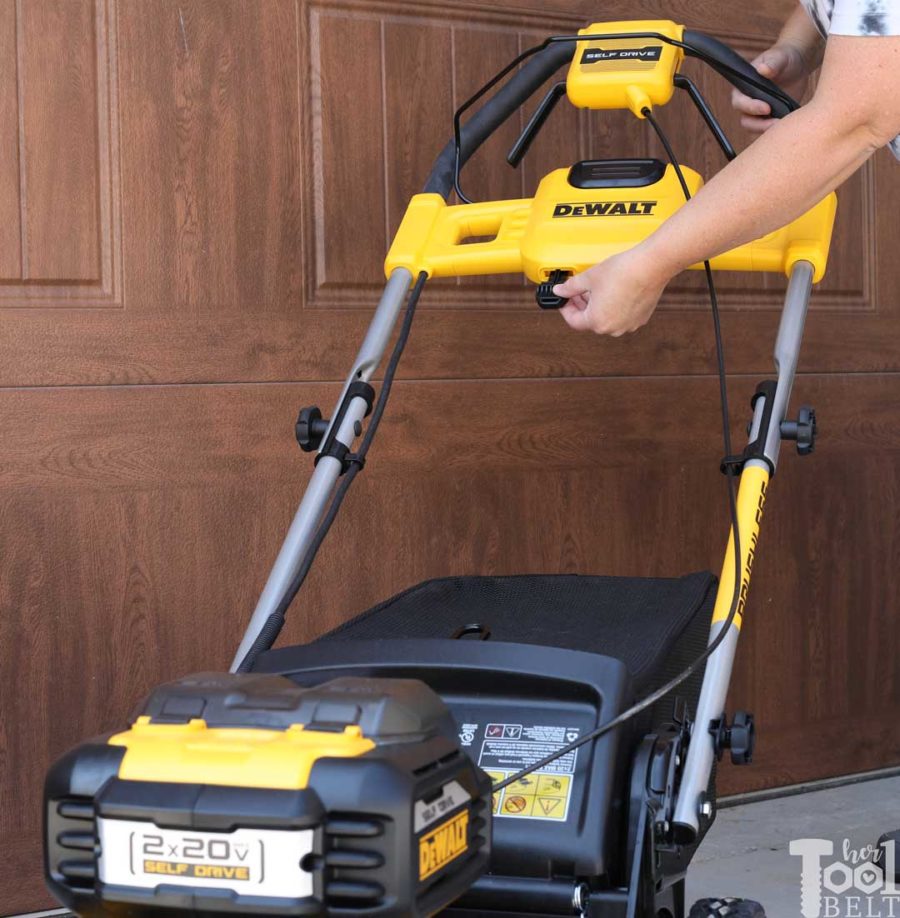 Finally the safety sequence to start the lawn mower.
Press the center button down
then pull back the bar/lever
Voila! Ready to mow.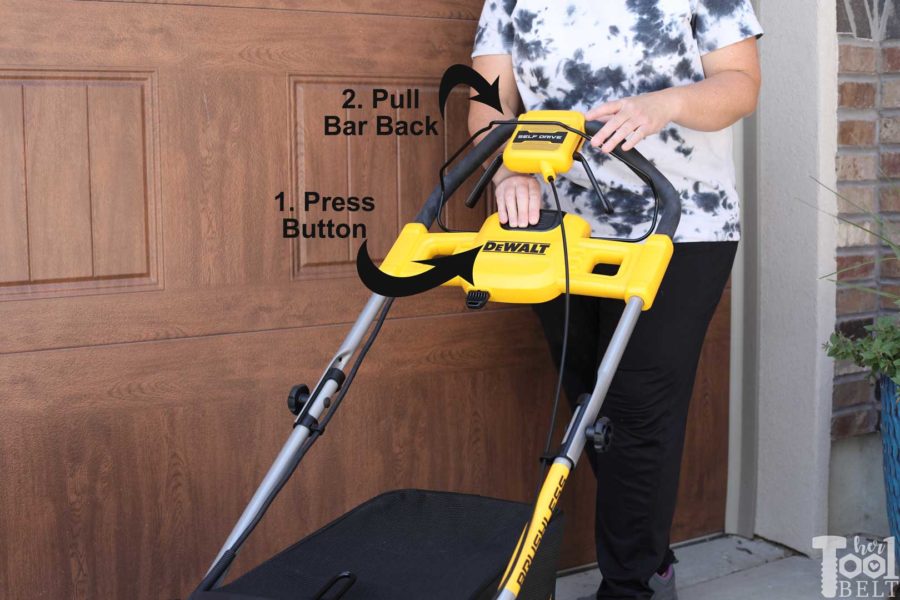 I let the yard grow for 2 weeks, to really put this mower through the paces. The DEWALT lawn mower did an excellent job cutting the longer than usual grass. It would only occasionally bog down on large chunks crab grass (the worst grass). It really is a champ. I have a little over 1/3 acre, and it mowed about 2/3 of the yard on a single charge. On a normal grass length, I'd be able to almost mow the whole yard on one charge. If you have other DEWALT tools, you can always pop those 20V batteries in to finish up any work. That is one fantastic feature about this 20V+20V lawn mower. For the best run time, I would suggest cutting frequently (usually weekly at my house) and waiting for the grass to be dry before mowing.
Conclusion
Overall this DEWALT lawn mower is an excellent battery powered lawn mower. The 20V+20V battery platform offers so much versatility being able to be used on 200+ DEWALT products. The included 10Ah 20V batteries offer a long run time. The ergonomics of the DEWALT lawn mower are great. I really like the self propelled speed control, but I love the compact storage design. The DEWALT lawn mower is and excellent addition to your DEWALT tool collection (or a great place to start 🙂 ).
The cordless 20V DEWALT Lawn Mower can be purchased at your Home Depot or online at Homedepot.com –> link to product <–
Thanks for pinning!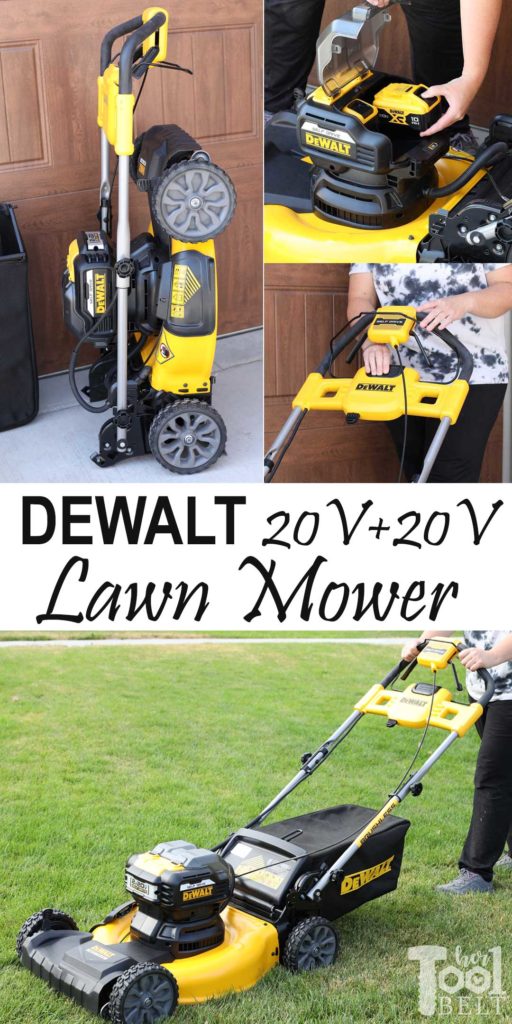 "I acknowledge that The Home Depot is partnering with me to participate in the Tool Review Program. As a part of the Program, I am receiving compensation in the form of products and services, for the purpose of promoting The Home Depot. All expressed opinions and experiences are my own words. My post complies with the Word Of Mouth Marketing Association (WOMMA) Ethics Code and applicable Federal Trade Commission guidelines."