I have been wanting to add outdoor seating to my deck.  My deck is long and narrow, standard outdoor furniture sets won't fit as intended.  So 'outdoor seating' has been on my to build list for a while.  I went to a DIY conference called Haven during the summer.  The great folks at Ryobi challenged the attendees to build one of four projects, for a contest.   You know I'm a sucker for contests, just the kick in the pants I need to get it done.  One of the projects is an outdoor sofa designed by Ana White.
First off I started shopping for cushions.  I did not want to build something and the cushions not fit, right!  I watched prices for a few weeks and in August, the cushions started to go on clearance.  YAY.  I grabbed a few sets of Sunbrella cushions at Lowe's for about $22 per set, normally $98.  The black ones were 75% off + 10% off coupon.  *score*  The seat cushions measure 25″ x 25″ so they will work with Ana's plans.
Since my space was limited, I wanted my outdoor seating to be a couch with a chaise for relaxing.  I also wanted the chaise part to kick out and become conversational seating.  The full 3 cushion sofa wouldn't fit in the area that I wanted the seating, so I shrunk it to a love seat.  I pretty much followed Ana's plans with a few adjustments.  You can download Ana's plans from the Ryobi Nation site, but you have to have a free account.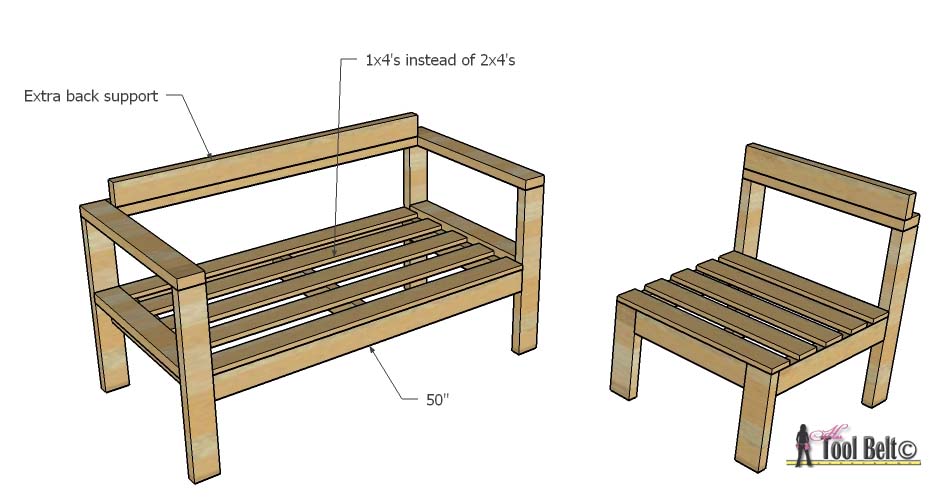 I built the love seat from regular pine 2×4's instead of cedar.  I shortened the long seat 2×4 to 50″.   Seat part of the sofa.  I glued each joint and used pocket holes to hide the screws.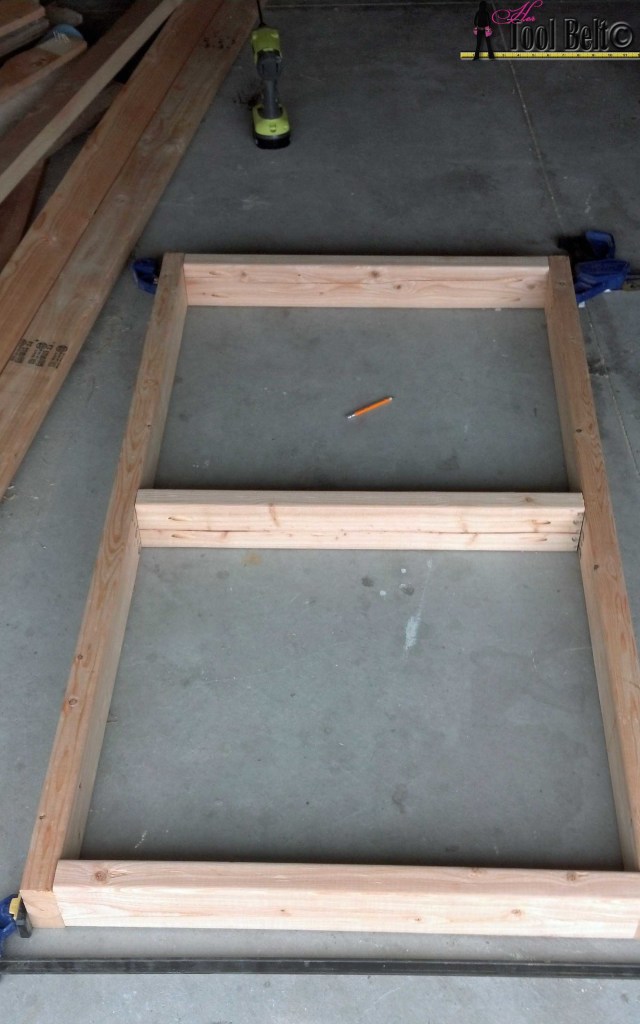 The sides/arms went together slick too.  I screwed through the arms to attach to the sides.
When I sat on the sofa at Haven, it was really really stiff, I decided to switch the seat slats to 1×4's hoping they'd flex a little more than 2×4's.  Also my seat cushions may have been a little thicker than Ana's, so I needed to add another board to raise the back support.  After all of the glue dried, I lightly sanded the love seat and sealed it with Thompson's Water Seal.  Building the love seat was really easy, you can do it!
How to build the chair/chaise
Chair Cut List
Cut the following lengths from 2 x 4's
2 – 25 1/2″
2 – 25″
2 – 23 1/2″
1 – 22″
1 – 18″
2 – 12 1/2″
Cut the following lengths from 1 x 4's (furring strips)
Step 1
Join the two 12 1/2″ legs with the 18″ piece.  I used pocket holes and 2 1/2″ self tapping screws (Kreg or Deck screws are self tapping) and wood glue.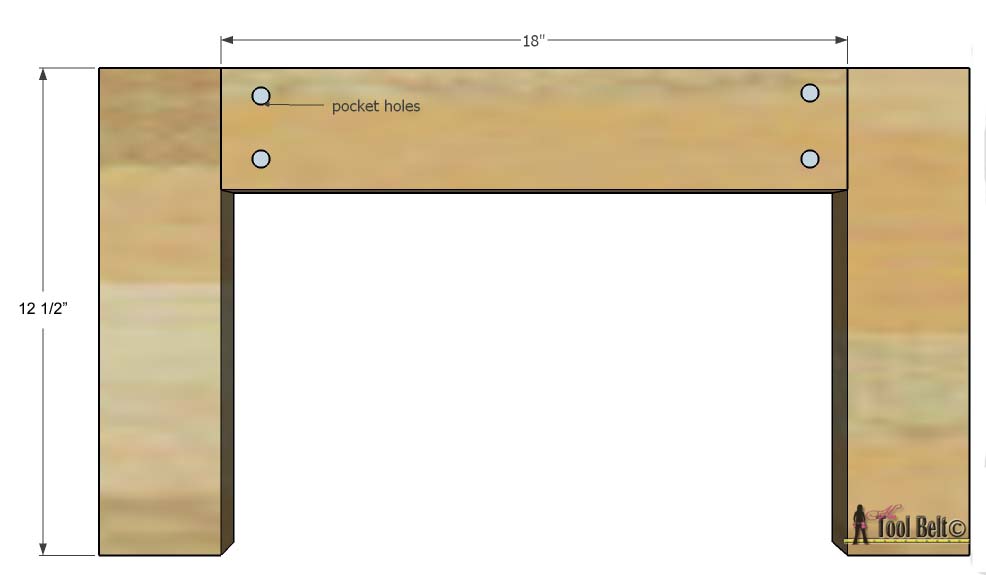 Step 2
Next assemble the back legs.  Join the 22″ piece with glue and 2 1/2″ pocket screws to the two 25 1/2″ pieces at 12 1/2″ from the bottom.  Attach a 25″ piece to the top of the 25 1/2″ legs.
Step 3
Attach the 2 – 23 1/2″ pieces between the front and back legs.  Secure with glue and 2 1/2″ pocket screws.

Step 4
Attach the 1 x 4's to the top of the seat.  The picture shows 5 – 1 x 4's but 4 are good enough.  I used wood glue and 2″ brad nails.  If you need extra back support add a 25″ board to the top with 2 1/2″ screws.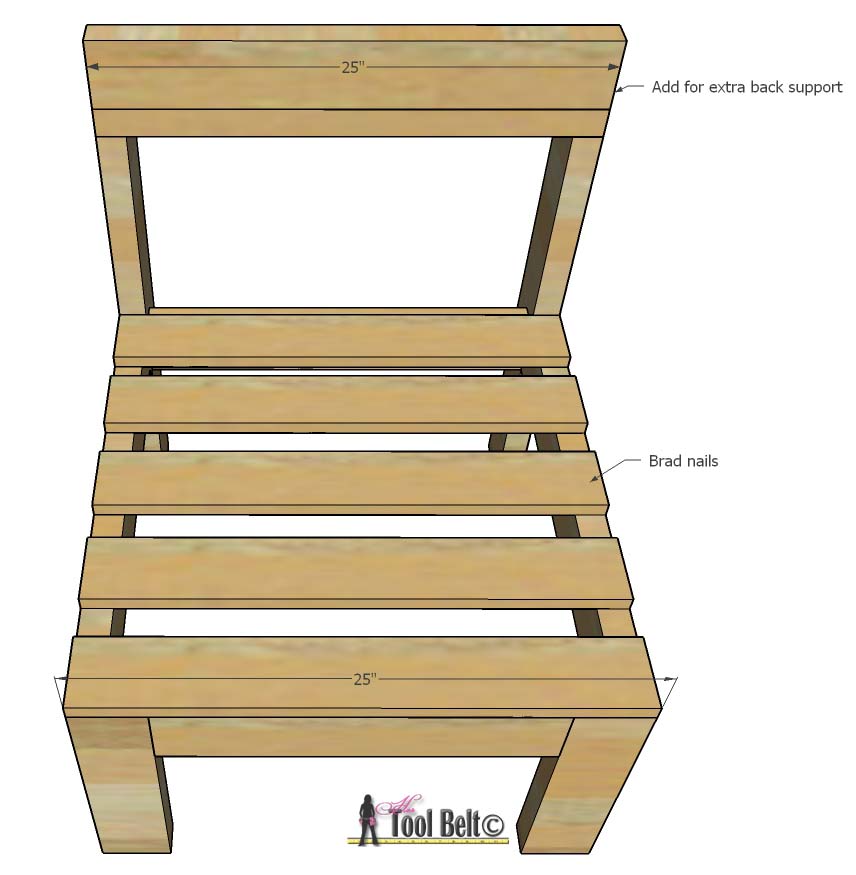 After all of the glue dries, lightly sand and seal it with Thompson's WaterSeal.  If you want stained wood, Thompson's also has all in one waterproofing stain in an aerosol can or by the gallon. Easy peasy right!!!  The wood only cost about $24, so a very economical option.



 I have loved having seating…it is so nice.  I also love this little side table.  You can grab the pattern here.  It's made from a 2 x 10 and only costs about $12 to build!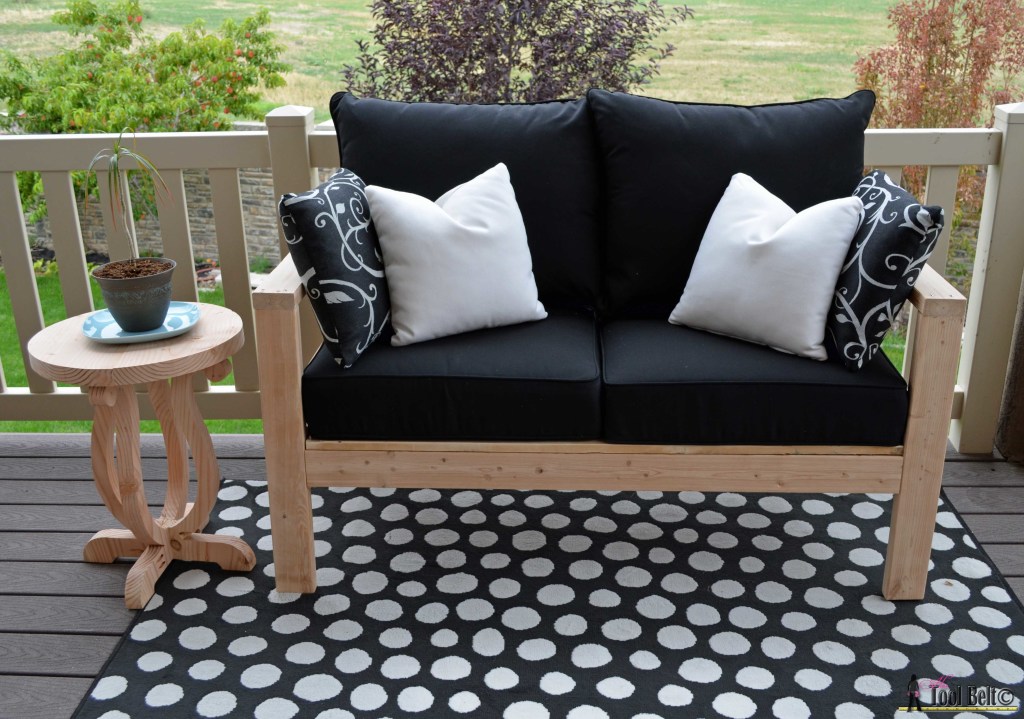 Outdoor seating in chaise relax mode.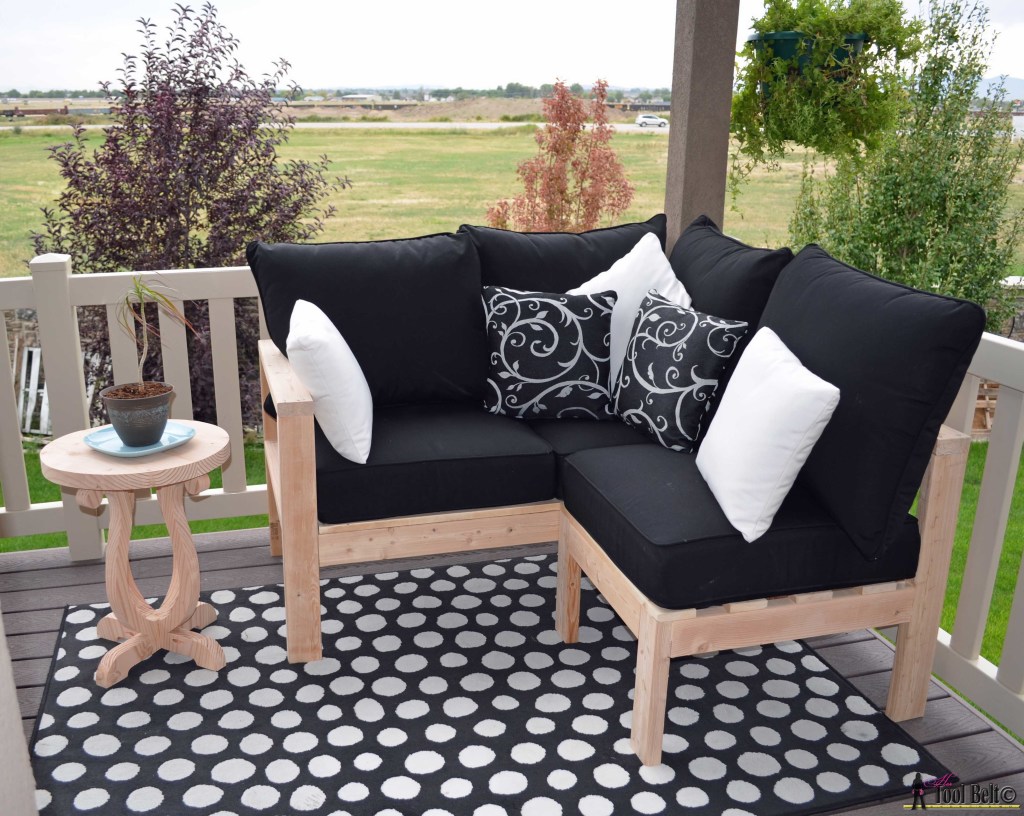 Easily scoot out the chair for conversational seating.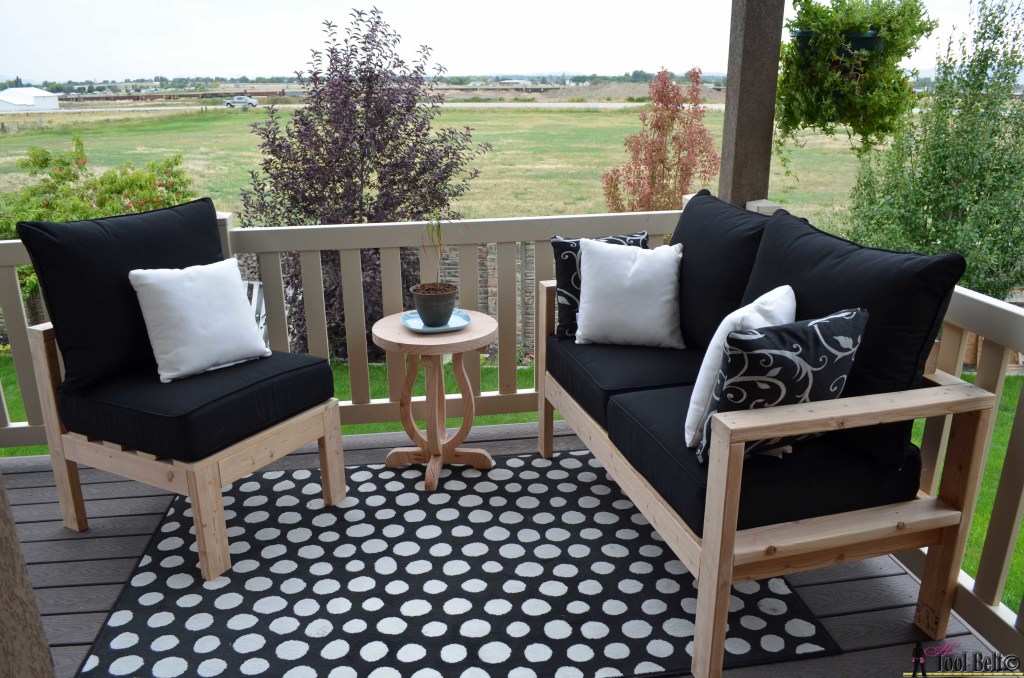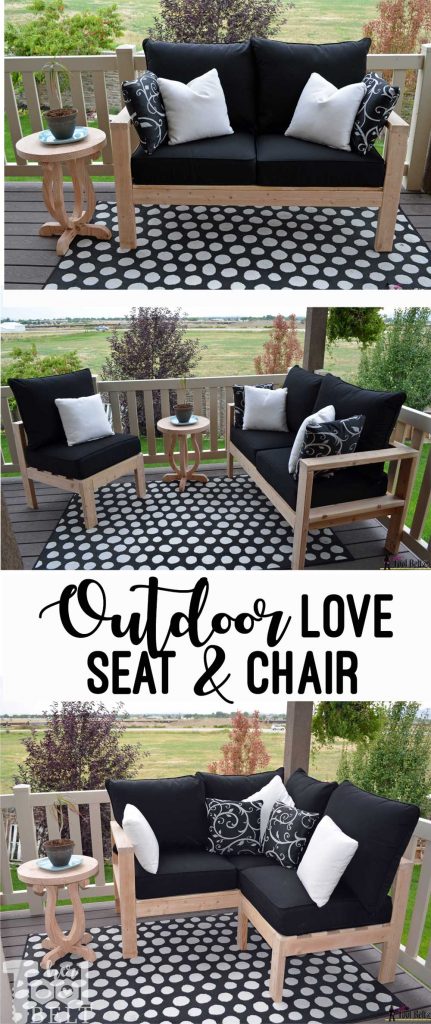 Linked to my Favorite Link Parties, Remodelaholic, Savvy Southern Style