Hi!  I'd love for you to follow me on Pinterest Her Tool Belt  and if you love instagram, you can keep up with me there too!

While flipping through the PBkids magazine, I saw the cutest little side table.  I've also seen similar shaped tables at Pier 1.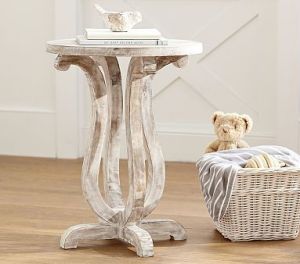 It went on my long to-do list for my daughter's room.  But then my Aunts decided to do an Extreme Room Makeover for my cousin – in glamorous and spicy style.  As luck would have it, they had everything but the side tables/night stands.  I showed them a pic of the PB side table and it was a hit.  So I made 2 sizes of these tables, a 23″ for kids and 27″ for big people.  One of my favorite things about this project is that it is constructed from a 2″ x 10″ board – so cheap about $12.
This post contains affiliate links noted by *

How to Build a Curvy Side Table
Materials Needed
1 – 2″ x 10″ x 10′ board
11 or more – 2 1/2″ pocket screws* (self tapping)
wood glue
sand paper
stain/paint
If you need to have your board cut to get it home from the lumber store, have 2 pieces cut at 18 1/2″ long and 2 pieces at 30″ long.
Step 1
Cut 2 pieces of 2 x 10 that are about 18 1/2″ long.  Trim one of the long edges of each board about 1/4″ to give it a straight edge and to remove the round over.  Make pocket holes for 1 1/2″ material along one of the long straight edges, about 5 pocket holes.  I use a Kreg Jig® R3*
Join the 2 boards together with wood glue and 2 1/2″ screws.  Allow the glue to dry.
Trace about an 18″ circle on the boards.  Place a screw in the center and tie a string to the screw and make a loop about 9″ out for a pencil.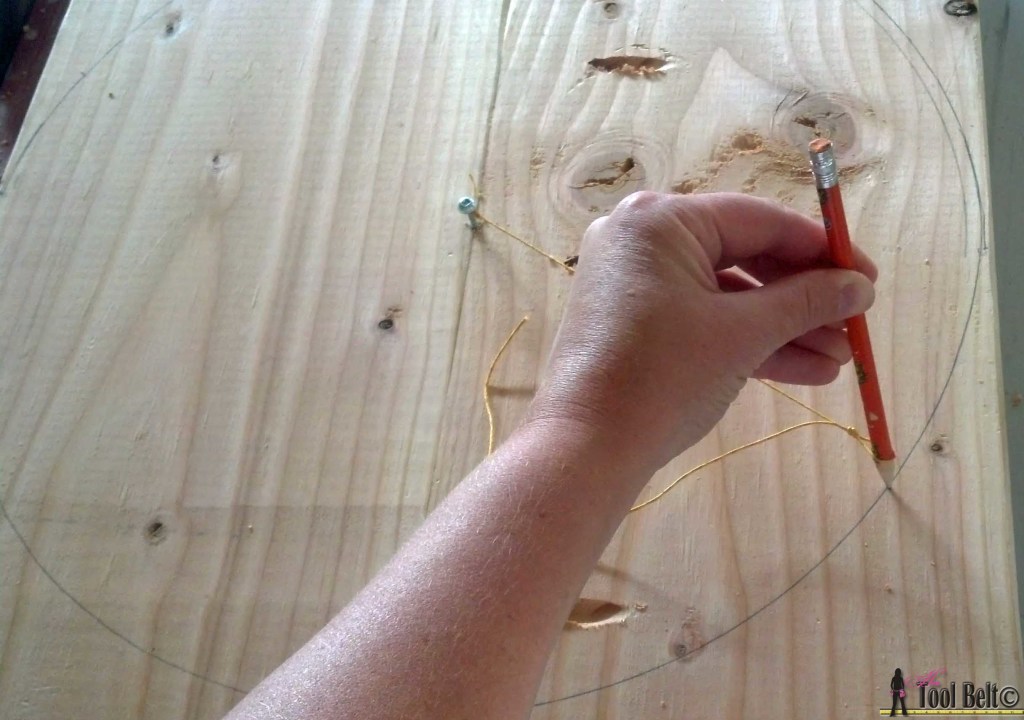 Step 2
When printing the following patterns, make sure the PDF print settings are at 100% and not 'fit to page'.
For the shorter 23″ table print the following pattern:   23″ leg template 1, 23″ leg template 2, 23″ leg template 3 (papers 2 and 3 overlap about 3″)
For the taller 27″ table print the following pattern:  27″ Tall leg template 1, 27″ Tall leg template 2, 27″ Tall leg template 3, 27″ Tall leg template 4
Print out and line up the patterns, tape the patterns together and cut out.
Trace 2 leg patterns on the 2 x 10, you can nest the legs together to get more use out of your wood.  If you are making multiple tables, trace 2 of these legs for each table.

Next cut off a 3/4″ section from the butt end of the pattern.  Trace 2 of these leg patterns for each table.

Step 3
Use a band saw, scroll saw or jig saw and cut out your table top and legs.  *I used a band saw, others have noted that it is difficult to nicely cut the legs out using a scroll saw and jig saw.   When cutting curves, always make periodic relief cuts, so you have areas to get your saw blade out.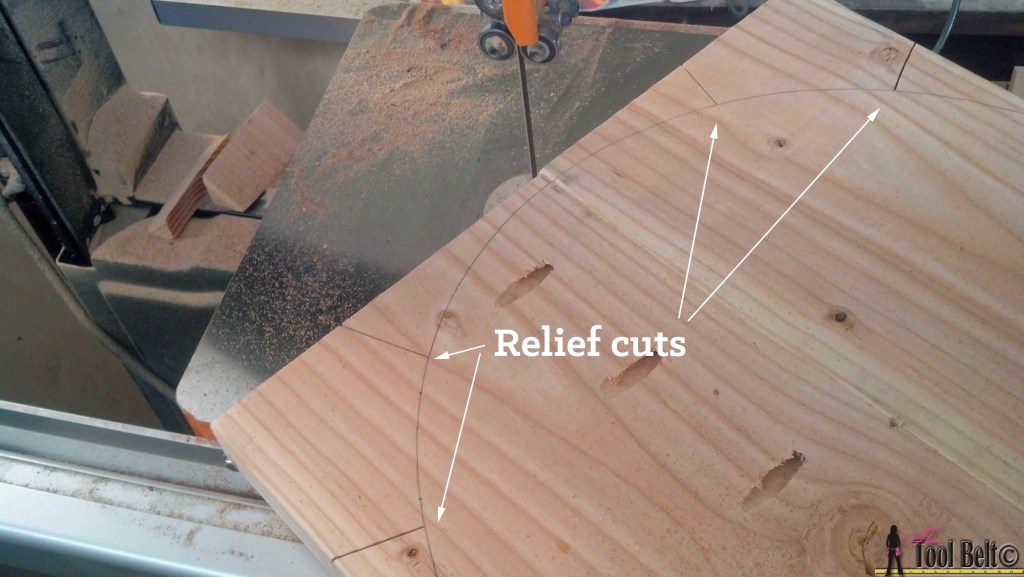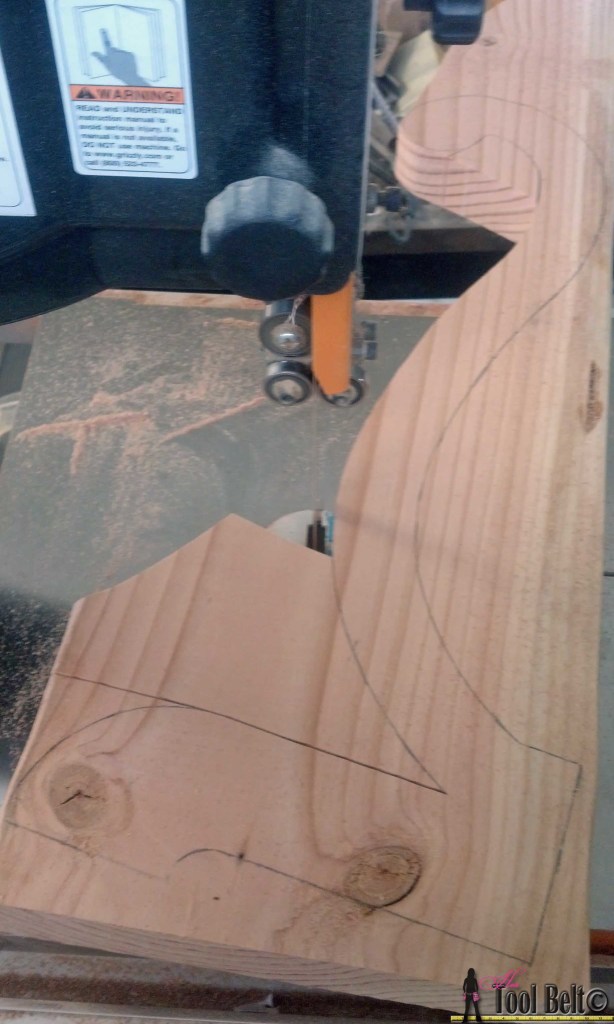 Once you finish cutting out your top and legs, sand the pieces to smooth out the ridges from cutting.
Step 4
Get the 2 legs with the additional 3/4″ wood on the butt.  Make pocket holes and use wood glue and 2 1/2″ pocket screws to join them together.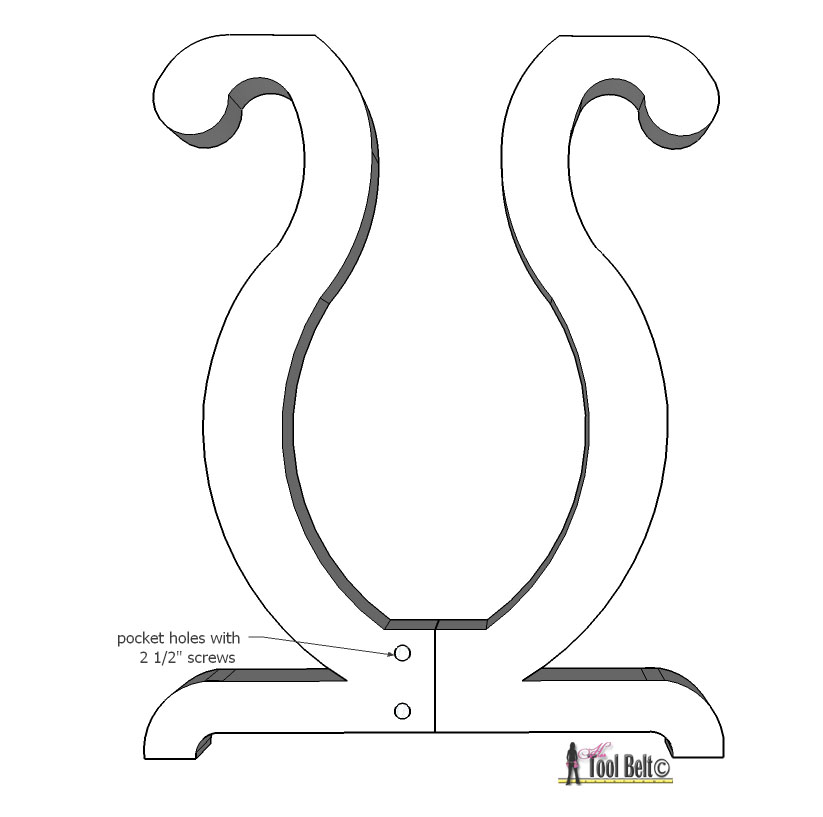 Grab one of the legs and with the 3/4″ wood removed.  Make pocket holes and attach it to about the center of the other legs with wood glue and 2 1/2″ screws.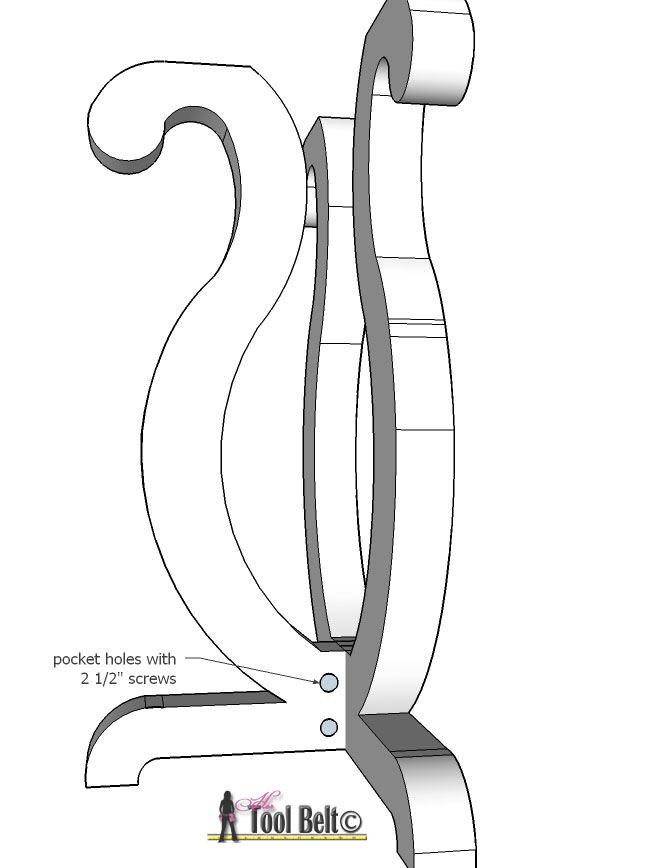 Repeat for the 4th leg.  Make sure to vary where the pocket screws are, so the screws won't hit the already installed ones.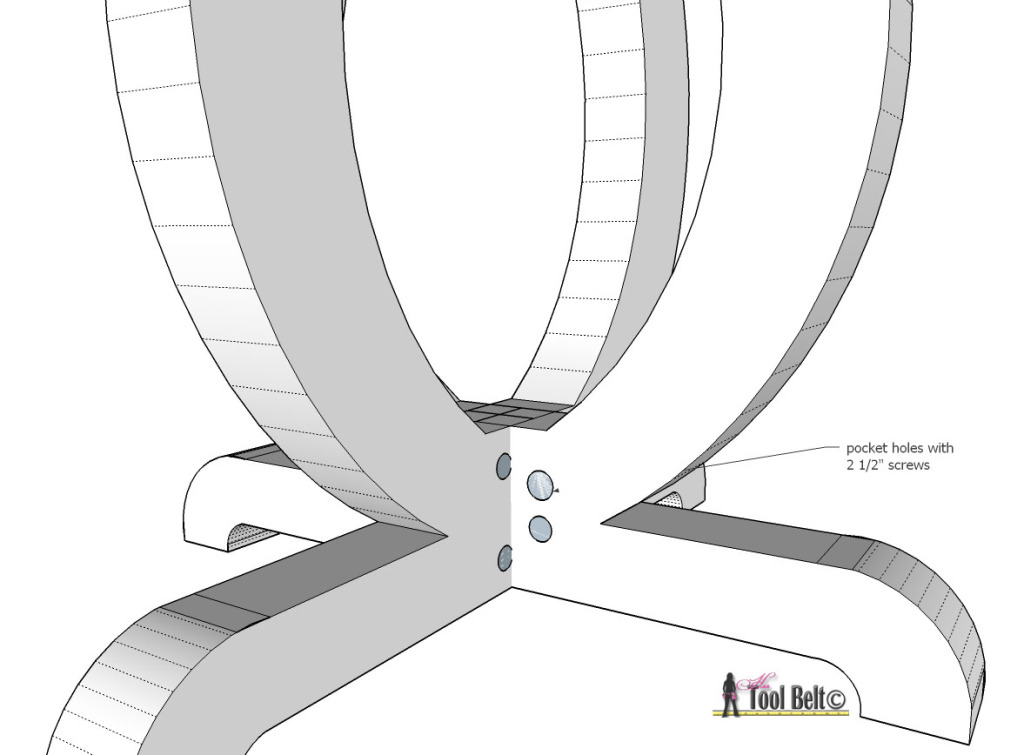 I used the tip of the pocket hole drill and made a small pre-drill (counter-sink) in the crook of the leg necks to attach the legs to the table.  Center the legs on the table top and attach with 2 1/2″ pocket screws.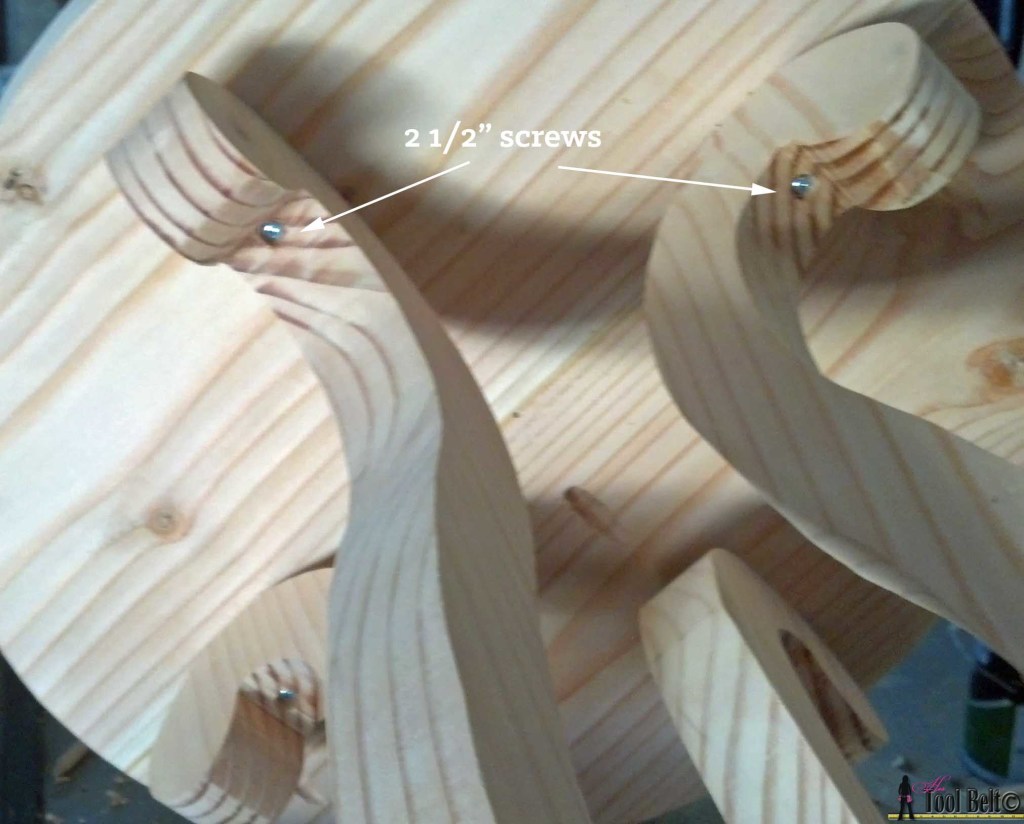 If your table happens to be a little off level, you can add cushion glides.  I cheated and just added a couple of screws to the bottom 🙂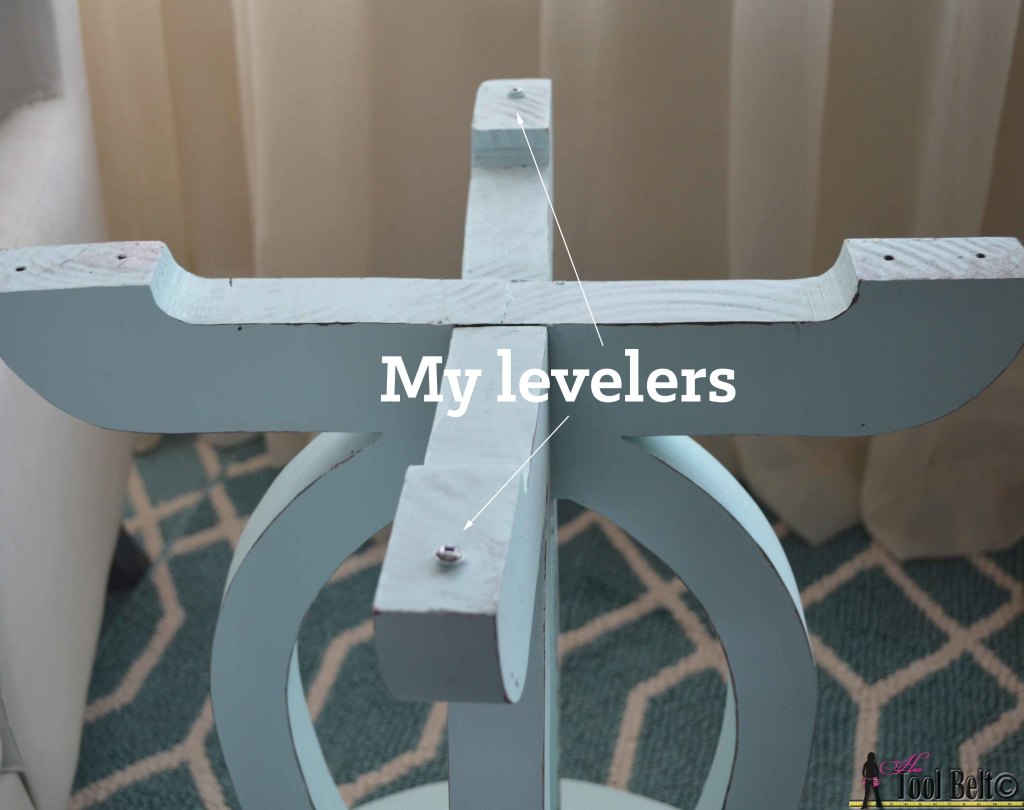 Cute tables – 27″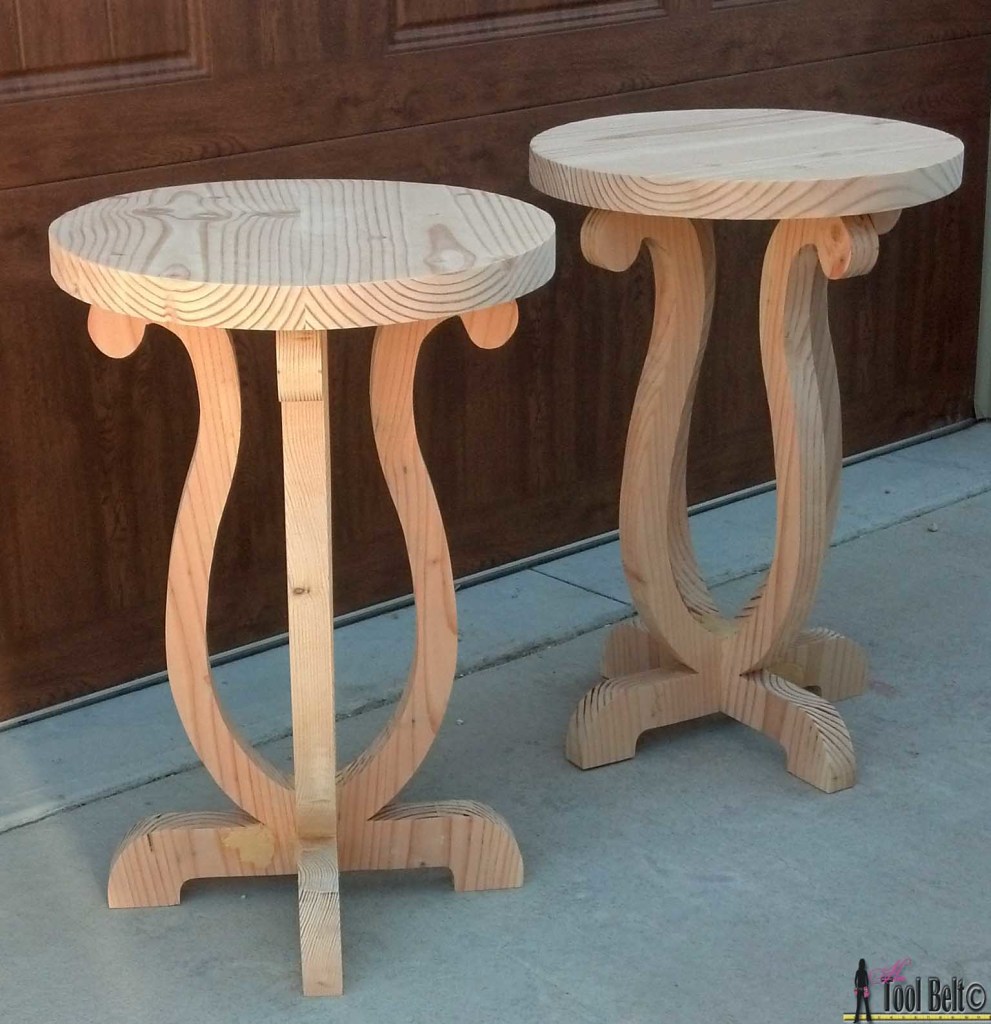 I think the unfinished version looks great with my 2×4 outdoor seating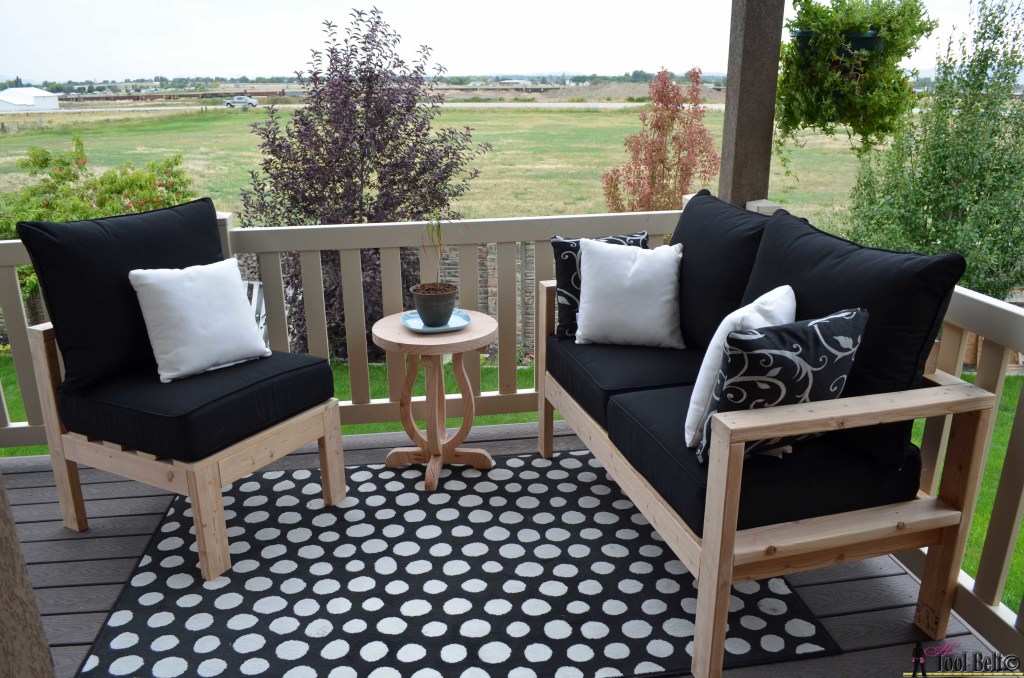 Step 5
Fill the pocket holes, cracks and blemishes with wood filler and allow to dry.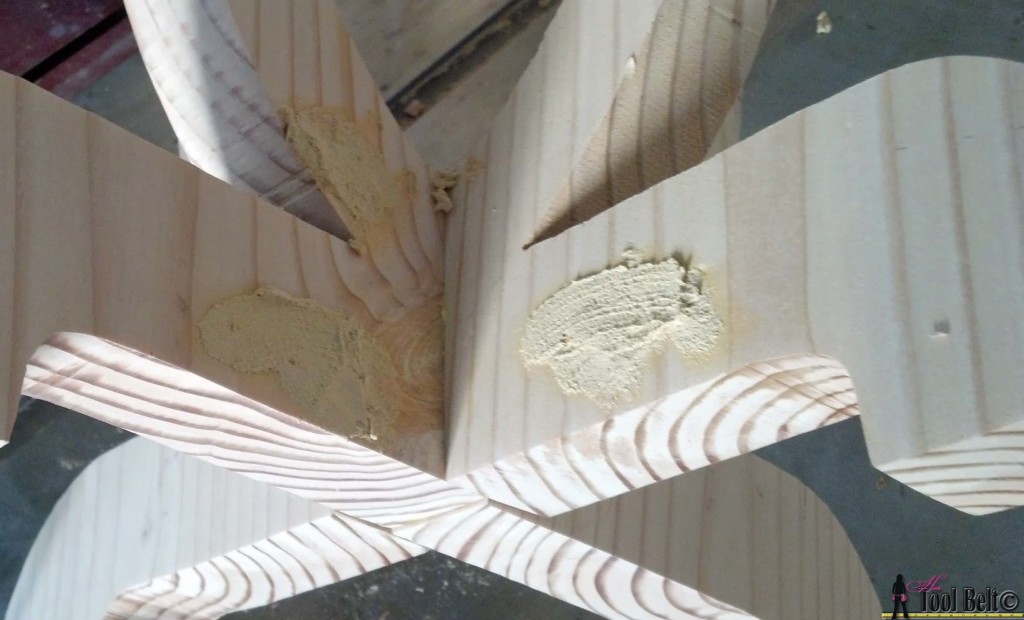 Sand the wood filler, table and legs smooth.  Finish the tables however you want, but this is how I finished mine.
23″ table
I stained the table a dark color – Minwax Walnut.  I allowed the stain to dry for a day or two.  I made a DIY chalky paint with the Behr Spa color I used on the Gallery Style Command Center room.
DIY chalky paint recipe – 1/3 cup plaster of paris + 1/3 cup water, mix until smooth.  Mix with 1 cup of latex paint.
This recipe made the paint very thin, 3 or so coats were needed.  The paint dried very fast and turned out really great.  I've used a baking soda chalky paint recipe before and it was gritty and weird.  This plaster of paris recipe made for much nicer chalky paint finish.
Once the paint dried I distressed it a little.  I'm not into a lot of distressing, but I like a little to accent the lines.  I usually fold over one of my used sand paper disks and use that.  Remove as much paint as you want.  I plan on protecting the table with a coat of polycrylic.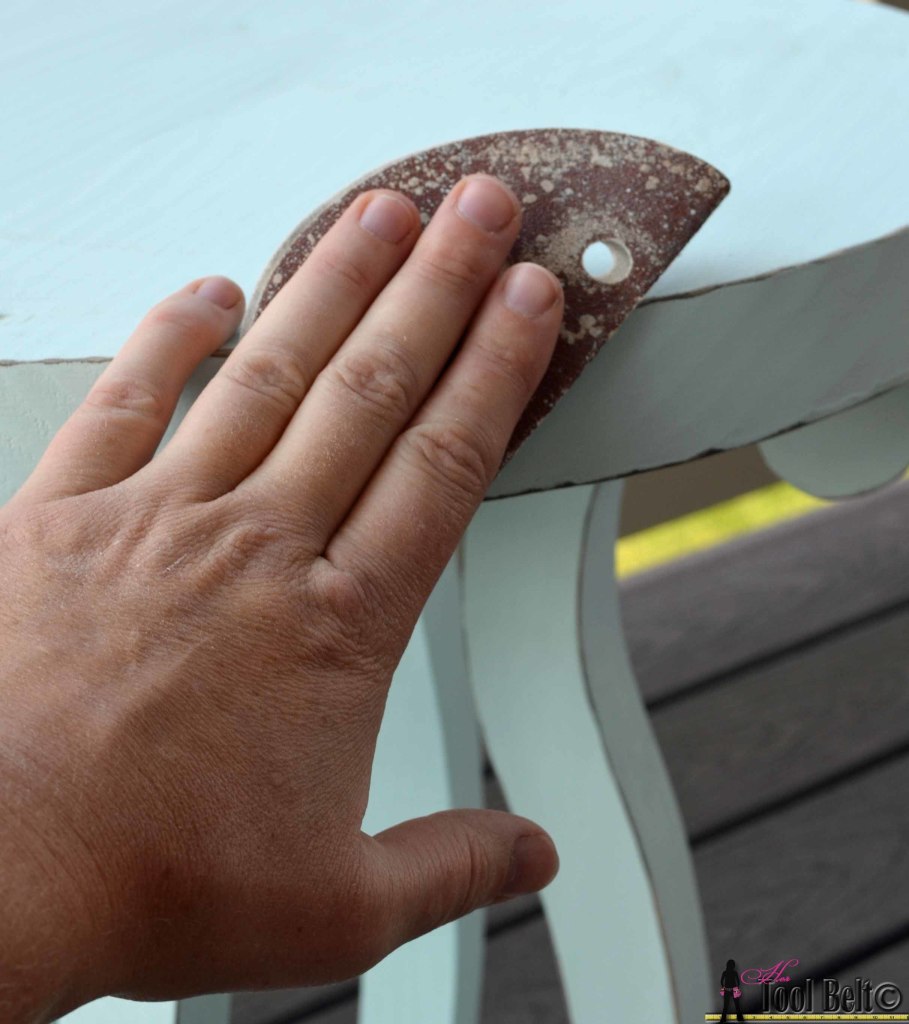 27″ tables
I stained the tables Rustoleum Weathered Gray and allowed that to dry for a day or so.  Then I painted over the stain with Americana Decor Chalky Finish Primitive – picked it up at Michaels with a coupon :-). Also available at Home Depot.  This paint is thick, so only 1 coat is needed.  I distressed the tables and added a coat of Americana Decor wax.  I attempted a little faux finishing and mixed a small amount of Americana Decor charcoal with the wax and  dry brushed it on the edges and wiped off extra.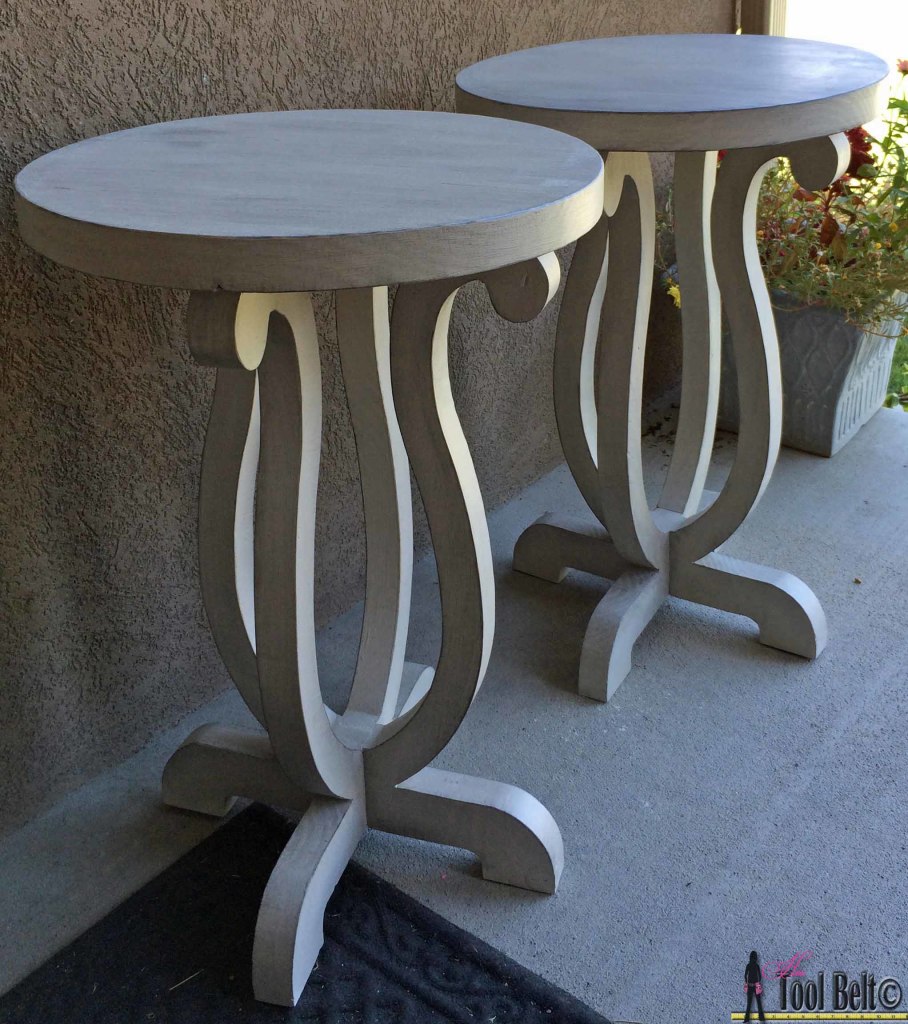 I love how the tables turned out.  BTW the chair is child's size, the table really isn't that big 🙂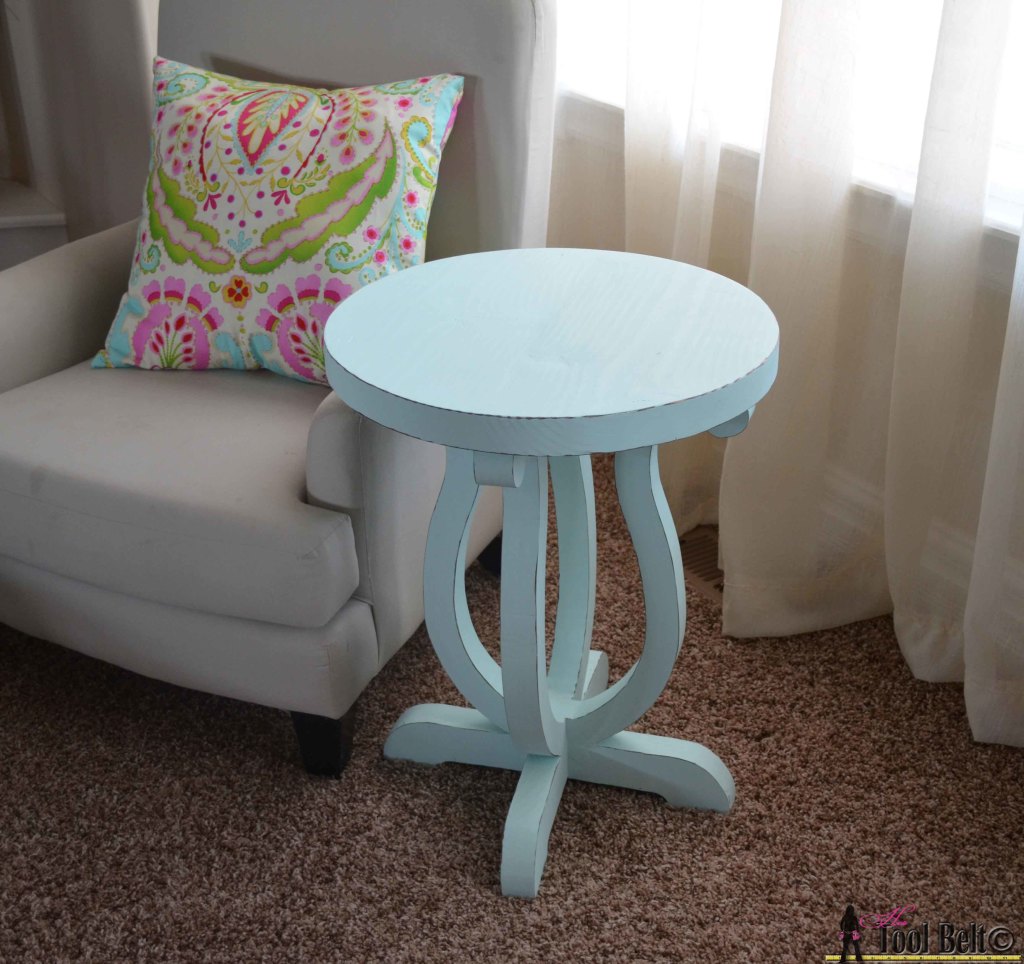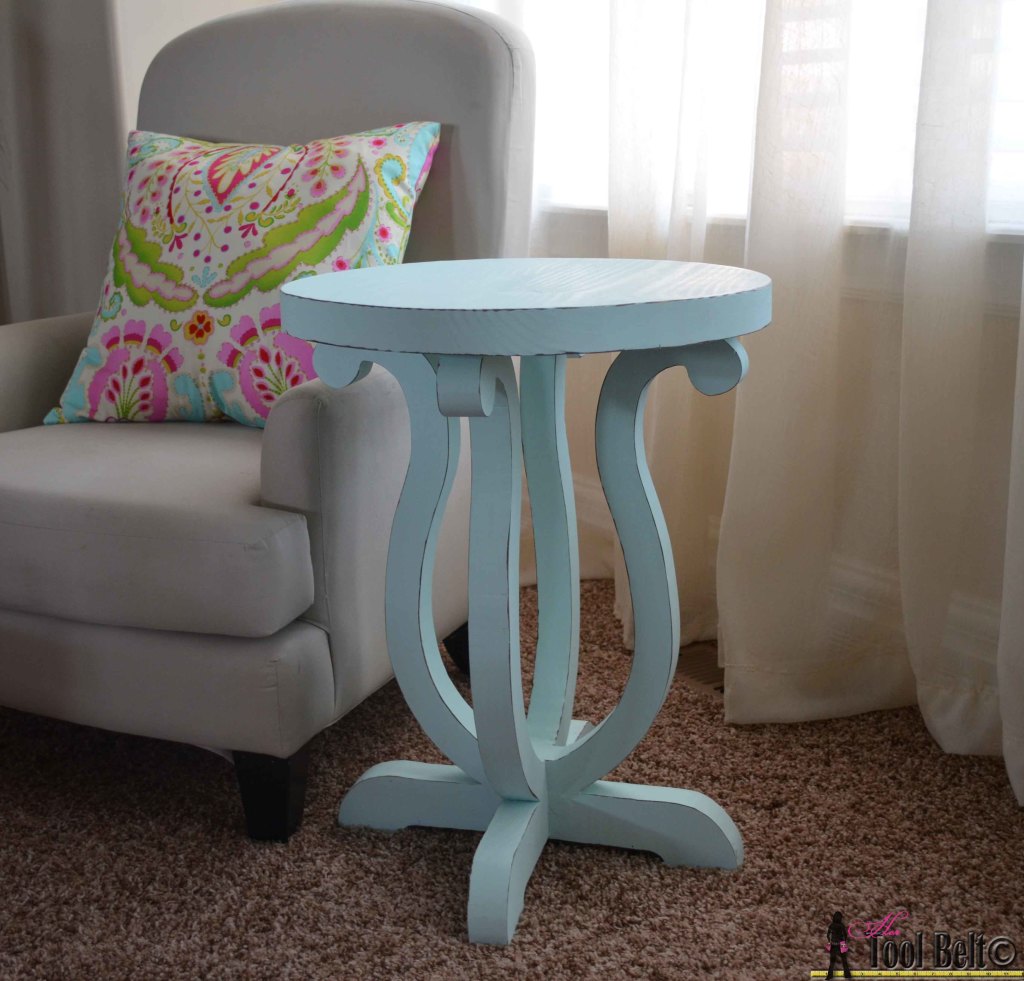 Pin for later: