Front door refresh and smart lock install is sponsored by Delaney Hardware. I have been compensated for my time and provided with product. All ideas and opinions are my own. This post contains some affiliate links for your convenience. Click here to read my full disclosure policy. 
'Tis the season for Holiday parties and family gatherings. It's nice to have a welcoming front door to make a great first impression of your home. Sadly my worn door was looking pretty shabby. When we bought this house, it was unfinished and had been sitting empty for quite a while. The front door was bare wood and had some water damage. The painters who applied finish to the door used an all-in-one product with stain and top coat. The door looked good for a while but after a few years the thin top coat started peeling and cracking.
I have a couple of goals with this front door update:
Refresh the stain and finish on the door
Update my door hardware for an easy keyless entry and smartlock
Having a keyless entry is really appealing for me. I want it to be easy for the kids to let themselves in, if the door is locked.
The Worn Door
From a distance my door doesn't look too bad, then you walk up to it…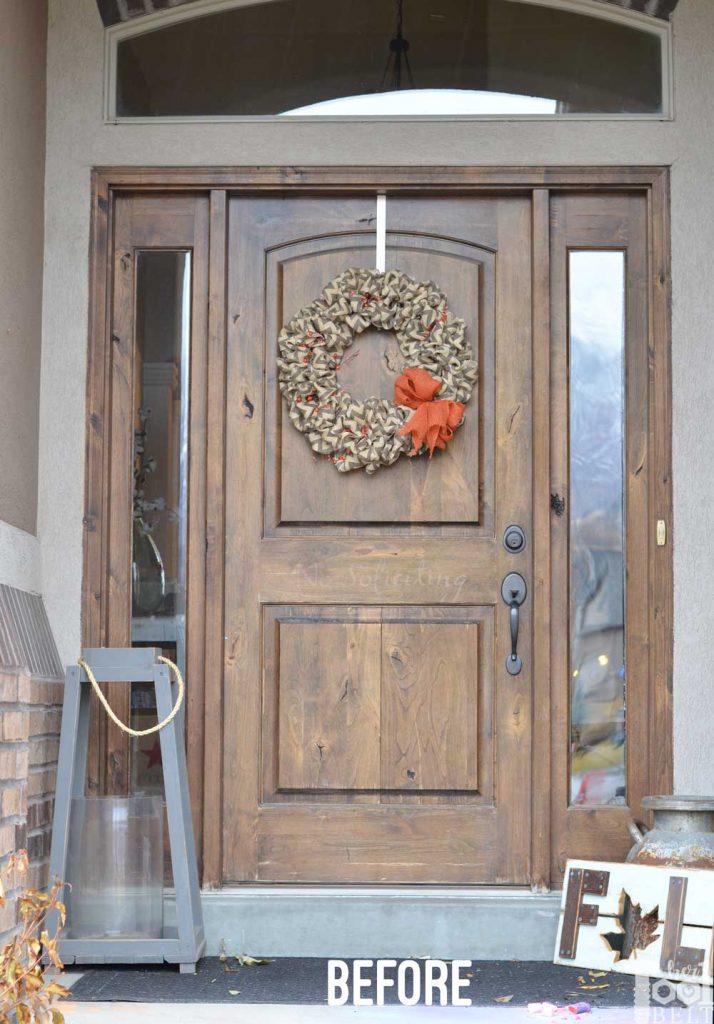 My door handle has lost it's shine, and has taken a beating from the sun.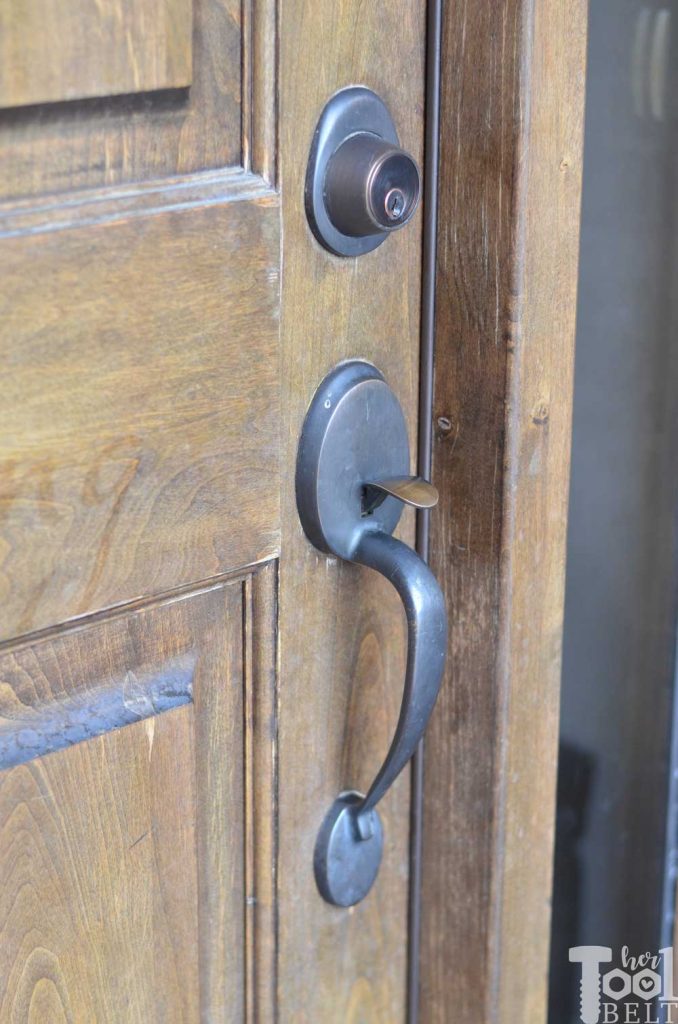 You can see all of the cracks and the chipping of the stain and top coat.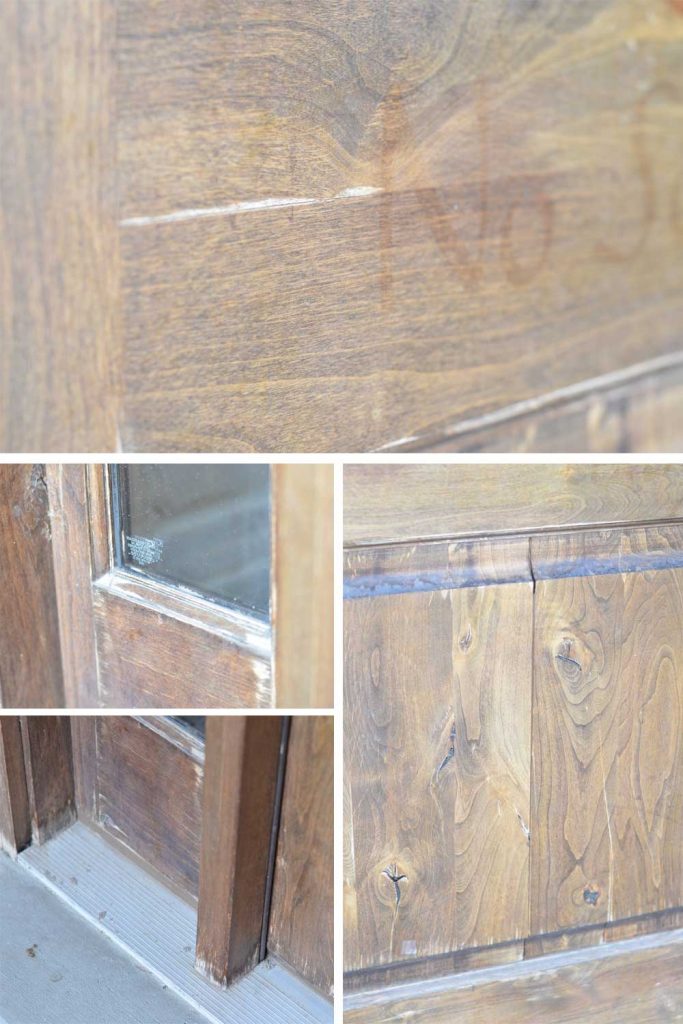 The inside door handle finish has also worn off from child safety knob covers. Whoops!
Refreshing The Door
I removed my old door hardware and sanded down the chipping and cracked top coat.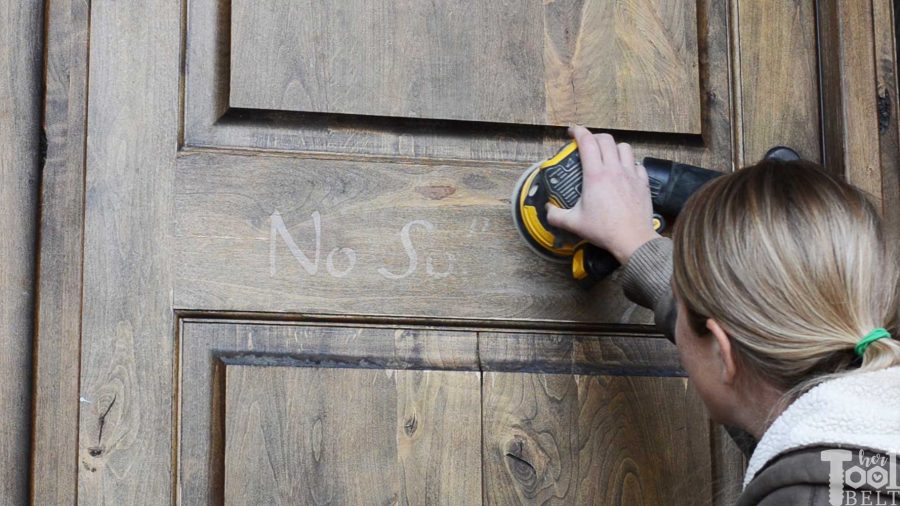 The stain was touched up with Varathane Classic Dark Walnut. To enrich the color of the door, I used SW Van Dyke Brown glaze. The door is protected with an exterior polyurethane in satin.
Choosing Door Hardware
As mentioned earlier, I really wanted to switch my door to a keyless entry. It'll make it easier for the kids to get in without giving them a key to lose. Also if family needs to stop by and 'grab' something, I can give them a code to get in.  Since the slick looking digital locks have come out, I don't feel like having a keyless entry detracts much from the style of the door especially when the finish is black or tuscany bronze.  To coordinate with the slick look of the Smartlock digital lock, I chose the Avino style door handle in tuscany bronze. I love the straight lines of the Avino.
Plus if you add a Delaney Gateway Hub, you can use the Delaney smarthome app to control your lock and camera (with the hub)!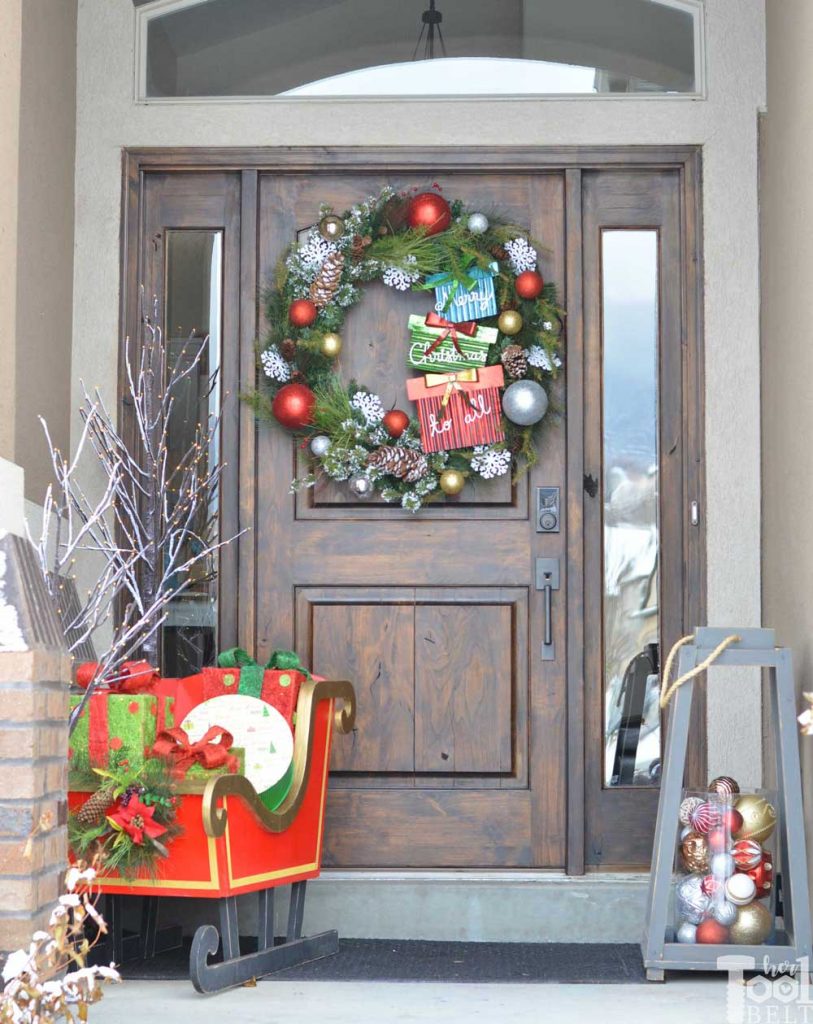 Installing the new handleset and lock was really simple. I was able to use the existing holes in the door and swap the old for the new hardware.
Installing the Delaney Digital Lock and Hub Video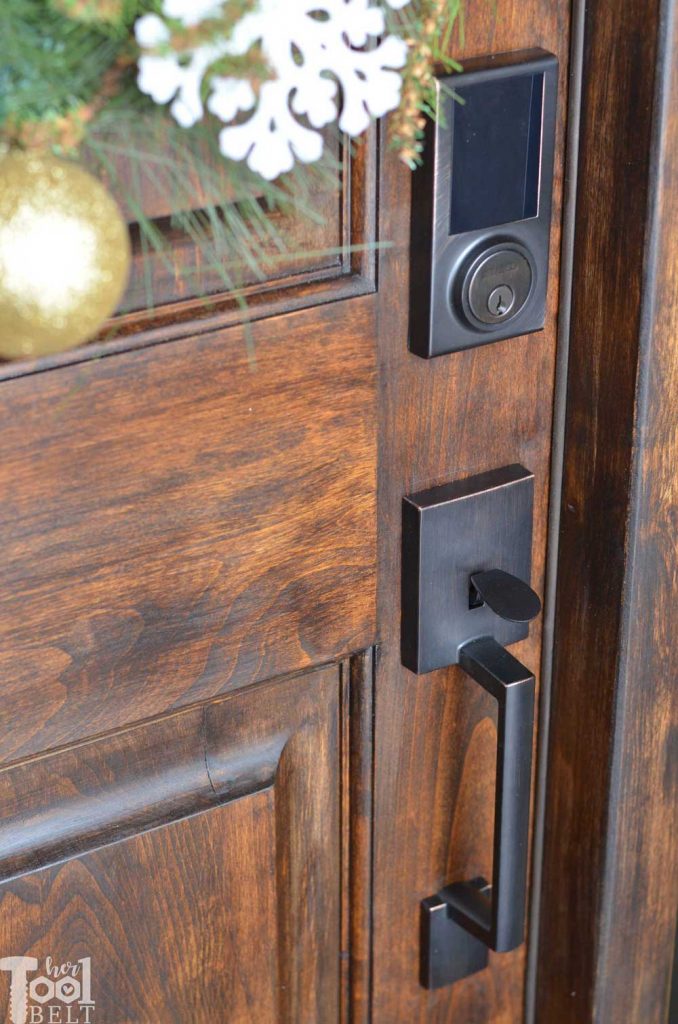 I love how easy the digital lock is to use, even my kindergartner can use it! Yay!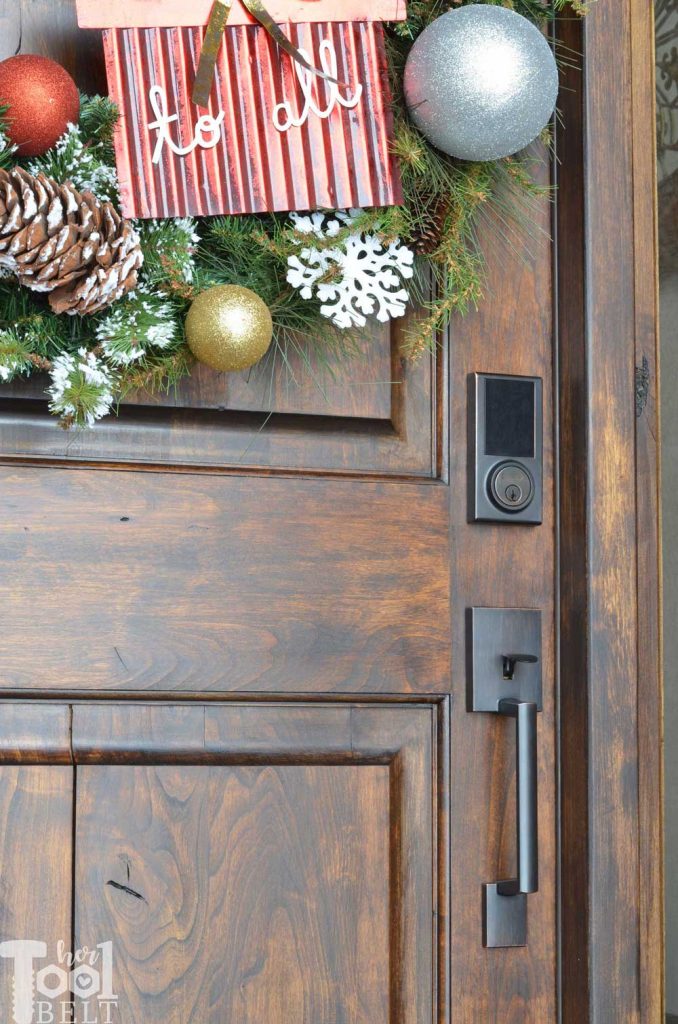 Yay for no scratches on the inside knob too!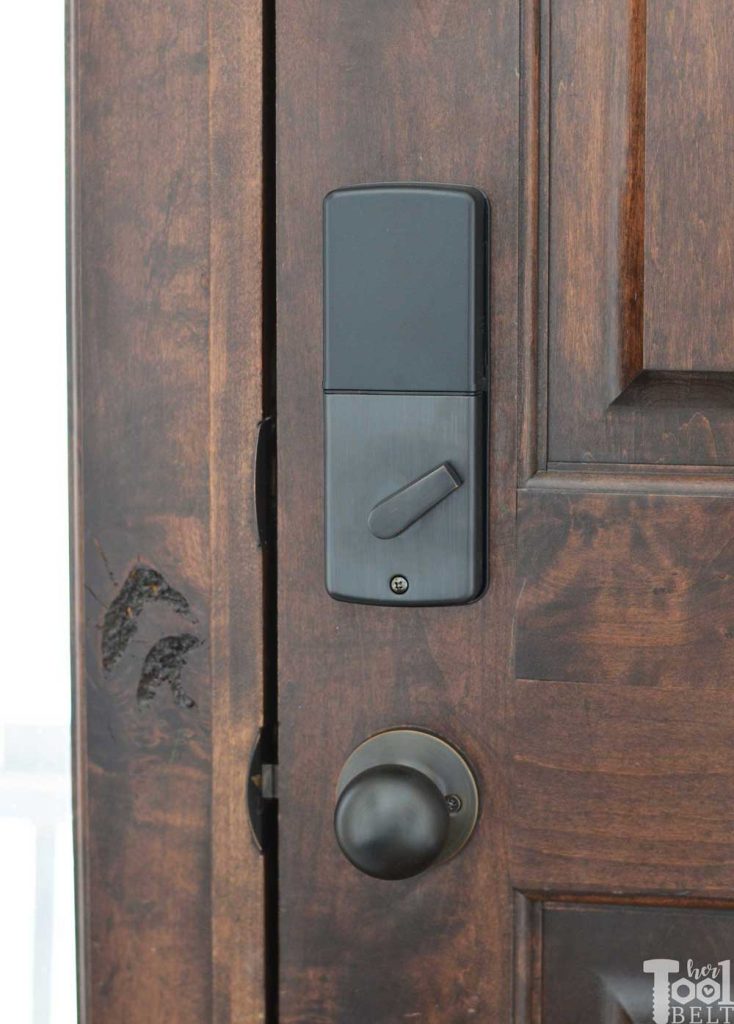 A couple of cool features about the Smartlock.
To prevent the touchscreen from only having finger smudges in certain places, the lock gives you random numbers to press before you enter your code.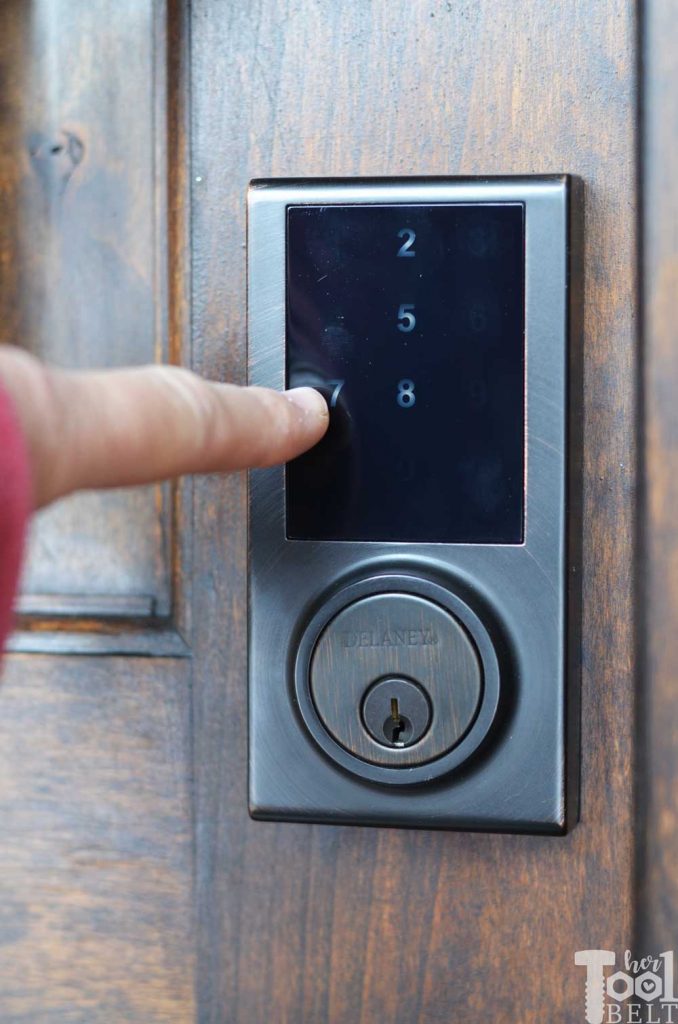 The keypad accommodates thirty user codes of four to eight digits with code-probing prevention and disablement after five attempts. You can also program single use codes.
Vacation mode with time-configurable deactivation during which all user codes are disabled, you can only use the mechanical key.
Compatible with Delaney Smart Home App and Z-Wave components.
If your Delaney digital lock is paired with the Z-wave hub, then you can control your lock from your phone!!! We love this feature.
Delaney Hardware has a variety of gorgeous hardware products including sliding barn door hardware, bathroom hardware and of course door hardware. Delaney products are available on HomeDepot.com as well as Build.com and Wayfair.com.
I am thrilled to partner with Delaney Hardware on their 12 Doors of December! Starting on Dec 13, each day they will reveal a new door. They are all gorgeous and worth checking out.