Ryobi battery lawn mower review is sponsored by Ryobi Tools. I have been provided with product. All ideas and opinions are my own. This post contains some affiliate links for your convenience. Click here to read my full disclosure policy. 
It is finally starting to look like spring around here in Utah. Sometimes we get teased with warm weather, and then a snow storm will hit the next day. Ha ha mother nature keeps us hopping.
As Spring brings in the good weather, it brings lots of yard work with it!
I don't know about you, but when I do yard work, I just want my equipment to work so I can get it done. I hate messing around with pull strings, carburetors, mixed gas and regular gas. When I was a kid, I would wait until Dad came back for lunch to start the weed eater…I could never start that thing on my own. Oh and the tiller, well that was always a challenge.
As battery powered lawn equipment has evolved, I've always been drawn to it. No messing around with engines, just plug in the battery and get to work!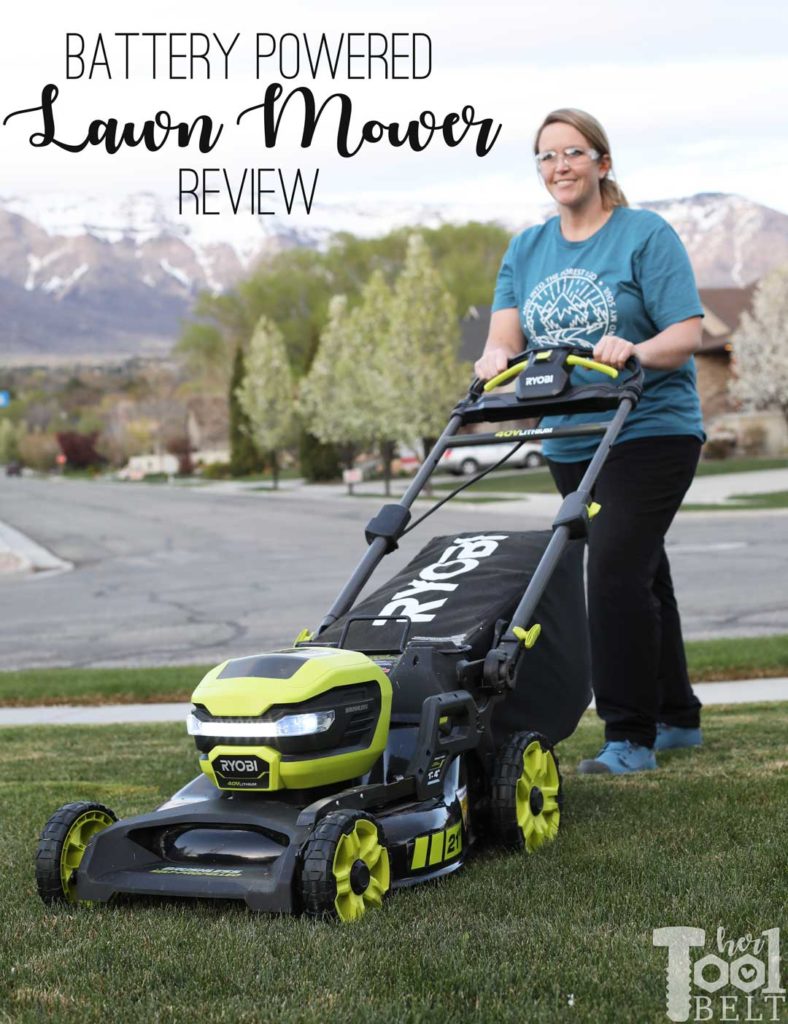 I have been reviewing the Ryobi 40V battery powered 21″ self propelled Lawn Mower (available at Home Depot).
This lawn mower is awesome. It runs better than all of our previous gas mowers, plus it is so much quieter.
What comes in the package –
Ryobi 21″ Lawn Mower
7.5 Ah 40 volt battery
40 volt battery charger
Clippings Bag
Mulch Plug

How the Ryobi 21″ Lawn Mower Works
This mower is so easy to use, but first things first…charge the battery.
Once the battery is charged, just open the lid and slide the battery into place.  There is also an on-board storage spot for a second battery.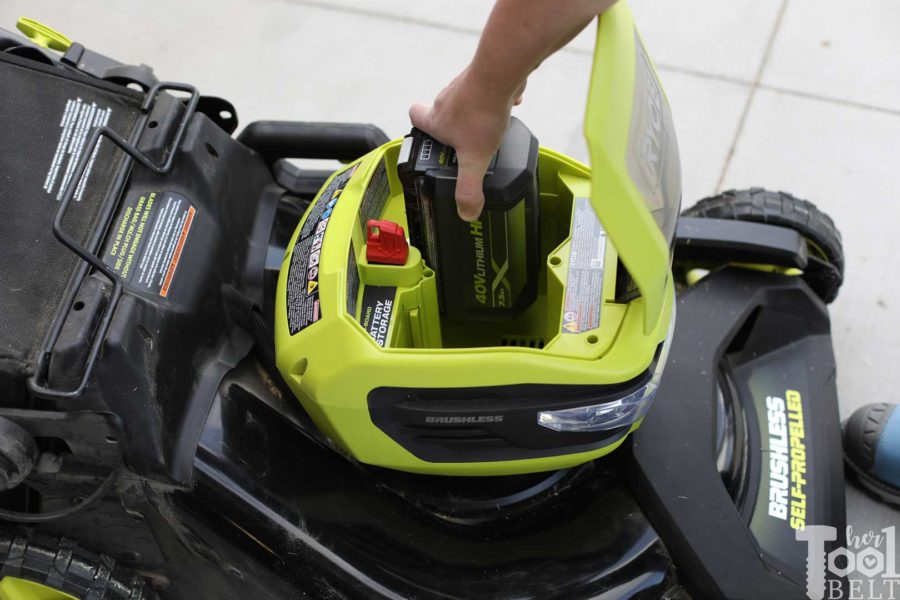 To start the mower, pull back the black bar.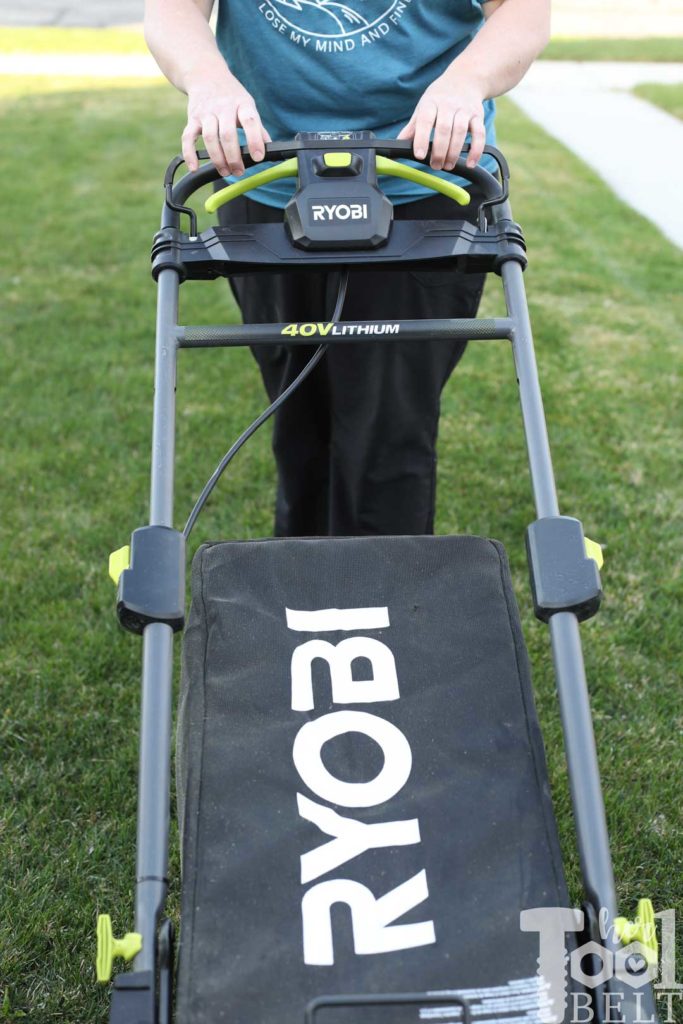 Then push the center green button on the handle. That's it, now the engine is purring and the clippings bag fills up with air.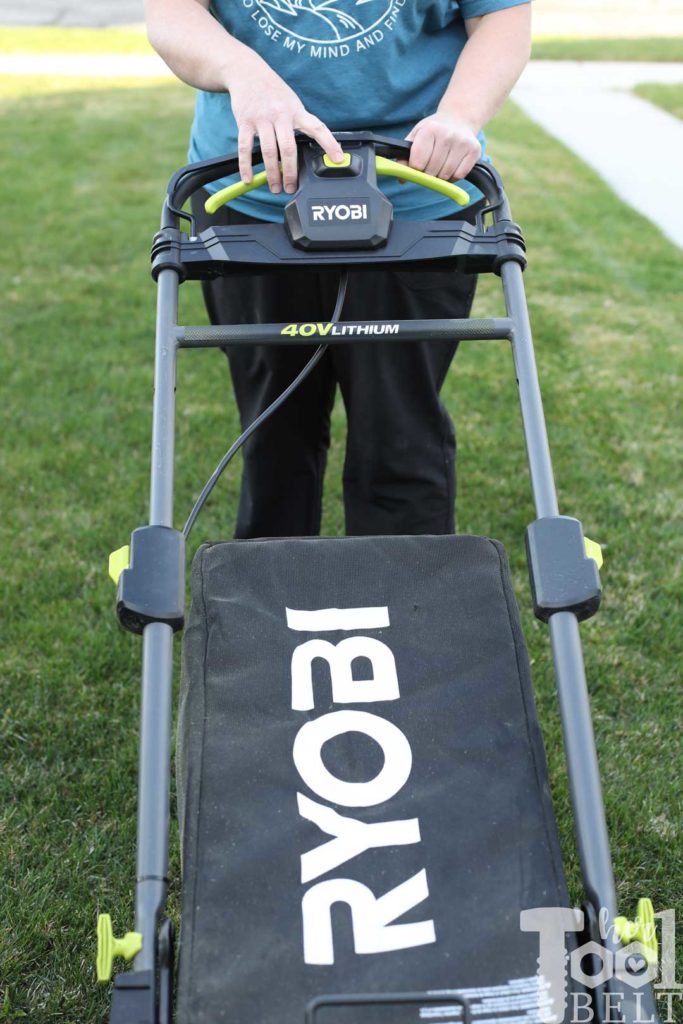 You can choose to push the mower, but if you would like assistance (and why wouldn't you), there are green handles to engage self propelled mode.  The self propelled speed is adjusted with a slider in the center of the push handle.
Min is a nice leisurely walking speed, and well Max is for someone with much longer legs than I have ;-).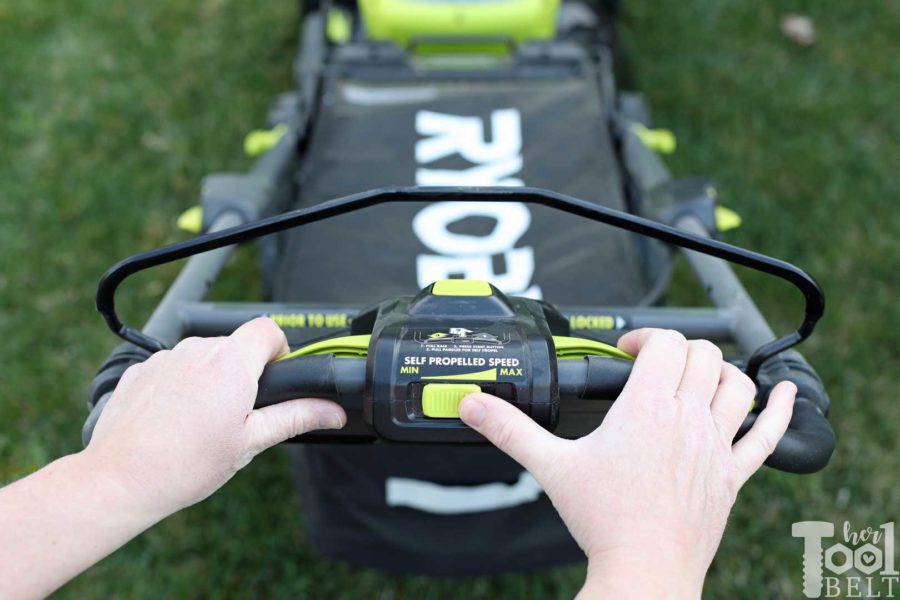 And just like that the lawn mower and I are ready to get to work!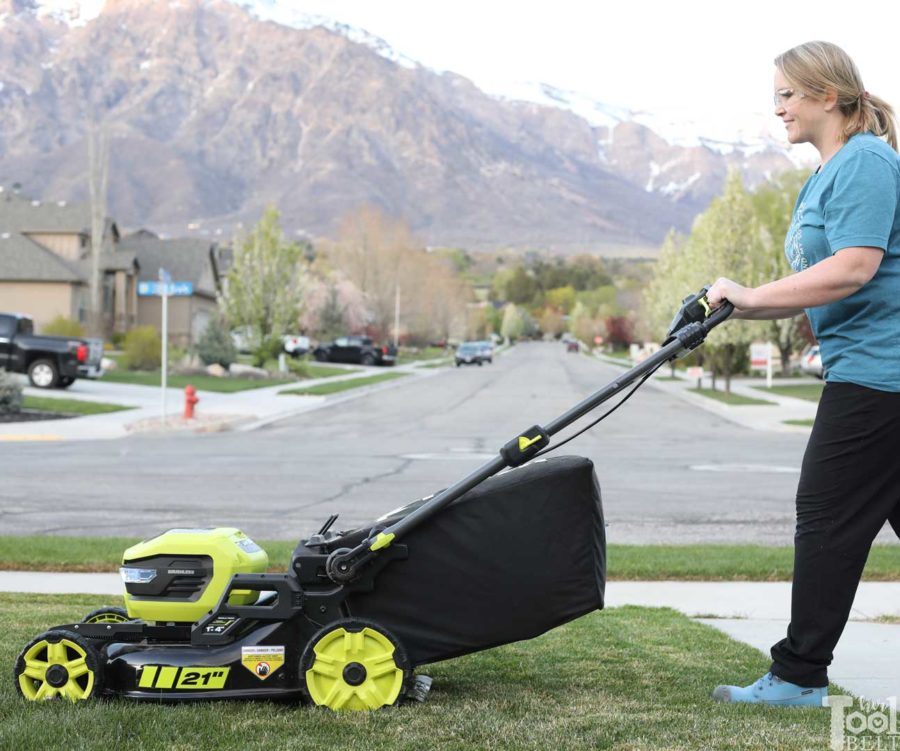 Additional Adjustments
The blade height is super convenient to adjust, pull the trigger and lift or lower the handle on the left side of the mower.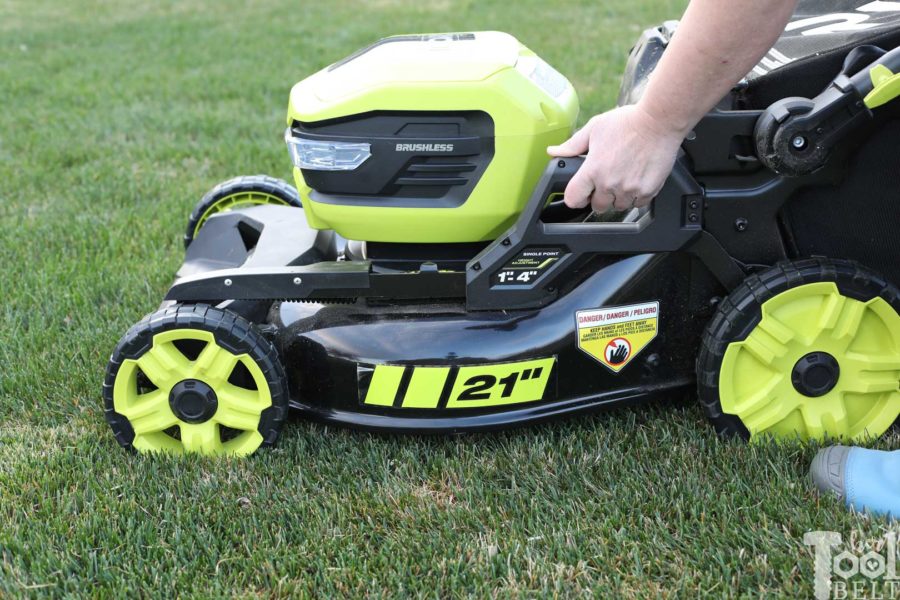 The height of the lawn mower arm/pushing handle can be adjusted for the operators height. The lower setting is perfect for me, I'm 5'5″ish.
Storage
One of my most favorite features about this lawn mower is the fact that it can be stored UP RIGHT!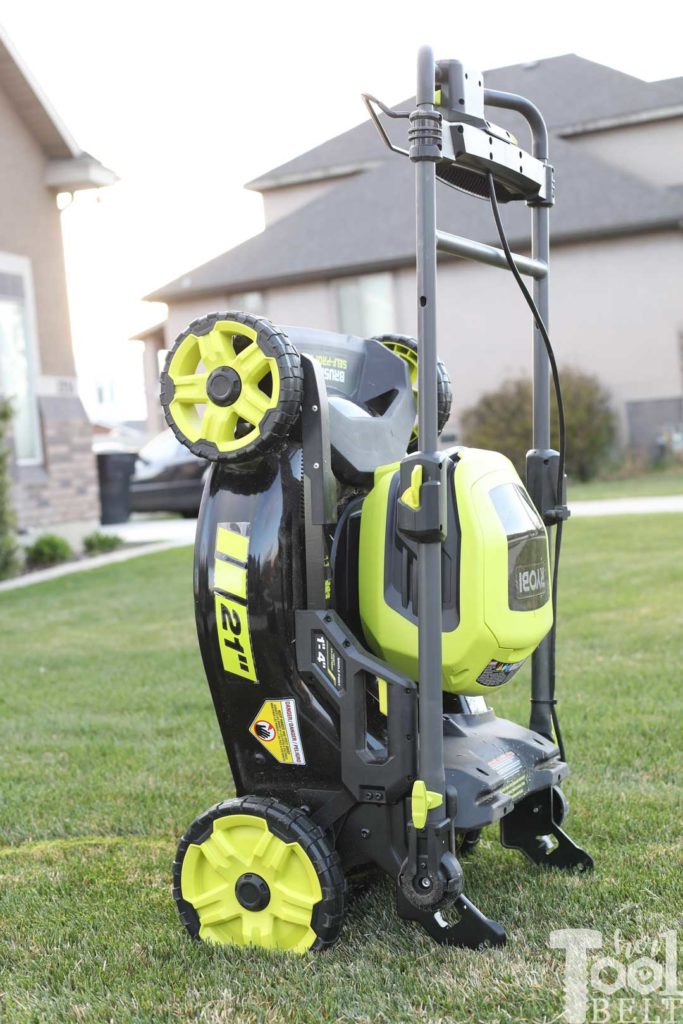 We are always tight on garage space, and the fact that this Ryobi lawn mower can be stored so compactly is amazing!
Testing the Mower
As I mentioned before, the Ryobi brushless 40V lawn mower has plenty of power. There was no bogging down of the engine, it really seems to run as well as a gas mower.
Battery life – my yard is just under 0.4 acre acre and having the mower blade height on the second lowest setting. I can get over half of my yard done with the 7.5 Ah battery. Having 2 batteries would be perfect for me. If I set the blade higher, I could get a longer run time.
Overall Thoughts
I wouldn't hesitate for a minute to recommend this lawn mower to a friend.
It has all the power needed to cut thick grass.
The mower has many thoughtful features, easy blade/mower height adjustment, easy start, easy self propel adjustment, ergonomic adjustment of the handle, etc.
It is quieter than a gas powered mower.
The clippings bag is a generous size and is easily removed and replaced.
This mowers icing on the cake is the compact storage, man I love that feature!
Happy Mowing!
Have more landscaping projects, check out other Ryobi Outdoor Tools here.