Oh my goodness, it's the Big Reveal day and I'm super excited.
I am participating in a Spring Renovation Challenge hosted by Jeffrey Court Tile <– Check out all the DIY'ers and Designers
I would love your vote, click here. You can vote once/week. Thanks so much!!!

Here is the new entry! Ahhh YAY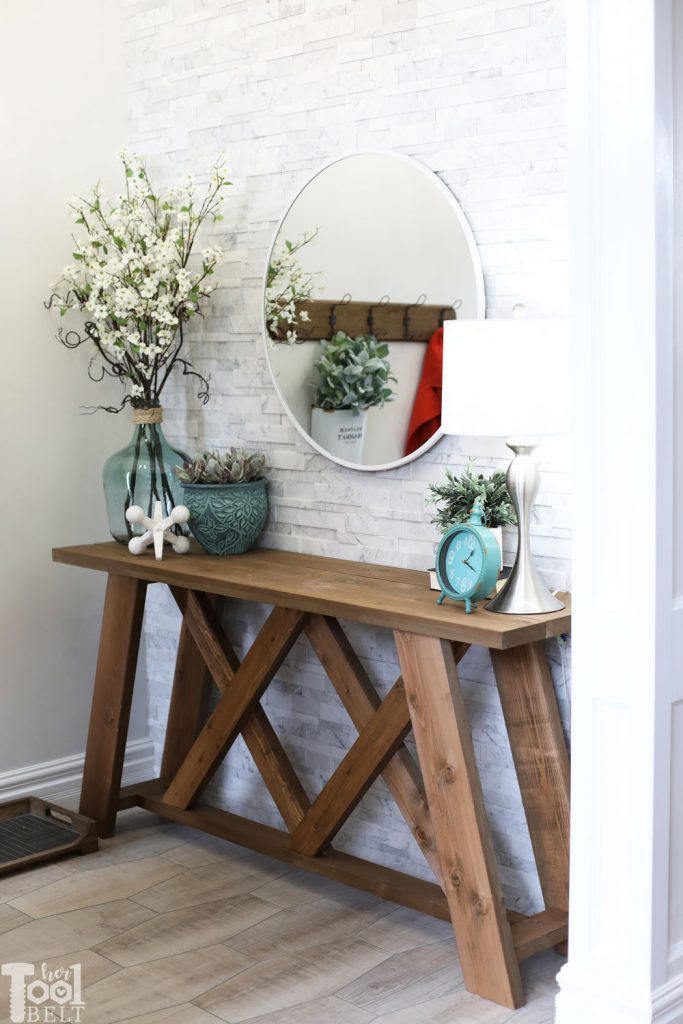 I love building stuff, but I sure fret over decorating because it doesn't come natural to me. However I am tickled pink over how this entry turned out. It looks so great in person.  I absolutely love all the pretty tile and the beefed up molding. Have I mentioned my love for molding yet? 🙂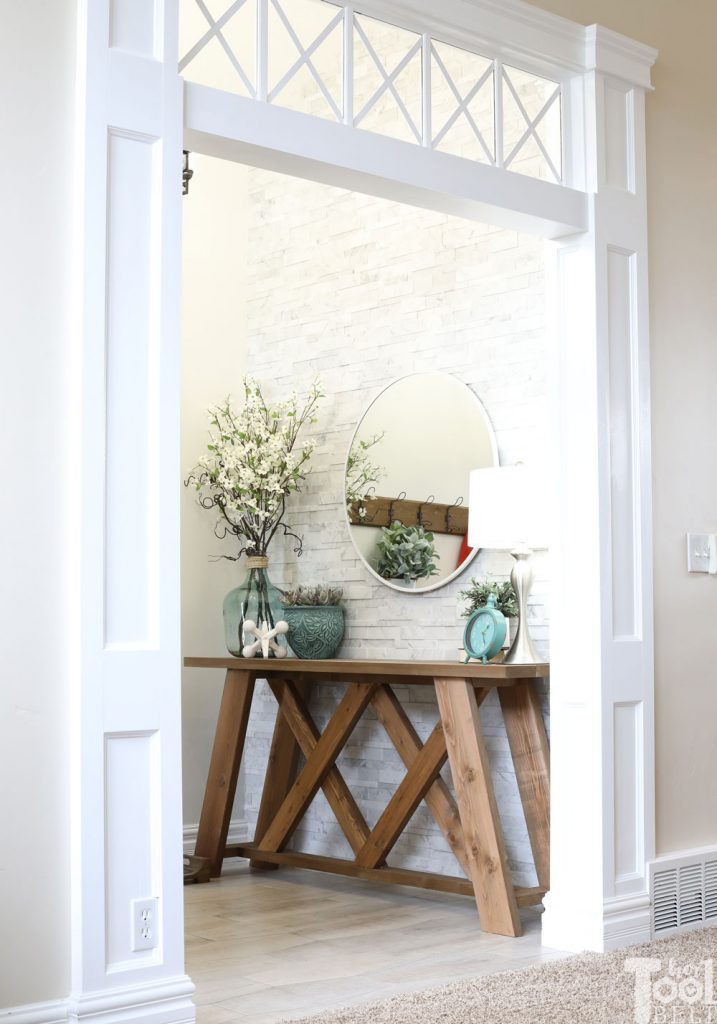 I'm loving the more substantial look of the raised panel molding.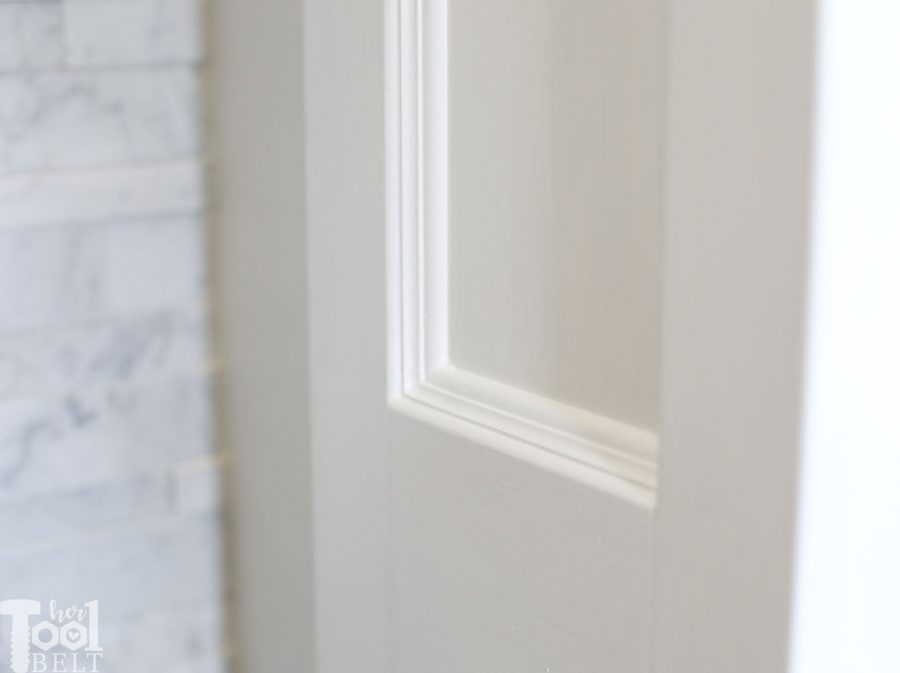 Oh and that transom…all the heart eyes for it. Pretty good for $20 in glass and a poplar board.
I feel like the entrance is much more grand now.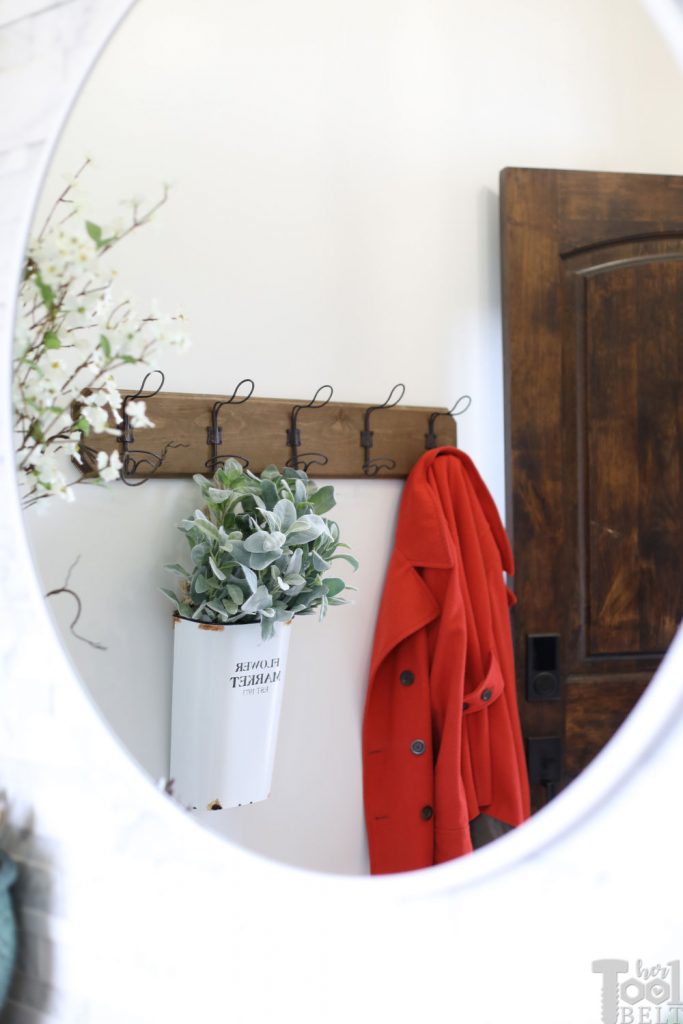 Oakwood Lily Hex Floor
I chose the Oakwood Lily Hex Floor because I thought it was a fun twist on a classic wood floor. You can't go wrong with a wood floor right!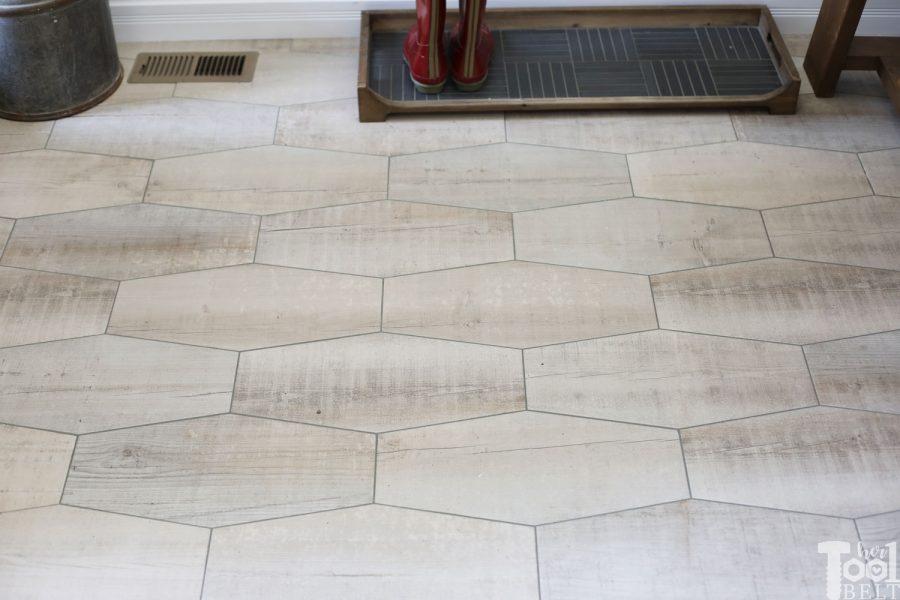 It has a nice weathered wood look and has creams and grays in the tile.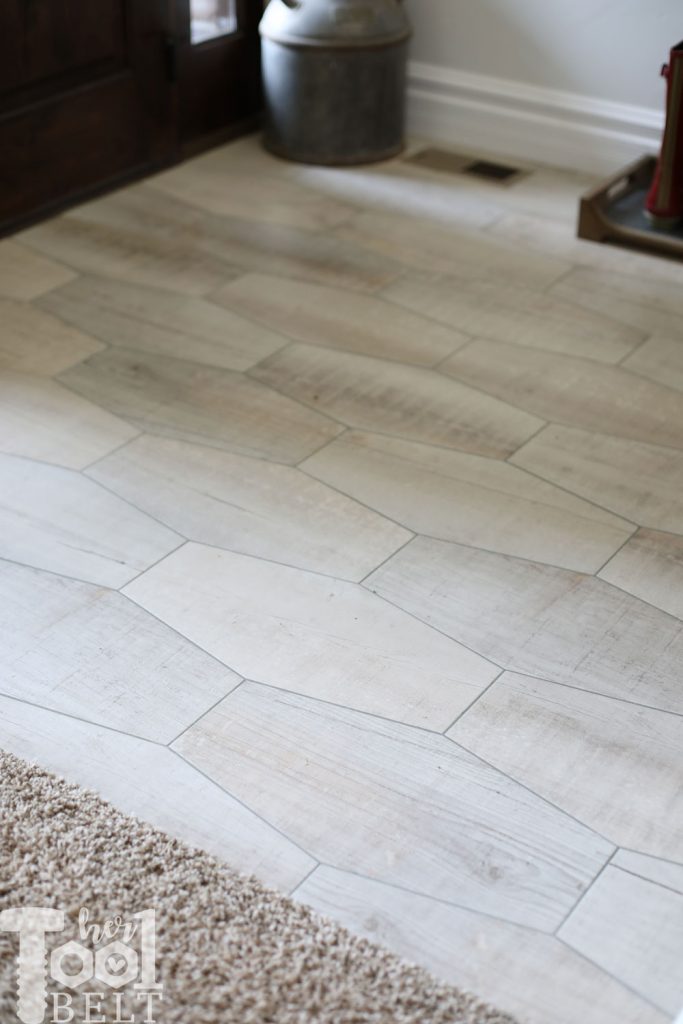 The grout is natural gray and it blends nicely with the tile.
Carrara Marble Mosaic Ledger Wall
When I was originally planning the Entry remodel in my head, I knew I wanted to do an accent wall with some WOW factor. I thought I would do a white wall with some fancy wainscoting pattern to create texture.  Then I found the marble ledger mosaic and decided to be brave and use that to create a white textured wall. After all one of my favorite inspiration sources, Restoration Hardware, is pairing beautiful marble table tops with weathered wood legs. I lost quite a bit of sleep over whether I made the right choice or not, but it looks really nice in real life.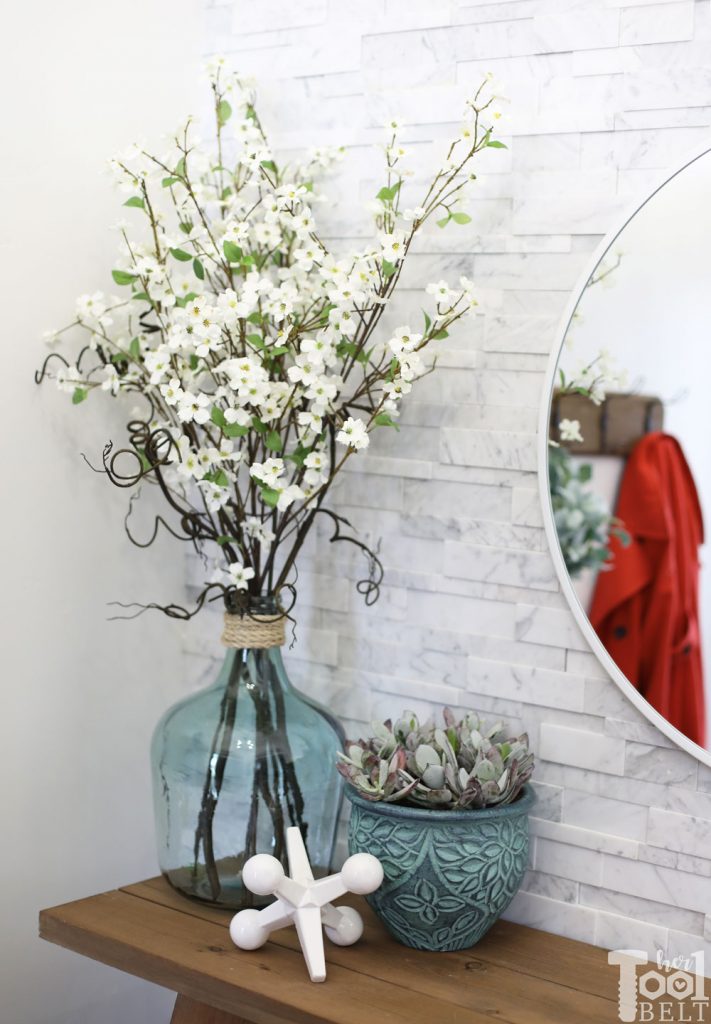 I love how the light from the lamp creates shadows with the ledger.
  The marble ledger has a really nice texture and going up the 14 foot wall really does give it a WOW factor.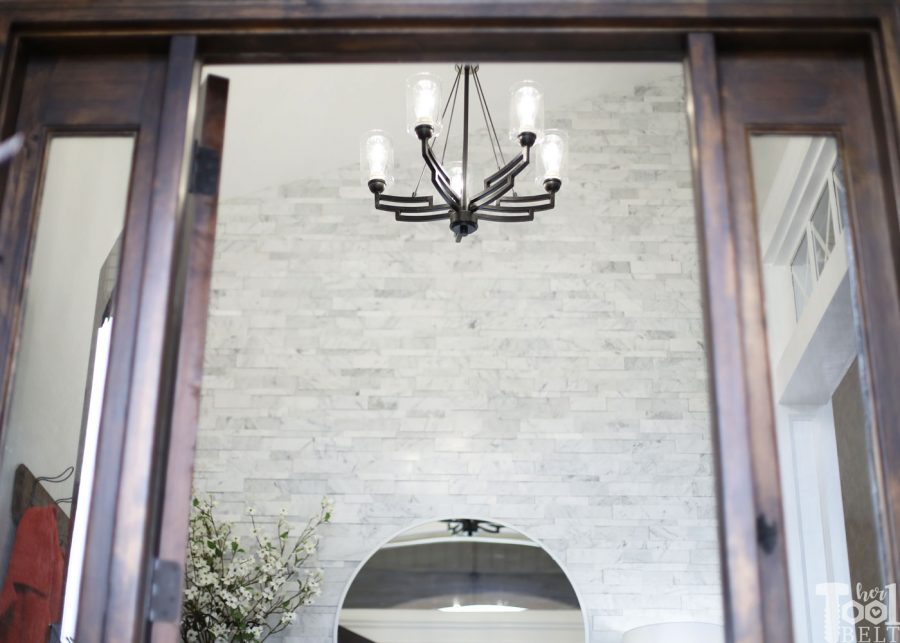 Oh and how about that chandelier update?  I changed out the yellow shades for clear glass shades and Edison bulbs. It looks like a whole new fixture (but actually these shades are for my kitchen chandelier, the ones I ordered for this light are bigger, but one of the shades arrived in a 1,000 pieces…so ya.)
Hudson Basalt Mosaic Boot Tray and Coat Rack
Since I took out the lame coat closet, I wanted to create a space for guests to hang their coats and put their shoes (yes we're one of those houses). The boot tray was a fun and simple project inspired by one I saw on LL Bean. I attached the dark and fun Hudson Basalt Mosaic to a piece of plywood, then cut out wood trim pieces to go around it. Check out the free boot tray plans here.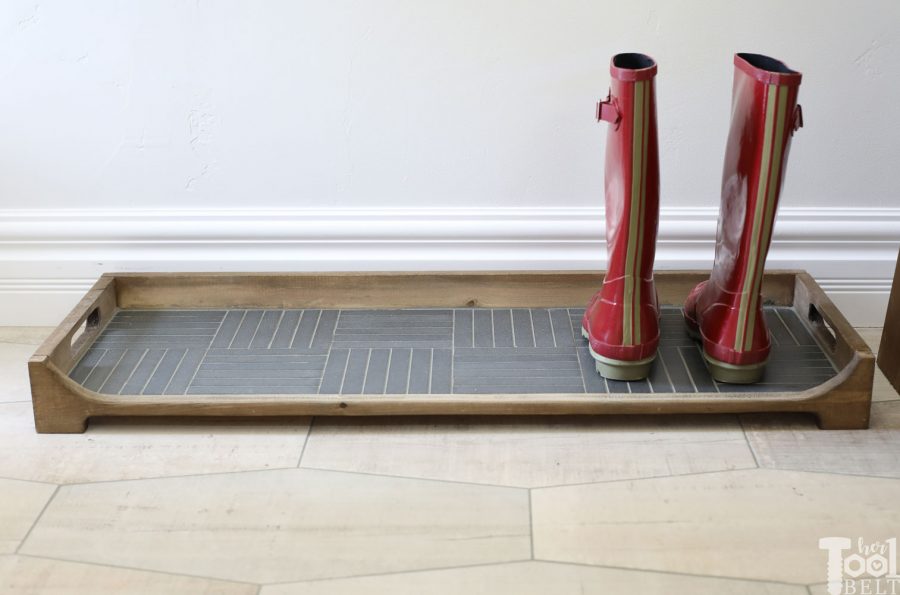 Finally I grouted the tile with leftover natural gray grout. I love how it turned out!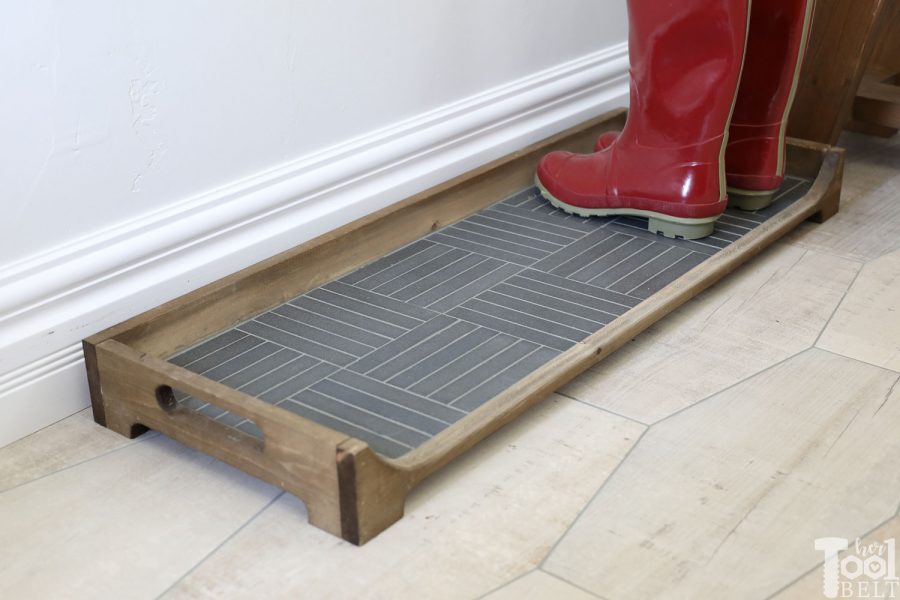 The coat rack is super simple, a piece of 1×6 that I dog eared and routed the edges. Then I attached 5 wire coat hooks.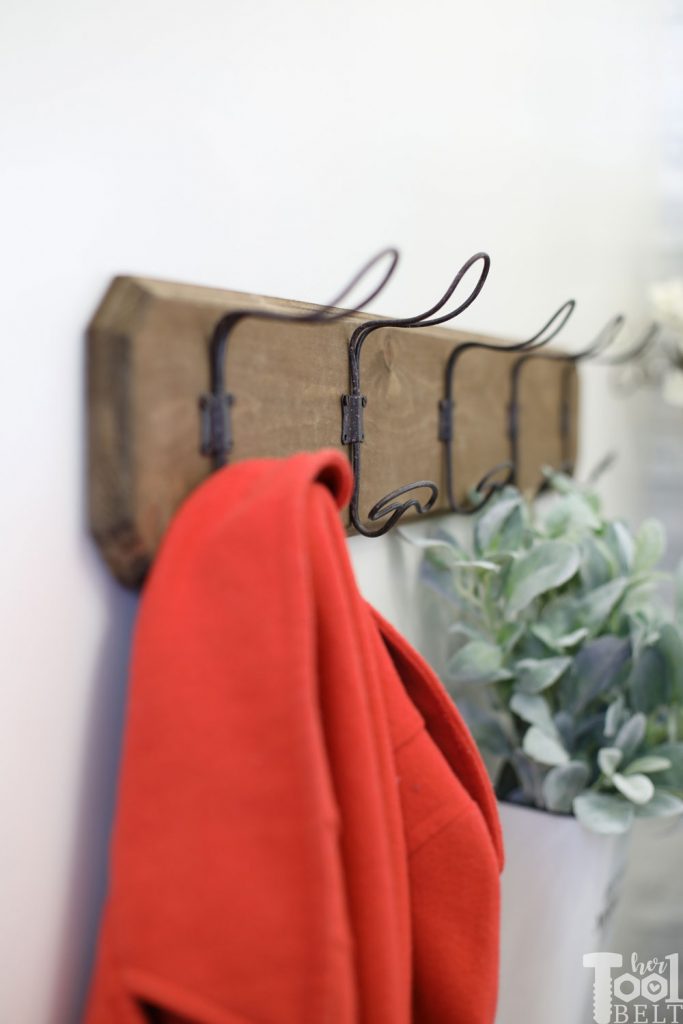 The boot tray anchors the coat rack nicely.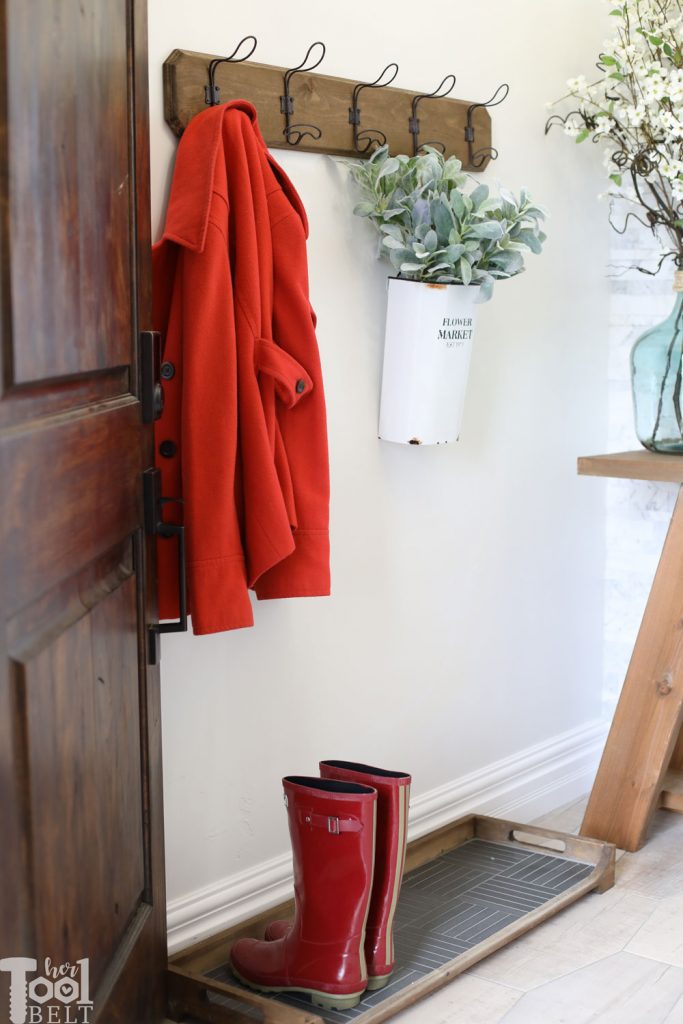 Can you have too much lambs ear? I kind of love it.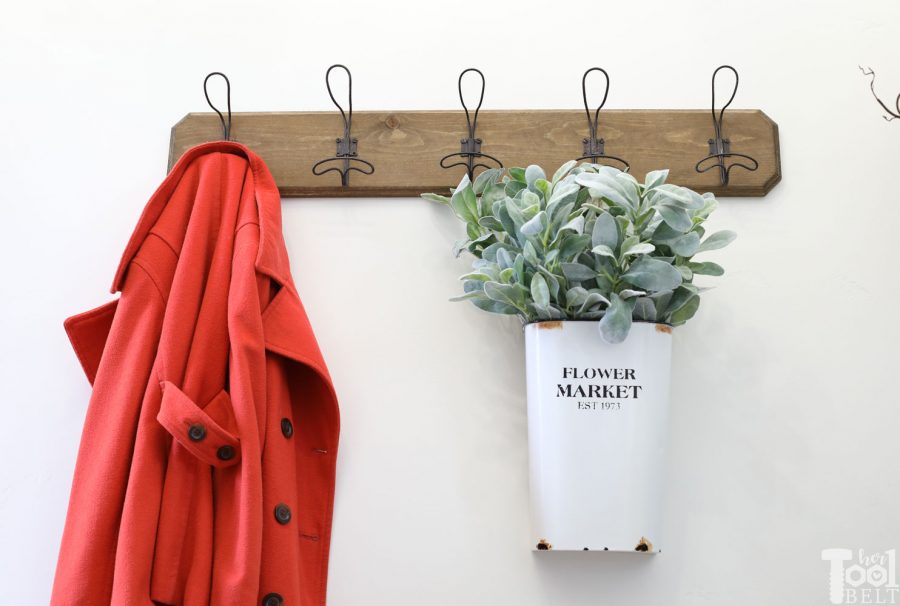 I also made the Double X Console table and will have free build plans soon.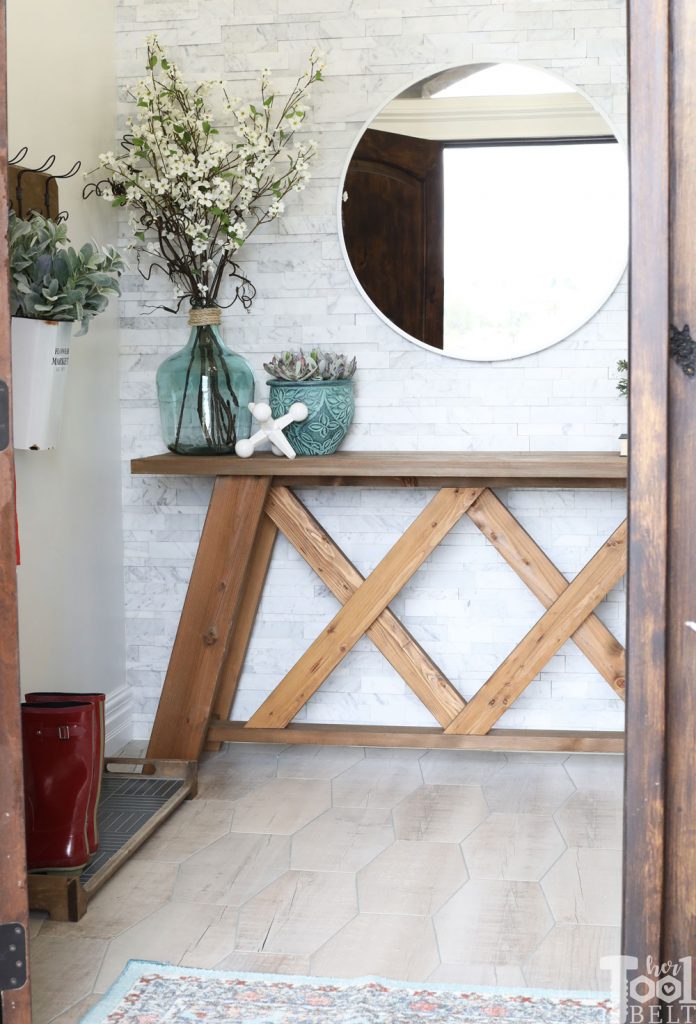 Before and Afters
Ok so let's see some before and afters.
See the progress Week 1, Week 2, Week 3, Week 4, Week 5
The view as you open the front door…
Before – Hi frig and kitchen sink 🙁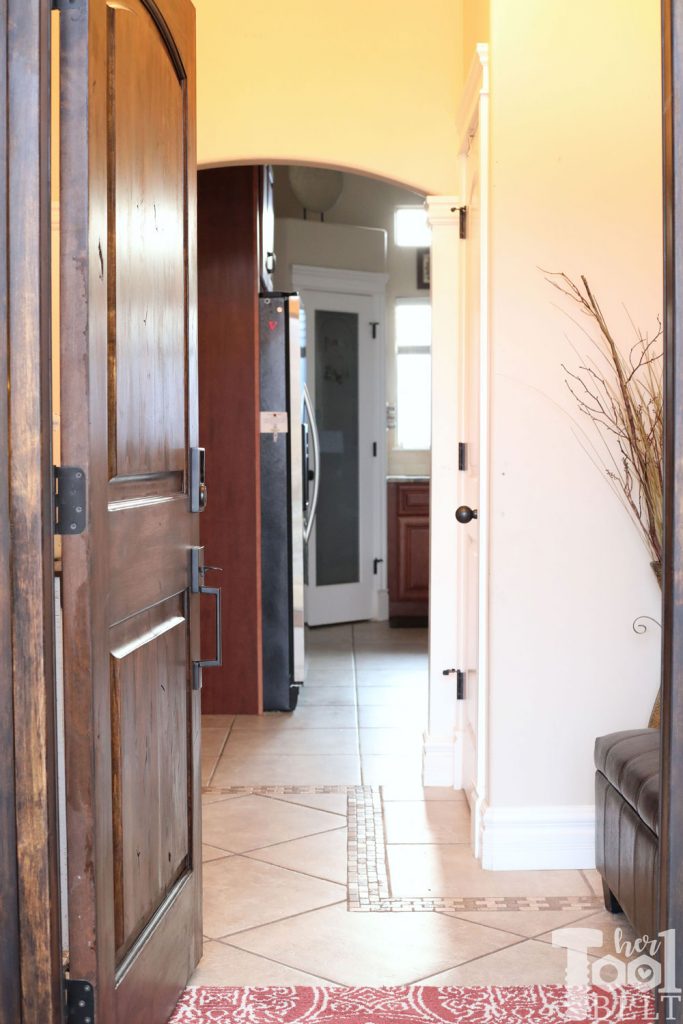 After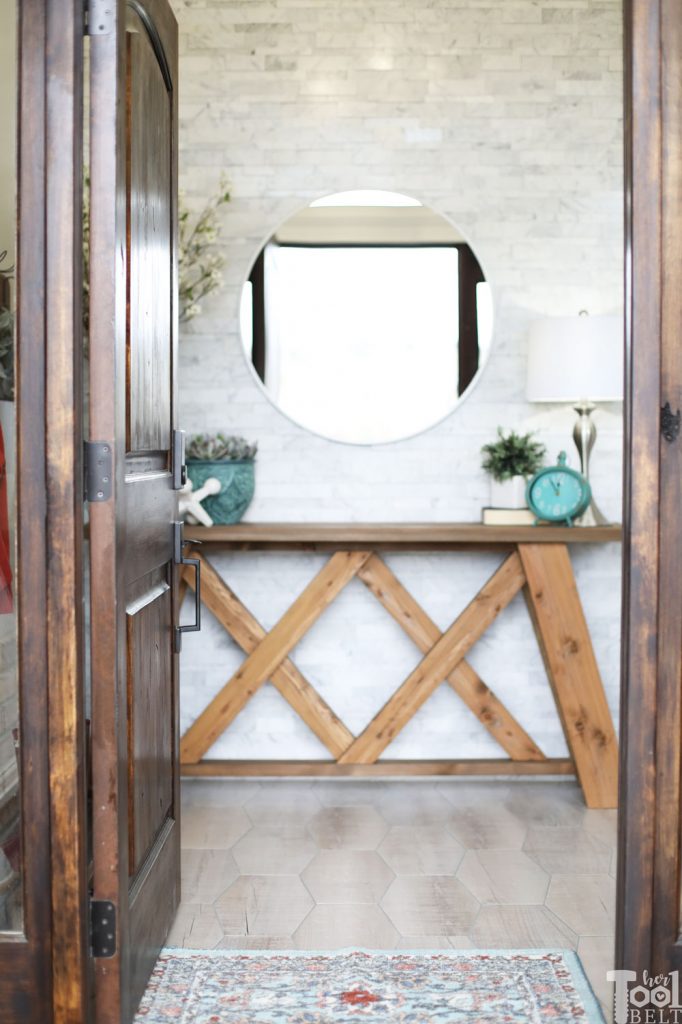 Before – the view from the kitchen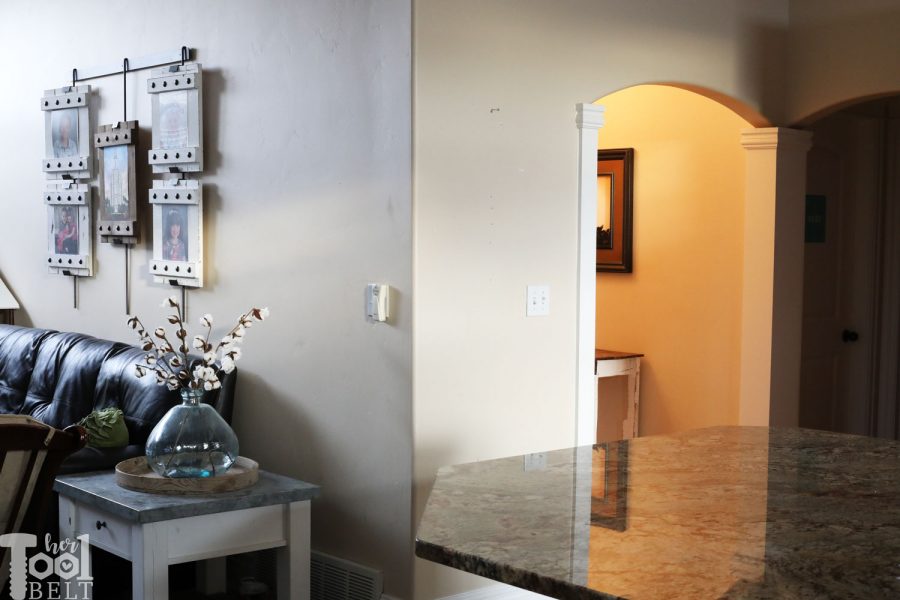 After – the grand door way. The new doorway is where those pictures were.
Before – chandelier, so yellow.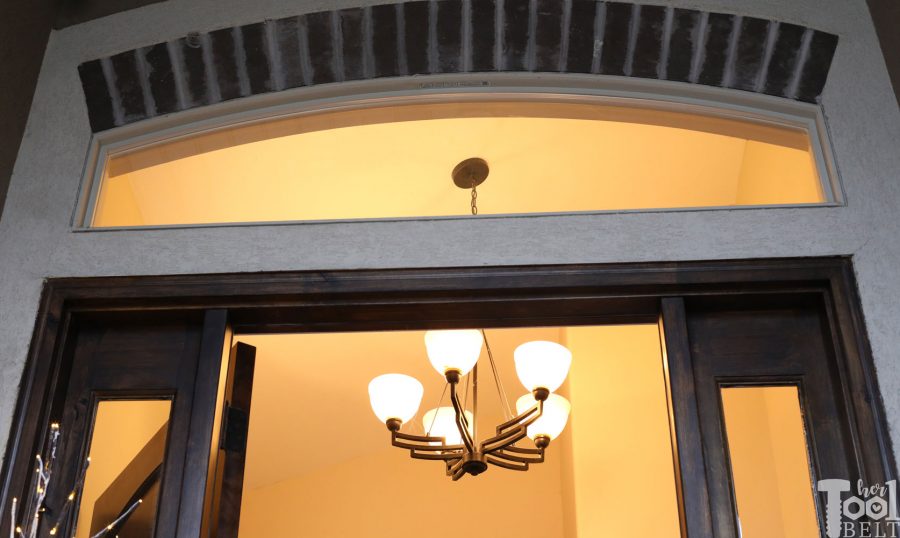 After – Light and bright.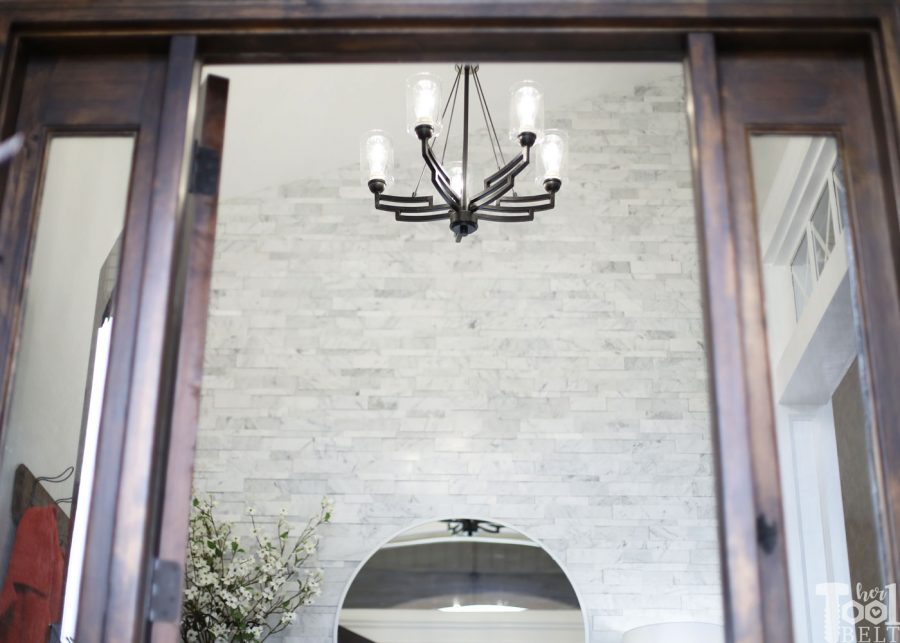 Overall, I'm thrilled with how the room turned out. I had a lot of little things to work around, pipes, air ducts, wiring, etc, but I think for the most part it looks great and I'm sure glad that I finally bit the bullet and did it. Now on to the next project!!! A pergola…