On the 12th day of Christmas Hertoolbelt went to a Christmas concert and totally slacked off getting an ornament posted!!!  Deborah Voight was a guest singer at this concert.  She sang the Twelve days after Christmas and it was hilarious.  I'd never heard it before, if you haven't I highly recommend looking it up on youtube for a good laugh.
Back to the ornaments, I'm sure you've seen the rolled paper Christmas tree around, it's such a cute craft.  It also makes a super cute ornament and it's very easy.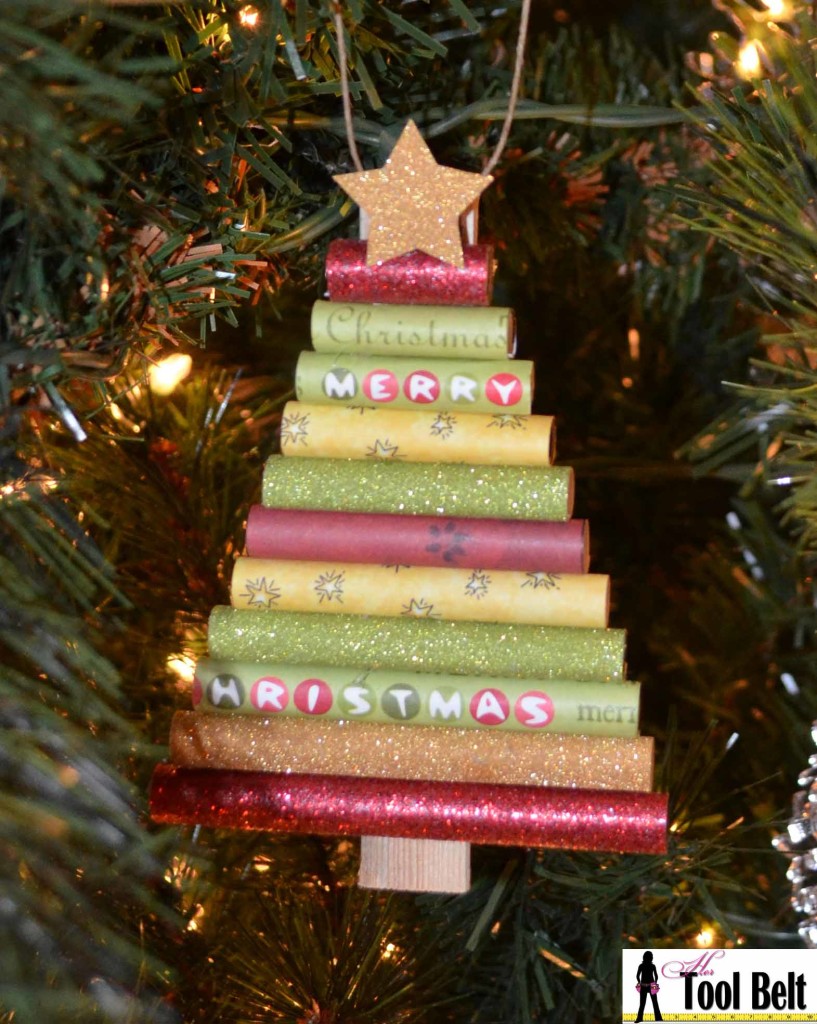 This post contains some affiliate links for your convenience. Click here to read my full disclosure policy.
You'll need:
A few pieces of scrapbook paper
a tongue depressor or a couple of popsicle sticks
hot glue
string
pencil
Cut a piece of paper for each size, order your papers however you'd like.
3 ½" x 2 ½"
3 ¼" x 2 ½"
3″ x 2 ½"
2 ¾" x 2 ½"
2 ½" x 2 ½"
2 ¼" x 2 ½"
1″ x 2 ½"
1 ¾" x 2 ½"
1 ½" x 2 ½"
1 ¼" x 2 ½"
1″ x 2 ½"
½" x 2 ½"
Spread mod podge on 2/3rd of the back side a paper, start the pencil on the clean portion of the paper and roll the paper onto the pencil.  (always roll up the  2 ½" side of the paper, or you'll have a bunch of rolls the same size!)  Hold the edge for a minute until the mod podge holds the paper in place, or tape it with scotch tape if you need to.  Repeat for each paper strip.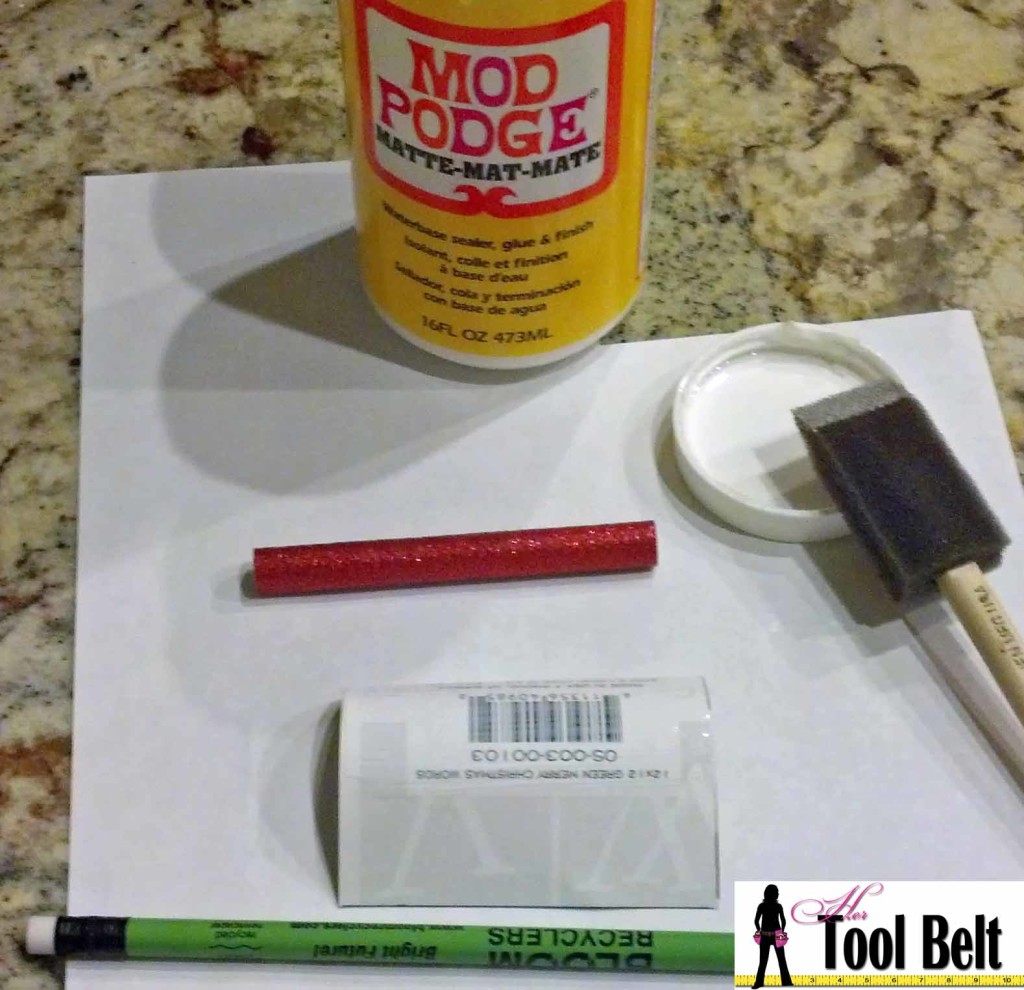 Start from the top of your stick (mine is a scrap piece of wood), or place 2 popsicle sticks side by side and hot glue the rolls onto the stick.  Hopefully you have a little bit of stick showing at the bottom for the 'trunk'.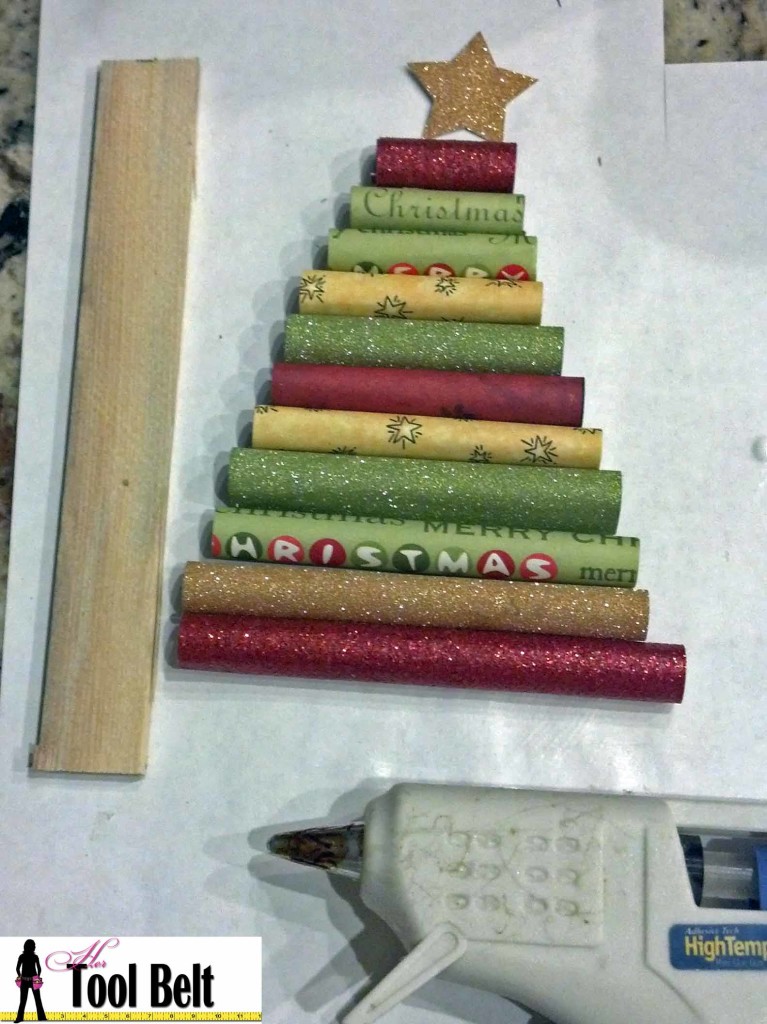 Next cut out a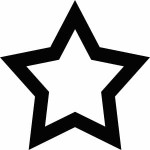 and hot glue that onto the front of the top roll.  Thread a string through the top roll and make a 3″ or so loop.  And you're done, enjoy your homemade Christmas tree ornament.
Merry Christmas!!!
Check out the 1st Day of Christmas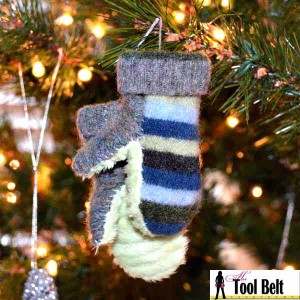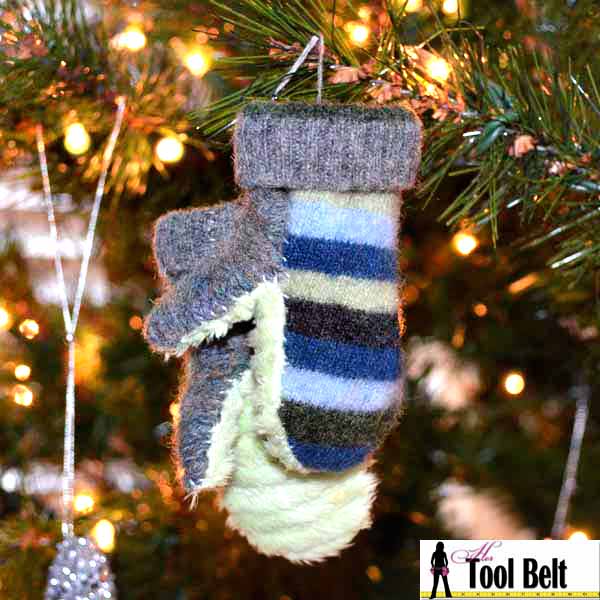 linked to remodelaholic