On the 10th Day of Christmas Hertoolbelt sent to you another owl ornament, chunky Candy Cane, 3D Snowflake, Rudolph the White Stag Reindeer, People nativity scene, st-a-ck-ed snowman, peppermint candy, 3-tier felt tree, sweater owl, and mini-mittens on a little wooden tree.
If you are thinking…wow this sweater owl ornament looks a lot like the 2nd Day, well you're right.  I wanted to try the layered felt feather tummy.  Which do you like better?  These owls are fun to make, because the color combinations and styles are endless.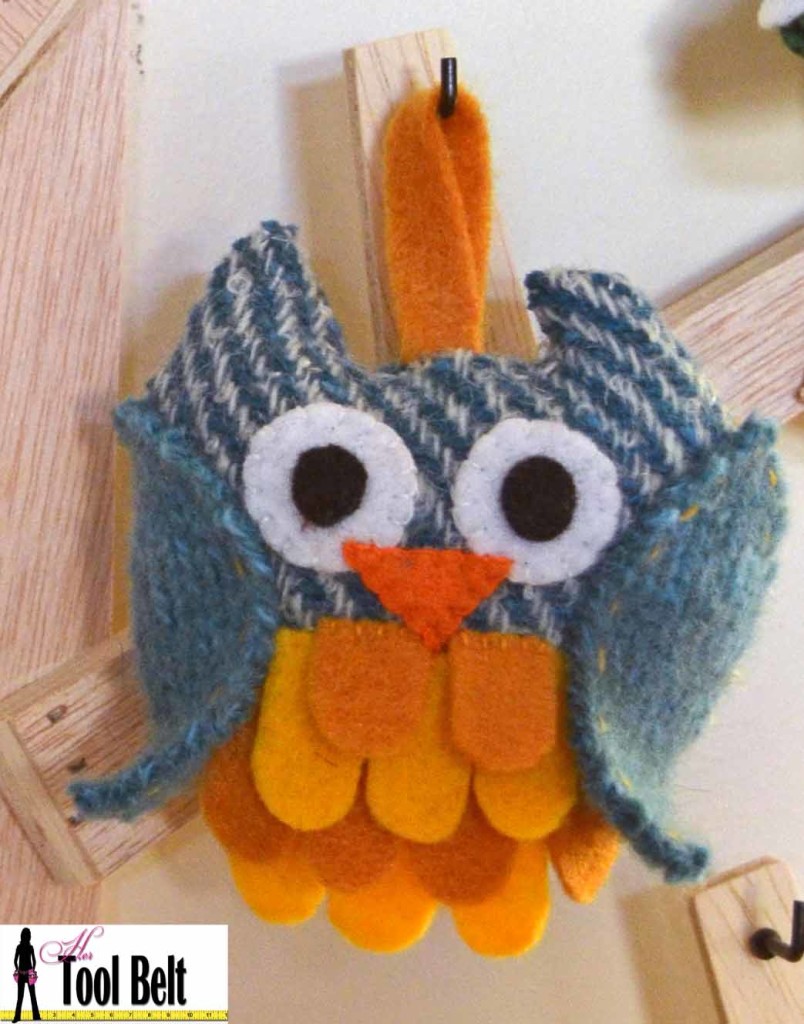 Here's how
Download the Owl Ornament felt tummy pattern and cut out all of the pieces.  From the materials of your choice cut 2 bodies, 1 of each wing, 2 white eyes, 2 black eyes, 2 single tummy pieces, 2 (3 piece) tummy pieces, 1 (4 piece) tummy piece, 1 orange beak and a 1/4″ x 3″ piece of fabric for the hanging loop.  The assembled diagram on the pattern shows approximate placement for all the owl parts.  I used 2 strands of embroidery floss for all stitches.  For a embroidery stitching diagram, here is a scan of the Bucilla diagram Bucilla embroidery stitch diagram
Start by appliqueing the black eyes onto the center of the white eyes.  Next applique the top line of each tummy piece onto the body of the owl. Begin at the top of the wing and stitch the wings onto the body using a running stitch.  Stop stitching the wing to the body where the black dots are on the assembled owl diagram.  Continue the running stitch for looks only through the wing material, stitch around to the next dot and begin to stitch the wing to the body again.  Repeat for second wing.  Applique the eyes to the owl body, then applique the beak.
Next take both body pieces, match together with the good sides facing each other.  Fold your 1/4″ material in half, placing the loop in between body pieces so the ends of your strip are slightly visible at the top of the owl head.  Stitch around the body leaving at 1 1/2″ – 2″ section open at the bottom of the owl body.  Flip the body right side out.  Stuff the owl as much as you like with poly-fil or whatever stuffing you have on hand. Fold the edges of the gap in and stitch the gap closed.  And you are done.  Enjoy your super cute handmade Christmas owl ornament.
Merry Christmas.
Check out the 11th Day of Christmas