Hi!  I'd love for you to follow me on Pinterest Her Tool Belt  and if you love instagram, you can keep up with me there too!
My little boy loves robots.  Someday he hopes to design robots for fight bots (he's 6).  For years his very favorite robot has been R2-D2 (Artoo Detoo if you're hardcore).  A couple of years ago I got this idea for an easy R2-D2 side table, it's not a replica by any means, just a novelty side table.  It ties in really well with his Star Wars fighter shelf and hyperspace wall.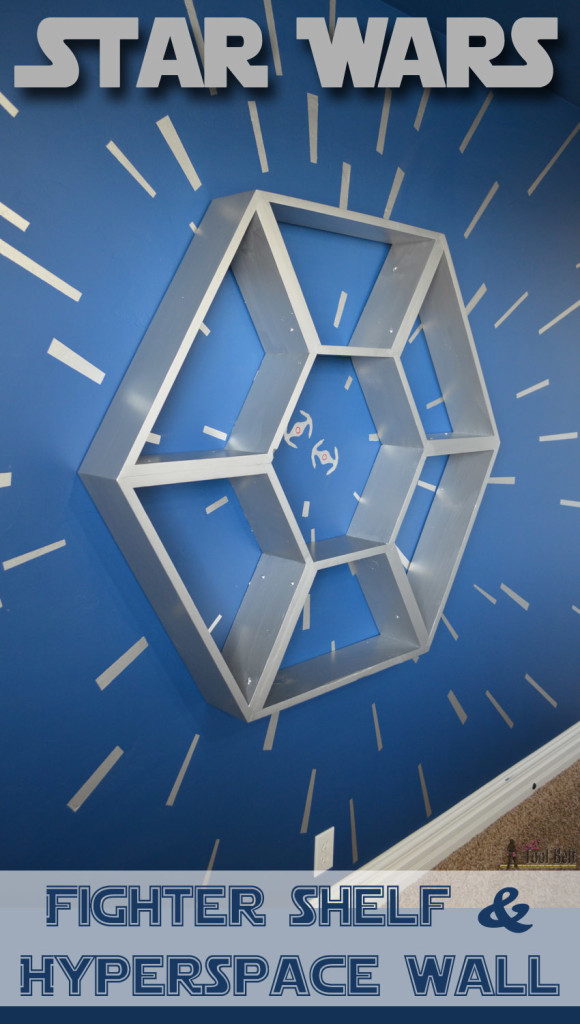 R2-D2 Side Table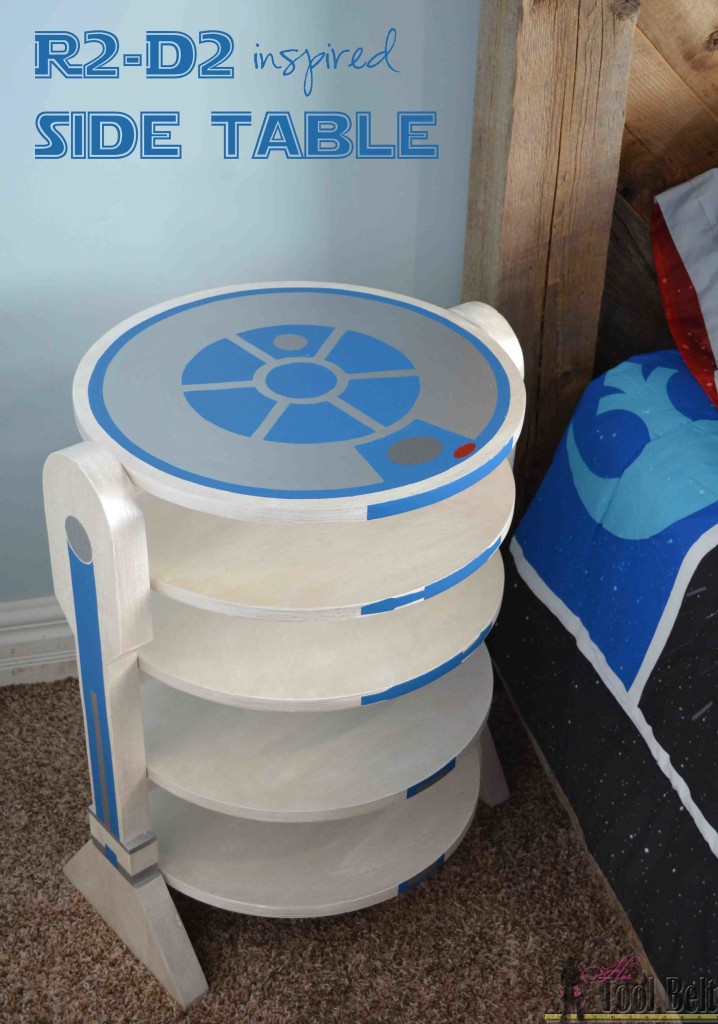 I'm still working on R2-D2's head, which I'm planning on making a lamp.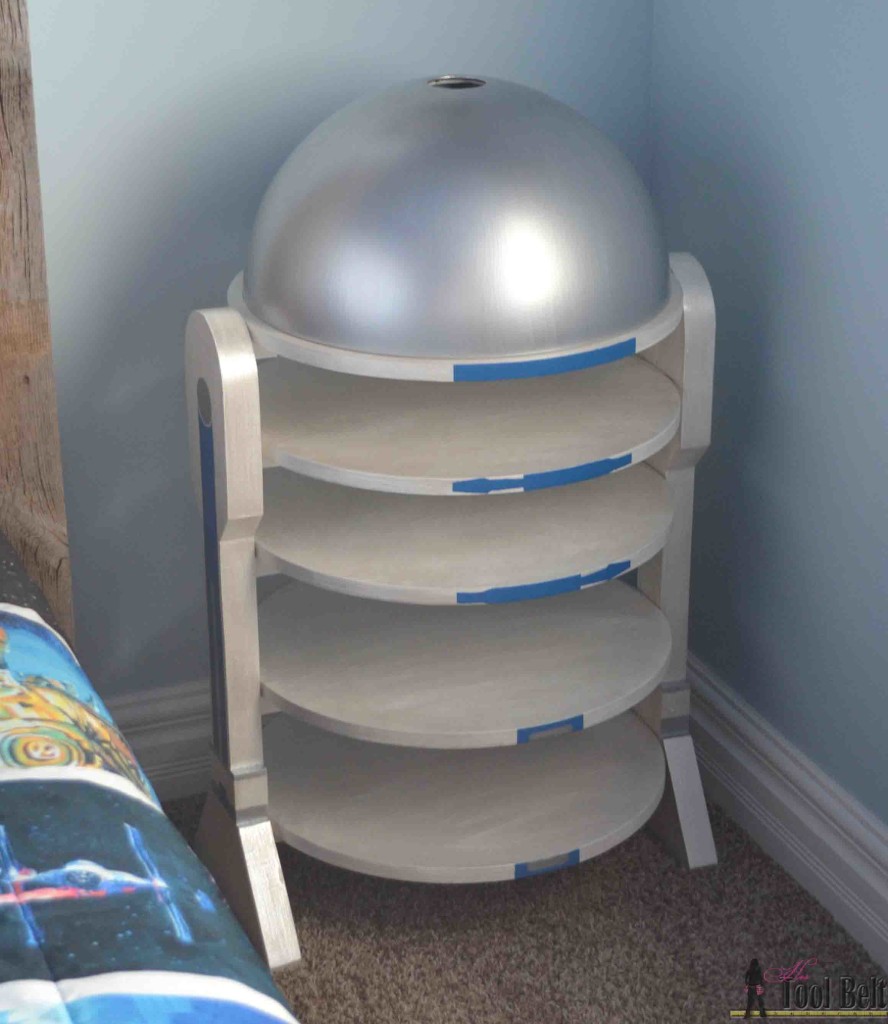 Video of painting the details on R2-D2.
This post contains affiliate links noted by*.
How to Build a R2-D2 Side Table

Materials
1 – 2″ x 6″ x 8′ board (actual 1 1/2″ x 5 1/2″)
1 – 1″ x 3″ x 6′ board (actual 3/4″ x 2 1/2″)
1 – sheet 3/4″ plywood (4′ x 8′) or 5 wood rounds (these are 17 3/4″ and should work fine, but a little smaller than what I did)
2 1/2″ screws (I like self tapping screws)*
1 1/4″ screws (I like self tapping screws)*
sandpaper
Paint (This is what I used: Primer – Zinsser, Paint – Behr ultra pure white, MM Oyster metallic* paint, MM Silver metallic* paint, MM Sashay red* metallic paint, Valspar midnight sonata (lightened a little), Americana Decor  relic.)  Most of these paints I had left over from the hyperspace wall.
Step 1
Download and print 19″ circle pattern (make sure the printer is set to 100%, not 'fit to page'.) 2D R2D2-head pattern Line up the circle, tape together then cut out.  Trace circles on the plywood and use a jig saw, scroll saw or band saw to cut out.  (You can also use a router with a circle jig.)  Sand the edges so they are smooth.  When I'm painting plywood edges, I like to use my finger to make a skim coat of spackle to fill any voids.  I let the spackle dry then lightly sand it.  This will help give a nice smooth painted edge.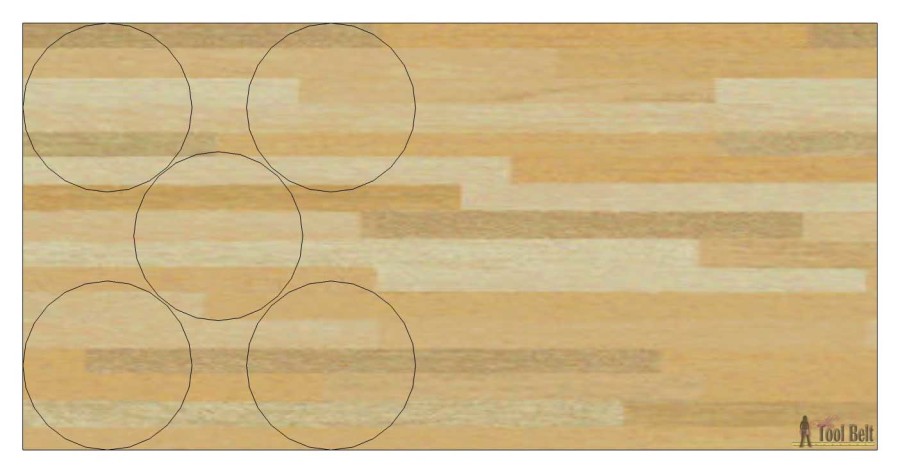 Step 2
Download and print the leg pattern R2D2 leg-pattern.  Line up the pattern, tape together and cut out.  Trace 2 leg patterns onto the 2×6, you'll need to trace 4 of the triangle bases separately.  Use a jig saw, scroll saw or band saw to cut out the leg pieces.  Drill pocket holes* in the base of the legs to attach the extended triangle pieces.  Use wood glue and 2 1/2″ pocket hole screws to attach 2 triangles to the base of each leg. Use wood filler to fill and pocket holes, cracks or blemishes and allow to dry.  Sand the legs smooth.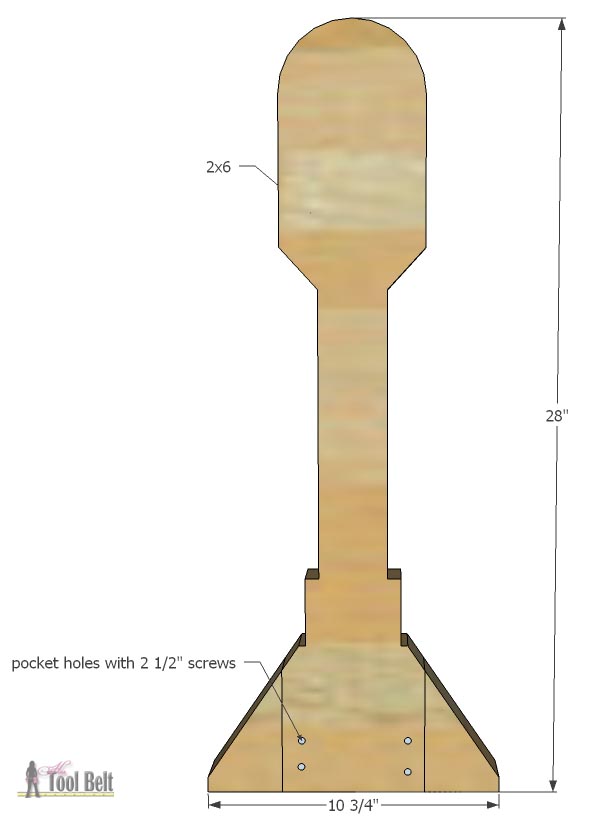 Step 3
Cut 10 pieces of 1×3 at 1 1/4″ long.  Drill pilot holes for the screws, 2 through the 3/4″ side and 2 through the 1 1/4″ side.  Stagger the holes, so the screws won't try and hit each other.
Attach the shelf supports to the legs. These are the measurements I used for the table, adjust as you'd like.  If I were to build another one, I might try and make the top 3 shelves closer together???  Center each shelf support on the leg, and use wood glue and 2 1/2″ screws to secure on the leg.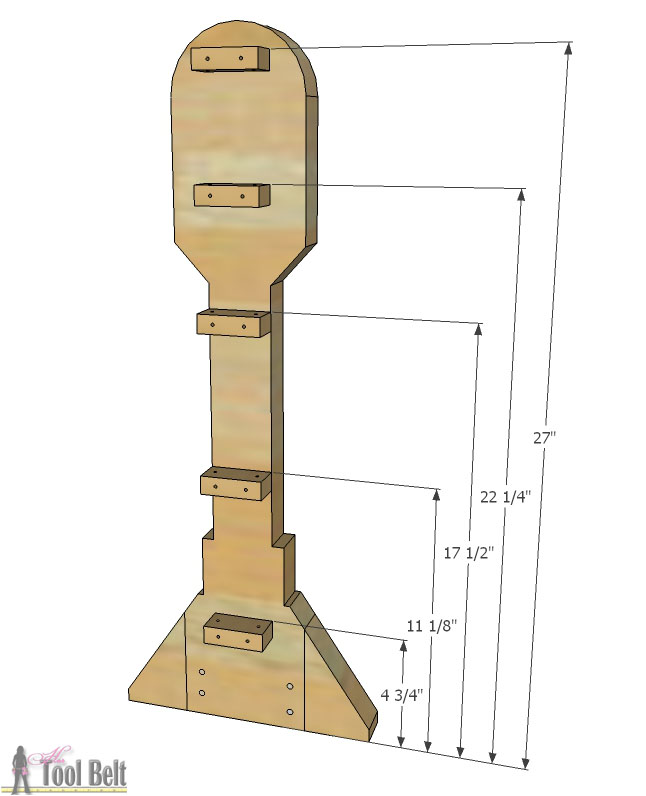 Step 4
(You may want to prime and paint the table before assembly.)
Find the center line of each round shelf.  Here's a quick tip for finding the centerline of a circle.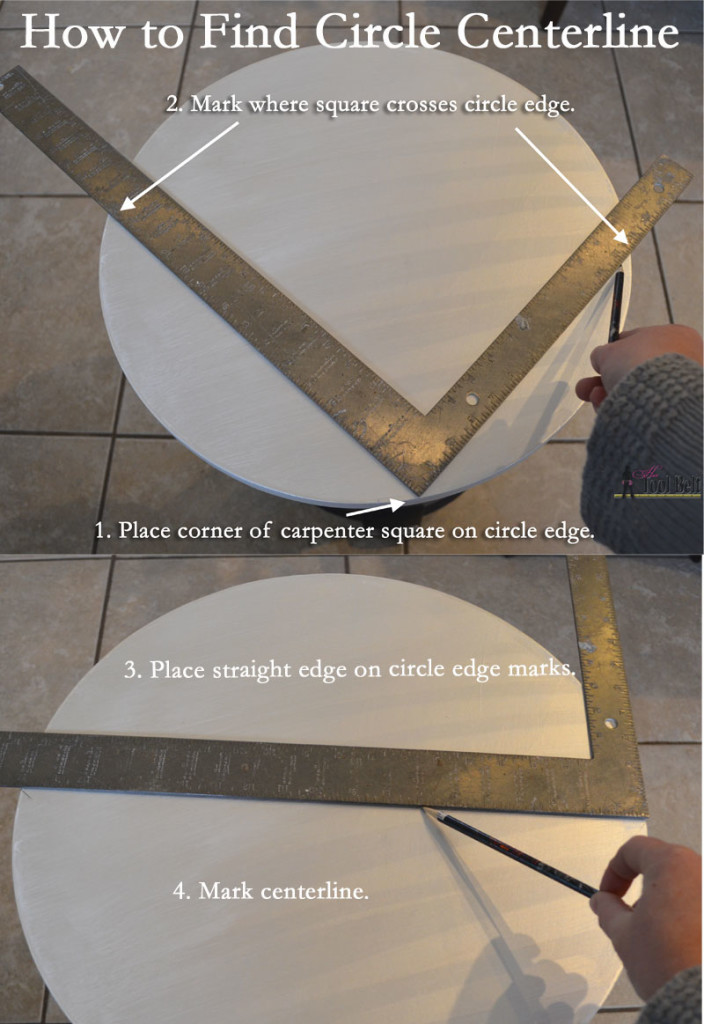 Turn the legs upside down, place the first shelf on the ground and use wood glue and 1 1/4″ screws to attach the shelf to the shelf supports.
Repeat for each shelf.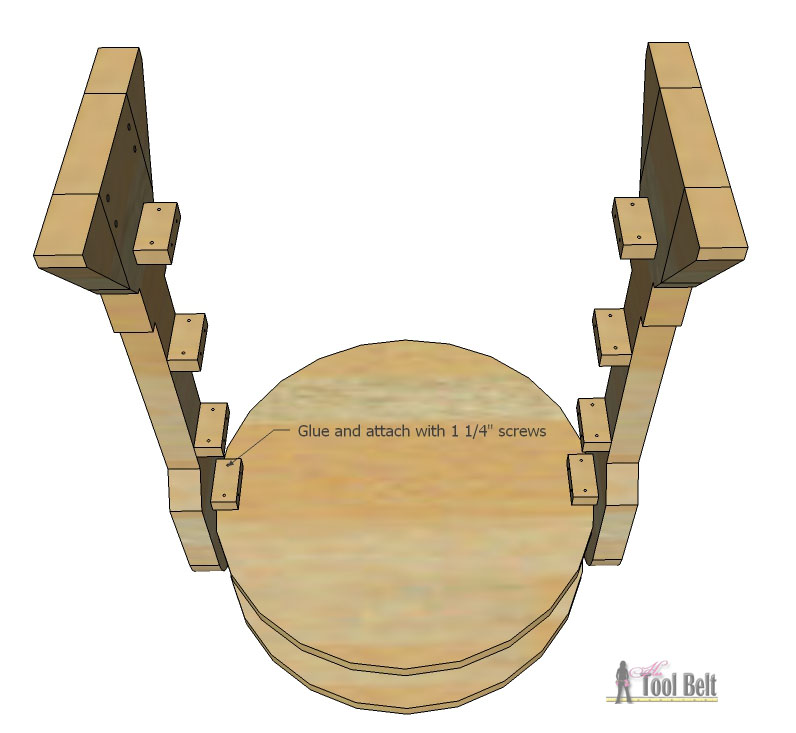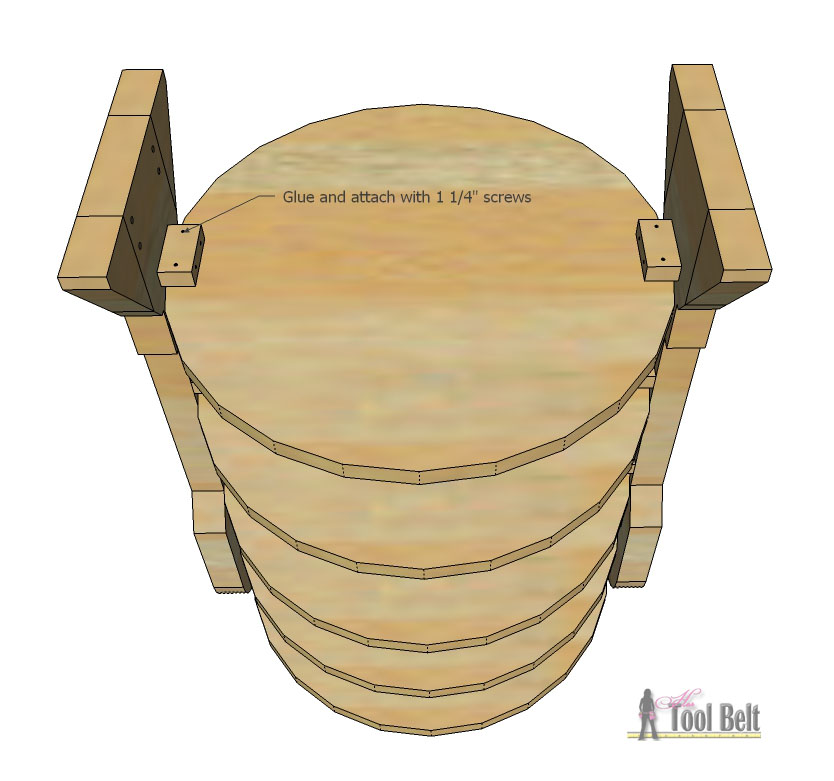 Remove any excess glue and you're ready to paint.
Step 5
I used a Home Right paint sprayer* to prime and paint the R2-D2 side table white.  I wanted to give the white paint a slightly metallic look and had been give a small bottle of MM Oyster semi-opaque metallic paint at a conference, so I used that on top of the white.  It did give the white a nice pearl finish, but may have turned it more yellow than I was hoping for.  I would probably skip this step next time, although I do like the metallic finish.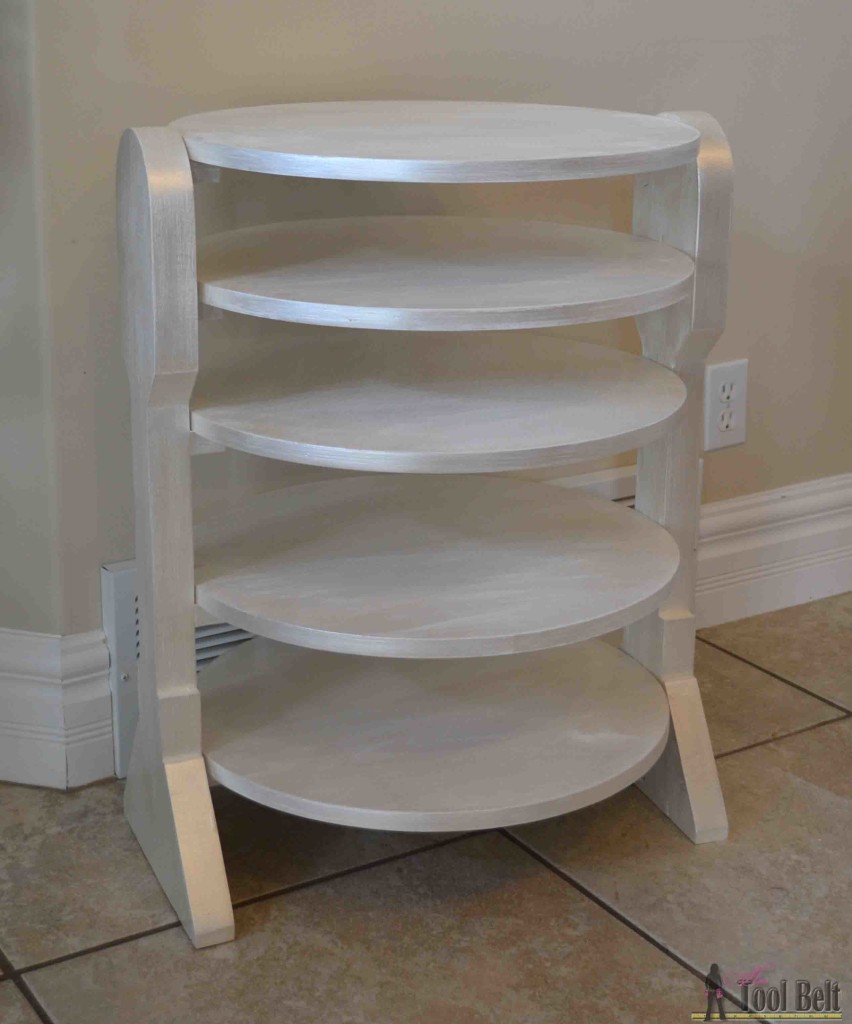 I followed the circle pattern for painting the top with silver, blue, red and dark gray. I love how the top turned out.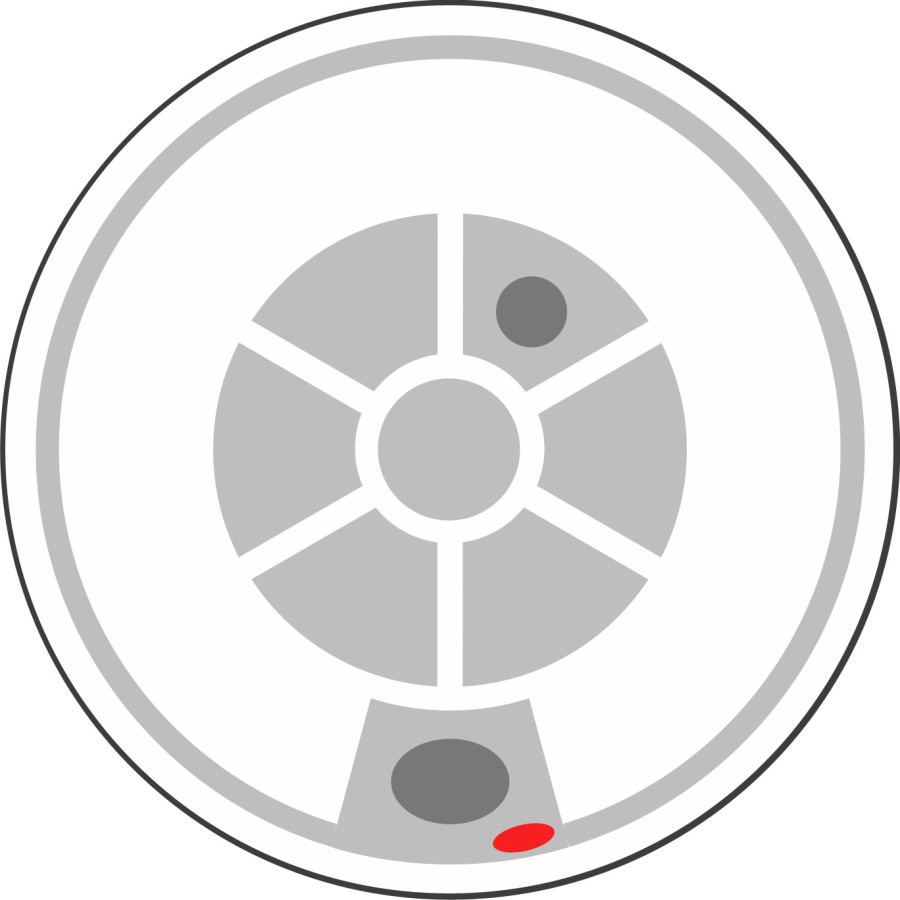 Painted the legs using the leg pattern.  Then added a few details on the front with these patterns Front stripes.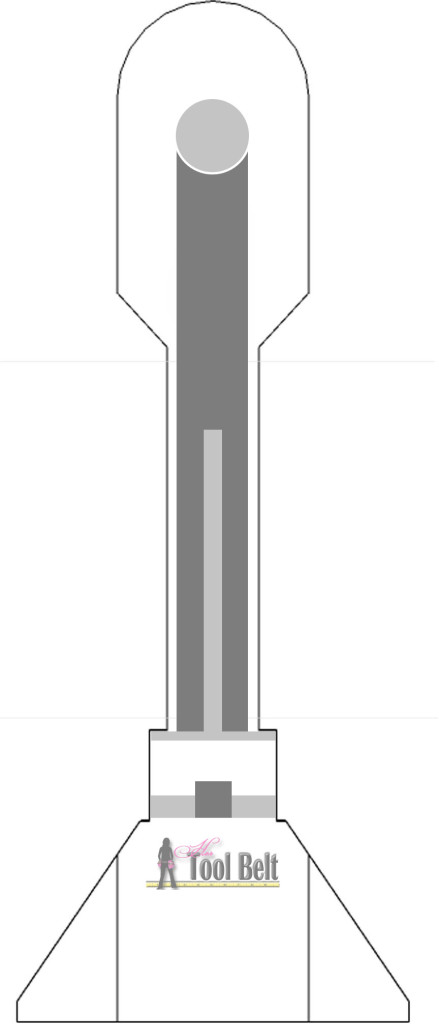 Download and print plan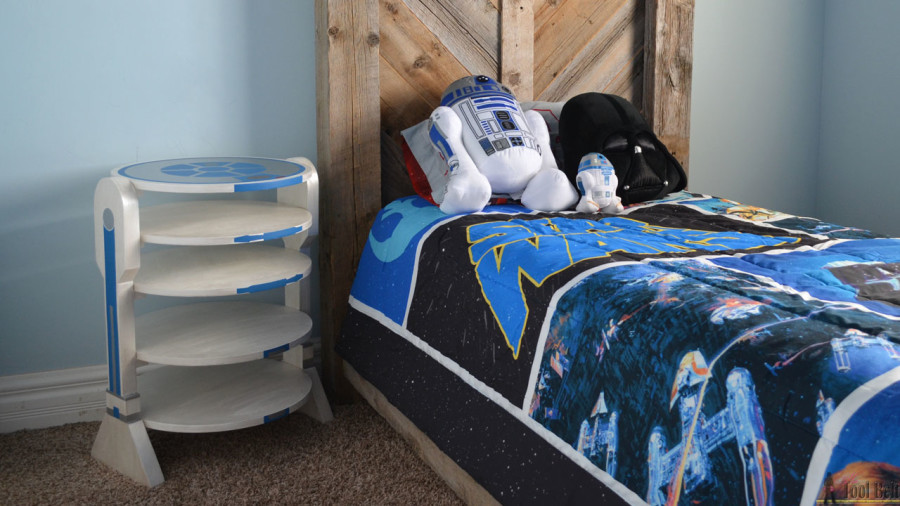 The Star Wars bedding and R2-D2 pillow is from JCPenney.  The plans for the cool barn wood bed are here.
Linked to link parties, remodelaholic, savvy southern style Homestoriesatoz