Hi!  I'd love for you to follow me on Pinterest Her Tool Belt  and if you love instagram, you can keep up with me there too!
I love making projects out of barn wood because it has unique character without extra finishing effort.  So a few years ago while flipping through the Christmas Pottery Barn kids magazine, I saw their rustic star ornaments…and they really caught my eye and knew I had to make some.  The rustic patchwork wood star has a similar look to the star in my patriotic Americana Door hanger from a few years back.  I guess I like that 'stitched' look.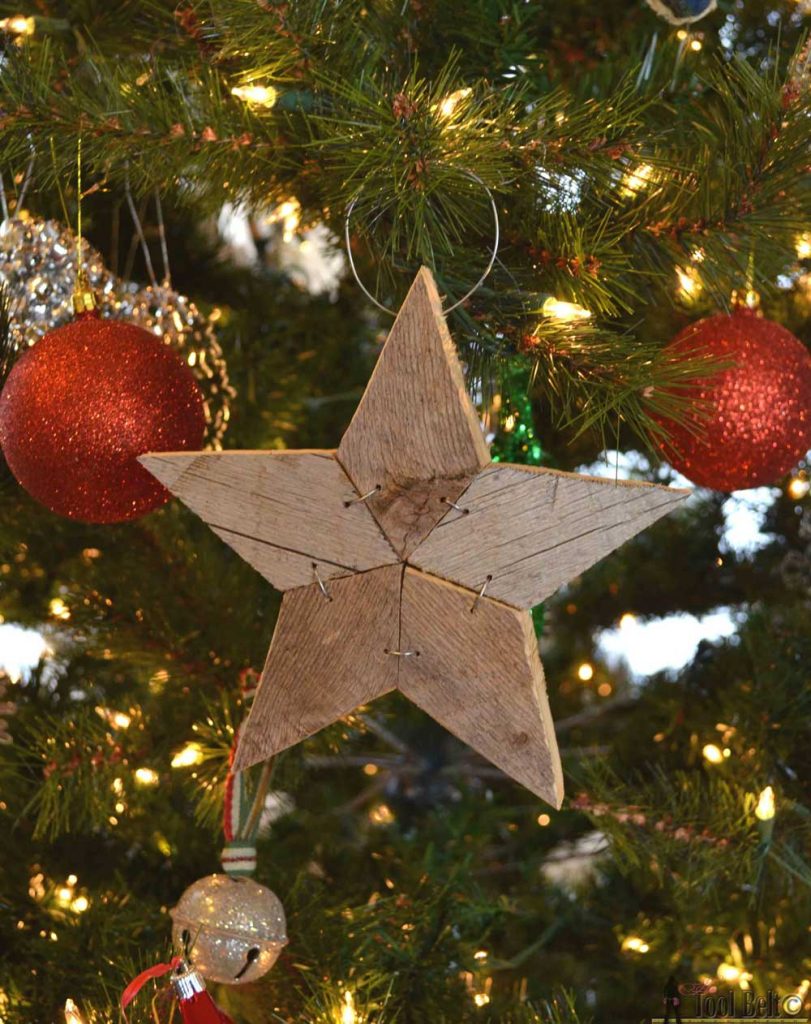 The patchwork stars would pair great with these scrap wood Christmas Trees!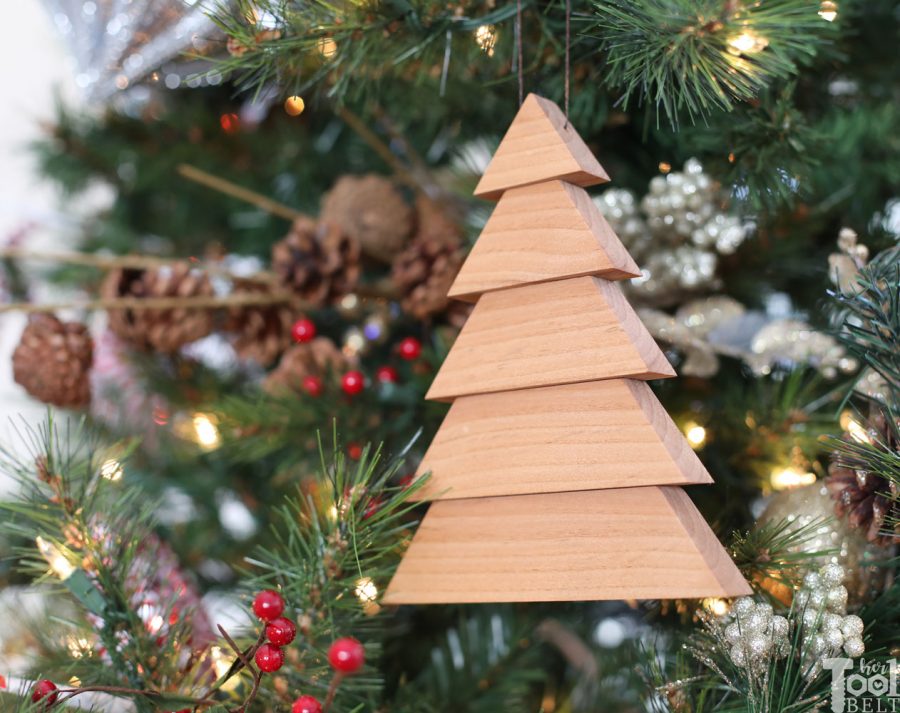 How to Make Rustic Patchwork Stars
This post contains some affiliate links for your convenience. Click here to read my full disclosure policy.
Materials
wood at least 1/2″ thick – barn wood, pallets or new wood
3/8″ dowel – optional
2″ x 4″ wood – optional
ribbon – optional
The star pattern includes 2 sizes of stars.  The large star is about 13 1/2″ wide, the small star is about 7 1/2″ wide.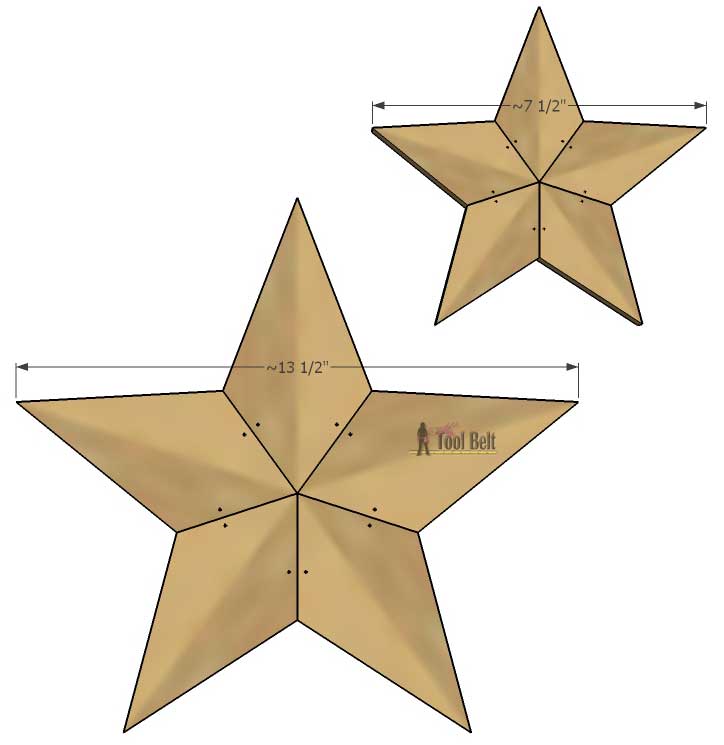 When printing make sure your print settings are on 100%, not 'fit to page'.  Cut out the diamond pattern(s).  Trace 5 diamonds on a piece of wood for each star that you'd like to make.
Sorry this pic is so blurry, but you get the jist.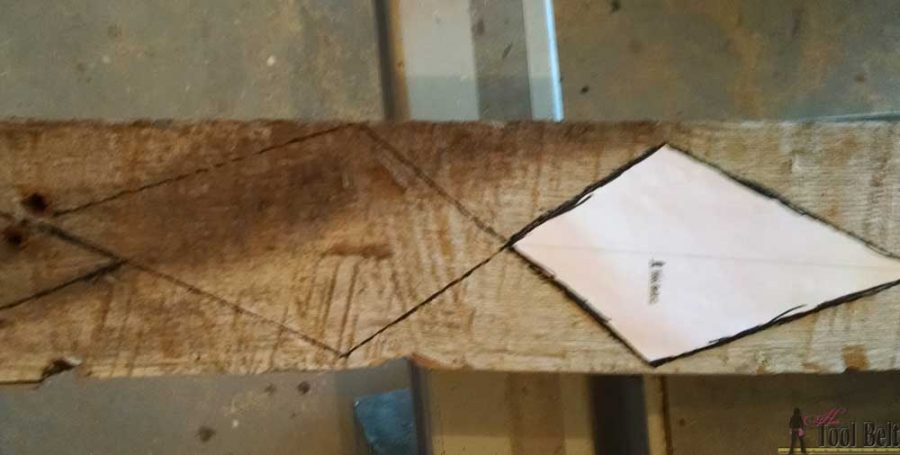 Use a jig saw, band saw, scroll saw or even a hand saw to cut out the diamonds.  (I used a bandsaw)
I love working with weathered wood.  Look at all of that natural character!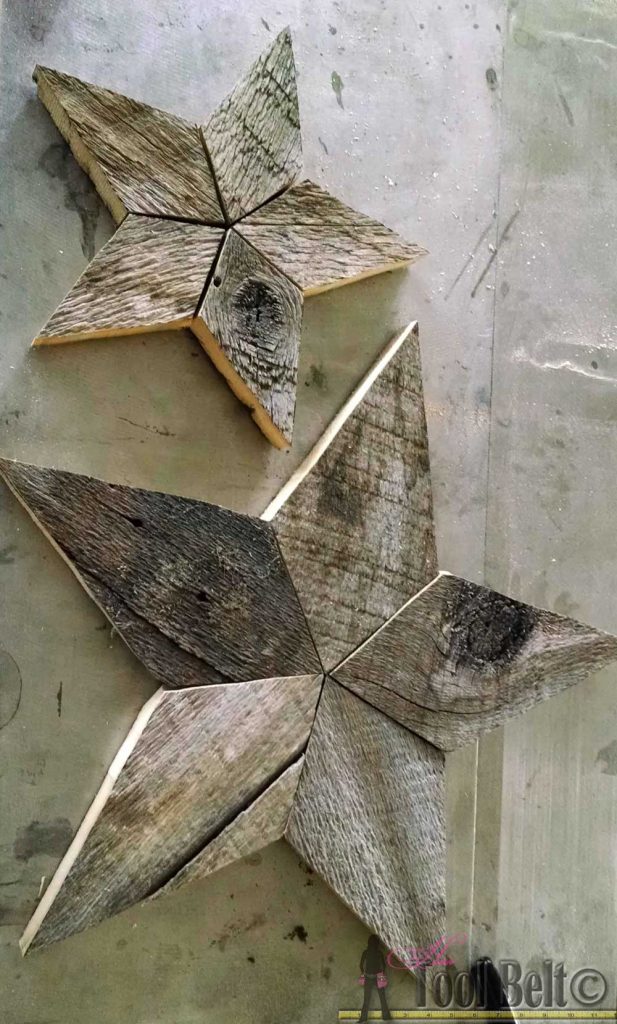 The gauge (size) of the hobby wire used to tie the star pieces together isn't very important.  Grab a drill bit that is slightly larger than the size of wire.  Drill adjacent holes for each joint.  I only made one set of holes, you may want to add a second set of holes closer to the center.  (Alternatively you can staple the star pieces together or use a pocket hole jig and screws on the backside.)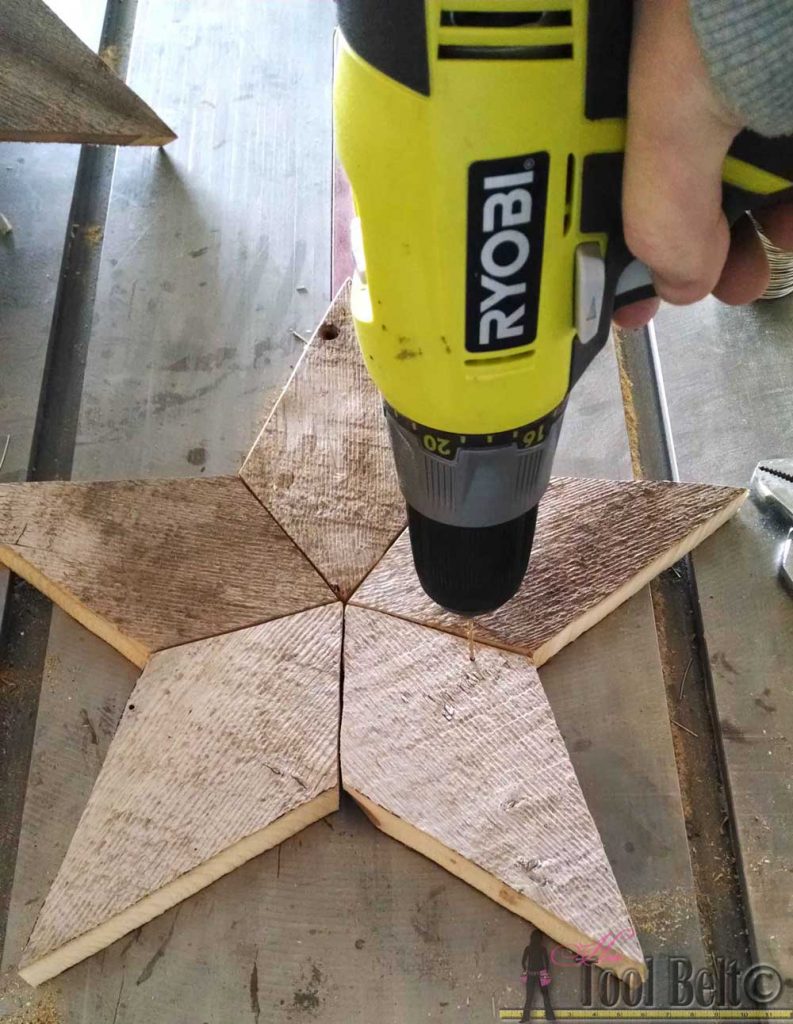 Thread the wire through the adjacent holes and twist it together tightly.  Repeat for each set of holes.  To make the rustic stars an ornament, drill a hole through the top of one of the star points and add a loop of wire.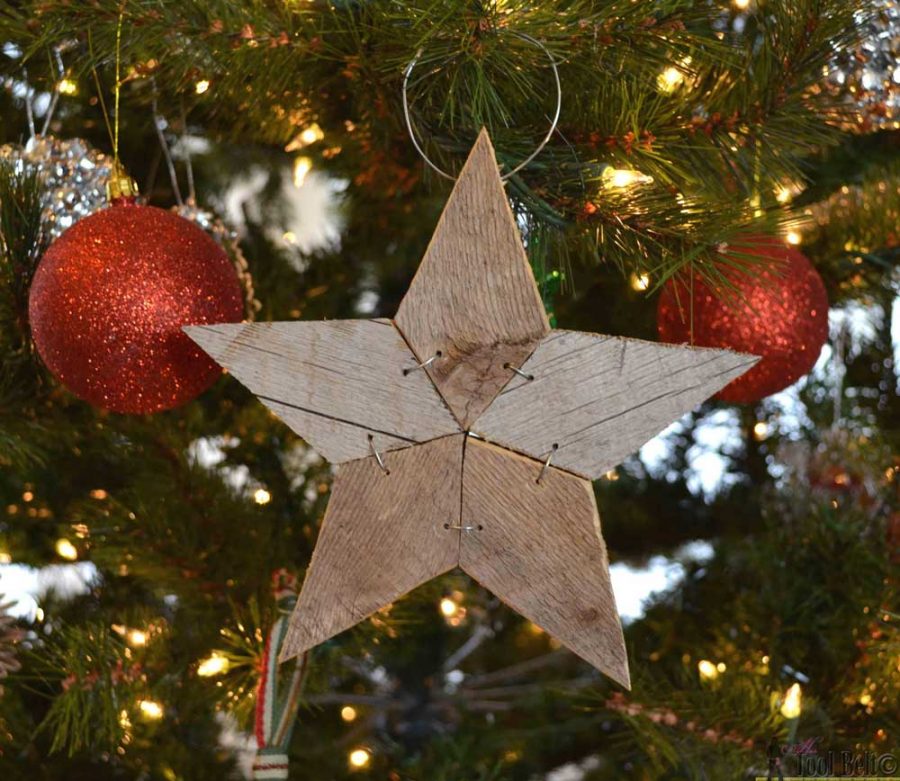 I wanted to make some of the rustic stars free standing, for a table decoration.  I drilled a 3/8″ hole about 1″ deep through the bottom of the star.  Cut a piece of 3/8″ dowel according to the height you need.  Cut a small piece of 2″ x 4″ wood and drill a 3/8″ hole.  Place the dowel in the wood block and star.  Add a bow if you'd like.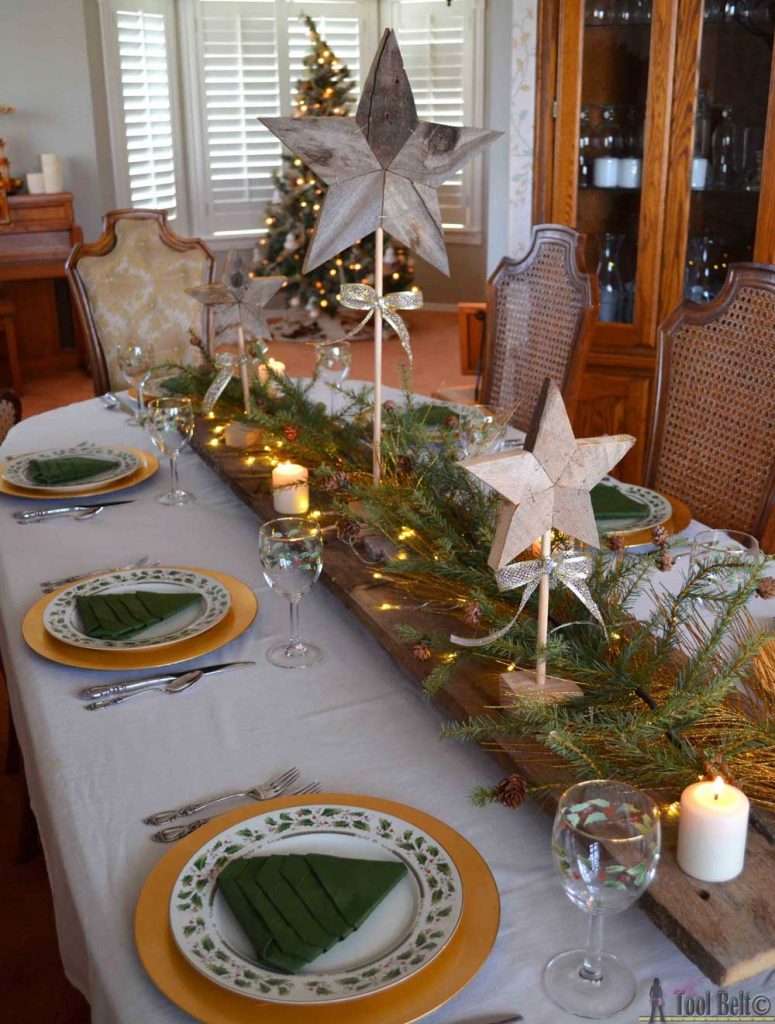 The stars also make a cute vignette, or they can be used as a backdrop for your nativity set.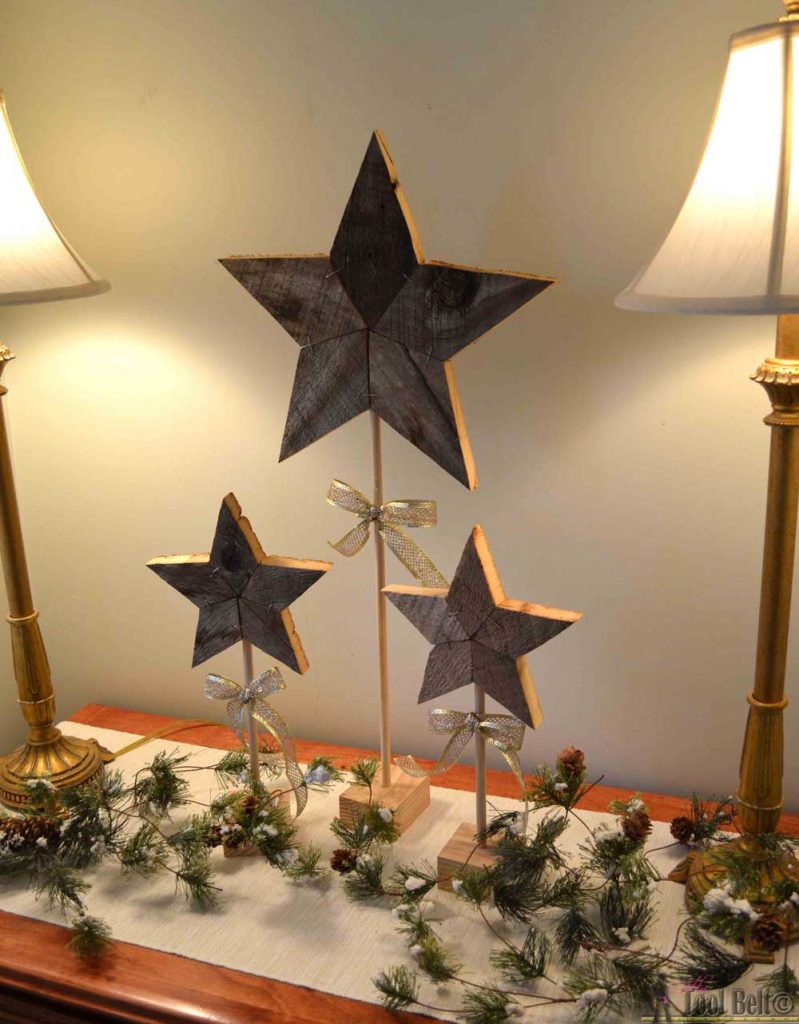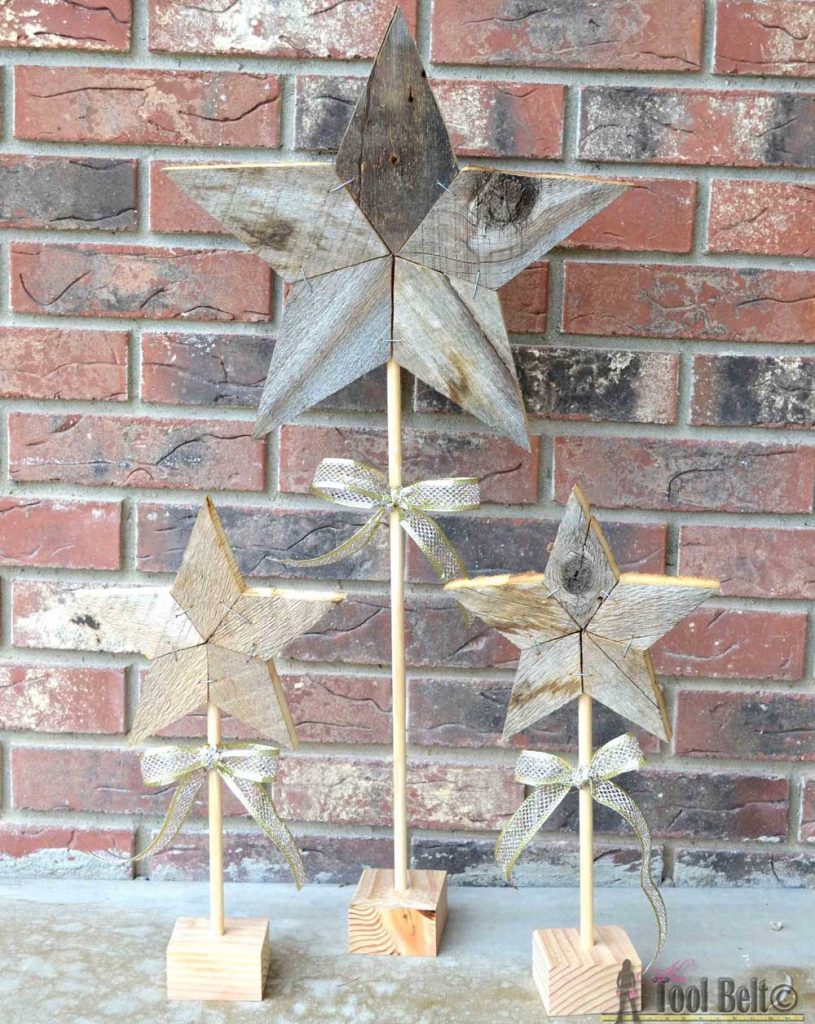 Thanks for pinning

Here are a couple other Christmas projects that you might want to check out: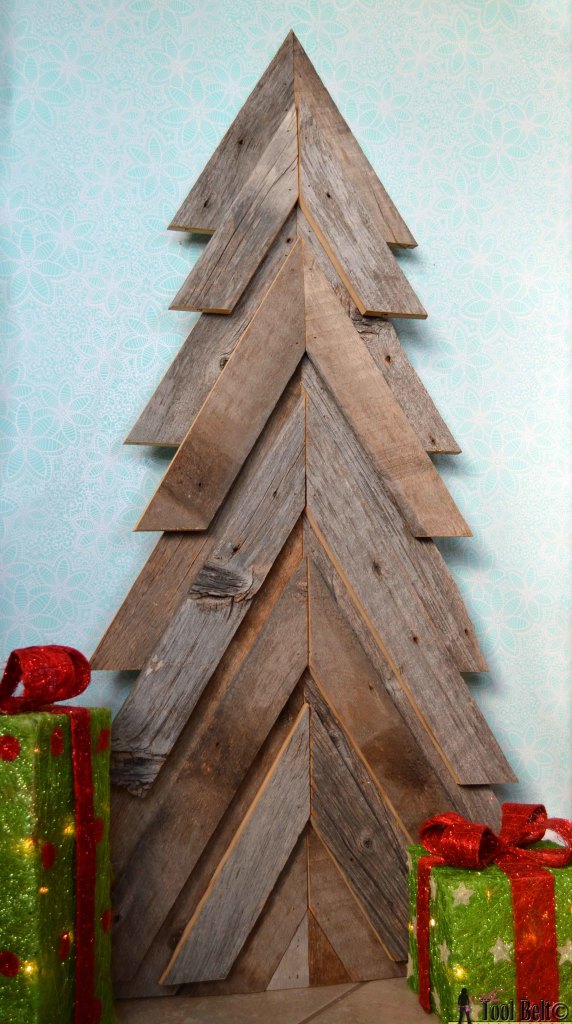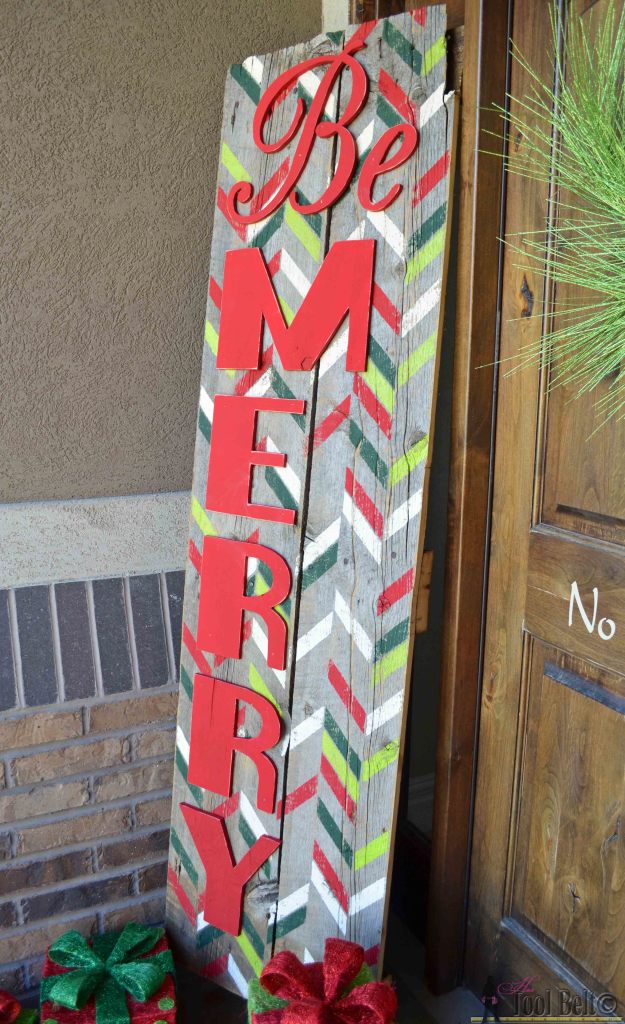 Note: I originally shared this Patchwork Rustic Star tutorial on Made to be a Momma back in Dec 2014