It took me about 6 weeks to chip away at this project, but I'm happy to say that the basement playhouse build (which is really a toy room shaped like a tiny house), is pretty much done! Yay! My kids are super excited and have been having fun inspecting everything as the project came together. My house may not be in style, but at least my playhouse is 🙂 I tried to make the playhouse in the modern farmhouse style…I love to drool over those houses on Instagram.
Remembering where I started…here's the BEFORE.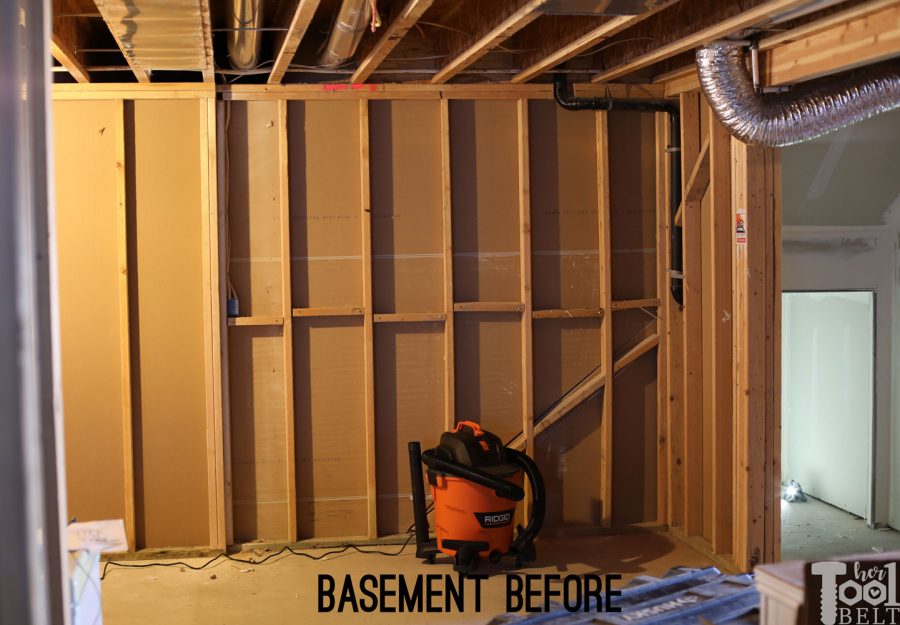 Sideview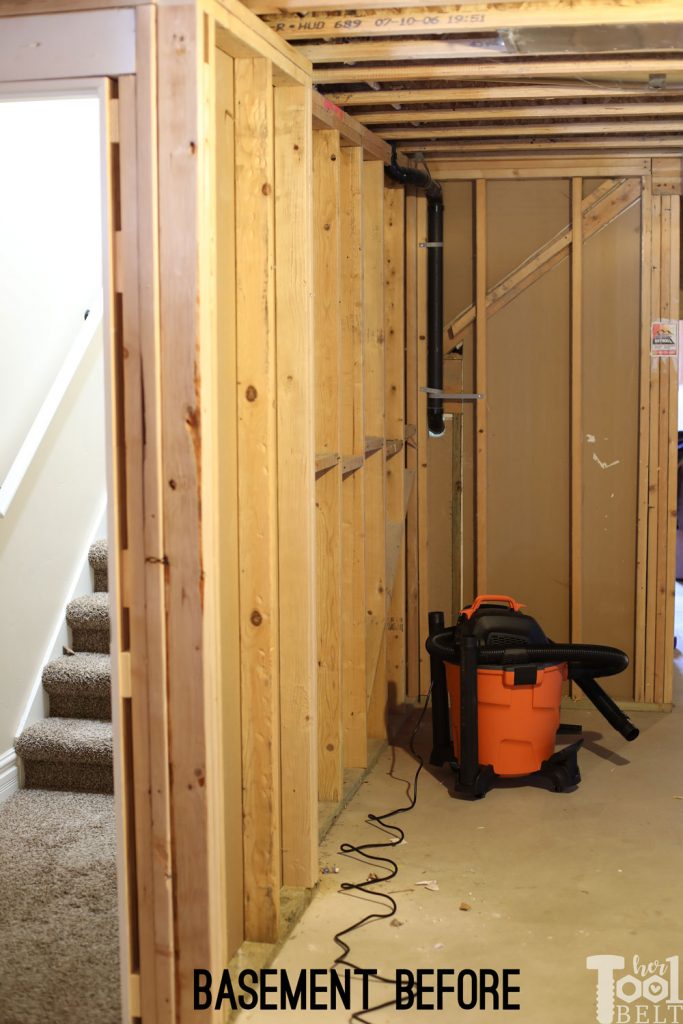 And the AFTER
What do you think?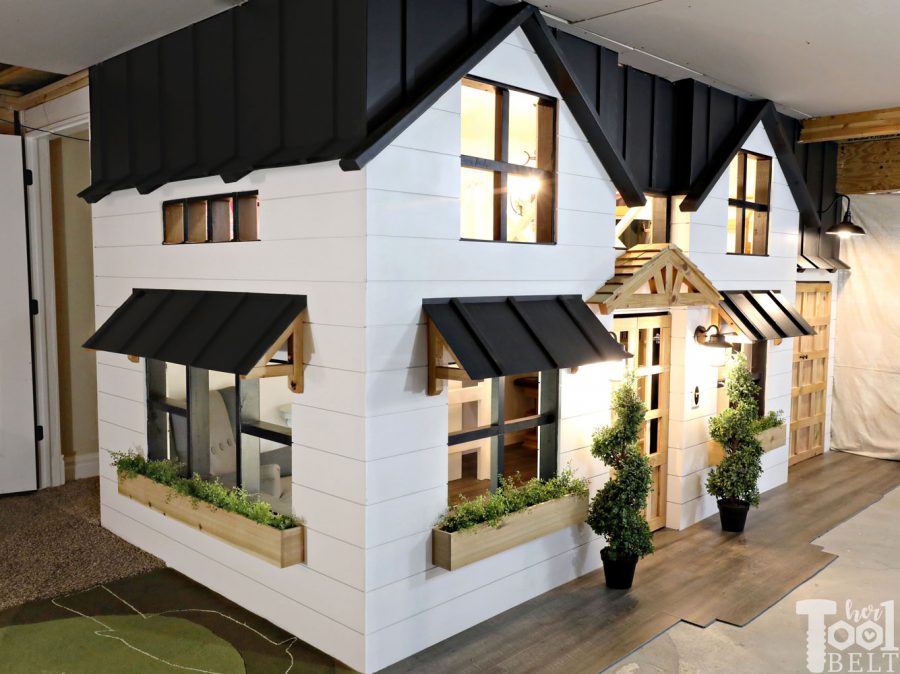 With me, for scale.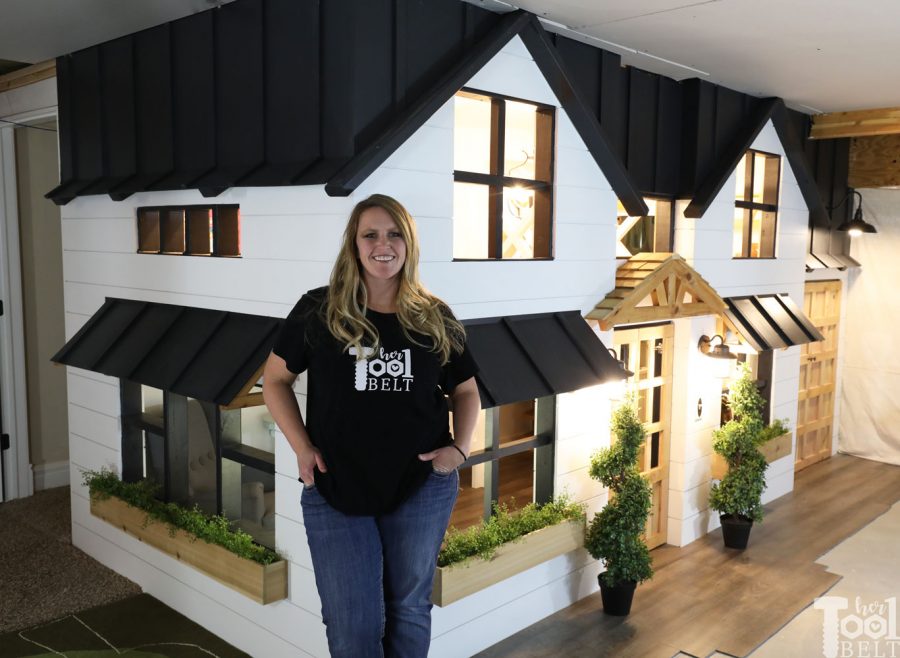 You can check out the tutorials for the whole playhouse build:

This post contains some affiliate links for your convenience. Click here to read my full disclosure policy. 
The layout of the playhouse has 5 areas to play, customized to how my kids currently play. The upstairs loft area has a nursery, my kids love to put the stuffed animals and dollies to sleep. Opposite of the nursery is a coloring area. Downstairs is a kitchen area, they love to have Tea Parties and a living room for general play. Under the stairs is a little reading nook and hangout…most likely going to be the tablet lounge.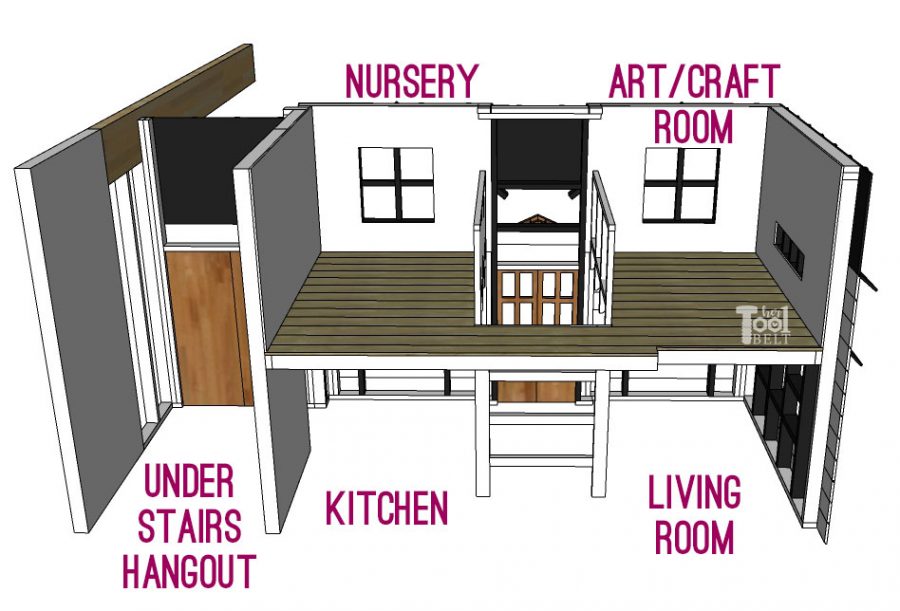 Here is the left side of the playhouse. The door to the left leads upstairs (and I still need to add the trim around the door). My basement ceilings are quite short, only 7 1/2′ high.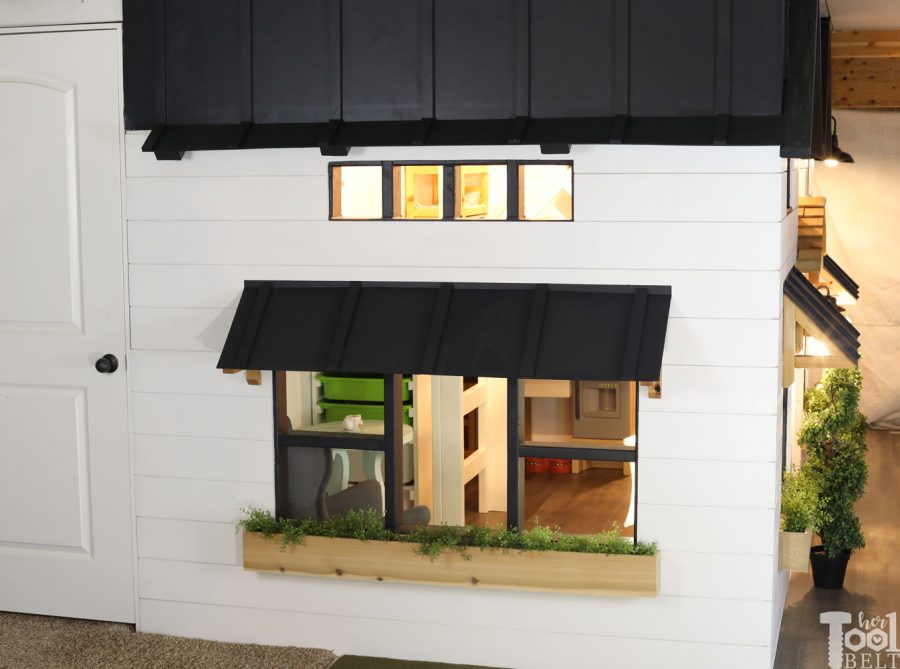 The siding for the playhouse is 6″ MDF shiplap, super easy to use, I highly recommend it. I was able to simply notch the shiplap ends to make it look like it wraps around to the front.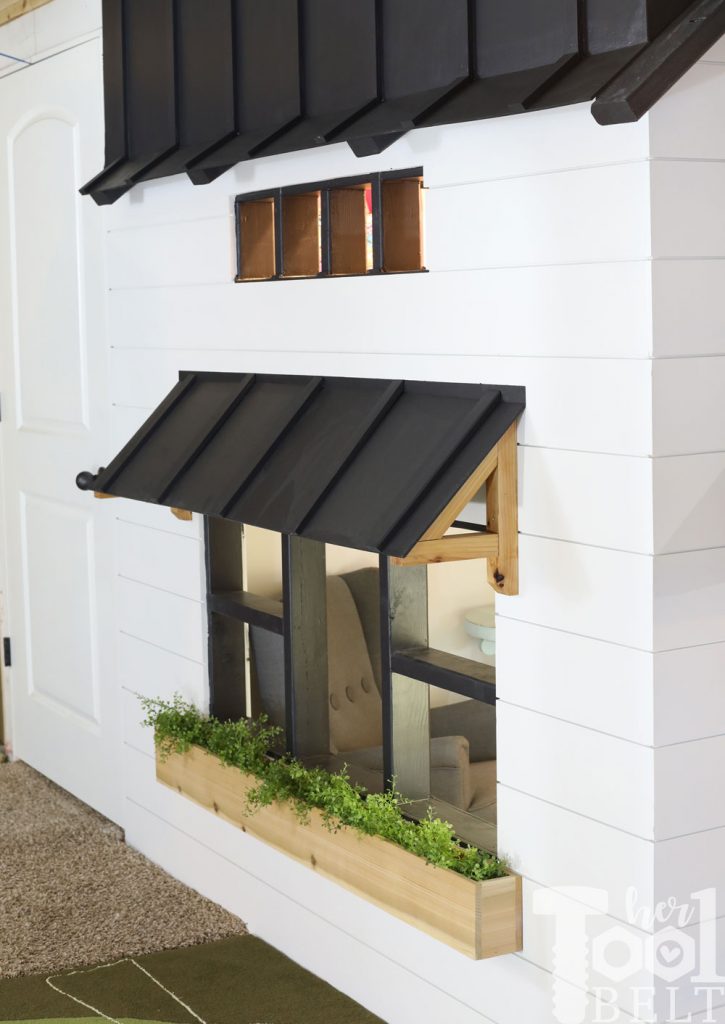 I faked black tin awnings with a little 1/8″ plywood and 1×2's. The awning corbels are simply 2×2's.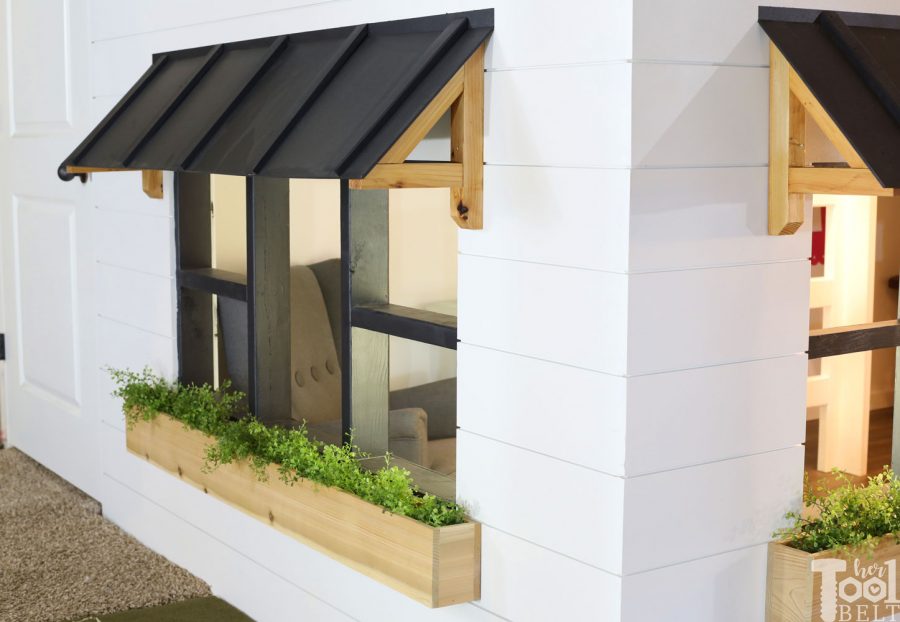 The window box planters are made from cedar fence pickets.  The little green bushes are from Hobby Lobby.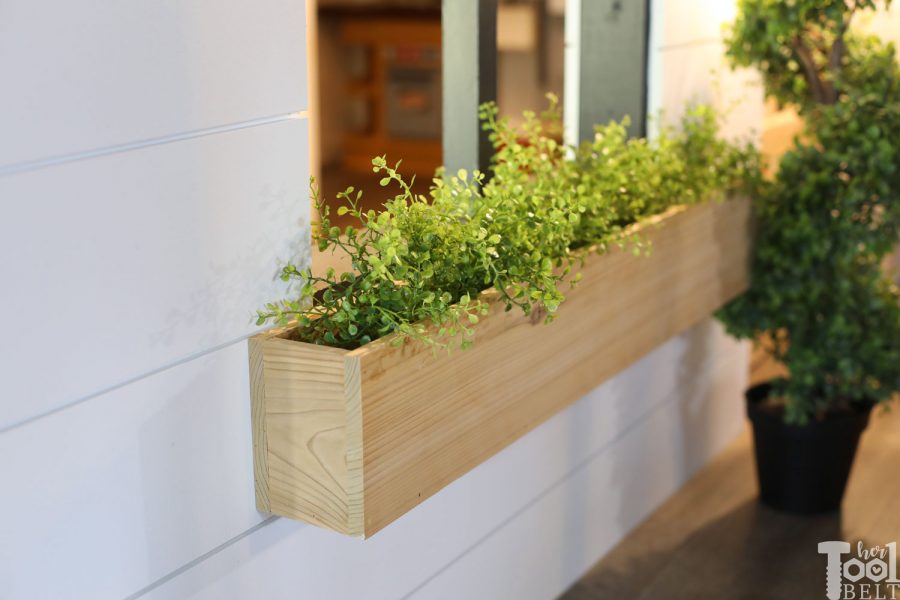 This is the first 'room' finished in the basement. Hopefully the kids can play play play while I chip away at the rest of the dark scary basement. 🙂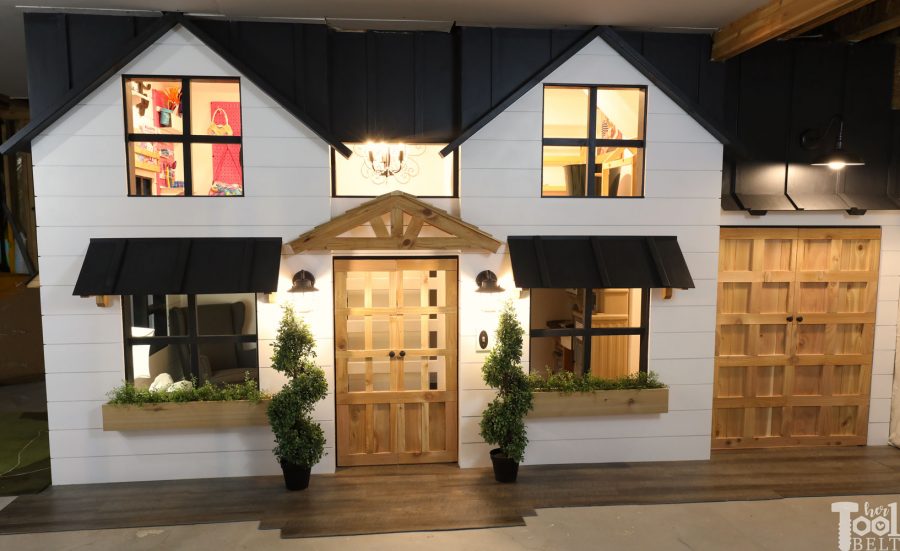 I used a lot of natural cedar (cedar fence pickets) for the wood, and luckily I found a stain that was a similar color for the parts made from pine. The stain on the pine is golden pecan, it's a really light stain but looks very similar to the natural cedar. I had a handful of left over cedar shakes that I finally used up from my outside clubhouse years ago. They are perfect for my timber portico.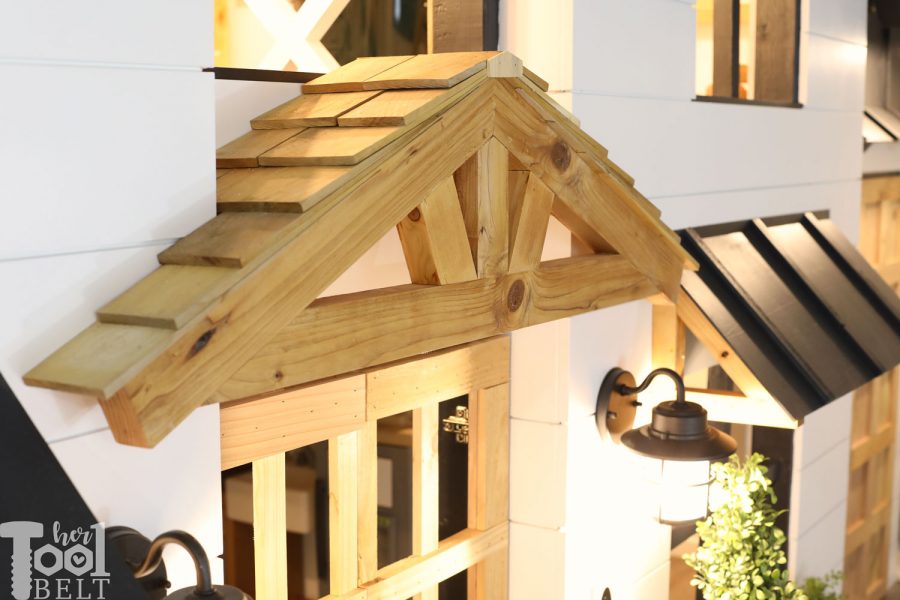 I found these cute little boxwood spiral topiaries at IKEA, they fit perfect in front of the house.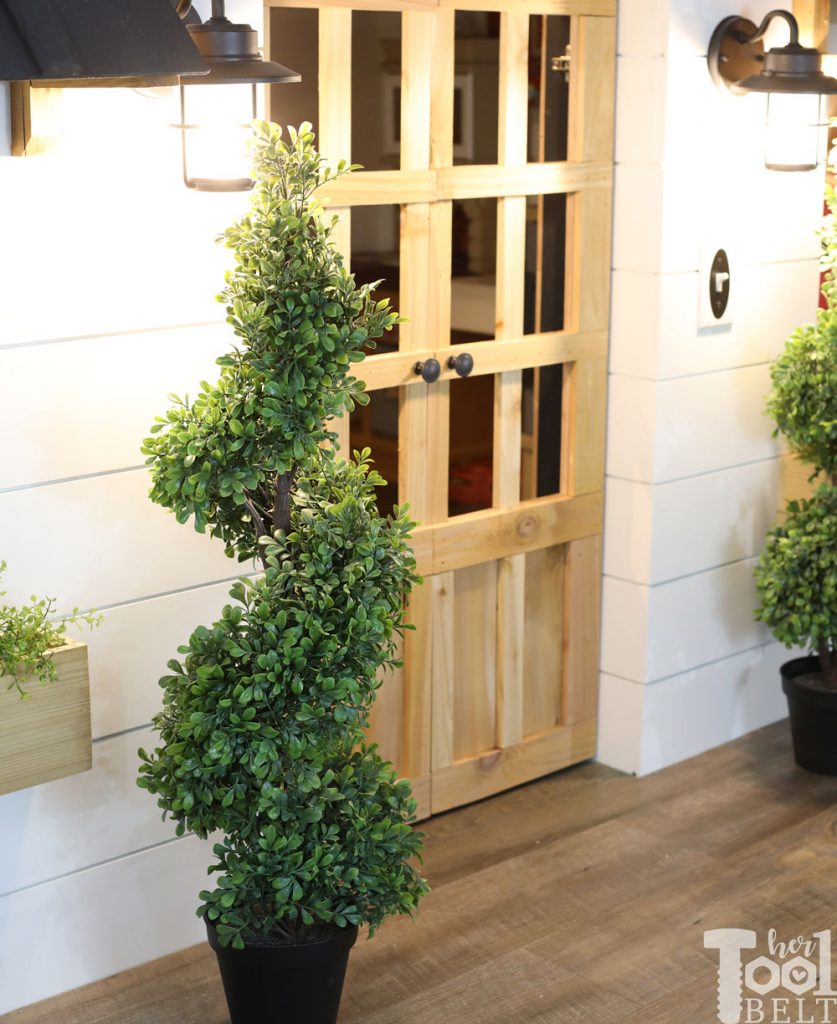 All of the light fixtures were different colors/finishes, so a quick coat of oil rubbed bronze and we're good to go. I actually really liked the red goose-neck light, but I wasn't sure it would go.
The light fixtures were all a pretty good deal.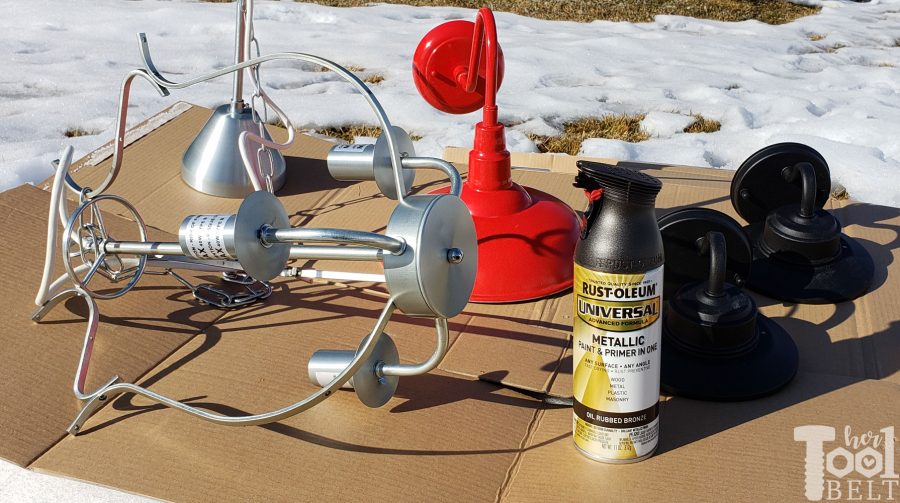 I tried to make the light switch look like a door bell, this was a miss project, but oh well.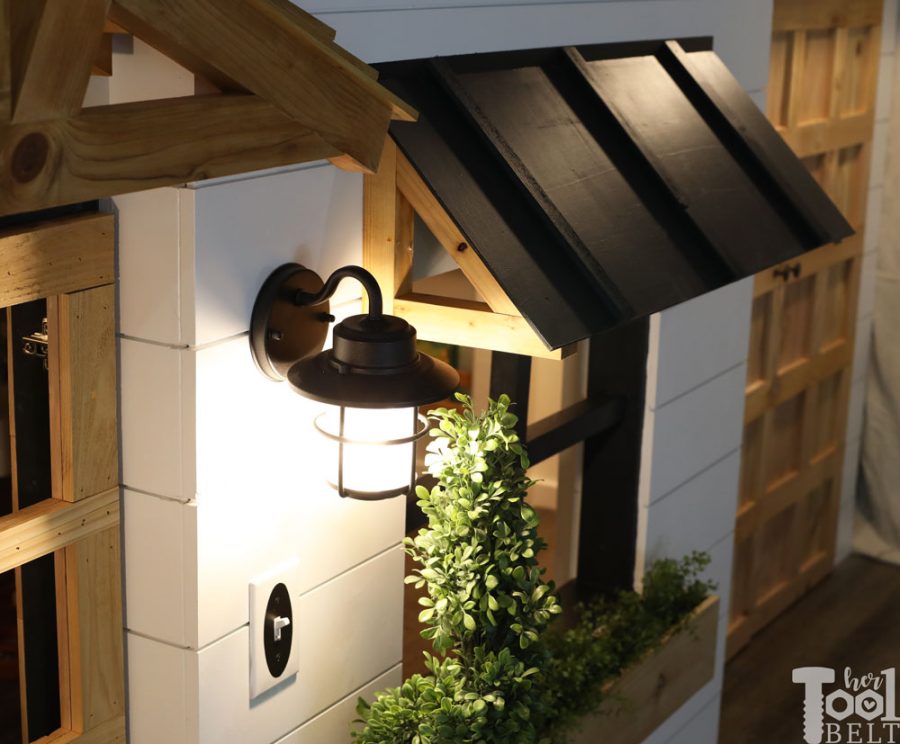 I made the front and garage doors open like cabinet doors. My thought was that the door frame can stop the doors from overextending backwards.  Because you know kids are sooo careful.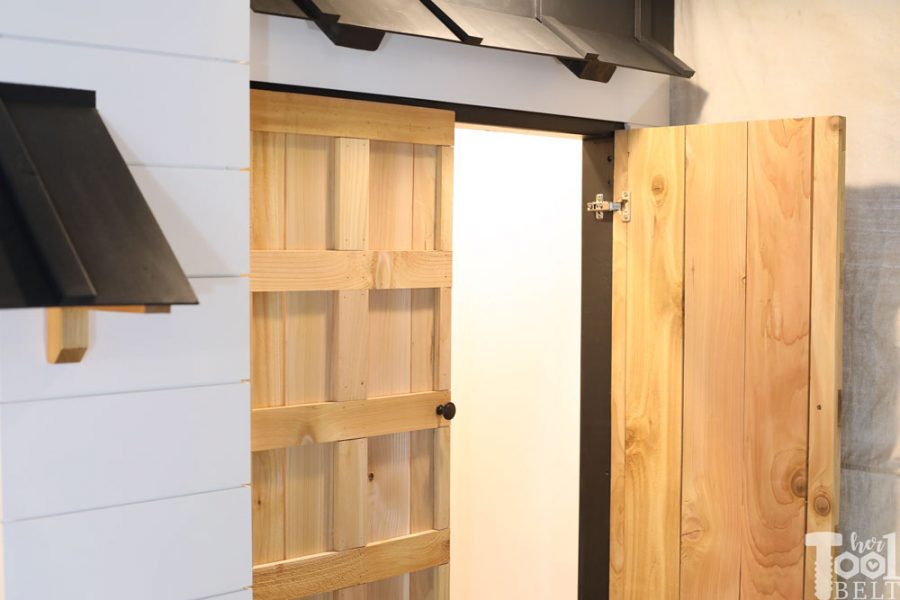 Both the garage and front doors are made from cedar pickets. They were very easy to make. Although I made a huge mistake that you can read about here.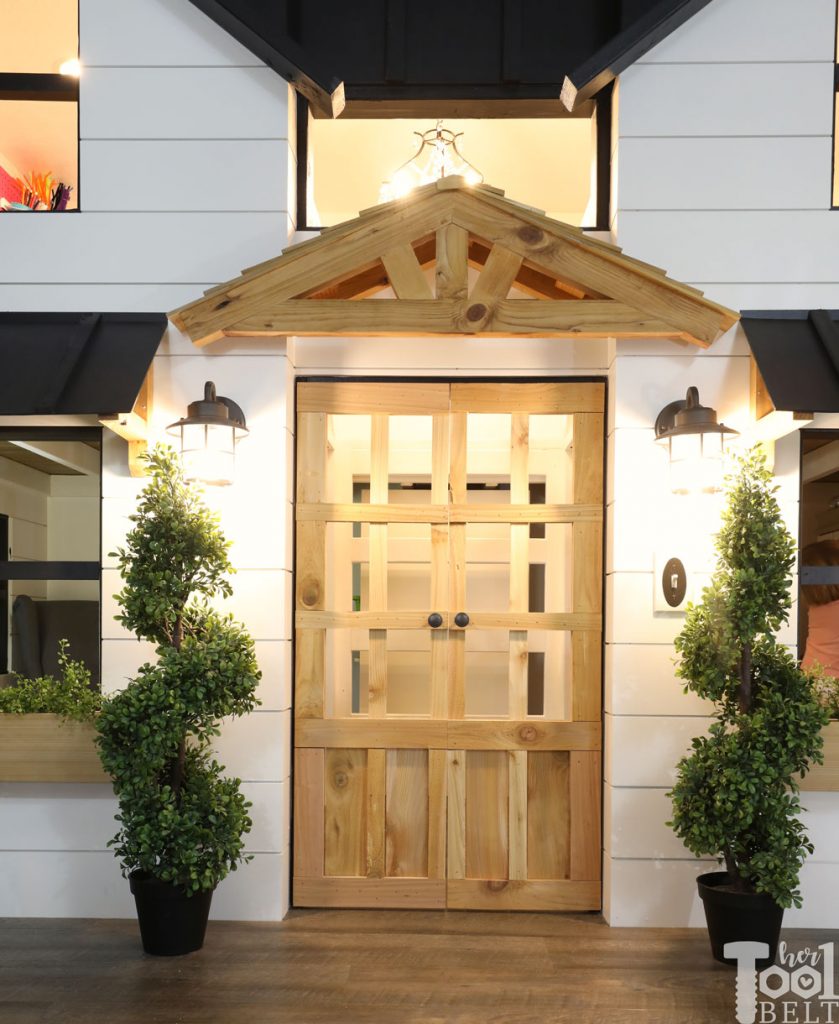 I thought it would be fun to do a focal wall…mostly because I ran out of shiplap. I decided to do a cedar herringbone wall. When I first put the cedar up there were 0 gaps…however I guess my cedar was a little wet and after being inside for a few days, it dried and shrunk, uggg. Oh well.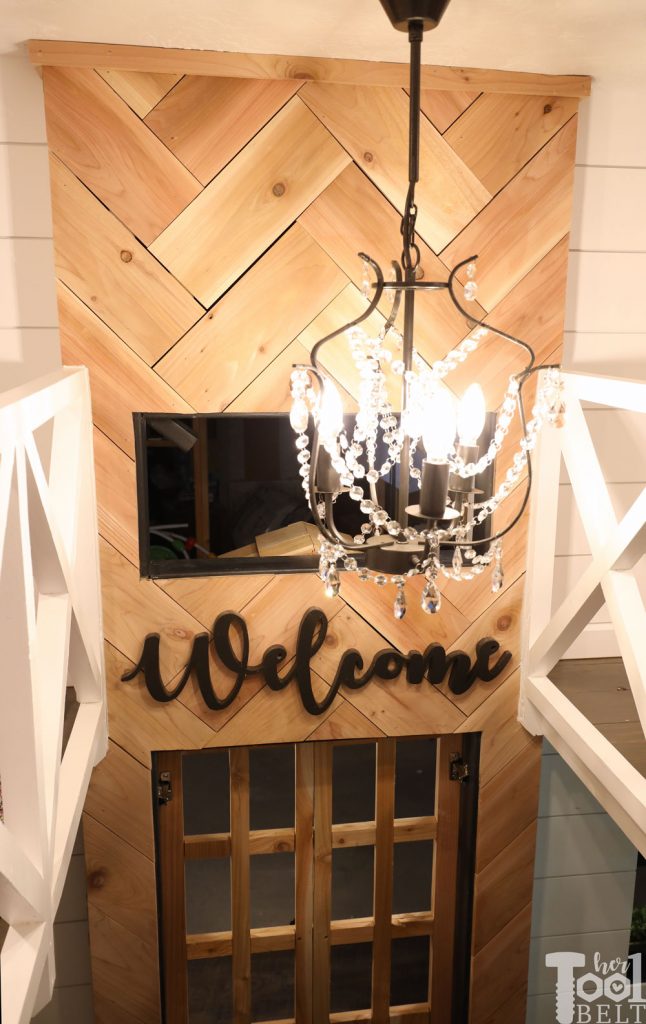 The railings are a simple X pattern made from 2×2's.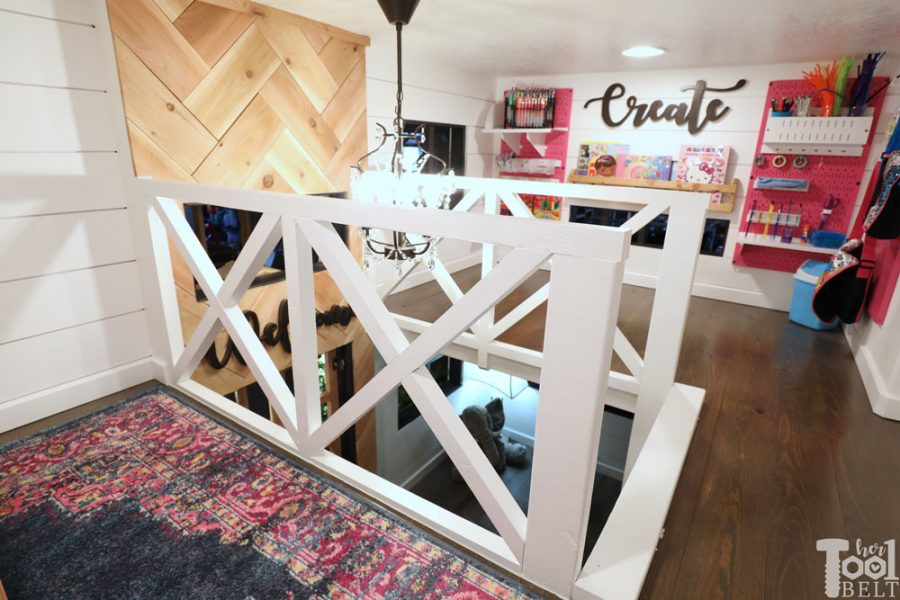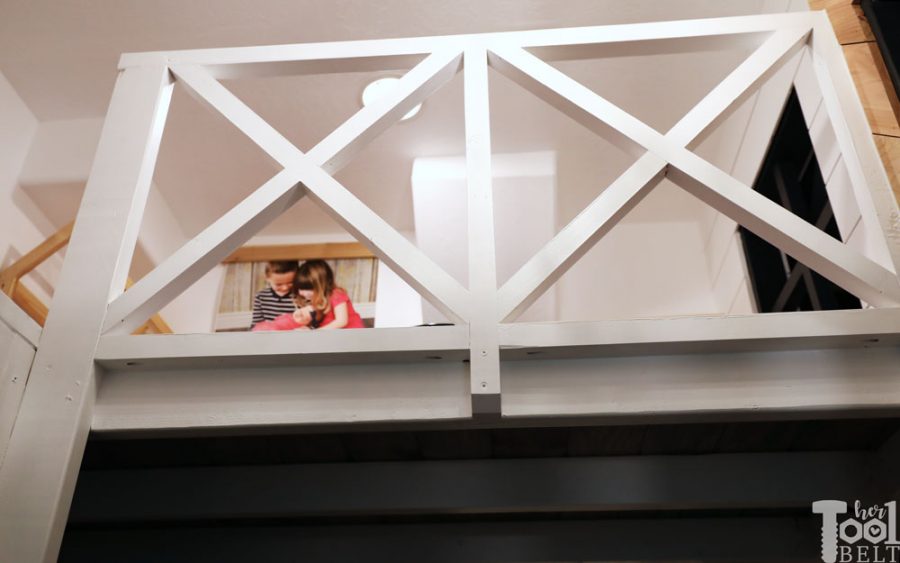 For the nursery room, I found a little rug that matched the colors in the poster of my kids. The metal bucket was an impulse buy from IKEA, I thought they could put their extra stuffed animals and clothes in it.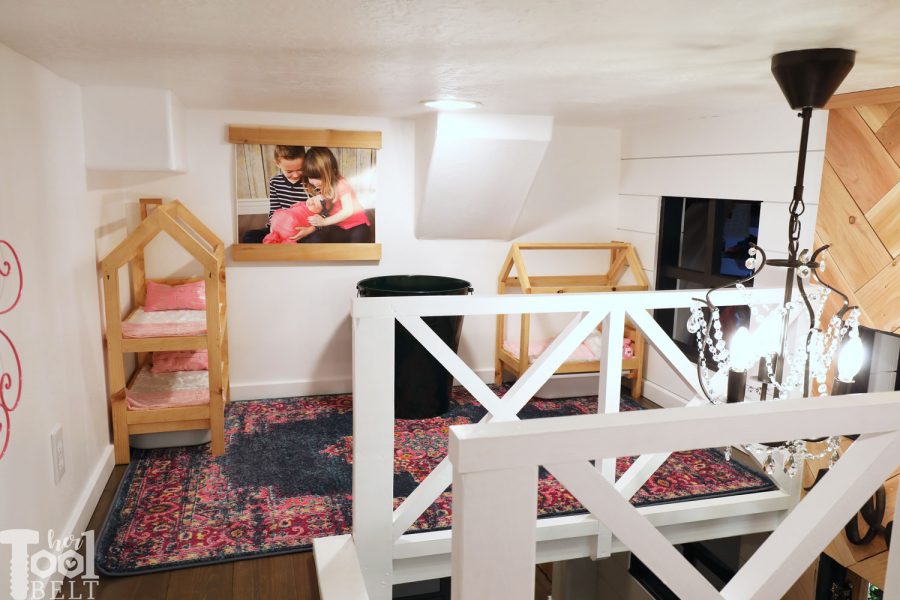 I made these cute little house frame doll beds from 1×2's and scrap plywood. Under the bed fits a Trofast bin to store doll stuff. The beds fit 18″ dolls…or bears if your kids are like mine.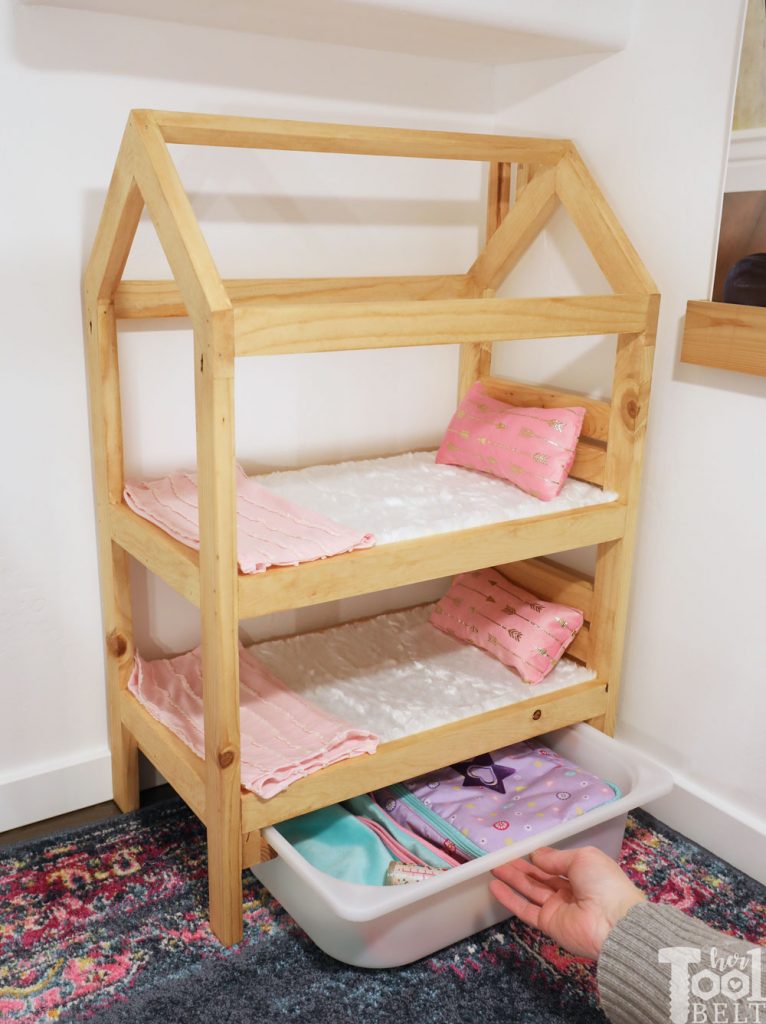 I made a bunkbed and single house frame doll bed.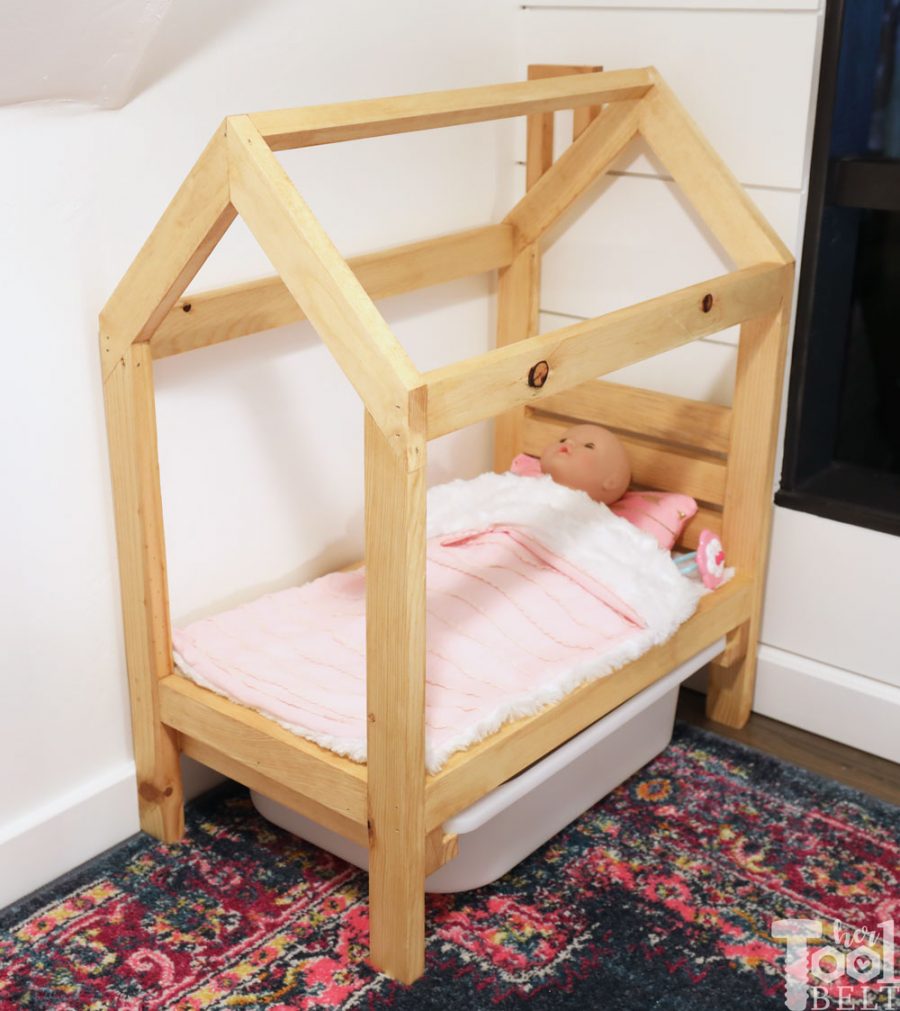 The arts and crafts room turned out really fun (pictures are pre-railing). I have used metal wall control pegboards in a number of places in my garage. BUT they just came out with PINK, so that was PERFECT for the playhouse! I like the wall control products because they are very sturdy, plus you can use their accessories and standard pegboard accessories.
The Create was cut from scrap mdf and painted in oil rubbed bronze. The coloring book holder is a super simple build made from scrap 1×2's and lath or cut offs from 2×4's.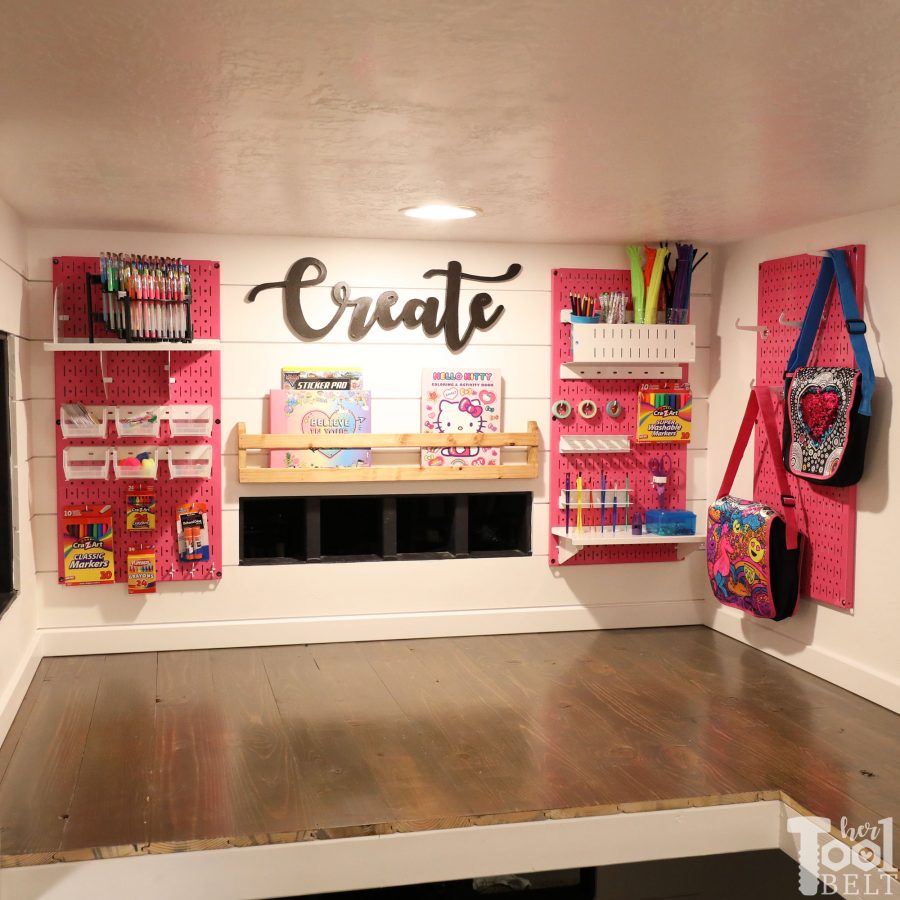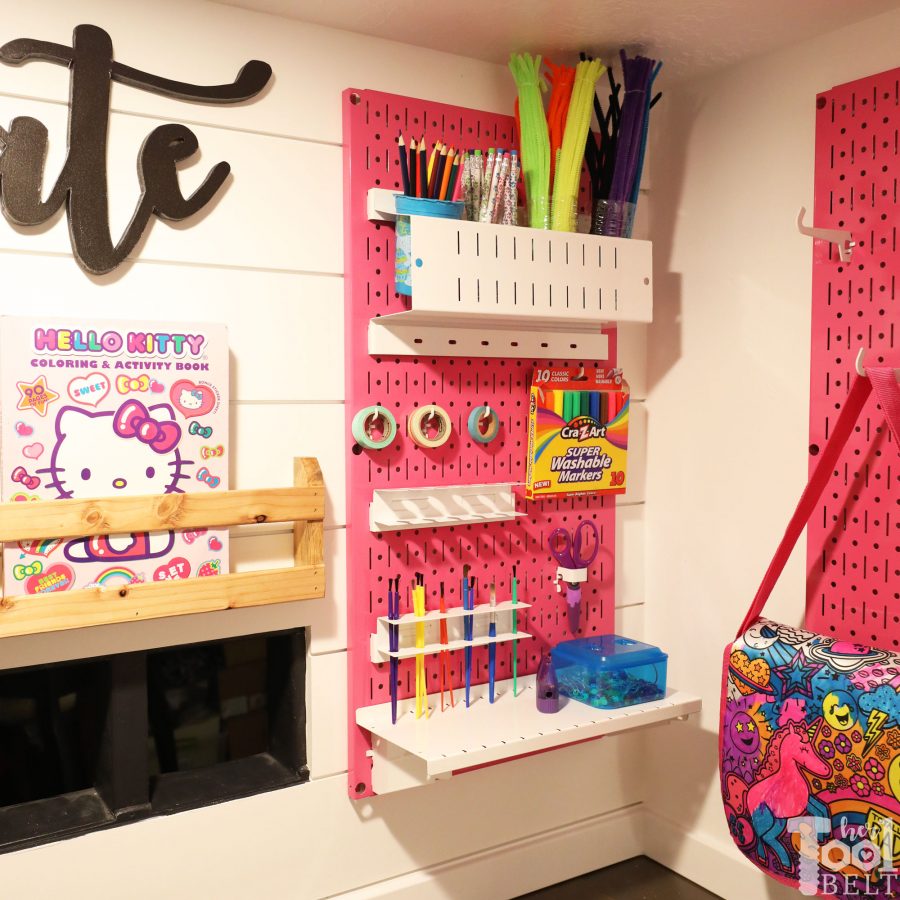 The nice thing about this system is that my kids have been using it for about 3 weeks and it looks just as good now as when I put it up. They can see where things go…and amazingly they've been putting stuff back. Well mostly the 6 year old, but the 2 year old has been doing pretty good.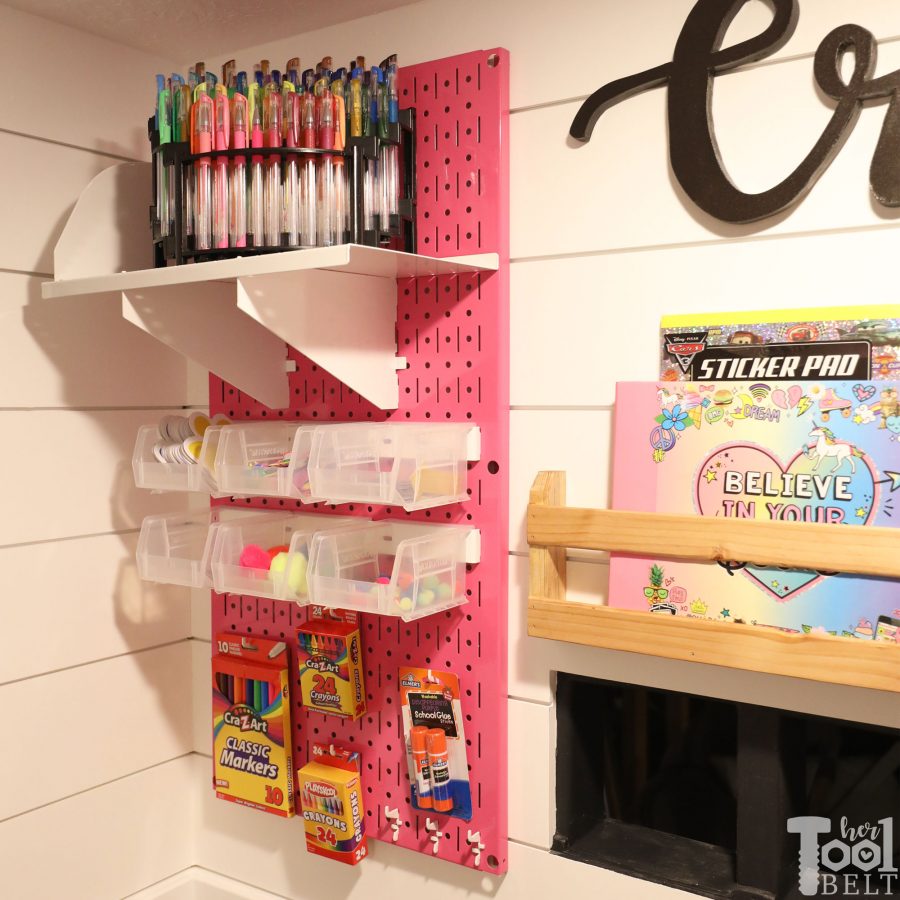 Here's a look at the 1st level's ceiling. I painted the floor joists (2×4's) white and the ceiling is blue pine tongue and groove siding. When the kids get too tall to play in a cramped playhouse, I can easily take out the 2nd floor because it's attached with joist hangers.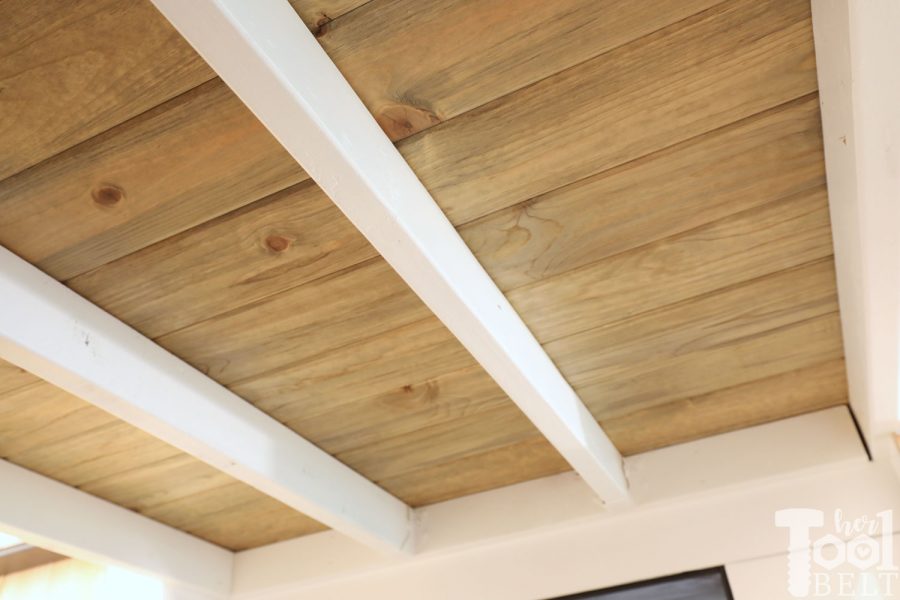 To get upstairs there is a simple 2×4 ladder.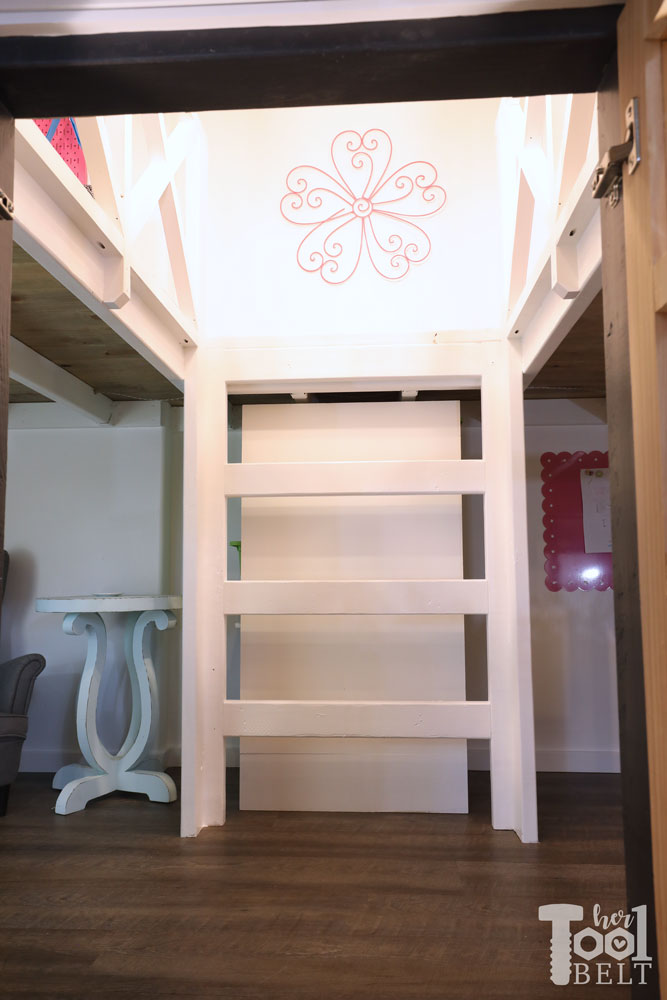 Behind the ladder, I made a storage unit out of scrap plywood that uses those IKEA Trofast bins. The storage unit will hold 2 bins on each row, and the bins can be pulled out from either side. This is a great little system to hold a lot of their toys, trains, animals, tea party stuff, kitchen supplies and food, etc. The little chair in the corner is from IKEA too…another impulse buy!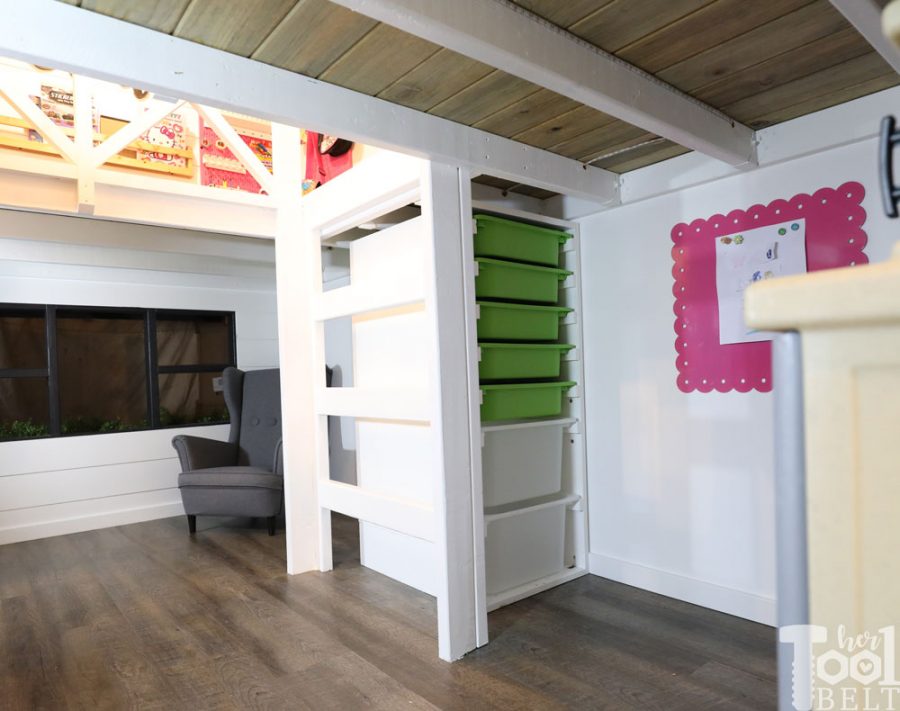 We have a plastic kitchen set…I'd like to do a built in kitchen…we'll see.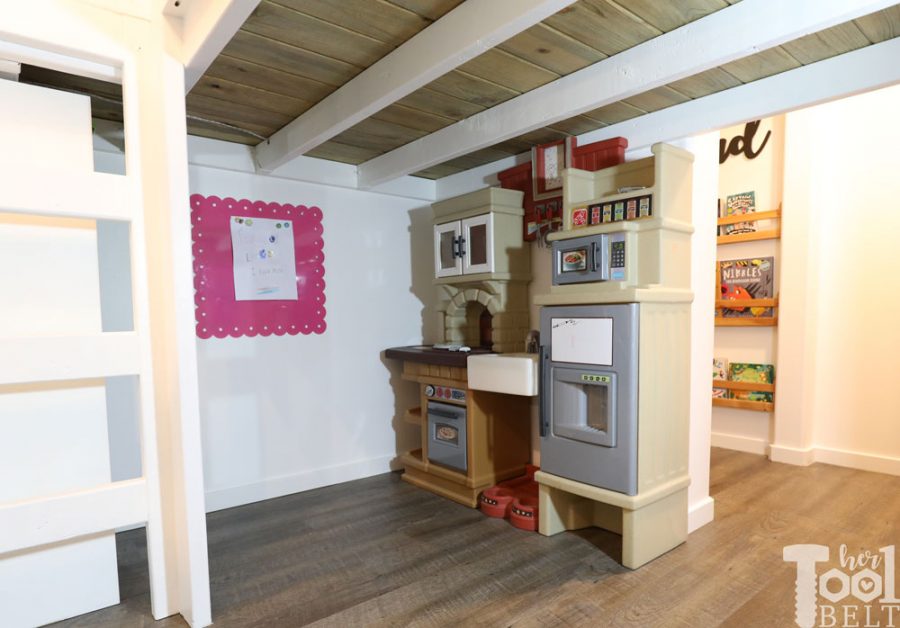 You can access the 'garage' from the kitchen, or thru the garage doors.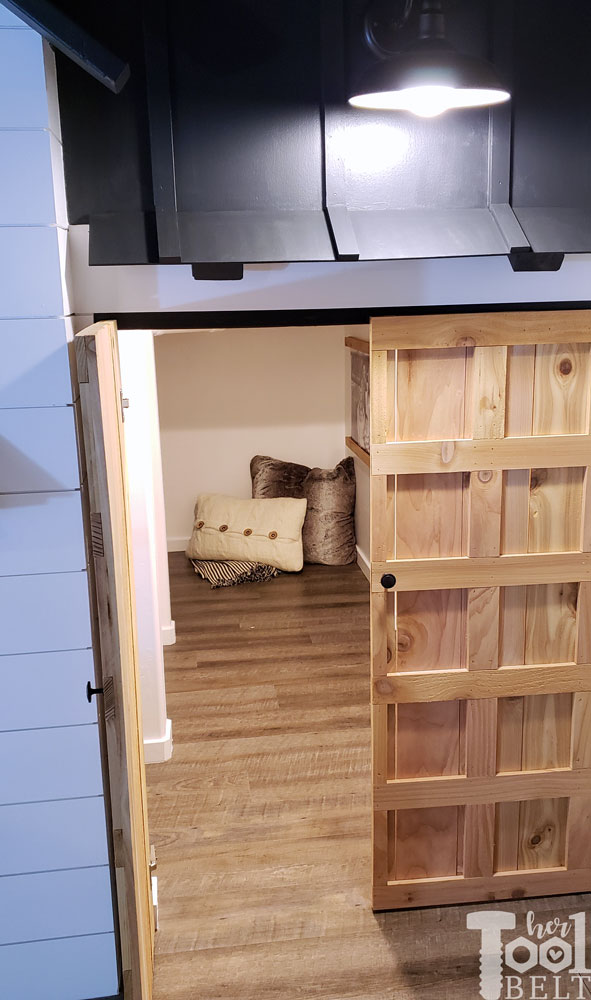 We've collected our soft pillows and gathered them under the stairs.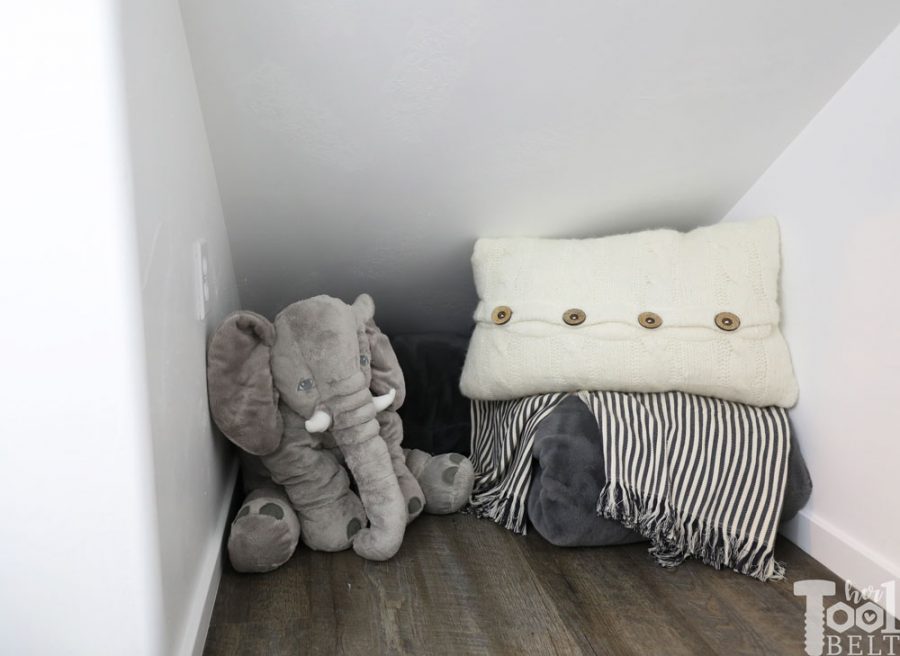 Even though I know they'll probably be playing their tablets in the lounge area, I put up some scrap wood bookshelves with a not so subtle Read sign.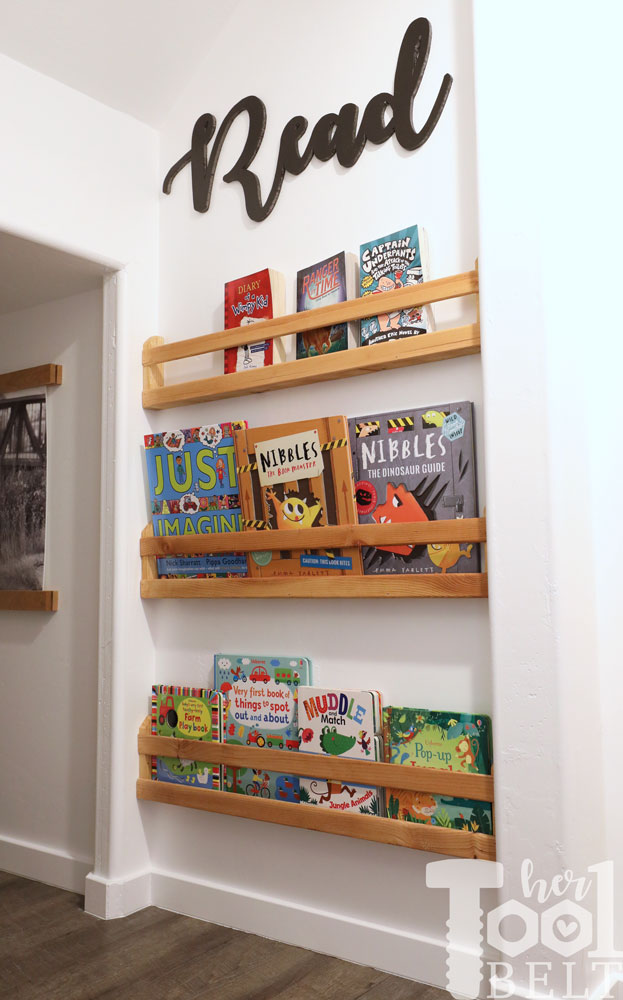 Opposite of the read are some simple cedar magnetic frames with poster pictures of the kids that I printed from Costco.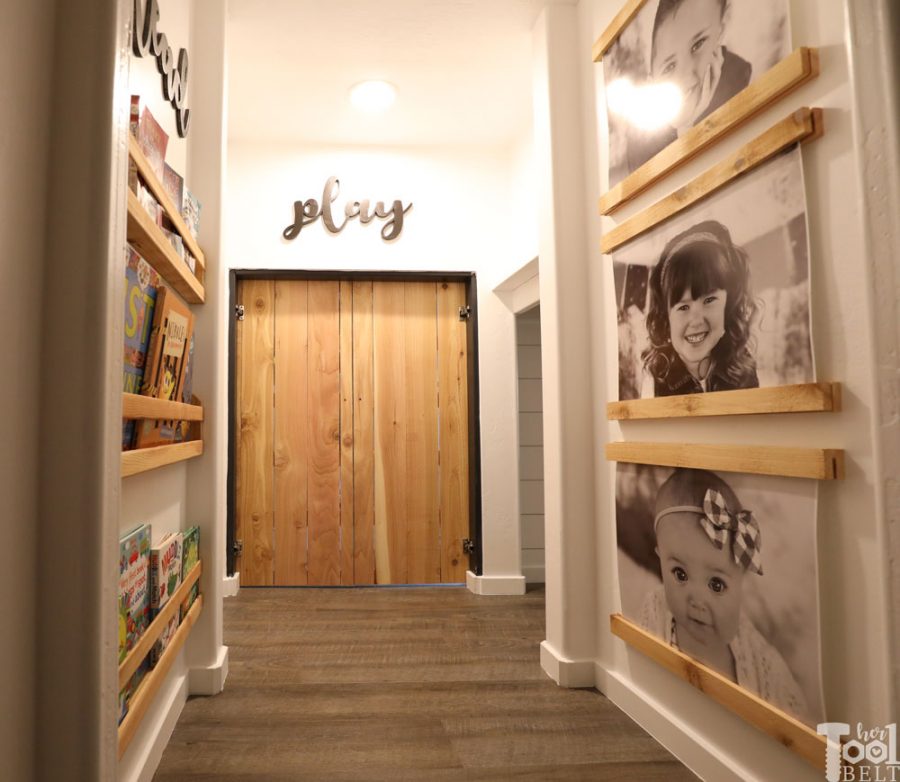 Well that's about it. Thanks so much for stopping by. You can check out the tutorials for the whole playhouse build: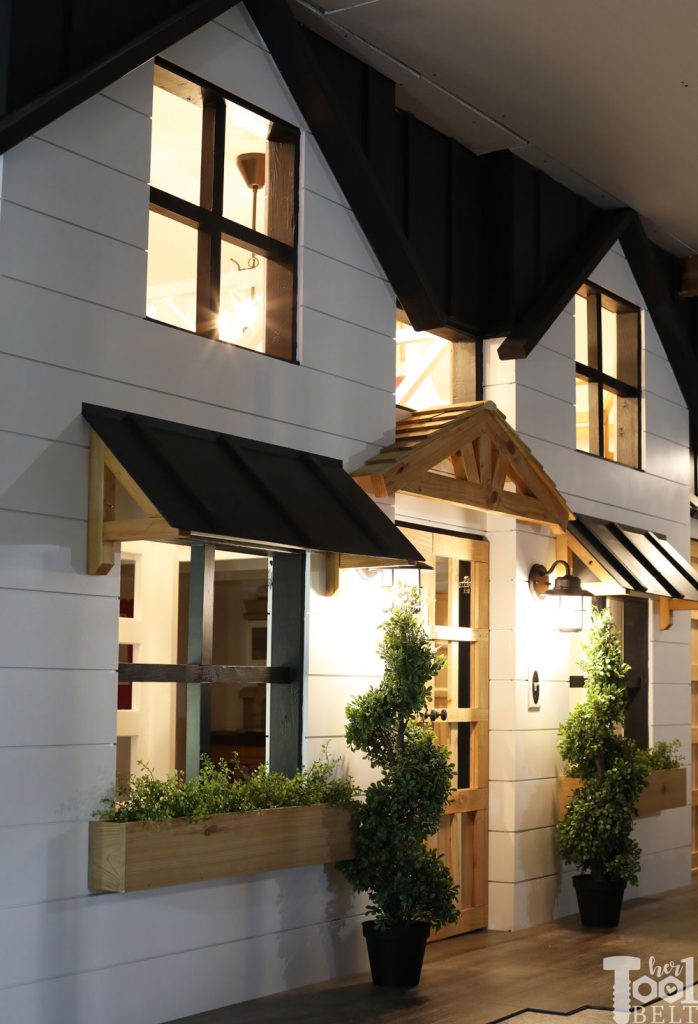 If you're interested in the Create, Read, Play and Welcome word art they can be downloaded below.